Top 10 Tips for Writing an Outstanding Personal Statement
A personal statement is one of the most important parts of your Ph.D. or graduate school application. What is a personal statement? A personal statement tells the admissions board, why they should select you as a student in their program. A strong personal statement can make your application stand out from the rest and be a big factor in whether or not you are admitted to a program. In this article, we will talk about what a personal statement should and shouldn't contain. We will also give you ten tips to write an excellent personal statement that can increase the chances of your acceptance into the program of your dreams.
Do Personal Statements Really Matter?
Graduate and Ph.D. programs ask for a variety of documents that summarize your academic and professional accomplishments. However, you know that you are more than just the sum of your undergraduate transcripts and job history. That is why a personal statement is so important. A personal statement gives you a unique opportunity to explain why you chose the program you are applying to, and how it fits into your career and aligns with your personal goals.
A personal statement ties all your application documents together to tell the admissions board a story of why you are applying for their program. A good personal statement is authentic, sincere, and tailored to the specific program you are submitting it to. It describes your background, how and why you became interested in studying a specific subject, and how going to the school will help you achieve your goals. It is not your entire life story, but rather the story of how life has led you to apply for a particular graduate school program.
How Can I Make My Personal Statement Strong?
There are several ways you can make sure you craft and submit a strong personal statement. First, think of your personal statement as an argument for why you belong in the program you are applying to. This includes not only what the program will do for you, but also what you can bring to it . Examples of conferences you have presented at or grants and scholarships you have won can strengthen your candidacy , but make sure they are relevant to the program. Illustrate why it makes sense for you, specifically, to join this particular program.
Second, make sure to avoid overly generic statements and descriptions. Your story of learning the value of persistence and struggle during your first part-time service job is very likely not helpful. However, explaining how you won a grant to study in China when you're applying to a graduate school to do East Asian studies provides important context about you and your motivation. Along the same lines, don't use tired cliches or broad descriptions of your personality that could apply to anyone. If your statement includes anything like "Webster's dictionary defines 'dedicated' as…" then you are writing a weak personal statement.
Third, provide examples of your achievements. Don't just say "I became a good scientist when I spent the summer working in Dr. Kevorkian's lab." Tell the admissions board how you went from taking notes and organizing the supply closet to designing and running your own experiments with a team. Explain the lessons you have learned and how you will apply them in your graduate studies. At the same time, avoid portraying yourself as you know it all- after all, you are applying to a program to continue learning!
Top Ten Tips for Writing A Great Personal Statement
To help you get started writing a great personal statement, here are the top ten tips highlighting the most important strategies.
Begin with a checklist of why you want to apply for the program. What is great about it? How does it fit into your goals? Who do you hope to study or work with?
Explain why you have chosen to study this topic . What about medieval literature appeals to you? Why do you want to be a cardiologist? Again, avoid generic statements like "I have always enjoyed reading" or "I love helping people."
Write about why you are qualified to study this topic. What is your academic background? Don't just list the classes on your transcript; highlight specific papers you wrote or internships you've held.
Think about what you hope to accomplish in graduate school . What skills do you want to leave with? Do you want to go into academia? Industry? How will this program get you there?
If you have any "black marks" on your record, like a bad grade or time off from school, explain what happened and how you learned from it . Failure in the past is not an indication of future ability! Don't just ignore something if it is evident from your transcripts that you have had an issue.
Don't focus too much on your career. Professional experience can be important and relevant, but ultimately you are applying to enter an academic program, and you want to focus on your academic skills and interests.
Show, don't tell: rather than saying "I am a hard worker," give an example of something you did that demonstrates you are a hard worker.
Ask for feedback! Don't be afraid to turn to your friends or colleagues to ask for feedback on your first (or second) draft. An objective observer can highlight issues or points you may have overlooked. They can also proofread for you, which leads us to tip number 9.
Proofread your work. Graduate school, no matter the field, is writing intensive. Your personal statement reflects your writing skills, and grammatical errors and spelling mistakes do not look great. Proofread multiple times, use spell check , and have someone else review your application before you hand it in. You want to make a great impression!
Finally, make sure to tailor your application to each school you apply to. You can reuse some parts of your personal statement. However, you should make sure each school is getting a statement specific to their program and faculty.
Do you have any tips for our readers about writing a great personal statement? Let us know in the comments below.
Rate this article Cancel Reply
Your email address will not be published.
Enago Academy's Most Popular
Manuscript Preparation
Publishing Research
Reporting Research
Facing Difficulty Writing an Academic Essay? — Here is your one-stop solution!
Academic writing is an important aspect of higher education, as it helps to develop critical…
Bridging the Gap: Overcome these 7 flaws in descriptive research design
Descriptive research design is a powerful tool used by scientists and researchers to gather information…
Inductive and Deductive Reasoning — Strategic approach for conducting research
Karl questioned his research approach before finalizing the hypothesis of his research study. He laid…
Old Webinars
Webinar Mobile App
Effective Data Presentation for Submission in Top-tier Journals
Importance of presenting research data effectively How to create tables and figures How to avoid…
What Makes a Thesis Statement Spectacular? — 5 things to know
What Is a Thesis Statement? A thesis statement is a declarative sentence that states the…
10 Ways to Help Students Restore Focus on Learning
Switching Your Major As a Researcher: Things to Consider Before Making the Decision
PhD Teaching – Do's and Don'ts for Researchers
How to Manage Your PhD Timeline for Smoother Research Completion
Sign-up to read more
Subscribe for free to get unrestricted access to all our resources on research writing and academic publishing including:
2000+ blog articles
50+ Webinars
10+ Expert podcasts
50+ Infographics
10+ Checklists
Research Guides
We hate spam too. We promise to protect your privacy and never spam you.
I am looking for Editing/ Proofreading services for my manuscript Tentative date of next journal submission:
For what are you most likely to depend on AI-assistance?
Personal Statement Rough Draft Review
Hello! I am currently drafting my personal statement and was hoping for some feedback or tips on where to go from here. Currently, my personal statement feels a bit... impersonal. A previous draft of mine got criticized for not focusing enough on my experience. I know I need to trim down the length a bit as well. Anyways, any and all feedback welcome! DM for google doc link :)
Swing me a DM
About Community
How to Write a Stand-Out Personal Statement for Your Graduate School Application
While deciding to embark on the path to graduate school is an exciting first step toward advancing your career, the application process can sometimes feel daunting and confusing.
One major part of the application that most schools require is a personal statement. Writing a personal statement can be an arduous task: After all, most people don't necessarily enjoy writing about themselves, let alone at length.
A compelling personal statement, however, can help bring your application to the top of the admissions pile. Below, we've outlined what you need to know about crafting a personal statement to make your application shine.
What Is a Personal Statement?
The point of a personal statement is for the admissions board to gain a deeper understanding of who you are apart from your education and work experience. It explains why you're the right fit for the program and a worthwhile applicant. It's also an opportunity to highlight important factors that may not be readily available in the rest of your application.
A personal statement is different from a statement of purpose (if you're asked for that as well). A statement of purpose will touch on your academic and career goals, as well as your past credentials. While those should also be discussed in your personal statement, it's more about your life experiences and how they've shaped you and your journey to graduate school.
Questions to Ask Yourself Before Writing a Personal Statement
Before you start crafting your essay, there are a few prompts you can ask yourself to help clarify what you want to accomplish.
What are the key points you want to communicate about yourself?
What personal characteristics or skills do you have that make you a strong candidate for this field?
What exactly are your career goals, and how does graduate school play into them?
What have you learned about this field already? When did you first choose to follow this path, and what do you enjoy about it?
What do you think is important for the admissions board to know specifically about you?
Are there any discrepancies or causes for concern in your application you need to address? For example, is there a career and schooling gap, or a low GPA at one point? This is the time to discuss whether a personal hardship may have affected your academics or career.
Have you dealt with any unusual obstacles or difficulties in your life? How have they affected and shaped you?
What sets you apart and makes you unique from other graduate school applicants?
What factors in your life have brought you to where you are today?
Top Tips for Writing a Graduate School Personal Statement
Pick a few points to emphasize about yourself . Introduce yourself to the admissions board. Select key factors about your background that you want the university to know — elements that reveal what kind of person you are and demonstrate why you're a strong candidate for the school and field of study.
Be very specific . Again, a personal statement is all about communicating what distinguishes you from other applicants. To accomplish that, you need to share specific anecdotes that underscore your statements. If you say you're a strong leader, present an example of a time you've proven that skill through work, school or your personal life. These specific, personal stories provide a deeper understanding of who you are and prove your intentions.
Do your research . Demonstrate what attracted you to the program. If there is a specific faculty member or class that caught your attention, or another aspect of the program that greatly interests you, convey it. This shows you've truly researched the school and have a passion for the program.
"Whatever the topic may be, I would recommend writing in a manner that reflects or parallels the institution's and/or department's missions, goals and values," said Moises Cortés, a graduate/international credentials analyst for the Office of Graduate Admission at USC .
Address any gaps or discrepancies . Explain any factors that may have impacted your academic career. If you had an illness or any other personal hardships that affected your grades or work, discuss them. If there is a discrepancy between your grades and your test scores, you can also take the time to go over any extenuating circumstances.
Strike the right tone . While it's important to give readers a glimpse of your personality, avoid oversharing or revealing intimate details of your life experiences. You should also avoid making jokes or using humorous cliches. Maintain a professional tone throughout your writing.
Start strong and finish strong . As with any piece of writing, you want to draw in your readers immediately. Make sure to start off with an interesting and captivating introduction. Similarly, your conclusion should be a well-written, engaging finish to the essay that highlights any important points.
" For a personal statement, I think the first and last paragraphs are most important and should always relate the program they are applying to their own experiences and ideas," Hoon H. Kang, a graduate/international credential analyst with the Office of Graduate Admission, told USC Online.
Proofread, proofread and proofread again . We can't emphasize enough the importance of rereading your work. Your personal statement is also an analysis of your writing skills, so ensure you have proper grammar and spelling throughout. In addition, we recommend having multiple people look over your statement before submission. They can help with the proofreading (a second person always catches a mistake the writer may miss), give advice about the statement's structure and content, and confirm it's the proper recommended length.
Once you've considered all of the above and reviewed and edited your personal statement to perfection, it's time to submit and check off any remaining application requirements, including your resume and letters of recommendation .
Personal statements are arguably one of the most challenging aspects of applying to graduate school, so make sure to revel in this accomplishment and acknowledge your successes.
For more information, visit the  Office of Graduate Admission at USC  and explore  USC Online 's master's degrees, doctoral programs and graduate certificates.
This website uses cookies to improve the functionality and performance of the website, to better understand how you use AAPA's website and services, and to provide you with a customized experience. By continuing your use of this website, you consent to this use of cookies. See our Privacy Policy for more information.
Do's and Don'ts for Writing a Strong CASPA Personal Statement
It's your ticket to the interview
May 15, 2019
By Erin Myhre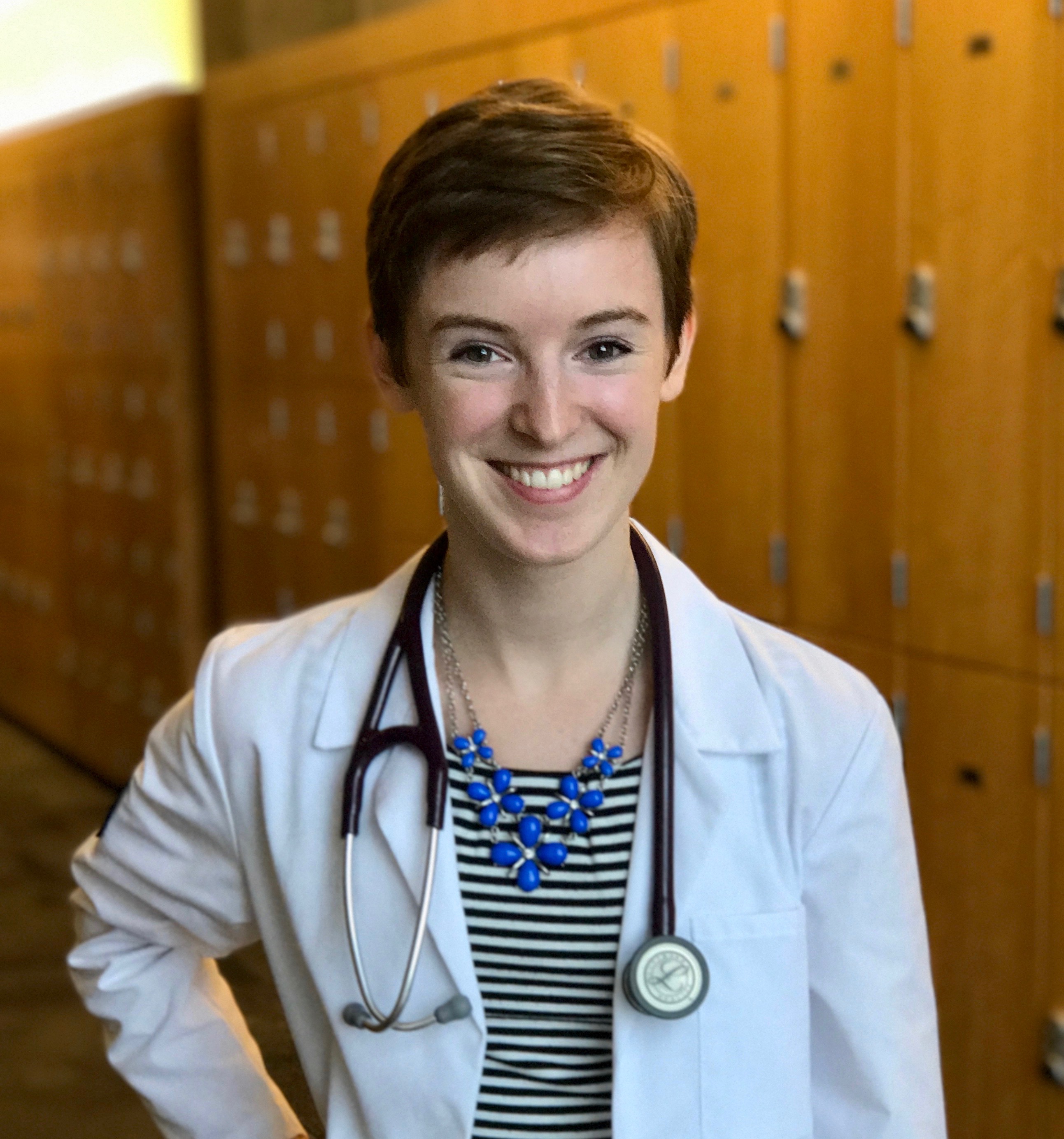 The CASPA personal statement is your chance to get an admissions committee to think, "I want to meet this applicant in person." It's your ticket to a PA school interview! Be prepared to spend many hours writing, rewriting, rearranging, editing, cutting, and polishing your essay. Give yourself at least a month to write and edit before you plan on submitting CASPA, and – this is key – have several proofreaders. Allow ample time for them to make suggestions, and for you to consider and incorporate their advice. Don't ask more than three or four people to look over your essay, because multiple editors can quickly become overwhelming. Choose writers you trust and people in the medical field – a PA is great if you know one!
[ Pre-PA Resources ]
Before you apply
I highly recommend keeping journals about all your medical experiences, both shadowing and working. Writing things down not only helps you process what you're learning, it provides you with an invaluable resource to return to when you need to write application essays. Instead of trying to remember how you felt three years ago doing some job or exactly how a particular patient encounter impacted you, you can go to your journal and read it. This makes essay-writing much easier because the journey that brought you to this point is already documented, and you aren't starting from scratch.
[ AAPA Webinar: Rocking Your Personal Statement ]
Here are my main tips to help make your future personal statement fantastic.
Writing the statement – do's and don'ts
Do demonstrate your knowledge of the PA profession. Your essay should make it clear why you are pursuing medicine, and why you have chosen to become a PA specifically.
Don't say why you don't want to be a different kind of healthcare provider, write about how you want to be a PA! This is a great place to demonstrate your knowledge of the unique profession. Be careful not to cast any healthcare workers in a negative light.
Don't say you've chosen to become a PA because of a better lifestyle or shorter/easier schooling. Even if this is part of the reason, it is not only somewhat misinformed, it gives the impression that you believe PA school is easy, or that you don't want to work hard. Yes, PA school encompasses fewer months than some other graduate-level healthcare programs, but it is extremely challenging. PAs often have a good work/life balance, but not necessarily, especially in certain specialties.
Don't be vague. Don't leave anything for the admissions committee to assume–use lots of examples, stories, personal experiences, and lessons you've learned. If you use any abbreviations (and there are lots of abbreviations in the healthcare world!), write them out the first time and include the abbreviation in parentheses.
Do show, don't tell. Instead of listing adjectives like compassionate, flexible, or determined, tell brief anecdotes that show how you embody these qualities. Everyone applying to PA school says they are passionate about the profession and care about people. Let the admissions committee see evidence of that in your life.
Do make every word count. Not only do you need to be under 5,000 characters, you don't want to distract or bore your reader by including extraneous details, long-winded explanations, and redundancies. Avoid long paragraphs, but be sure to have strong transitions when you break them up. Go through the essay and ask yourself critically: Does this word/sentence fragment make a strong contribution to my paragraph and overall essay? Do I really need it?
Don't use informal language or contractions. Absolutely let your personality and writing style shine through, but your essay needs to be polished and inspire confidence in your strong communication skills. Avoid cliches like the plague. This is also not the time to show off your knowledge of medical terminology. If some technical talk is necessary to explain a particular patient scenario, use the minimum to get the point across.
Do consider incorporating a theme. A theme brings the whole essay together and makes it flow, and if you choose the right theme, it also makes it easier to write when you're relating everything back to a central point. The theme should not be "medicine" or "why I want to be a PA"—these are already the core concepts of the essay. Make it creative, applicable, and personal. If it feels like you're trying too hard to make a theme fit, try a different one.
Don't make this a resume with more words. The admissions committee has seen your application; they know your GPA and healthcare experience. If you have a low GPA or poor grade that you want to address, that is fine. But your essay is the place for you to talk about what sets you apart! How have your healthcare experiences strengthened your desire to go into medicine? How have your patient encounters impacted or changed you? How have you grown or been stretched as you've pursued PA school? How have you overcome significant challenges in your life? Be succinct, and don't let your reader get bogged down by unnecessary details.
Do make it unforgettable! Start with a hook that will immediately interest your reader. This could be a unique quote (I used song lyrics), or a story, really anything that will draw your audience into your world and make them wonder what the rest of the essay will say. Don't choose something arbitrarily just so you have a story–write about something meaningful to you. It doesn't have to be about medicine as long as you show how it contributed to your decision to be a PA, and/or relates to your theme. It's okay if you don't come up with your hook right away; just start writing and it will come to you.
Even more important than a good hook is a solid conclusion. Bring it back to your introduction, summarize or paraphrase the points you've made throughout the essay, and finish with a memorable one-liner that clinches your desire to be a PA. Don't be afraid to spend a lot of time on this last paragraph, especially the last sentence!
One more thing: If (when) you find yourself getting frustrated or hitting a wall, take a break! Come back in a few hours or, better, in a couple days when your mind is fresh.
This essay may seem daunting, but remember this is the part of your application where you have the most control. Be yourself, and be authentic. Show the admissions committee how excited you are to be a PA, and convince them that they want to meet you as much as you want to meet them.
Additional Resources
Which PA School is Right For You? 5 Factors to Consider
6 Success Tips For PA School
Become a PA
Erin Myhre, MS, PA-C, is a cardiology and critical care PA at Piedmont Healthcare. She wrote this article in May 2019 while still a PA student at Pacific University. She is always happy to answer questions about CASPA or PA school in general, and you can reach her at [email protected] or Instagram @ealto499.
You might also like
Colorado Academy of PAs One Step Closer to Move from Supervision to Collaboration
March 3, 2023
Major Marc Latta Focuses on Transformation
February 28, 2023
Cardiology PA Viet Le Helps Pave the Way for More PA Researchers
February 23, 2023
The Top 3 Reasons You Should Take the Salary Survey
February 22, 2023
Thank you for reading AAPA's News Central
You have 2 articles left this month. Create a free account to read more stories, or become a member for more access to exclusive benefits! Already have an account? Log in .

The Residency Personal Statement (2022/2023): The Insider's Guide (with Examples)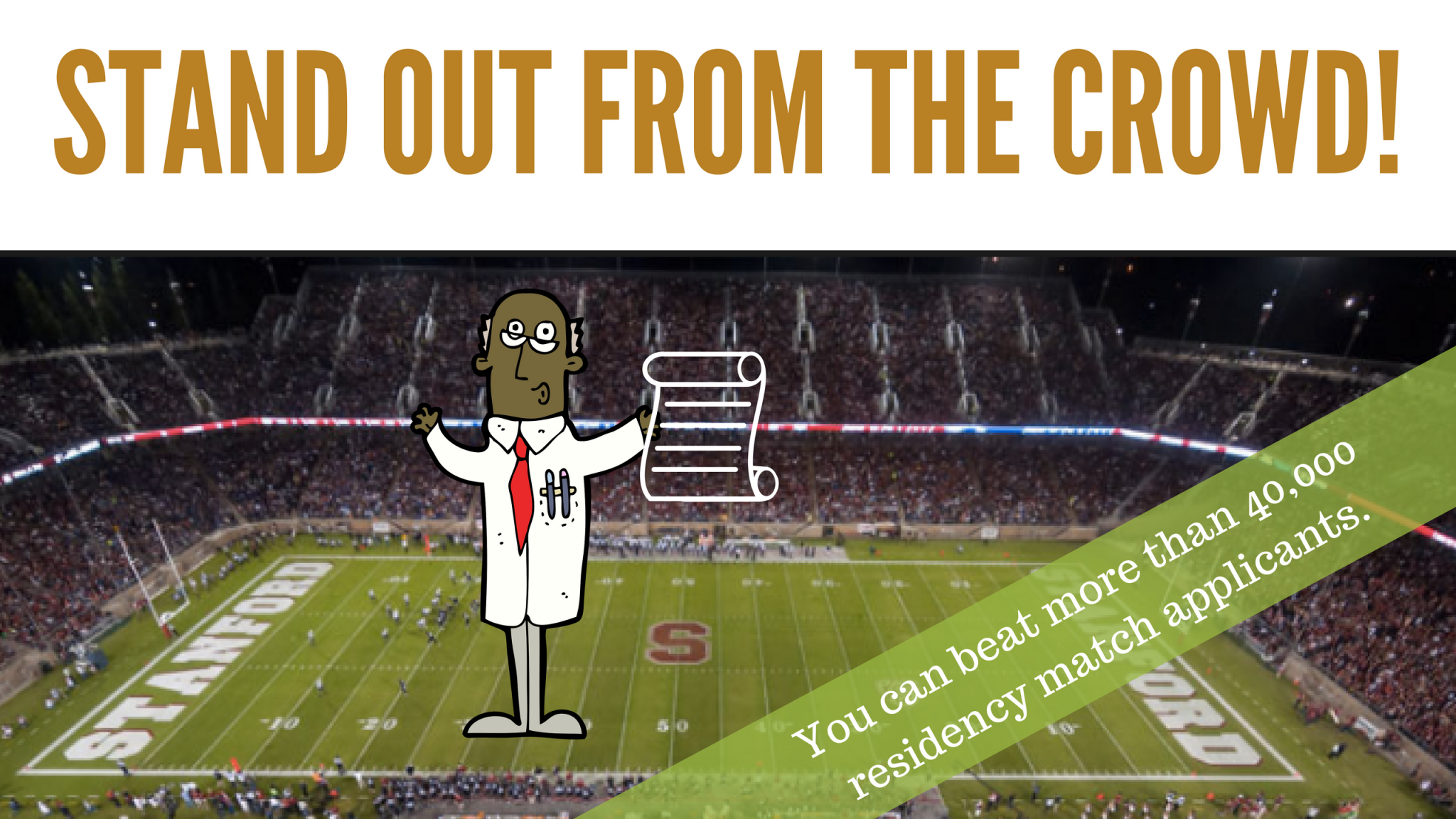 A physician and former residency program director explains how to write your residency personal statement to match in to your top-choice residency program in 2022-2023.
Read example residency personal statements and suggested outlines..
Introduction
The residency personal statement allows residency program directors and associate directors the chance to get a sense of who you are and your commitment to your chosen specialty. 
As a former program director who understands how residency personal statements are reviewed, what "stands out," and, most importantly, what will earn you interview invitations, the information below will help you write a residency personal statement to match!
It is imperative to make sure you get the most accurate guidance possible with regards to your residency personal statement content and optimal residency personal statement length (up to 5300 characters with spaces).
Want more personalized suggestions? Sign up for a FREE residency personal statement consultation .
Table of Contents
Goals for Writing Your 2022/2023 Residency Personal Statement
Above all else, your residency personal statement offers the opportunity to show your interest in your chosen specialty when applying to residency to illustrate you are a good fit.
The more details you offer about why you are interested in the specialty and how your med school rotations, accomplishments and experiences have reinforced this interest, the stronger your personal statement will be, the more it will appeal to selection committees and the better you will do in the match process .
I encourage applicants to offer as much "evidence" as possible to "show" rather than "tell" what qualities, characteristics and interests they have. "Telling" a reader, for example, that you are compassionate and hard working means nothing. Instead, you must "show" that you embody these qualities based on your experiences in health care and the patients for whom you have cared.
The residency personal statement also offers the opportunity to write about who you are as a person to convey some details about your background, influences, and interests outside of your given specialty.
The Importance of a Balanced Residency Personal Statement
The key when writing your residency personal statement is to ensure that it is well-balanced so it appeals to a large group of people who might read your ERAS residency application.
2021-2022 Residency Match Update
However, it is important to understand that every program director and faculty member has his or her own idea of what he would like to read in a personal statement. As an applicant, you must go into this process understanding that you cannot please everyone, or a specific program, and your personal statement should therefore have the broadest appeal possible.
For example, some program directors would rather hear about your personal interests and curiosities and get to know who you are rather than have you focus on the specialty in which you are interested.
At MedEdits, we suggest taking a "middle of the road" approach; include some details about who you are but also focus on the specialty itself. In this way, you will make more traditional reviewers who want to hear about your interest in the specialty happy while also satisfying those who would rather learn about you as a person.
Above all, be authentic and true to yourself when writing your statement. This always leads to the best results! Read on to learn more about how to write a winning personal statement.
About MedEdits
Getting into a residency has never been more competitive. Founded by a former associate program director, the experts at MedEdits will make your residency personal statement shine. We've worked with more than 5,000 students and 94% have been matched to one of their top-choice programs.
Need Help With Your Residency Personal Statement?
Schedule a Free 15 Minute Consultation with a MedEdits expert.
Residency Personal Statement Outline & Structure
Residency applicants often do well when given outlines or templates to follow, so, we will offer that, but, it is important to realize that many applicants deviate from these rigid rules. One very typical outline that serves applicants quite well in the residency admissions process is:
Compose a catchy introduction. Your intro can be related to your interest in the specialty to which you are applying, about a hobby or personal experience, or about your background. Regardless of the topic you choose, you want to tell a story and start with something that will interest your reader and engage him.
The next two to four paragraphs comprise the body of your personal statement. We encourage applicants to write about any significant experiences they have had related to their desired specialty and/or future goals. This would include information about rotations, electives, and sub internships related to the specialty, volunteer and research experiences and even significant outside interests.
Finally, you want to conclude your essay. In your conclusion, write about what you seek in a residency program, what you will bring to a residency program, and, if you have any idea of your future career goals, write about those as well. Your conclusion is also where you can tailor a personal statement to a specific geographic area of interest or type of program (rural, urban, community).
Residency Personal Statement Length & Residency Personal Statement Word Limit
Residency Personal Statement Length: Our recommendation is that your residency personal statement be between 4000 – 5300 characters with spaces or up to 900 words in length. 
The allowed ERAS residency personal statement length is 28,000 characters which equates to about five pages!
We have been hearing from more and more applicants that the personal statement should not exceed one page when typed in to the ERAS application . Because of this overwhelming trend, we are supporting this guidance unless you have extenuating circumstances that require your personal statement be longer.
Our recommendation is that your residency personal statement be a maximum of 5300 characters with spaces.
ERAS Residency Personal Statement Checklist
Ensure your personal statement flows well
The best personal statements are easy to read, don't make the reader think too much, and make your path and interests seem logical. Rarely does a personal statement have a theme. Also try to have each paragraph transition to the next seamlessly. 
2. Your personal statement should be about you!
Your personal statement should be about you and no one else. Focus on your interests, your accomplishments and your path. This is your opportunity to be forthcoming about your achievements – by writing in detail about what you have done.
3. Be sure your personal statement clearly outlines your interest in the specialty.
Since the reader wants to be convinced of your understanding of, experience in, and curiosity about the specialty to which you are applying, be sure you highlight what you have done to explore your interest as well as your insights and observations about the specialty to show your understanding of it.
4. Make it human.
Again, your personal statement should be about you! The reader wants to know who you are, where you are from, what your interests are and who you are outside of medicine. Therefore, try to include those details about your background that are intriguing or important to you.
5. Express your interest in the specialty.
The reader fundamentally wants to know why you are pursuing the specialty. The more details you offer the more convincing you are about your commitment and your understanding of the specialty. Be sure to include details that might seem obvious. For example, in emergency medicine you must like acute care, but try to include more nuanced details about your interest, too. What do you enjoy about the diagnoses and pathologies involved? What do you value about the actual work you will do? What do you enjoy about the patients for whom you will care? How about the setting in which you will practice?
6. The start and evolution of your interest.
Readers want to know how and when you became interested in your specialty. Was this before medical school? During medical school? What have you done to pursue and nurture your interest in the specialty?
7. What you have done to learn more about the specialty.
You should explain what you have done to pursue your interest. What rotations have you done or have planned? What research, scholarly work or community service activities have you pursued to further your interest?
8. Where you see yourself in the future – if you know!
Without going into too much detail, write about the type of setting in which you see yourself in the future. Do you hope to also participate in research, teaching, public health work or community outreach as a part of your career? What are your future goals? Since many programs typically train a certain type of physician, it is important that your goals are aligned with the programs to which you are applying.
9. What do you bring to the specialty?
You should try to identify what you can bring to the program and the specialty to which you are applying as a whole. For example, are you applying to family medicine and have a distinct interest in public health? Are you applying for internal medicine and do you have demonstrated expertise in information technology and hope to improve electronic medical records? Do you have extensive research or teaching experience, and do you hope to continue to pursue these interests in the future? Have you developed a commitment to global health, and do you hope to continue making contributions abroad? Programs have a societal obligation to select residents who will make valuable contributions in the future, so the more ambitions you have the more desirable a candidate you will be.
10. What type of program you hope to join?
Do you hope to be part of a community or university-based program? What are you seeking in a residency program? Programs are looking for residents who will be the right "fit" so offering an idea of what you are seeking in a program will help them determine if your values and goals mesh with those of the program.
11. Who you are outside of the hospital?
Try to bring in some personal elements about who you are. You can do this in a few ways. If you have any outside interests or accomplishments that complement your interest in your specialty, such as extracurricular work, global work, teaching or volunteer efforts, write about them in detail, and, in doing so, show the reader a different dimension of your personality. Or, consider opening your statement by writing about an experience related to your hobbies or outside interests. Write about this in the form of an introductory vignette. I suggest taking this nontraditional approach only if you are a talented writer and can somehow relate your outside interest to the specialty you are pursuing, however. An interest in the arts can lend itself to dermatology, plastic surgery or ophthalmology, for example. Or, an interest in technology could relate to radiology .
12. Any personal challenges?
Also explain any obstacles you have overcome: Were you the first in your family to graduate from college? Were you an immigrant? Did you have limited financial resources and work through college? Many applicants tend to shy away from the very things that make them impressive because they are afraid of appearing to be looking for sympathy. As long as you explain how you have overcome adversity in a positive or creative way, your experience will be viewed as the tremendous accomplishment that it is. The personal statement should explain any unusual or distinctive aspects of your background.
Residency Match: How It Works & How To Get Matched
Common ERAS Residency Personal Statement Mistakes
Do not tell your entire life story or write a statement focused on your childhood or undergraduate career. 
Do not write about why you wanted to be a doctor. This is old news. From the reviewers perspective, you already are a doctor!
Do not write a personal statement focused on one hobby or begin with your birth. Some background information might be useful if it offers context to your choices and path, but your residency personal statement should be focused on the present and what you have done to pursue your interest in the specialty to which you are applying.
Do not preach. The reader understands what it means to practice his specialty and does not need you to tell him. Don't write, for example: Internal medicine requires that a physician be knowledgeable, kind and compassionate. The reader wants to know about you!
Do not put down other specialties. You don't need to convince anyone of your interest by writing something negative about other specialties. Doing so just makes you look bad. If you switched residencies or interests, you can explain what else you were seeking and what you found in the specialty of your choice that interests you.
Do not embellish. Program directors are pretty good at sniffing out inconsistencies and dishonesty. Always tell the truth and be honest and authentic. 
Do not plagiarize. While this seems obvious to most people, every year people copy personal statements they find online or hire companies that use stock phrases and statement to compose statements for applicants. Don't do it!
Do not write about sensitive topics. Even if you were in a relationship that ended and resulted in a poor USMLE score , this is not a topic for a personal statement. In general, it is best to avoid discussing relationships, politics, ethical issues and religion.
Do not boast. Any hint of arrogance or self-righteousness may result in getting rejected. There is a fine line between confidence and self promotion. Some people make the mistake of over-selling themselves or writing about all of their fantastic qualities and characteristics. Rarely do readers view such personal statements favorably.
Do not write an overly creative piece. A residency personal statement should be professional. This work is equivalent to a job application. Don't get too creative; stay focused.
Writing ERAS Residency Personal Statements For Multiple Specialties
An increasing number of applicants are applying to more than one specialty in medicine especially if the first choice specialty is very competitive. If you are applying to more than one specialty, even if there is disciplinary overlap between the two (for example family medicine and pediatrics ), we advise you write a distinct specialty for each. Remember that a physician who practices the specialty you hope to join will most likely be reviewing your statement. He or she will definitely be able to determine if the personal statement illustrates a true understanding of the specialty. If you try to recycle an entire personal statement or parts of a personal statement for two specialties, there is a high likelihood the personal statement will communicate that you aren't sincerely interested in that specialty or that you don't really understand what the specialty is about.
Writing About Red Flags in your ERAS Personal Statement
The personal statement is also the place to explain any red flags in your application, such as gaps in time or a leave of absence. When addressing any red flags, explain what happened succinctly. Be honest, don't make excuses, and don't dwell on the topic. Whenever possible, write about how you have matured or grown from the adversity or what you may have learned and how this benefits you.
If you have left a program or had a break in your medical education, you will also have the chance to explain this in your ERAS application . You should also write about this topic in your personal statement only if you have more to explain, however. 
If you have failed a Step exam or one course in medical school, this likely isn't something to address in the personal statement. However, you should be prepared to discuss any failure during an interview. By the same token, it is best not to address one low grade or poor attending evaluation in your statement. 
Have you taken a circuitous path to medicine? If so you might address why you made these choices and what you found so interesting about medicine that was lacking in your former career.
Residency Personal Statement Example
Below are two great examples of residency personal statements that earned the applicants who wrote them numerous interviews and first choice matches. As you will see, these two applicants took very different approaches when writing the personal statement yet wrote equally persuasive and "successful" personal statements.
Residency Personal Statement Example, Analysis, and Outline: The Traditional Approach
The most common approach to the personal statement is what I will call the traditional approach, in which the applicant conveys her interest in the specialty, when that interest began and what she has done to pursue the particular specialty.
Suggested outline:
Introduction: Catchy Story
Paragraph 2: Background Information and how Interest Started
Paragraph 3: Write about what you did to explore your interest
Paragraph 4: Second paragraph about your experiences related to your specialty
Conclusion: Wrap it up. Write something about your future goals.
Below is an example of the traditional approach:
I looked into her eyes and saw terror. She knew the life of her unborn baby was in jeopardy. As tears streamed down her face, she looked to the attending physician. In desperation, she pleaded, "Please save our baby." She and her husband had been trying to conceive for more than two years, and they knew this could be their only chance to have a healthy child. She went into labor at home and because of a horrible snowstorm was not able to reach the hospital for several hours. When she arrived in labor and delivery, she was crowning. But, the baby was having late decelerations. Because of the sweat on my attending's forehead I knew the situation was serious. Yet we all tried to remain calm and to keep the patient and her husband calm as well. 
I entered medical school with an open mind as everyone suggested. Even as a first year medical student, however, I was fascinated with embryology. I entered my third year still unsure of what I would pursue. I knew I wanted a career that would be challenging and interesting. Because of my background in drawing and painting, I always loved working with my hands. Yet I also enjoyed working with people. Thankfully, my obstetrics and gynecology (ob/gyn) rotation was the first of my third year and I was immediately hooked.
I quickly sought out opportunities for research and became involved in a clinical study investigating the impact of a vegan diet on birth outcomes. I have always had an interest in wellness and nutrition, and this seemed like a perfect fit for me. My research is still in process, but through this experience I have learned how to analyze data, stay objective and critically evaluate the literature. So far, our findings suggest better than normal outcomes for babies born to vegan mothers. This reinforces my goal to educate my patients about the important of diet and nutrition, which I hope to make a part of my future practice. 
Early in my fourth year, I completed an elective rotation at Inner City Medical Center. There I cared for a diverse group of patients in both inpatient and outpatient settings. I realized how much I enjoy labor and delivery, but I also value the operative aspects of ob/gyn. I appreciate the importance of understanding the female anatomy so I can operate with precision.  I also value the diversity of practice in ob/gyn. Whether caring for a woman about to give birth, helping a woman newly diagnosed with breast cancer navigate her treatment options, or caring for a perimenopausal woman who is coping with symptoms of hormone fluctuations, I enjoy caring for patients with knowledge and compassion. The outpatient aspect of ob/gyn brings satisfaction as well. I look forward to building relationships with my patients, helping them to lead the healthiest lives possible. I have also realized how much I want to care for those who lack access to care. The work I have done at Medical School Free Clinic has helped me realize the gaps that exist in access to care and education. As a future practicing ob/gyn, I hope to work in such a setting at least on a part time basis.
On that snowy night, when we realized the baby was having difficulty being born because of shoulder dystocia, a simple maneuver eased the situation. The baby's first cry brought such joy and relief to everyone in the room and, at that moment, I knew I had to be part of this specialty. I hope to join a program where I will have the clinical exposure that will give me the skills and experience to care for a wide range of patients. I do not yet know if I will subspecialize, and I will seek out mentors and experiences as a resident to make an informed decision. I would be honored to interview at your program and thank you for your consideration.
Why It's Great
This is a great personal statement because it clearly conveys the applicant's interest in, and understanding of, obstetrics and gynecology (OB/GYN) and what the applicant has done to pursue that interest. Not only does this applicant have a long-standing interest in OB/GYN, but, she conveys that she has experienced the specialty in different settings and understands the diverse nature of the specialty. She also includes information about her hobbies and interests and writes about her exploration of OB/GYN outside of the clinical arena. An added bonus is that the applicant writes well and uses descriptive language making her statement interesting and fun to read.
Residency Personal Statement Example, Analysis, and Outline: The Outside Interests Approach
Many mentors advise applicants to tell the reader something about them that is unrelated to medicine or the specialty they are pursuing. This is a fine idea, but be sure your personal statement also includes some details about your interest in your specialty if you decide to move in this direction.
Suggested Outline:
Introduction: Write a Catchy Introduction. Be creative! Think outside the box.
Paragraph 2:Elaborate on your introduction offering more details
Paragraph 3: Write about your specialty choice and what appeals to you.
Paragraph 4: Write more about your explorations in medical school.
Concluding paragraph(s): Write about your future goals, the type of program you hope to join and consider looping back to your introduction.
Below is an example of the outside interests approach:
The landscape before me was lush and magical. We had been hiking for hours and had found a great spot to set up camp. As I was unloading my backpack and helping to pitch the tent, I saw a scene I knew I had to capture. I quickly grabbed my carefully packed Leica before the magnificent sunset disappeared. Trying to get the perfect exposure, I somehow managed to capture this image so accurately that it reflected the beauty of what was before us high in the mountains of Utah, so far away from the hustle and bustle of New York City where we attended medical school.
Throughout my life, I have pursued my interests and curiosities with focus and creativity. One of those interests is photography. Even as a small child, I wanted my own camera, and I started snapping interesting scenes and images at the age of 6. As I grew older, this hobby took on more significance. I took a college level course in photography as a high school student, worked as a photographer's assistant and even considered a career in photography. Paralleling my interest, however, was a desire to travel and experience new places, foods, and cultures.
I have been fortunate to travel all over the world. Rather than stopping in a city or place for a couple of days and seeing the sights, I prefer to immerse myself in my surroundings, eating the food, meeting the people, and staying for as long as I can. My fluency in Spanish and Italian has made it easier to "fit in" naturally. My most recent trip to Costa Rica allowed me to visit sugar cane fields and rain forests. I also volunteered in a clinic that helps the most desperate citizens. Of course, because I never travel without my camera, I also captured the beauty of this country; those pictures can be found on my blog.
Surgery seemed like a natural choice for me. It is a very tactile and visual field that requires patience, attention to detail and creativity—just like photography. The operating room setting is invigorating. I love to be a member of a team, and in surgery team work is an essential part of practice. The ability to deal with anatomical variations also satisfies my creative side; I have always been fond of puzzles, and the field of surgery represents a real-world puzzle to me. I also appreciate the intensity of surgery and believe I have the personality and demeanor for the field. I have always enjoyed solving problems quickly, something the field of surgery requires. My rotations in surgery – in addition to my core surgery rotation I have done trauma and cardiothoracic surgery – have helped me to understand the tremendous opportunities and diversity of the field. I have heard some residents lament that the only reason they went into surgery is to operate. However, I really enjoy seeing patients postoperatively. It is only at that time that a surgeon can really appreciate the impact of his or her work.
Finally, my trip to Honduras with a surgical team from my hospital and medical school made me realize that I can make a great contribution globally in the field of surgery. There we saw patients who had no resources or access to care. The facilities in which we worked were bare-bones. Yet the impact we made was tremendous, given that this was a group of people who otherwise would have no surgical care. In this way, I hope to combine my interests in travel and surgery as a resident, if I have time, and certainly as a practicing physician. My ultimate goal is to use my training to help populations globally and domestically.
To gain the most clinical exposure possible, I hope to train in a busy urban hospital. I believe that such a setting will give me the operative experience I need to be able to navigate many situations in the future. Such a setting will also give me the outpatient experience to understand how to manage patients once the surgery is completed.
I look forward to the day when I can be snapping my camera intraoperatively, documenting what I am doing and seeking to help other surgeons. For some, such pictures may not represent the art of those pictures I take in the wilderness, but for me they reflect the beauty of surgery and the great opportunity to make a lasting impression on another human being's life.
This is a really intriguing personal statement because the author writes about his outside interests in a compelling way that makes him instinctively likable. He then goes on to explain what he enjoys about surgery and what he has done to pursue that interest. As you can see, this applicant writes less about his specialty (surgery) than the applicant in statement #1 did, but, he still convinces the reader of his understanding of, and commitment to, surgery. In this statement, the reader gains a much broader understanding of who the applicant is as a person and what he likes to do in his free time.
Final Thoughts
Writing your residency personal statement should be about telling your story in your own voice and style. You want to highlight your interest in the specialty for which you are applying while also conveying some ideas about who you are as a person to keep your reader engaged in learning about you as a person.
Residency Personal Statement Consulting Services
MedEdits Medical Admissions offers comprehensive guidance and document review services for residency applicants to every specialty in medicine. With more than twenty years of experience in residency admissions and founded by a former residency admissions officer and physician, MedEdits understands what program directors want to read and can help you decide what aspects of your background to focus on in your residency personal statement to earn the most interviews possible.
Getting into a residency has never been more competitive. Let the experts at MedEdits help you with your ERAS personal statement. We've worked with more than 5,000 students and 94% have been matched to one of their top-choice programs.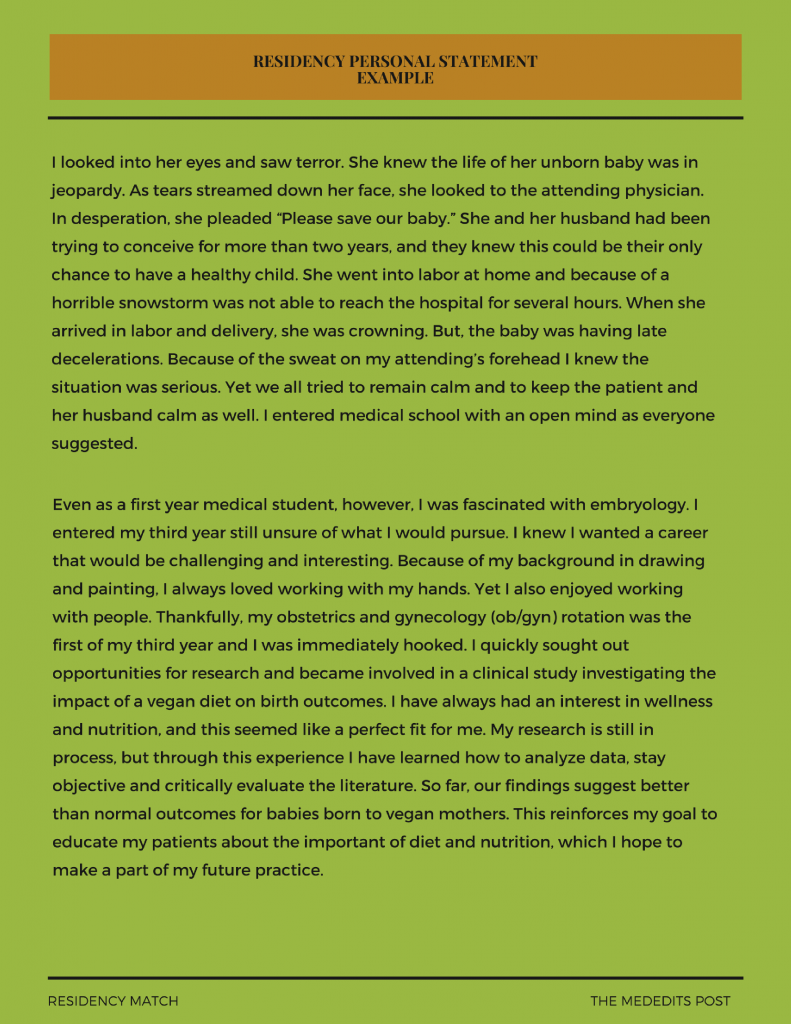 Sample Residency Personal Statements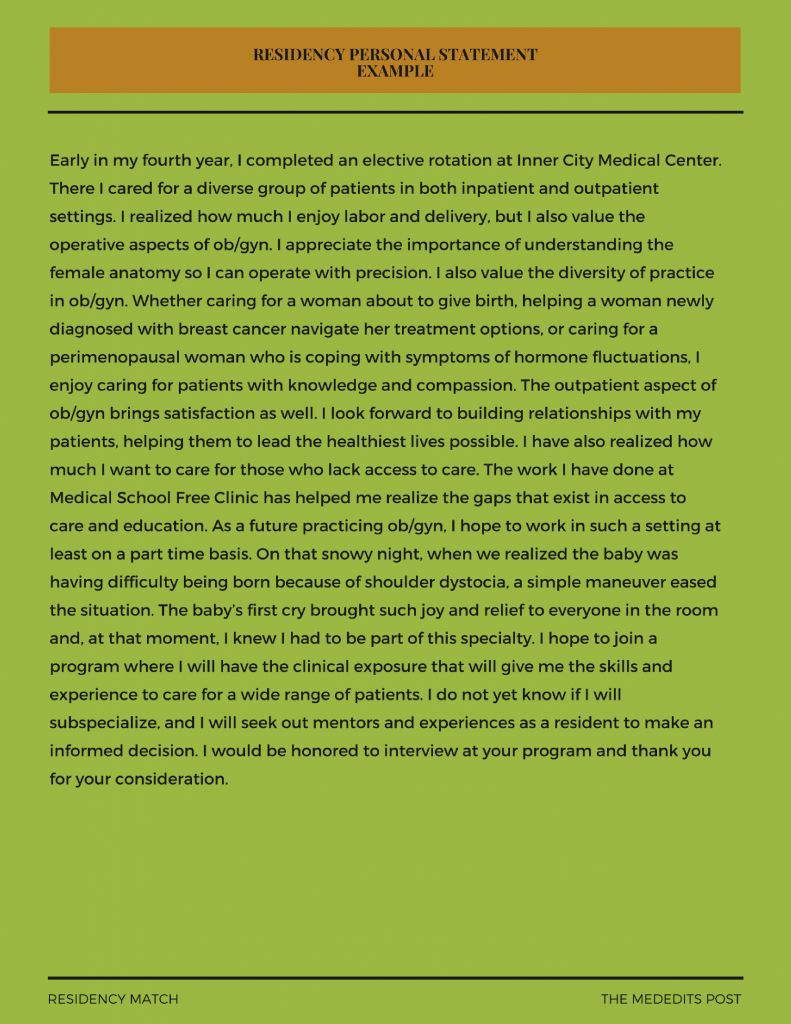 Residency Related Articles and Guidance
Residency Match Statistics
Residency Personal Statement: The 2020-2021 Residency Personal Statement Insider's Guide (with examples)
How to write a residency interview thank you letter.
What Outfit To Wear To Your Residency Interview
Medical Residency Timeline & Length
Medical Residency Salary By Specialty
How To Master MyERAS, The Medical Residency Interview, and Common Residency Interview Questions
Master the ERAS (Electronic Residency Application Service) & ERAS Timeline
Residency Letters Of Recommendation (with ERAS Samples)
Residency Letter of Intent
How to Write a Residency Letter of Intent
Residency Love Letters
Residency Match Success: Lessons Learned 2020 – 2021
Residency Specialty Articles
Family Medicine Residency Match: Beat more than 4400 Applications
Pediatrics Residency Match: Beat more than 3000 Applicaitons
Internal Medicine Residency Match: Beat more than 10,000 Applications
General Surgery Residency Match: BEAT more than 1900 Applications
Emergency Medicine Residency Match: BEAT more than 2600 Applications
Anesthesiology Residency Match: BEAT more than 2,000 Applicants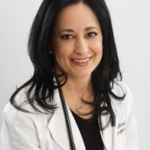 POPULAR POSTS

How To Write The Residency Letter of Intent (2022-2023)

2023-2024 AMCAS Work & Activities Section (With Examples): The Ultimate Guide

Medical School Admissions Consulting Lessons Learned 2020-2021
Popular category.
Premed Postbacc and SMP 210
Medical School Interview 185
Secondary Essay Prompts 185
Top 100 MCAT Tutoring Cities 100
Top Pre Med Schools 79
Medical School Application Articles and Resources 26
Medical School Admissions 25
Medical School Admissions Articles 18
BS/MD BA/MD BA/DO 12
Website Disclaimer
Terms and Conditions
MedEdits Privacy Policy
Tips For Law School Personal Statements: Examples, Resources And More
Updated: Dec 1, 2022, 3:54am
Tens of thousands of undergraduates pursue law school annually, and the competition for admission is fierce.
When it comes to admissions, your law school personal statement is not as impactful as your LSAT scores or undergraduate GPA. Still, a personal statement can be the deciding factor when you are neck and neck with other applicants.
In this article, we discuss how to write a law school personal statement that demonstrates why you belong in a juris doctor (JD) program.
Southern New Hampshire University
Empower your future with an education from Southern New Hampshire University, where you can gain the skills and knowledge needed to succeed in today's competitive world
What Is a Law School Personal Statement?
A law school personal statement is a multi-paragraph essay or narrative highlighting the reason you are pursuing a JD degree . This essay is an opportunity to share your identity with an admissions committee—beyond just transcripts and test scores.
Personal statements are typically two to four pages long. Most law schools do not provide specific prompts for applicants' statements, but some do. Either way, the content of your statement should leave a strong impression.
Why Do Law Schools Ask for Personal Statements?
A personal statement can act as a substitute for the applicant interview process. It also provides a writing sample that shows your ability to communicate ideas effectively. A personal statement can give an admissions committee a clear picture of your motivations for attending law school, indicating how well you might fit into their program.
If you're wondering how to become a lawyer , law school is the first step—and your personal statement is important to the law school application process.
How to Write a Law School Personal Statement
Writing a law school personal statement can be a challenging part of the application process, involving hours of planning and drafting. However, with solid brainstorming and pre-writing strategies, you can craft an effective personal statement that illustrates how you are a strong candidate for law school.
Picking What to Write About
If your prospective school does not provide a prompt, choosing what to write about can be frustrating and time-consuming.
Start with a serious brainstorming session to get your ideas on paper. Give yourself the license to explore every experience or idea before deciding on your final topic.
Consider spending time jotting down every idea that falls into the following categories:
Life events or experiences that motivated you or changed your perspective
A meaningful personal achievement and what you learned from it
How you became interested in the law
Your passions and how they contributed to your individual goals
Structuring Your Law School Personal Statement
The structure and method you use to craft your statement is important. It might be tempting to follow a rigid formula and write a personal statement that methodically unpacks your reason for attending law school, your qualifications and the relevance of your extracurricular engagements. However, some of the most effective personal statements are crafted through a narrative approach.
Well-written narratives are engaging and illustrate why law school would benefit your career path. Your essay should exhibit your dedication and passion for the law and highlight the relationship between your values and your target law school. By creating a narrative with a common theme woven throughout, you can captivate your reader while also informing them of your qualifications and goals.
Rather than overtly telling the reader why you should be accepted into law school, a narrative allows its audience to make connections and engage at a personal level. Your anecdotes and specific examples should reveal the traits you want the admissions committee to see and appreciate.
What Makes a 'Good' Law School Personal Statement?
Law school admissions teams read hundreds of statements, so it's important to write one that stands out. Ultimately, a good law school personal statement is engaging, unique and descriptive of your personal qualities that would make you a good attorney.
Choose a Unique Topic
A personal statement is exactly that: personal. Crafting a memorable narrative is paramount and dependent on your story and unique life experiences, especially since reviewers read so many personal statements with similar stories and themes.
Unfortunately, certain topics can come across as cliche. This is not to say that your lived experience of overcoming adversity or your time spent volunteering to help those in need is undervalued. However, those narratives have motivated thousands of aspiring attorneys to pursue law—meaning they have appeared in thousands of law school personal statements.
Give Specific Examples
Once you've selected a topic, take time to unpack the examples you plan to share and how they tie into the "why" behind your pursuit of law school. General statements are not only boring to read but lack the depth of meaning required to make an impact. Specific examples are critical to creating interest and highlighting the uniqueness of your personal experience.
Be Personal and Reflective
Law schools want to see critical thinking skills and deep reflection in applicants' personal essays. Before you write, consider a few questions: Is your story unique to you? What was the primary conflict in your story? How did you develop over time? How does this story reflect who you are now and how law school suits you?
Common Pitfalls for a Law School Personal Statement
Before you invest hours writing an essay just for it to fall flat, make sure you're aware of the most common pitfalls for law school personal statements.
Failing To Follow Instructions
Law schools set specific guidelines on how your personal statement should be formatted and how long it should be. Failing to meet these expectations could result in an automatic rejection.
Length and formatting requirements vary among law schools. For example, if a school expects no more than two pages, 11-point font, 1-inch margins and double spacing, make sure to format your personal statement precisely according to those specifications. We advise tailoring your personal statement to each individual school to avoid violating any formatting requirements.
If a law school asks you to answer a specific prompt or write multiple essays, make sure to follow those instructions as well.
Not Revising And Proofreading
Nothing screams a lack of effort, interest and commitment like an unpolished personal statement. Admissions teams will quickly notice if you skip proofreads and revisions, even if the content of your essay is exceptional.
This step entails much more than running a spelling and grammar check. You must ensure that the order of information is purposeful and logical. Each word you use should be intentional and add value to the story you are trying to tell.
Revising an essay is not a one-person job. Have others provide feedback, too. Your peers and mentors are a great place to start, as long as they give objective feedback.
Also ask people you do not know to provide feedback. You might start with your university's writing center. Writing centers employ trained writing tutors who are skilled in providing feedback across disciplines. A writing center tutor will not proofread your essay, but they assist in making it reach its full potential.
Using Flowery Or Overly Academic Language
The voice and tone of your personal statement should flow naturally and reflect who you are. This doesn't require flowery or overly academic language, which can make your essay sound more obtuse and less personal.
As we stated earlier, your personal statement should use specific examples and stories to generate interest and reveal why you want to attend law school and become a lawyer.
Likewise, you should avoid using excessive legal language in your statement. Admissions reviewers are academics, so if you use a term improperly, they will catch it. Use language that you feel comfortable with, and allow your narrative to convey your intended themes and ideas.
Types Of Psychology Careers
How Much Does A Psychologist Make?
How To Become A Forensic Psychologist
How To Become A Psychologist
How To Earn An MBA Degree
How To Become A Financial Manager
How To Become A Marketing Manager
How To Become A Sales Manager
Types Of Computer Programming Jobs
Coding Jobs – Career And Degree Options
Are Bootcamps Worth It?
How Much Do Data Scientists Make?
Best Online MSW Programs
Types Of Careers In Social Work
Everything About Social Work Careers
How To Earn A Bachelor's In Social Work
How To Become A Marketing Director
How To Choose A Career In Marketing
How To Choose A Major
Best Soft Skills For Tech Professionals
How To Find Remote Internships
How To Become An Anesthesiologist
How Long Does It Take To Become An Anesthesiologist?
What Is Forensic Counseling? A Comprehensive Guide
Online associate degree in project management: everything you need to know, how to become a product manager: a step-by-step guide, earning an associate in nursing: requirements and career opportunities, what does law school cost, and is it worth it, earning a public relations degree: everything you should know.
Brandon Galarita is a freelance writer and K-12 educator in Honolulu, Hawaii. He is passionate about technology in education, college and career readiness and school improvement through data-driven practices.
How to start a personal statement: The attention grabber
Applying to university
Getting started
Deferred entry
When to apply to a conservatoire
What to do if you don't have copies of old exam certificates
Fraud and similarity
How to get a reference
Admissions tests
Coping with financial difficulty as a mature student
Education is for life
Mature student case studies
Mature students – getting ready to start your course
Mature students: five things to include in your personal statement
Preparing for study as a mature student – choosing where to study
Preparing for study as a mature student – student support
Preparing for study as a mature student – your qualifications
References for mature students
Student finance for mature students
The application process for mature students
Writing a reference for a mature student
Why study in the UK?
Tips for international applications
How to apply to study in the UK through the new Student route
What finance options are available to me if I want to study in the UK?
What level of English do I need to get into a UK university?
Ten ways to choose a UK university
The strength of a UK qualification to employers
How to prepare for a uni interview
What support is available at university
How to look after your mental health while at uni
How to open a UK bank account
Five ways to save money at university
Checklist for international students
Six support organisations that help international students
Disabled students: Preparing for open days and visits
Speaking to the disability support team or mental health adviser
Support for disabled students – frequently asked questions
UCAS Undergraduate for mature students
Student carers
Students with parenting responsibilities
UCAS Undergraduate: support for care leavers
Applying to university as an estranged student
Students from a UK Armed Forces background
Support for students who have been bereaved as a child
How to apply in Welsh
The UCAS Undergraduate application process
Clearing guide for parents
Staying safe online
Personal statement guides
Criminal convictions – what you need to know
How to write a personal statement that works for multiple courses
Personal statement advice and example: computer science
Personal statement advice: English
Personal statement advice: Midwifery
Personal statement advice: animal science
Personal statement advice: biology
Personal statement advice: business and management
Personal statement advice: chemistry
Personal statement advice: dance
Personal statement advice: dentistry
Personal statement advice: drama
Personal statement advice: economics
Personal statement advice: engineering
Personal statement advice: geography
Personal statement advice: history
Personal statement advice: law
Personal statement advice: maths
Personal statement advice: media studies and journalism
Personal statement advice: medicine
Personal statement advice: modern languages
Personal statement advice: music
Personal statement advice: nursing
Personal statement advice: pharmacy
Personal statement advice: physiotherapy
Personal statement advice: politics
Personal statement advice: psychology
Personal statement advice: social work
Personal statement advice: sociology
Personal statement advice: sports science
Personal statement advice: statistics
Personal statement advice: teacher training and education
Personal statement advice: veterinary medicine
Personal statement: finance and accounting
How To Write Your Undergraduate Personal Statement
How to end your personal statement
Introducing the personal statement tool
Personal statement dos and don'ts
Using your personal statement beyond a university application
What to include in a personal statement
Carers, estranged students, refugees, asylum seekers, and those with limited leave to remain
The best statements tend to be genuine and specific from the very start. You'll be on the right track if you show your enthusiasm for the subject or course, your understanding of it, and what you want to achieve.
Admissions tutors – the people who read and score your personal statement – say don't get stressed about trying to think of a 'killer opening'. Discover the advice below and take your time to think about how best to introduce yourself.
Liz Bryan: HE Coordinator and Careers Advisor, Queen Elizabeth Sixth Form College
Preparing to write your personal statement.
Start by making some notes . The personal statement allows admissions tutors to form a picture of who you are. So, for the opener, think about writing down things, such as:
why you're a good candidate
your motivations
what brings you to this course
If you're applying for multiple courses , think about how your skills, academic interests, and the way you think are relevant to all the courses you've chosen.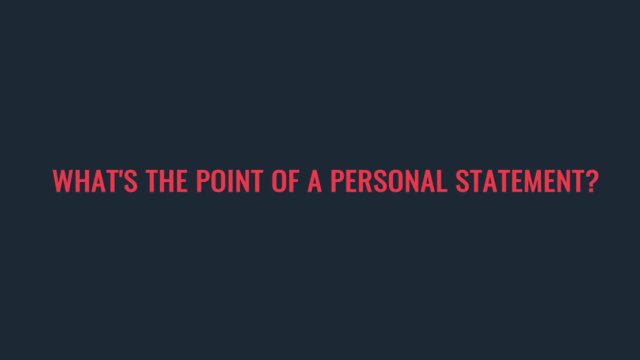 Top tips on how to write your statement opener
We spoke to admissions tutors at unis and colleges – read on for their tips.
1. Don't begin with the overkill opening
Try not to overthink the opening sentence. You need to engage the reader with your relevant thoughts and ideas, but not go overboard .
Tutors said: 'The opening is your chance to introduce yourself, to explain your motivation for studying the course and to demonstrate your understanding of it. The best personal statements get to the point quickly. Go straight in. What excites you about the course and why do you want to learn about it more?'
Be succinct and draw the reader in, but not with a gimmick. This isn't the X Factor. Admissions tutor
2. Write about why you want to study that course
Think about why you want to study the course and how you can demonstrate this in your written statement :
'Your interest in the course is the biggest thing. Start with a short sentence that captures the reason why you're interested in studying the area you're applying for and that communicates your enthusiasm for it. Don't waffle or say you want to study something just because it's interesting. Explain what you find interesting about it.'
It's much better to engage us with something interesting, relevant, specific and current in your opening line… Start with what's inspiring you now, not what inspired you when you were six. Admissions tutor
3. Avoid cliches
Try to avoid cliches and the most obvious opening sentences so you stand out from the very first line . UCAS publishes a list of common opening lines each year. Here are just some overused phrases to avoid using in your personal statement:
From a young age…
For as long as I can remember…
I am applying for this course because…
I have always been interested in…
Throughout my life I have always enjoyed…
And try not to use quotes . Quotations are top of the list of admissions tutors' pet hates.
4. Maybe don't begin at the start?
'Concentrate on the main content of your statement and write the introduction last. I think the opening line is the hardest one to write, so I often say leave it until the end and just try and get something down on paper.'
It may be easier to get on with writing the main content of your statement and coming back to the introduction afterwards –that way you will also know what you're introducing.
I often advise applicants to start with paragraph two, where you get into why you want to study the course. That's what we're really interested in. Admissions tutor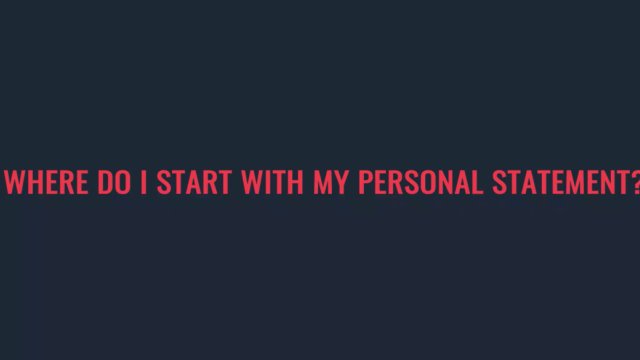 Joseph Bolton: Year 2 History& Politics student, University of Liverpool
Do talk about you and your enthusiasm for the subject from the very start.
Do be specific. Explain what you want to study and why in the first two sentences.
Do come back to the opening sentences if you can't think what to write straightaway.
Don't waste time trying to think of a catchy opening.
Don't waffle – simply explain what you find interesting about the subject and show that you know what you are applying for.
Don't rely on someone else's words. It's your statement after all – they want to know what you think.
One final thought
Think about making a link between your opening sentence and closing paragraph – a technique sometimes called the 'necklace approach'.
You can reinforce what you said at the start or add an extra dimension. For example, if you started with an interesting line about what's currently motivating you to study your chosen degree course, you could link back to it at the end, perhaps with something about why you'd love to study this further at uni.
Need more advice?
Struggling with the conclusion to your personal statement? Read our guide on how to finish your statement the right way .
Read more dos and don'ts when writing your personal statement .
Discover what to include in your personal statement .
Start your opening sentences with our personal statement builder now.
UCAS scans all personal statements with the Copycatch system, to compare them with previous statements.
Any similarity greater than 30% will be flagged and action could be taken against you.
Find out more
Start your search now
Get your UCAS Hub
Your place to discover your options and research your future.
Was this page helpful?
Yes No
Share this page
You might also like to read, sponsored articles, apprenticeships – the facts, three reasons you should attend a ucas exhibition, how to find a job.
Recently viewed courses
Recently viewed.
Find Your Dream School
COVID-19 Update: To help students through this crisis, The Princeton Review will continue our "Enroll with Confidence" refund policies. For full details, please click here.
Enter your email to unlock an extra $50 off any MCAT program!
By submitting my email address. i certify that i am 13 years of age or older, agree to recieve marketing email messages from the princeton review, and agree to terms of use., 15 tips for your medical school personal statement.
Don't underestimate the power of the medical school personal statement to make a strong, positive impression on an admissions committee. Combined with your interview performance, your personal statement can account for 60% (or more) of your total admissions score!
Medical schools want to enroll bright, empathetic, communicative people. Here's how to write a compelling med school personal statement that shows schools who you are and what you're capable of.
Personal Statement Topics
Your medical school personal statement is a component of your primary application submitted via, TMDSAS (for Texas applications), or AACOMAS (NB: If you are applying to medical school in Canada, confirm the application process with your school, as not all application components may be submitted through AMCAS).
These applications offer broad topics to consider, and many essay approaches are acceptable. For example, you could write about:
an experience that challenged or changed your perspective about medicine
a relationship with a mentor or another inspiring individual
a challenging personal experience
unique hardships, challenges, or obstacles that may have influenced your educational pursuits
your motivation to seek a career in medicine
You'll write an additional essay (or two) when you submit secondary applications to individual schools. These essays require you to respond to a specific question. Admissions committees will review your entire application, so choose subject matter that complements your original essay .
Read More: Strategies for Secondary Applications
How to Write a Personal Statement for Medical School
Follow these personal statement tips to help the admissions committee better understand you as a candidate.
1. Write, re-write, let it sit, and write again!
Allow yourself 6 months of writing and revision to get your essay in submission-ready shape. This gives you the time to take your first pass, set your draft aside (for a minimum of 24 hours), review what you've written, and re-work your draft.
2. Stay focused.
Your personal statement should highlight interesting aspects of your journey—not tell your entire life story. Choose a theme, stick to it, and support it with specific examples.
3. Back off the cliches.
Loving science and wanting to help people might be your sincere passions, but they are also what everyone else is writing about. Instead, be personal and specific.
4. Find your unique angle.
What can you say about yourself that no one else can? Remember, everyone has trials, successes and failures. What's important and unique is how you reacted to those incidents. Bring your own voice and perspective to your personal statement to give it a truly memorable flavor.
5. Be interesting.
Start with a "catch" that will create intrigue before launching into the story of who you are. Make the admissions committee want to read on!
6. Show don't tell.
Instead of telling the admissions committee about your unique qualities (like compassion, empathy, and organization), show them through the stories you tell about yourself. Don't just say it—actually prove it.
7. Embrace the 5-point essay format.
Here's a trusty format that you can make your own:
1st paragraph: These four or five sentences should "catch" the reader's attention.
3-4 body paragraphs: Use these paragraphs to reveal who you are. Ideally, one of these paragraphs will reflect clinical understanding and one will reflect service.
Concluding paragraph: The strongest conclusion reflects the beginning of your essay, gives a brief summary of you are, and ends with a challenge for the future.
8. Good writing is simple writing.
Good medical students—and good doctors—use clear, direct language. Your essays should not be a struggle to comprehend.
9. Be thoughtful about transitions.
Be sure to vary your sentence structure. You don't want your essay to be boring! Pay attention to how your paragraphs connect to each other.
10. Stick to the rules.
Watch your word count. That's 5,300 characters (including spaces) for AMCAS applications, 5,000 characters for TMDSAS, and 4,500 characters for AACOMAS.
11. Stay on topic.
Rambling not only uses up your precious character limit, but it also causes confusion! Think about the three to five "sound bytes" you want admissions committee to know and remember you by.
12. Don't overdo it.
Beware of being too self-congratulatory or too self-deprecating.
13. Seek multiple opinions.
Before you hit "submit," ask several people you trust for feedback on your personal statement. The more time you have spent writing your statement, the less likely you are to spot any errors. A professor or friend whose judgment and writing skills you trust is invaluable.
Read More: 12 Smart Tips for Your AMCAS Application
14. Double-check the details.
Always check for grammar, spelling, and punctuation errors. This goes for the rest of your application (like your activities list), too. A common oversight is referencing the wrong school in your statement! Give yourself (and your proofreaders) the time this task truly requires.
15. Consult the experts about your personal statement strategy.
Our med school admissions counselors can diagnose the "health" of your overall application, including your personal statement. Get expert help and guidance to write an effective personal statement that showcases not only your accomplishments, but your passion and your journey.
Want to get an edge over the crowd?
Our admissions experts know what it takes it get into med school. Get the customized strategy and guidance you need to help achieve your goals.
Med School Admission Counseling
Explore Graduate Programs for You
Explore our featured graduate schools & programs to find those that both match your interests and are looking for students like you.
Best Law Schools
Check out our complete list of 164 law schools, based on surveys of school administrators and over 14,000 students.
Search for Medical Schools
Visit our Med School Hub to explore med schools with our 'Find Your Med School' filtered search or visit our Med School Advice pages for info about good MCAT scores or interview question prep.
Find MBA Programs Matched to Your Interests
Explore our featured business schools to find those that are looking for students like you.
MCAT Prep Courses
510+ course, ultimate course, summer immersion, more mcat articles, free mcat practice test & events, 1-800-2review.
Enrollment Advisor
1-800-2REVIEW (800-273-8439) ext. 1
1-877-LEARN-30
Student Support
1-800-2REVIEW (800-273-8439) ext. 2
Partnerships
College Readiness
International
Advertising
Affiliate/Other
Enrollment Terms & Conditions
Accessibility
Cigna Medical Transparency in Coverage
Register Book
Mon-Fri 9AM-10PM ET
Sat-Sun 9AM-8PM ET
Local Offices: Mon-Fri 9AM-6PM
Mon-Fri 9AM-9PM ET
Sat-Sun 8:30AM-5PM ET
Academic Subjects
Find the Right College
College Rankings
College Advice
Applying to College
Financial Aid
School & District Partnerships
Professional Development
Advice Articles
Private Tutoring
Mobile Apps
Local Offices
International Offices
Work for Us
Affiliate Program
Partner with Us
Advertise with Us
International Partnerships
Our Guarantees
©2023 TPR Education IP Holdings, LLC. All Rights Reserved. The Princeton Review is not affiliated with Princeton University
Privacy Policy | Do Not Sell or Share My Personal Information | CA Privacy Notice | Terms of Use | Site Map
Search form
Department of Emergency Medicine
Impressing: personal statement.
Personal statements usually fall into 3 categories:
The top 5% are works of writing wonder which are appreciated by all who read them but add only a little to your interview chances.
The middle 85% are not necessarily memorable but they are well written and get a sense of you across; these may not add a whole lot to your interview chances but they don't detract and they will hopefully create a memorable image that will be yours for the season.
The bottom 10% are poorly written with grammatical mistakes, spelling errors, a lack of organization, or some combination of the three; these will truly hurt your chances for an interview – some committees have a zero tolerance policy for spelling or grammar errors.
Those who write papers in the bottom 10% are often the ones who are shooting for the top 5%; we therefore recommend that your goal should be the middle 85%. The goal of your statement should be to explain why you want to go into emergency medicine and why you think emergency medicine is the right specialty for you.
Overarching theme
Look over your CV and think about the experiences before and during medical school that might inform what kind of emergency physician you will become. Often there is a common thread that holds together even the most disparate of experiences – this common thread is usually one of your core values as a person. This may be a good theme to weave throughout and hold together your personal statement.
Experiences to highlight
Use your experiences to give programs an idea of who you are. Be specific – talking about the aspects of care that you like in emergency medicine is good but it's even better when programs can see how you personal experiences reinforce aspects of emergency medicine that resonate with you as a person. It's OK to include patient vignettes and talk about your accomplishments, but be sure to relate it back to yourself. How did the experience impact you? What did you learn about yourself? How will the experience make you a better family physician? What about the experience demonstrates your commitment to the discipline of emergency medicine, your ability to work with others, your ability to work with patients? Often choosing one experience and telling the story is a good way to open your statement, to develop your theme, and make it memorable.
Commitment to specialty
Talk about why you are choosing emergency medicine. What experiences convince you that this is the right field for you?
Strengths that you bring
What do you bring to a program? What are you naturally good at? What specific skills do you have that well serve you will in residency? Give examples.
Future plans/what you are looking for in a residency program
At the end of this long road of school and training, what kind of work do you see yourself doing? This is not necessary but if you do have a sense then you should bring it up – it will help paint a better picture of you and give you something to discuss a the interviews.
Organizing your statement
There are many ways to organize your statement to get these points across. One common way of organizing the personal statement is a three to five paragraph form reminiscent of those essays you had to write in high school. To use this approach the first paragraph tells a story to open the theme, the middle paragraph(s) fleshes out other experiences that highlight the theme and discuss your commitment to emergency medicine and what you have to bring to it, and the third paragraph reviews your strengths and future plans/training desires. However, this is a personal statement and you are free to write and organize it as you desire.
Write in complete sentences.
Have transitions between paragraphs
Use the active voice.
Make your writing interesting – use a thesaurus and vary sentence length.
Have at least two other people (one who knows you well and one who knows the process of applying to EM residency well) read your personal statement and give feedback.
Give yourself plenty of time to work on your statement and revise it based on feedback.
Rehash your CV or write an autobiography.
Discuss research or experiences that you can't expand significantly on in an interview.
Be overly creative ‐‐ no poems or dioramas.
Use abbreviations – spell things out.
Say "emergency room" or "emergency room doctor" – use emergency department and emergency physician
Start every sentence with "I".
Make it longer than one page, single‐spaced, 12 point font.
Have ANY spelling or grammatical errors.
Write a statement that could be used for several different specialties (i.e. one that talks about wanting a primary care career but not specifically emergency medicine). If you are still deciding on a specialty and applying to different fields, write two different statements.
End your essay speaking to the reader (e.g., thanking them for their time).
Be arrogant or overly self‐deprecating.
Focus on lifestyles issues or what you will do with all your free time as an EP.
Focus on your being an adrenalin junkie.
Use hackneyed stories of growth, travel or adventure unless it really is personal and you can express that.
Adapted with permission from the copyrighted career advising resources developed by Amanda Kost, MD and the University of Washington Department of Family Medicine

Choose Your Test
Sat / act prep online guides and tips, what is a personal statement everything you need to know about the college essay.
College Admissions , College Essays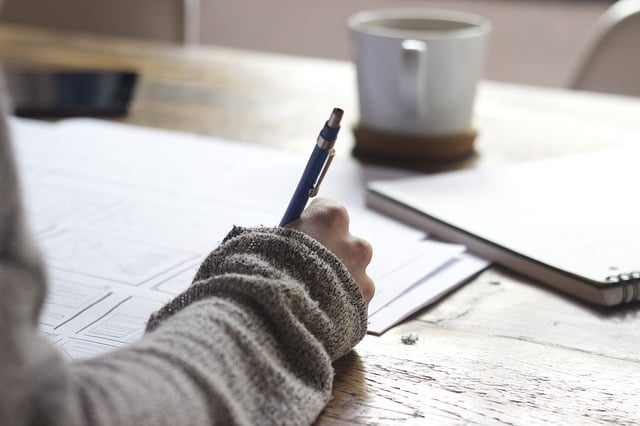 In addition to standardized test scores and transcripts, a personal statement or essay is a required part of many college applications. The personal statement can be one of the most stressful parts of the application process because it's the most open ended.
In this guide, I'll answer the question, "What is a personal statement?" I'll talk through common college essay topics and what makes for an effective personal statement.
Even the terminology can be confusing if you aren't familiar with it, so let's start by defining some terms:
Personal statement — an essay you write to show a college admissions committee who you are and why you deserve to be admitted to their school. It's worth noting that, unlike "college essay," this term is used for application essays for graduate school as well.
College essay —basically the same as a personal statement. (I'll be using the terms interchangeably.)
Essay prompt —a question or statement that your college essay is meant to respond to.
Supplemental essay —an extra school or program specific essay beyond the basic personal statement.
Many colleges ask for only one essay. However, some schools do ask you to respond to multiple prompts or to provide supplemental essays in addition to a primary personal statement.
Either way, don't let it stress you out! This guide will cover everything you need to know about the different types of college essays and get you started thinking about how to write a great one:
Why colleges ask for an essay
What kinds of essay questions you'll see
What sets great essays apart
Tips for writing your own essay
Why Do Colleges Ask For an Essay?
There are a couple of reasons that colleges ask applicants to submit an essay, but the basic idea is that it gives them more information about you, especially who you are beyond grades and test scores.
#1: Insight Into Your Personality
The most important role of the essay is to give admissions committees a sense of your personality and what kind of addition you'd be to their school's community . Are you inquisitive? Ambitious? Caring? These kinds of qualities will have a profound impact on your college experience, but they're hard to determine based on a high school transcript.
Basically, the essay contextualizes your application and shows what kind of person you are outside of your grades and test scores . Imagine two students, Jane and Tim: they both have 3.5 GPAs and 1200s on the SAT. Jane lives in Colorado and is the captain of her track team, while Tim lives in Vermont and regularly contributes to the school paper, but they both want to be doctors and they both volunteer at the local hospital.
As similar as Jane and Tim seem on paper, in reality they're actually quite different, and their unique perspectives come through in their essays. Jane writes about how looking into her family history for a school project made her realize how the discovery of modern medical treatments like antibiotics and vaccines had changed the world and drove her to pursue a career as a medical researcher. Tim, on the other hand, recounts a story about how a kind doctor helped him overcome his fear of needles, an interaction that reminded him of the value of empathy and inspired him to become a family practitioner. These two students may seem outwardly similar but their motivations and personalities are very different.
Without an essay, your application is essentially a series of numbers: a GPA, SAT scores, the number of hours spent preparing for quiz bowl competitions. The personal statement is your chance to stand out as an individual.
#2: Evidence of Writing Skills
A secondary purpose of the essay is to serve as a writing sample and help colleges see that you have the skills needed to succeed in college classes. The personal statement is your best chance to show off your writing , so take the time to craft a piece you're really proud of.
That said, don't panic if you aren't a strong writer. Admissions officers aren't expecting you to write like Joan Didion; they just want to see that you can express your ideas clearly.
No matter what, your essay should absolutely not include any errors or typos .
#3: Explanation of Extenuating Circumstances
For some students, the essay is also a chance to explain factors affecting their high school record. Did your grades drop sophomore year because you were dealing with a family emergency? Did you miss out on extracurriculars junior year because of an extended medical absence? Colleges want to know if you struggled with a serious issue that affected your high school record , so make sure to indicate any relevant circumstances on your application.
Keep in mind that in some cases there will be a separate section for you to address these types of issues, as well as any black marks on your record like expulsions or criminal charges.
#4: Your Reasons for Applying to the School
Many colleges ask you to write an essay or paragraph about why you're applying to their school specifically . In asking these questions, admissions officers are trying to determine if you're genuinely excited about the school and whether you're likely to attend if accepted .
I'll talk more about this type of essay below.

Want to write the perfect college application essay? Get professional help from PrepScholar.
Your dedicated PrepScholar Admissions counselor will craft your perfect college essay, from the ground up. We'll learn your background and interests, brainstorm essay topics, and walk you through the essay drafting process, step-by-step. At the end, you'll have a unique essay that you'll proudly submit to your top choice colleges.
Don't leave your college application to chance. Find out more about PrepScholar Admissions now :
What Kind of Questions Do Colleges Ask?
Thankfully, applications don't simply say "Please include an essay about yourself"—they include a question or prompt that you're asked to respond to . These prompts are generally pretty open ended and can be approached in a lot of different ways .
Nonetheless, most questions fall into a few main categories. Let's go through each common type of prompt, with examples from the Common Application, the University of California application, and a few individual schools.
Prompt Type 1: Your Personal History
This sort of question asks you to write about a formative experience, important event, or key relationship from your life . Admissions officers want to understand what is important to you and how your background has shaped you as a person.
These questions are both common and tricky. The most common pitfall students fall into is trying to tell their entire life stories—it's better to focus in on a very specific point in time and explain why it was meaningful to you.
Common App 1
Some students have a background, identity, interest, or talent that is so meaningful they believe their application would be incomplete without it. If this sounds like you, then please share your story.
Common App 5
Discuss an accomplishment, event, or realization that sparked a period of personal growth and a new understanding of yourself or others.
University of California 2
Every person has a creative side, and it can be expressed in many ways: problem solving, original and innovative thinking, and artistically, to name a few. Describe how you express your creative side.
University of California 6
Think about an academic subject that inspires you. Describe how you have furthered this interest inside and/or outside of the classroom.
Prompt Type 2: Facing a Problem
A lot of prompts deal with how you solve problems, how you cope with failure, and how you respond to conflict. College can be difficult, both personally and academically, and admissions committees want to see that you're equipped to face those challenges .
The key to these types of questions is to identify a real problem, failure, or conflict ( not a success in disguise) and show how you adapted and grew from addressing the issue.
Common App 2
The lessons we take from obstacles we encounter can be fundamental to later success. Recount a time when you faced a challenge, setback, or failure. How did it affect you, and what did you learn from the experience?
Harvard University 7
The Harvard College Honor Code declares that we "hold honesty as the foundation of our community." As you consider entering this community that is committed to honesty, please reflect on a time when you or someone you observed had to make a choice about whether to act with integrity and honesty.
Prompt Type 3: Diversity
Most colleges are pretty diverse, with students from a wide range of backgrounds. Essay questions about diversity are designed to help admissions committees understand how you interact with people who are different from you .
In addressing these prompts, you want to show that you're capable of engaging with new ideas and relating to people who may have different beliefs than you.
Common App 3
Reflect on a time when you questioned or challenged a belief or idea. What prompted your thinking? What was the outcome?
Johns Hopkins University
Founded in the spirit of exploration and discovery, Johns Hopkins University encourages students to share their perspectives, develop their interests, and pursue new experiences.
Use this space to share something you'd like the admissions committee to know about you (your interests, your background, your identity, or your community), and how it has shaped what you want to get out of your college experience at Hopkins.
Brown University 2
Brown's culture fosters a community in which students challenge the ideas of others and have their ideas challenged in return, promoting a deeper and clearer understanding of the complex issues confronting society. This active engagement in dialogue is as present outside the classroom as it is in academic spaces. Tell us about a time you were challenged by a perspective that differed from your own. How did you respond? (200-250 words)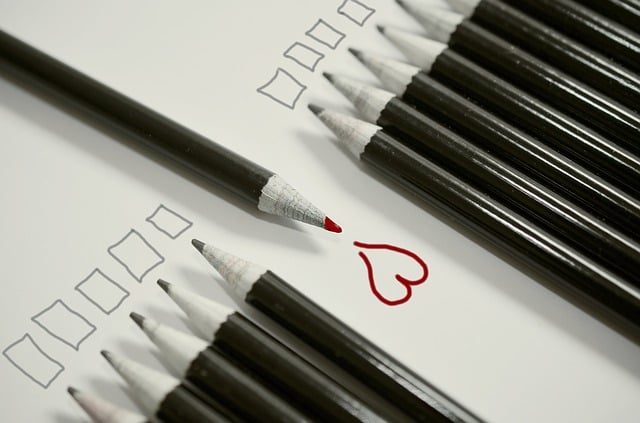 Whatever you do, don't ever recycle these essays for more than one school.
Chapman University
There are thousands of universities and colleges. Why are you interested in attending Chapman?
Columbia University
Why are you interested in attending Columbia University?
Rice University
Based upon your exploration of Rice University, what elements of the Rice experience appeal to you?
Princeton University
Princeton has a longstanding commitment to service and civic engagement. Tell us how your story intersects (or will intersect) with these ideals.
Prompt Type 6: Creative Prompts
More selective schools often have supplemental essays with stranger or more unique questions. University of Chicago is notorious for its weird prompts, but it's not the only school that will ask you to think outside the box in addressing its questions.
University of Chicago
What advice would a wisdom tooth have?
University of Richmond
Spiders are essential to the ecosystem. How are you essential to your community or will you be essential in your university community?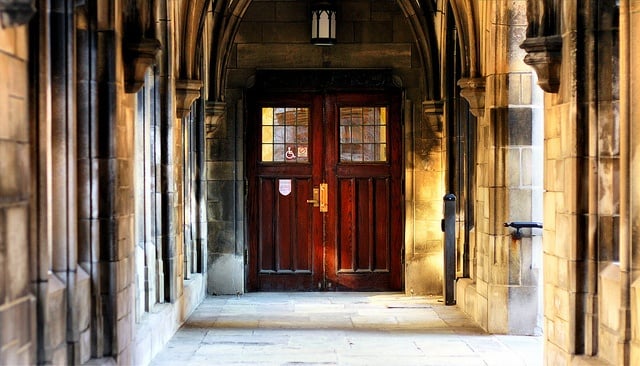 Ultimately, the best topics are ones that allow you to explain something surprising about yourself.
Since the main point of the essay is to give schools a sense of who you are, you have to open up enough to let them see your personality . Writing a good college essay means being honest about your feelings and experiences even when they aren't entirely positive.
In this context, honesty doesn't mean going on at length about the time you broke into the local pool at night and nearly got arrested, but it does mean acknowledging when something was difficult or upsetting for you. Think about the mall Santa example above. The essay won't work unless the writer genuinely acknowledges that he was a bad Santa and explains why.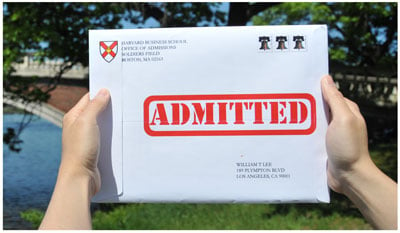 Want to build the best possible college application?
We can help. PrepScholar Admissions is the world's best admissions consulting service. We combine world-class admissions counselors with our data-driven, proprietary admissions strategies . We've overseen thousands of students get into their top choice schools , from state colleges to the Ivy League.
We know what kinds of students colleges want to admit. We want to get you admitted to your dream schools .
Learn more about PrepScholar Admissions to maximize your chance of getting in.
Eloquent Writing
As I mentioned above, colleges want to know that you are a strong enough writer to survive in college classes . Can you express your ideas clearly and concisely? Can you employ specific details appropriately and avoid clichés and generalizations? These kinds of skills will serve you well in college (and in life!).
Nonetheless, admissions officers recognize that different students have different strengths. They aren't looking for a poetic magnum opus from someone who wants to be a math major. (Honestly, they aren't expecting a masterwork from anyone , but the basic point stands.) Focus on making sure that your thoughts and personality come through, and don't worry about using fancy vocabulary or complex rhetorical devices.
Above all, make sure that you have zero grammar or spelling errors . Typos indicate carelessness, which will hurt your cause with admissions officers.
Top 5 Essay-Writing Tips
Now that you have a sense of what colleges are looking for, let's talk about how you can put this new knowledge into practice as you approach your own essay. Below, I've collected my five best tips from years as a college essay counselor.
#1: Start Early!
No matter how much you want to avoid writing your essay, don't leave it until the last minute . One of the most important parts of the essay writing process is editing, and editing takes a lot of time. You want to be able to put your draft in a drawer for a week and come back to it with fresh eyes. You don't want to be stuck with an essay you don't really like because you have to submit your application tomorrow.
You need plenty of time to experiment and rewrite, so I would recommend starting your essays at least two months before the application deadline . For most students, that means starting around Halloween, but if you're applying early you'll need to get going closer to Labor Day.
Of course, it's even better to get a head start and begin your planning earlier. Many students like to work on their essays over the summer when they have more free time, but you should keep in mind that each year's application isn't usually released until August or September. Essay questions often stay the same from year to year, however. If you are looking to get a jump on writing, you can try to confirm with the school (or the Common App) if the essay questions will be the same as the previous year's.
#2: Pick a Topic You're Genuinely Excited About
One of the biggest mistakes students make is trying to write what they think the committee wants to hear. The truth is that there's no "right answer" when it comes to college essays —the best topics aren't limited to specific categories like volunteer experiences or winning a tournament. Instead, they're topics that actually matter to the writer .
"OK," you're thinking, "but what does she mean by 'a topic that matters to you'? Because to be perfectly honest, right now what really matters to me is that fall TV starts up this week, and I have a feeling I shouldn't write about that."
You're not wrong (although some great essays have been written about television ). A great topic isn't just something that you're excited about or that you talk to your friends about; it's something that has had a real, describable effect on your perspective .
This doesn't mean that you should overemphasize how something absolutely changed your life , especially if it really didn't. Instead, try to be as specific and honest as you can about how the experience affected you, what it taught you, or what you got out of it.
Let's go back to the TV idea. Sure, writing an essay about how excited you are for the new season of Gossip Girl probably isn't the quickest way to get yourself into college, but you could write a solid essay (in response to the first type of prompt) about how SpongeBob SquarePants was an integral part of your childhood. However, it's not enough to just explain how much you loved SpongeBob—you must also explain why and how watching the show every day after school affected your life. For example, maybe it was a ritual you shared with your brother, which showed you how even seemingly silly pieces of pop culture can bring people together. Dig beneath the surface to show who you are and how you see the world.
When you write about something you don't really care about, your writing will come out cliched and uninteresting, and you'll likely struggle to motivate yourself. When you write about something that is genuinely important to you, on the other hand, you can make even the most ordinary experiences—learning to swim, eating a meal, or watching TV—engaging .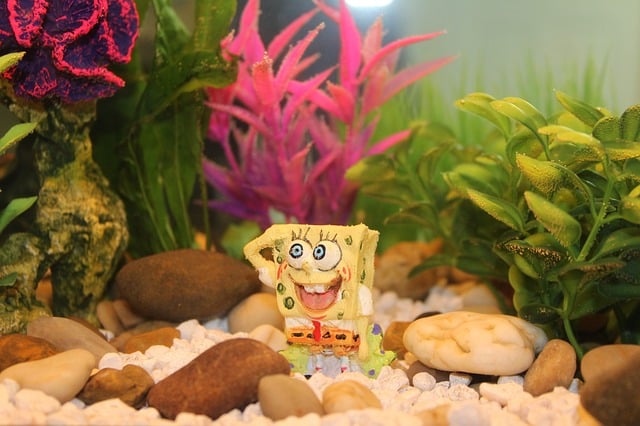 At some point, you might even need to rewrite the whole essay. Even though it's annoying, starting over is sometimes the best way to get an essay that you're really proud of.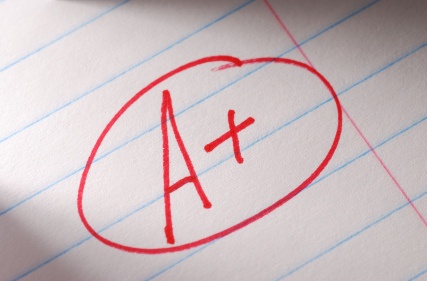 Alex is an experienced tutor and writer. Over the past five years, she has worked with almost a hundred students and written about pop culture for a wide range of publications. She graduated with honors from University of Chicago, receiving a BA in English and Anthropology, and then went on to earn an MA at NYU in Cultural Reporting and Criticism. In high school, she was a National Merit Scholar, took 12 AP tests and scored 99 percentile scores on the SAT and ACT.
Student and Parent Forum
Our new student and parent forum, at ExpertHub.PrepScholar.com , allow you to interact with your peers and the PrepScholar staff. See how other students and parents are navigating high school, college, and the college admissions process. Ask questions; get answers.
Ask a Question Below
Have any questions about this article or other topics? Ask below and we'll reply!
Improve With Our Famous Guides
The 5 Strategies You Must Be Using to Improve 160+ SAT Points
How to Get a Perfect 1600, by a Perfect Scorer
Series: How to Get 800 on Each SAT Section:
Score 800 on SAT Math
Score 800 on SAT Reading
Score 800 on SAT Writing
Series: How to Get to 600 on Each SAT Section:
Score 600 on SAT Math
Score 600 on SAT Reading
Score 600 on SAT Writing
Free Complete Official SAT Practice Tests
What SAT Target Score Should You Be Aiming For?
15 Strategies to Improve Your SAT Essay
The 5 Strategies You Must Be Using to Improve 4+ ACT Points
How to Get a Perfect 36 ACT, by a Perfect Scorer
Series: How to Get 36 on Each ACT Section:
36 on ACT English
36 on ACT Math
36 on ACT Reading
36 on ACT Science
Series: How to Get to 24 on Each ACT Section:
24 on ACT English
24 on ACT Math
24 on ACT Reading
24 on ACT Science
What ACT target score should you be aiming for?
ACT Vocabulary You Must Know
ACT Writing: 15 Tips to Raise Your Essay Score
How to Get Into Harvard and the Ivy League
How to Get a Perfect 4.0 GPA
How to Write an Amazing College Essay
What Exactly Are Colleges Looking For?
Is the ACT easier than the SAT? A Comprehensive Guide
Should you retake your SAT or ACT?
When should you take the SAT or ACT?
Stay Informed
Get the latest articles and test prep tips!
Looking for Graduate School Test Prep?
Check out our top-rated graduate blogs here:
GRE Online Prep Blog
GMAT Online Prep Blog
TOEFL Online Prep Blog
Holly R. "I am absolutely overjoyed and cannot thank you enough for helping me!"
About the Editors
About this Blog
Publications
Advice for Applying to REU Programs (From Recent Participants!)
By Alvaro Carbonero, Brittany Gelb, Amaury Miniño, Vanessa Sun, and Lee Trent Introduction
What is an REU? REU stands for "Research Experience for Undergraduates." REU's are typically 6-10 week long summer programs hosted at colleges or universities. To be officially considered an REU, the program generally has funding from the National Science Foundation or the National Security Agency, but there are other research programs that are very similar which are supported through other funding sources. REU's invite undergraduate students to apply to their program to spend the summer at their college or university (although the pandemic has changed this) and work on an individual or group research project advised by mathematicians with research and mentoring experience Undergraduates are paid to participate in these programs, and are typically housed on campus or nearby (with the costs often covered by the program directly). The faculty members will have carefully selected and curated problems that they believe are accessible to undergraduates and they provide the necessary background. If an REU would be your first research experience, not to worry, that's what they're designed to be and your REU advisor will know how to support and mentor you! The authors of this blog post have successfully applied to REU programs in the recent past and some of us have been involved in multiple REU's or other similar summer programs. In fact, we recently organized the Online Undergraduate Resource Fair for the Advancement in Academia of Marginalized Mathematicians ( OURFA2M2 ) to bring together faculty representatives of undergraduate career-advancement opportunities, students who have recently participated in such programs, mathematicians whose career trajectories were impacted by such programs, and others within the mathematics community to discuss and share resources related to these opportunities. Given our experiences along with the information we learned from our conference participants, we now share some advice with those applying to an REU. First piece of advice: You should NOT rule yourself out from applying to REUs.
We truly believe that the only failure is the failure to try. There are a myriad of reasons that we or people we know considered not applying to REU programs. These include:
You never participated or succeeded in a math competition.
You have only completed a few math classes or have not taken many (or any) upper-division mathematics classes.
You have never done research before or don't know what the research process in mathematics entails.
You don't know anybody from your school who has gone to an REU program.
Your school is not nationally recognized for their math department.
Your overall GPA is not high.
You don't feel confident in your mathematical abilities.
You believe you will be rejected (for any reason above or others).
If you have considered not applying to REU programs for one of these reasons, we want you to know that there have been many successful applicants in your shoes before (including us) so you can and should apply! Finding an REU Here is a presentation from our conference, OURFA2M2, that includes information on how to find REU's and other research programs. Past eMentoring Network blogs also provide a list of REUs aimed at first and second year undergraduates. You can find that blog here . When you visit an REU program's website you'll likely find descriptions of the individual project topics they are planning for the upcoming summer. We encourage you to be willing to work in areas of mathematics that you may not have much background in. What's perhaps most important is that you choose a topic you find interesting, so that if progress is especially slow or difficult you are still fueled by your interest in the topic of investigation. Selecting programs When we asked our fellow recent REU participants about application advice to share with you, one recommendation was repeated multiple times: Start as early as possible and be organized. You can use a spreadsheet to keep track of your applications, with columns for due dates and each individual piece of the application. Likely you will need a personal statement, two letters of recommendation, and a CV/resume. A past eMentoring Network Blog contains advice on asking for letters of recommendation, which you can find here . You can note down when parts of the application are completed and submitted and which you still have to finish. Another piece of advice that was emphasized is that fit is very important. It should be possible to tell from the REU website what the target audience is in terms of mathematical experience. Ask yourself what you want to gain from an REU and make sure that the programs where you apply align with those goals. You should be excited to join the program, even if the research area is largely unfamiliar to you. If in doubt of whether a particular program might be the best suited for your goals, speaking with a trusted mentor could be very helpful. REU programs are highly competitive and you should apply to several programs to maximize your chances of an acceptance. Most students apply to around 10-15 programs, and at least 8 is reasonable. Because these programs are competitive, it's wise to apply to a wide range of opportunities, like counselorships, internships, and research programs that are not REU's — Some alternatives are provided in the presentation linked here . Advice on application materials After selecting the programs that you will apply to, you will have to start working on the application materials they require. Here we provide advice about some of the most common application materials. Personal Statement In the personal statement, you should demonstrate the skills and experiences you have that would make you a successful participant in this research program. These skills do not necessarily need to come from previous mathematics research experiences. Depending on whether the proposed REU projects are individual or collaborative, you can talk about experiences you've had working independently or on a team. For example, maybe you have persevered to solve a particular problem or understand the material from a challenging class, or you have developed collaboration skills by working on homework or projects with other students. Articulating your interest in a specific project offered by the REU can be beneficial. For example, did you take a class related to the research area? If so, what did you enjoy about it? Did you listen to a lecture on the topic that caught your interest? One of us knew nothing about graph theory beyond an hour-long research talk she attended, but she made connections between the visual nature of the subject and how she generally enjoyed visual mathematical problems. Be sure to detail why you are applying to an REU and why you want to do research. Do you want to figure out if a research career is right for you? Do you want experience in one specific field to decide if you like it and would potentially pursue that area in graduate school? Do you already find the subject fascinating? If so, why? Do not forget to personalize your statements to each of the programs you are applying to — we know that this means you will have to work longer on your materials and we believe this will lead to a more favorable outcome. Explain what you expect to get out of that specific program and why and how you will benefit from those experiences. Additionally, be sure to speak about why you and the program you're applying to will mutually benefit each other. This means that you should speak about how you will be an asset to the program. What experiences, interests, personality traits, technical or "soft" skills, or combinations thereof do you have that make you a uniquely qualified person that they definitely want on their team? As we stated previously, these experiences don't need to have come from previous research experiences. For example, many university classes ask students to do a final project or a presentation. What did you learn while doing it that would benefit an REU team? In the personal statement, you can discuss any challenges or barriers that have influenced your academic journey and the opportunities you have had access to. For example, are you a first generation college student, or do you come from a low-income family? If appropriate, mention that research opportunities are limited at your home institution, as likely this makes you the target audience of many REU programs. You can also discuss how aspects of your identity and life tie into your mathematical journey, and how an REU might help you overcome challenges or barriers. Lastly, have multiple people review your writing if you can. You can ask professors, mentors, friends, and past summer program participants to provide feedback on your personal statement. Different people will have different perspectives, and it is generally helpful to clarify what feedback you are looking for, such as typos, grammar, organization, style, or content. Ask people who know you well to edit, as they know your strengths (and weaknesses) and which of your past experiences you can use to make the most compelling case that you are a good candidate for the program you're applying to. Many universities also have resources to help you create applications, such as career centers and writing centers. We encourage you to make use of those offices and the resources they provide. Supplemental application materials Some programs ask for the answers to multiple specific questions. If the application also requires your personal statement, see this as an opportunity to be more specific about why you should be selected to participate in the program. Even if you feel you answered a question in your personal statement, don't answer a question with, "see my personal statement," follow the directions and include the information they ask for in the places they ask for it. Of course, do make your best effort to take these questions seriously and your answers should also implement feedback if at a minimum for grammar and typos. Some applications ask you to mention your favorite mathematical theorem or concept. Such questions are there to gauge your interest in math and your ability to communicate about math, not to pick an impressive theorem or to prove that you have specialized knowledge. It's okay to speak about something complicated if it's something you're interested in but don't understand well — as long as you are honest about your level of understanding. You could also talk about what you are intrigued by and what new theorems or concepts you hope to learn in your coming courses. We encourage you to not try to appear more knowledgeable than you are. Be honest and genuine. Recommendation Letters When you apply to an REU, you will likely need to ask college professors for recommendation letters for the first time. You should ask professors who know about your mathematical ability, work ethic, ability to collaborate with other students, perseverance, intellectual curiosity, enthusiasm for learning, and/or personality to write your recommendation letters. If you're reading this well in advance of when you first plan to apply to programs, start thinking about building those relationships with your professors. Most programs require at least one letter from a mathematics professor. Tell your recommenders the different programs and their deadlines. Give them plenty of time — at a minimum a few weeks. You should consider having a draft of your application materials ready before or soon after you ask, since these can be helpful documents for your recommenders. Sometimes a recommender will request that you share these materials with them before they write the letter, but if they don't, you may offer it anyway. Just as you tailor your personal statements to particular programs, consider using different recommenders for different programs. If you have multiple strong relationships with recommenders, you can match your recommenders to programs by their professional connections or research interests. If not, though, that's okay, too! Remember that finding good recommendation letter writers may not always be an easy task. It can be hard to establish healthy and close professional relationships with professors. The presentation we linked in the beginning of this blog post has an entire section (Networking/Mentoring) with advice that can help you establish good relationships with potential recommendation letter writers. We emphasize that this needs to be done with ample time so as to be able to request the letter in time for your application deadlines. CV/Resume There is already much advice on the internet about putting together an effective CV or resume. Career centers at colleges and universities can often provide templates, advice, and feedback. Consider tailoring your CV to emphasize skills or subjects you think will most appeal to each program. Here we provide copies of our current CVs as examples. Submission When creating your materials, be sure to be consistent with your formatting. Font type/size, paper margins, writing style, etc., should be consistent for everything that you submit. Even though you must submit multiple files, think about them as part of one application package which will be viewed together and should look like they belong together. Include your name and the program you're applying to on each document, and be consistent in how you name files. One naming convention we recommend is to include your name and the document type: LastName_CV, LastName_transcript, LastName_personal_statement, etc. To reiterate the earlier advice, start your applications early enough so that you can submit on time. If you are late, do request an extension, especially if you can articulate a specific reason for the delay. However, note that even though some programs may not grant extensions as they are highly competitive, moving from guess culture to ask culture can be beneficial as you learn to advocate for yourself within math spaces. Also, if you do not have the full application materials at the ready, offer to share the materials you do have prepared with them so they can begin looking over your application while you finish the rest. Be aware of the deadline for your letter writers (which may be different from the application deadline) and feel free to check in with them about whether they've submitted. Sending a short email with a friendly reminder of upcoming deadlines a few days in advance is often very welcomed by professors. In most cases, you should receive confirmation that your application or letters of recommendation were received. Feel free to ask for confirmation if you don't receive it automatically. Accepting an offer If you're accepted to a program and it is not your top choice, you can contact the directors of the other programs to inquire about your application's status. Once you have an offer from an REU, we highly recommend scheduling a meeting (either via a phone call or video call) with your potential REU mentor to determine if the program is a good fit. If such a meeting is not offered with the acceptance letter, know that it is very normal to ask. We think that this bank of REU/grad fair questions is a good starting point for questions you can ask during that meeting. Don't forget to learn about the living/housing situation of the program, since this can have a lot of impact on your personal wellbeing, and you need to be happy and well to do good research. With this in mind, here are some additional questions you can ask: Will REU participants live together in a house or in dorms? Can students access the gym? Are there restaurants nearby? Is there a quiet place where you can practice your musical instrument? Does the program have activities to provide social interactions among participants and to build community? Alternatively, if the program is fully online, you should ask questions relating to your participation virtually. For example, you could ask: Will the program supply needed technology? Will the program be flexible with your schedule given that others within your household share internet/devices? If you need it, you can also ask for extra time to make your final decision, particularly if you're waiting on a decision from other programs. Some but not all REU programs are in agreement that you do not have to accept an offer before the Common Reply Date, which is typically on March 8th. It is courteous to other applicants and important to decline an offer as soon as you know you will not attend the program. Once you have accepted an offer, you should withdraw your remaining applications or immediately decline any other offers that you receive. Preparing for the REU Don't stress! You generally won't be expected to do much to prepare for the REU before it begins, but it's a good idea to check with your REU project mentor if they have specific skills that you can work on or review before the program begins. It will be useful to know some LaTeX as you participate in an REU and, in fact, throughout your mathematical career. Your program may give you specific tasks to help you learn but if not, you can consider learning some on your own. We recommend using overleaf.com , which is a free LaTeX program online with many templates to get you started. If you are rejected… Some REU programs only send out acceptances and don't send out rejections. This means you might not get an email from programs that are rejecting you. If you're not sure about your status, you can ask. Remember that not everyone can get into their top choice, as most REU programs receive hundreds of applications. Do keep in mind that we know of many successful students with bright mathematical careers ahead of them that never participated in an REU. If you are rejected, know that you are not alone. An REU rejection does not say anything about your future in mathematics! If you do not get into an REU this year, seek other opportunities and if possible, apply again next year. Your application will only get stronger with one additional year of math courses and experiences. Acknowledgments: We are grateful to many people for their advice throughout our careers which has made this post possible, including the speakers at OURFA2M2 2020, the 2019 Lafayette College REU cohort, the 2019 and 2020 MSRI-UP cohorts, and many professors at our institutions and elsewhere. Author biographies:
Alvaro Carbonero is an undergraduate at the University of Nevada, Las Vegas. He has participated in the REU programs at Lafayette College and Rochester Institute of Technology. Brittany Gelb is an undergraduate at Muhlenberg College. She has participated in the REU programs at Lafayette College and DIMACS. Amaury Miniño is a first-year PhD student at Colorado State University. He graduated from Florida Atlantic University and has participated in the F-LEARN program and the Mathematical Sciences Research Institute Undergraduate Program (MSRI-UP). Vanessa Sun is an undergraduate at Macaulay Honors College at Hunter College, City University of New York (CUNY). She participated in the Mathematical Sciences Research Institute Undergraduate Program (MSRI-UP). Lee Trent is pursuing her undergraduate degree at Rose-Hulman Institute of Technology. She has been a counselor at Rose-Hulman AMP and PROMYS and participated in the REU at Grand Valley State University.
Leave a Reply Cancel reply
You must be logged in to post a comment.
Notify me of followup comments via e-mail. You can also subscribe without commenting.
Opinions expressed on these pages were the views of the writers and did not necessarily reflect the views and opinions of the American Mathematical Society.
Retired Blogs
A Mathematical Word
inclusion/exclusion
Living Proof
On Teaching and Learning Mathematics
PhD + epsilon
Recent Posts
How to apply to and thrive in quantitative biology REUs
Improving at Math Through Community
A Conversation with the founders of Gxrls in STEM magazine
Building an online academic profile begins with your website
Supporting math majors and grad students in the time of pandemic
career advancement
Changing Graduate Programs
Going to graduate school
Graduate School
Industrial Mathematics
Journals and Publications
Negotiating faculty / post doc positions
Uncategorized
Undegraduates
work life balance
November 2021
February 2021
January 2021
December 2020
November 2020
September 2020
August 2020
February 2020
January 2020
December 2019
November 2019
October 2019
September 2019
August 2019
February 2019
January 2019
December 2018
September 2018
January 2018
December 2017
October 2017
September 2017
January 2017
December 2016
November 2016
October 2016
September 2016
February 2016
January 2016
November 2015
October 2015
September 2015
August 2015
February 2015
January 2015
December 2014
November 2014
October 2014
September 2014
August 2014
January 2014
December 2013
November 2013
October 2013
September 2013
August 2013
February 2013
January 2013
Comments Guidelines
The AMS encourages your comments, and hopes you will join the discussions. We review comments before they are posted, and those that are offensive, abusive, off topic or promoting a commercial product, person or website will not be posted. Expressing disagreement is fine, but mutual respect is required.
Powered by MathJax
Entries feed
Comments feed
WordPress.org
Top tips for writing your personal statement!
Putting together a personal statement can be tricky! Every year, we speak to lots of applicants about what we expect and what we are looking for in the finished piece – it's something we get asked about a lot!
'What should I talk about in my personal statement?'
'How can I make my personal statement stand out?'
'How long should my personal statement be?'
Fear not! The personal statement section on your application is broken down into 4 clear questions so you can write responsive answers, that offer us insight into the key attributes we look for! That being said, we do have our own tips and guidelines that we like to share, so read on for our full insight!
Why does Imperial College Business School ask for a personal statement?
Quite simply, we ask for a personal statement because we want to know about you. All aspects of your application are important, but many areas tend to be factual and to the point. The personal statement is your opportunity to expand and tell us more about who you are, and what your motivations are for applying to Imperial. Our programmes are hugely competitive, so we often rely on the personal statement to help us understand your profile and fill in any missing pieces from our assessment.
What questions are included in the personal statement section of my application? 
You will be required to complete 4 mandatory questions, which cover your motivation to study and contribution to the cohort, with an additional information section which offers you a chance to detail anything else you haven't mentioned as part of the application. The 4 questions are as follows:
Please share your motivation for undertaking the programme? Treat this as a priority. Ideally, your CV and academic history should have already given us a good idea of your achievements to date, so be sure to tell us why you are pursuing postgraduate study and why you have chosen your programme of interest. You should be able to link your past experiences to your suitability for the programme and expand on anything else that is relevant.
What is your proudest non-academic achievement? This could be professional, personal, or extra-curricular, but we want to know about your proudest non-academic achievement to date, and how it has helped shape you into the person you are today. We love to hear about all the interesting things that applicants have done and achieved, and this is a great way to differentiate yourself from other candidates.
What would you contribute to the cohort and the Imperial community? This question is your opportunity to show us how you will enhance the college experience of those around you and how you will make the most of your time at the Business School. Think about how you will make the campus community a better place, whether this be through participation in extracurricular activities or interactions with staff and students across campus. 
How would you use your degree to make a positive impact? We want to know how the programme will benefit you, both during your studies and in the future. Perhaps, you could use this section to tell us about how your programme fits into your long-term goals, or any long-term objectives you have relating to your chosen area of study.
Additional Information Use this section to include any additional information you want to tell the Admissions Committee. 
Is there anything I should not write about in my personal statement?
Try not to get too caught up with university rankings or facts about the Business School – we want to hear about you, not us! It's good to talk about the programme content but avoid simply relaying this information back to us. Focus instead on what interests you the most and how you plan to build on past study.
Don't waffle - keep it concise! You have 1500 characters per section (including spaces!) so make sure your answers are clear and succinct.
Check, check, and check again! It's the golden rule; make sure your personal statement is free from any spelling or grammatical errors. Copying and pasting from any other personal statements you have written, such as one to another institution, is a risky game – don't reference another university and be sure to use the correct programme title!
Hopefully, we have given you some good guidance on what is expected from the personal statement and we wish you the best of luck if you are submitting an application, and we look forward to reading your personal statement soon!
Listen to our podcast Inside IB to learn more about creating a stand-out application