Make sure there's no plagiarism in your paper
Write your essays better and faster with free samples
Generate citations for your paper free of charge
Step-by-Step: How to Write a Critical Analysis Essay?
Updated 05 Dec 2022
Table of contents
What is a Critical Writing?
How to Start Writing a Critical Analysis Essay
Thesis Statement
Research Thoroughly
Provide Evidence For Your Thesis
Argumentative Process
How To Format it?
Critical analysis essay topics.
Have you ever thought about methods and techniques required to critically examine and react to an author's work? We all do a critical analysis of things, actions, ideas, outfits, skill sets, and much more every day, either consciously or unconsciously. In this article, we have provided the best approach to help you develop the skills for how to write a critical analysis essay most professionally. In the following explanation, this important academic subject will be treated with all seriousness that it deserves. To better understand a topic on critical essays, you can substitute the word critique for evaluation.
The majority of college students today believe that a critical essay is a piece of writing where they should seek failures and the negatives. In truth, learning what is a critical essay, you will see that it stands for analysis and being critical of the weaknesses and the strengths.
What is Critical Writing?
In simple terms, a critical essay can be defined as a piece of academic writing where you are dealing with a piece of content or already published works that require analysis, estimation, or interpretation of what approach has been taken by an author. The purpose here is to see what philosophy and theories have been used by making relevant outcomes and assumptions. If you are new to this task, you should approach things by focusing on arguments posed by the original author as you explore methodologies and provide your opinion.
Remember that you should provide a personal evaluation regarding what logic has been used by focusing on evidence as a critical analysis requires credibility and at least two quotes per page of content writing. If you are given a prompt, seek the weaknesses and strengths as you explore. Learning how to critically analyse in an essay, you should keep things balanced by only stating your opinion by avoiding bias unless it's required.
After all, the word "Critical" must be approached through the lens of proper analysis and the presence of study of the factors that have made a certain author think this or that way. Don't forget about strategic thinking, which is essential in academic writing fields. Keep things simple as the majority of students tend to overdo things. As there will be objectives that you have to approach, focus on your initial instructions first and see how to work with what you have. See our helpful critical analysis examples as you learn about all the important sections and the writing mechanics that must be followed.
Save your time! We can take care of your essay
Proper editing and formatting
Free revision, title page, and bibliography
Flexible prices and money-back guarantee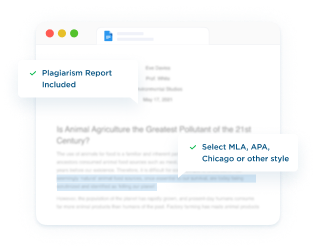 Starting with a critical analysis of an article is never easy, which is why you must take time and see how to remain critical in an essay without turning into a person who seeks the negative sides. The trick here is not to find out where the author has gone wrong but to see what parts need an improvement or what remains unclear. Things are far from focusing on negatives here! The best thing you should do is to provide a critical analysis of something by making two columns with cons and pros related to your topic. As a rule, there are key elements that you must consider before you start with a critical analysis essay. If you want to make things right and save yourself some precious time, plan your critical essay in advance. It also means that you should do some reading to understand the author's opinion and see where the ideas have originated. It's essential to provide evidence and stay relevant to your main topic. Make sure that you justify your words and provide evidence as you exemplify all claims. See these helpful tips below on how to do a critical analysis:
Do not believe the whole content of an author's work simply because it is an academic paper. Academic works are not always perfect. It is truly said that there is no right answers in academic works. No wonder authors' ideas sometimes contradict each other. For learning how to critically analyze an academic work from a position of authority, you must be aided by masters in the field of writing as you implement critical analysis phrases and special wording.
You must understand the overall basis and foundation of an author's argument. Healthy skepticism will help you dig and discover inconsistencies and inappropriateness of some of an author's arguments. Clarify all ideas and stand point in the topic at hand.
You will need facts for backing up an argument. All ideas should be presented in the most interesting and academic worthy structure. When carrying out your research, ensure that you do not use disreputable sources. Depth of research will be determined by both concept and context of the words used and the nature of the argument forwarded by the author.
You cannot make an effective and logical argument if you lack skills for justifying claims. You must persuade and convince. Credibility is most important in critical essay writing. While giving respect to the author's position whose work you are reviewing is advisable, you must provide evidence persuading an audience that your own position is stronger and better for some obvious reasons.
Ensure that all evidence is well-founded based on proven facts and validated sources. It is important not to weaken any criticality when explaining connections that exist between evidence and claims.
Before you start developing content for critical writing, first discover gray areas in related literature and argue against such gaps, and don't forget about the definition of critical analysis. You must persuade, rather than give descriptive and unnecessarily explanatory sentences. Be clear when justifying your point. You need to be effective and efficient in articulating every one of your claims. Define difficult concepts. You can only defend a critical position by proving your points. Do not start two sentences the same way. Integrate quotes into sentences to prove your point. Move on, explaining any quotation used and creating clarity about how it fits into your position. You must give the right interpretation of the author's views and ideas even as you try to supply some backup for your claim.
Make effective use of paragraphs for presenting all ideas and helping an academic audience think through your points. Use transitional terms for creating cohesion between two paragraphs. Be careful not to make an argument that you cannot justify and make sure that you study at least one different essay analysis example online.
Accuracy, consistency, and well-reasoned points will help you assume a position of authority in your writing. Consider using the right phrases where necessary for strengthening your opinion. Any argument that lacks balance cannot be taken seriously. It is the degree of balance present in your article that will determine the level of engagement that your texts are able of creating. Note that you must sometimes accept alternative opinions for creating the required space and balance for justifying your own.
Read also: " EduBirdie is the right place to buy essay "
Always be mindful of these following tips for effectively managing your essay:
Introductory Paragraph: You must begin the introduction by engaging your readers in your essay. State the title of the work, author's name as well as publication information. Create a "hook" that will hold the interest plus attention of your reader to the next paragraph. Mention the author's thesis as well as highlight your own position on their argument.
Summary: This is where you should briefly discuss key ideas in the book, demonstrating your keen understanding of overall elements as well as structure used by the author to further his or her thesis.
Analysis: The first thing to remember when dealing with this part of your essay is that it has to do with evaluation. Objectively analyze the topic, ideas, style, definition, and overall appeal along with effectiveness of the author's message to its audience.
Conclusion: Your conclusion is the last opportunity you have to impress your reader. Here, you should restate your thesis statement, so drawing a sense of closure by brilliantly linking the last and first paragraphs.
See some critical analysis essay ideas as you brainstorm various topics from what we have presented below:
Critical Thinking Topics On Culture.
The role of The Beatles in our society. What things have changed today in our perception?
The attitude towards homeless people in the United States vs European Union.
The peculiarities of culture as perceived by the foreigners.
The culture of the boarding schools .
How has the reading culture changed during the last two decades?
Critical Analysis Essay Topics on Literature.
The portrayal of poverty by Charles Dickens.
How did Harry Pottery books influence children's interest in the supernatural?
Shakespeare and his apprehension of death: a critical analysis.
Agatha Christie's view on crime and punishment.
poetry of the 18th century: what has changed in the perception of women?
Critical Thinking Subjects In Sports.
The role of school sports in the popularity of rugby.
The pros and cons of being a college athlete.
Participation of sports celebrities in politics: is it a good thing?
Soccer debates and perception of competition in active sports.
The role of sports in the development of pre-school children.
Social Media Critical Analysis Essay Ideas.
Facebook's privacy rules: are they totally American or global?
Negative body image and Instagram trends.
Should college students use social media for research purposes?
The role of social media in the prevention of the pandemic panic spread.
Social media takes us away from the real world: is it true or false?
Business Management Critical Analysis Ideas.
Are there business methods that are not encountered anywhere else?
Brexit has changed the way how the approach their purchases today.
The change in the business management among 's top corporations.
Are environmental challenges ignored by business entrepreneurs?
What makes business management socially responsible?
Read also: We are here to help you with your " write my essay " request.
Was this helpful?
Thanks for your feedback, related blog posts, how to write a good essay on history.
History is one of the academic subjects, opening the door to remarkable facts and powerful ideologies that greatly impacted a course of particular ...
How to Write Business Essay Like a Pro
Any writing is stressful for most people because it is a rather laborious task requiring certain skills. The essay takes the most time and effort a...
Receive regular updates, discounts, study guides and more
You have subscribed to EduBirdie news.
Thanks for subscribing!
Check your inbox to verify your email.
How To Write A Critical Analysis Essay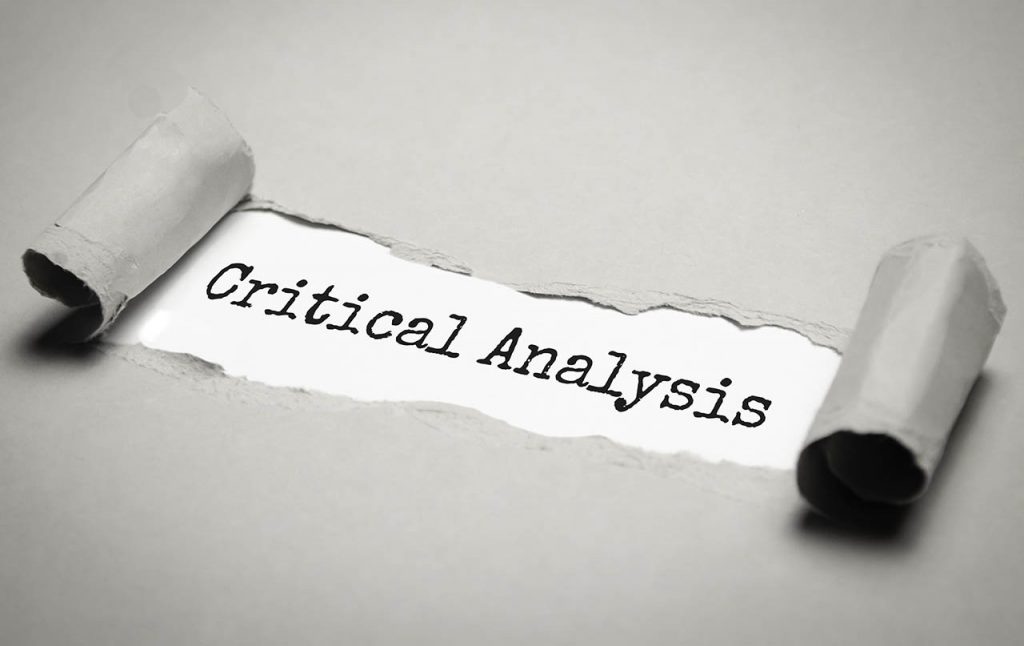 Writing a critical analysis essay is not the most common task in a student's life, but there always comes a time when you need to write a critical analysis essay. If you are getting ready to do this assignment, check out the "How to write a critical analysis essay" step by step guide from our high-quality and college paper writing service .
What Is a Critical Analysis Essay?
Before you can learn how to write a critical analysis essay, you need to find the answer to the most essential question: what is a critical analysis essay? A critical analysis essay, or critical writing, is a paper where the author analyzes and evaluates a work by another author.
The work in question is usually a piece of literature. However, students are often asked to analyze a film or artwork, which can be very exciting but also challenging, since you will need to interpret not only language but also various art devices.
Now that you know the definition of critical analysis essay, you are probably wondering why this type of written assignments is useful to students at all. You should know that learning what is critical analysis in an essay allows you to develop your own critical thinking and analysis skills, as well as helps you hone your language and writing.
How to Start a Critical Essay?
If you look at a typical guide on "How to write a critical analysis essay for dummies", you will see that starting a critical writing paper is one of the most challenging parts of the writing process. So how to start a critical analysis essay that will set the right tone for your writing and will benefit the overall impression of your work, and what does a critical analysis essay include? These are the first three things you need to do when learning how to write a critical analysis.
Identify the author's thesis
Every work of art has a thesis, or the main idea. The thesis will not be necessarily clearly formulated by the author, so you may have to do several thorough readings of the piece to find the overarching message of the work.
Outline the main ideas
There can be only one thesis in a literary work, but there can be several main ideas that support the thesis. If you are struggling with finding those ideas, take another close look at the author's thesis and try to find the ideas that will eventually lead to the thesis if they are developed enough.
Evaluate the author's points
As soon as you have the main thesis and the supporting ideas, it is time to assess whether the author was successful in proving the thesis. You need to look at the supporting arguments and evaluate their effect on the paper and its success. See whether the author's writing is objective or you can easily tell the author's own position from his thesis and ideas.
Writing a Critical Analysis Essay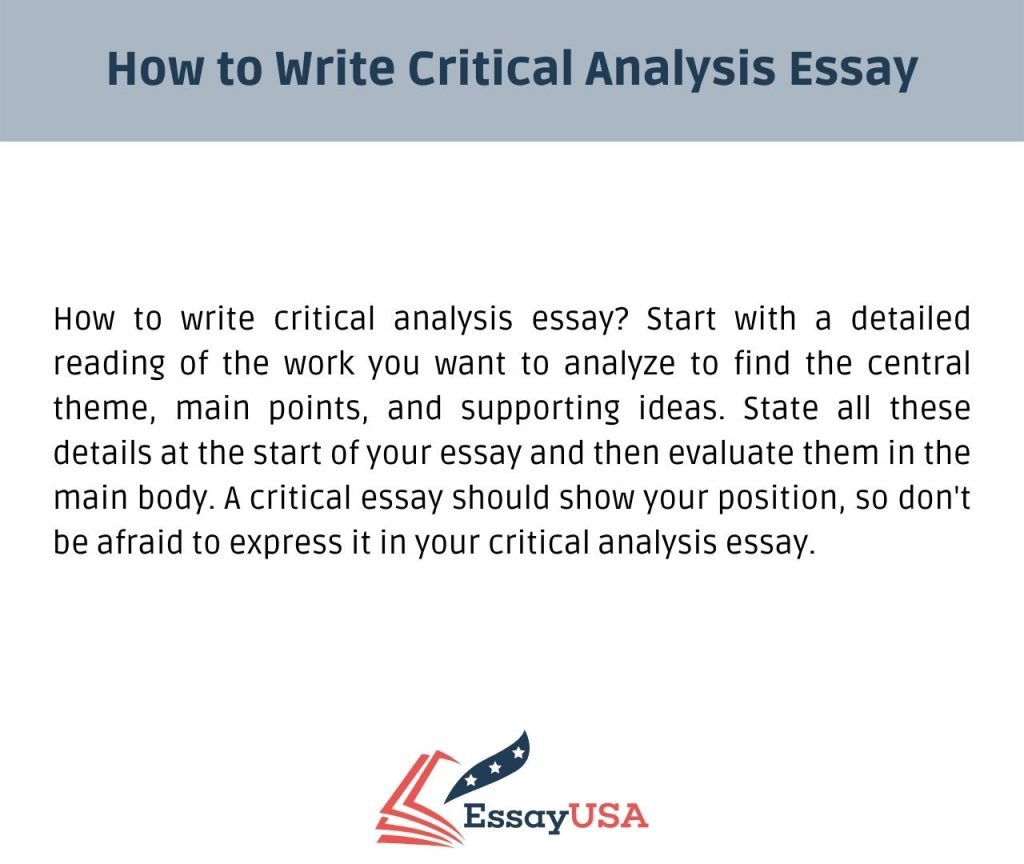 Learning how to write a critical analysis essay requires you to master several important aspects of the writing process. Here is everything you need to know about writing a critical analysis essay if you want your writing to impress.
Critical essay outline
As a student, you have probably written numerous papers on every subject imaginable and are perfectly familiar with the most popular essay structure, which consists of an introduction, three body paragraphs, and a conclusion.
In the case of critical writing, the critical analysis essay format is significantly different from all other written assignments you have dealt with before. Here you will need to implement the four-paragraph structure of critical analysis essay, which includes the following parts:
Introduction
Below you will find an in-depth look at the critical analysis essay structure.
No idea how to start your critical essay introduction? Here is how to write an introduction for a critical analysis essay like a professional essay writer.
At the beginning of your introduction, state the details about the work you are analyzing, including publishing information and the reception of the work. Then, identify the author's thesis and the main ideas he used to support them.
The last sentence of your introduction must be your thesis statement, where you will state your main idea about the literary work and the author's success in getting his message across. Note that your thesis statement should not sound the same as the author's thesis.
When writing a critical analysis essay, you should keep in mind the fact that not all of your readers may be familiar with the work you are analyzing. That is why you need to provide a summary of the events, characters, and ideas depicted in the work. Give your readers a clear understanding of the literary work, so that they don't have trouble with the remaining parts of your paper.
At last, we come to the most important part of your critical analysis essay — the analysis itself. This part will take several paragraphs, and each paragraph will be dedicated to a different idea supporting your thesis statement.
There is no need to be neutral with your critical writing — if you have a strong opinion about the piece, whether it's positive or negative, you should not hesitate to make it obvious with your writing.
When analyzing the writer's work, make sure to pay attention to the following three aspects of writing :
Ethos, or the writer's credibility.
Pathos, or the emotional effect of the writing.
Logos, or the ways the author implemented logic in his work.
Each separate idea of your analysis should be supported with reliable evidence. It may come from the literary work itself or from other people's attempts at analyzing the literary work or film.
Now that you know how to write critical analysis essay from the start, you probably have just one more question: how to write a conclusion for a critical analysis essay that will beautifully sum up your writing?
The important thing to remember about the conclusion is that it should not provide any new information to the readers. Instead, you should offer a brief summary of the thesis statement and ideas that your essay was based on.
Finally, you need to offer your opinion about the piece: whether the author was successful in convincing the readers that his thesis is the correct one, whether the literary work can benefit the audience, and whether the readers should give the work a look at all.
Critical Analysis Essay Writing Tips
After learning what is critical analysis essay and how it should be written, there is only one thing left to do: master some final writing tips that will make your paper flawless:
Your critical writing should be convincing enough to make people change their opinion on the literary work if it's different from yours. That is why you need to work especially carefully on your language and wording.
What type of language should be used in a critical analysis essay? In short, you should always use formal language when writing your critical analysis essay, as it's the only acceptable language in the education setting. However, your language should also be rich and memorable.
As a critical writing author, you are not prohibited from having your own strong opinion on the matter and trying to convince the readers that you are right. In fact, a personal attitude towards writing is encouraged!
Whether your opinion about the piece is positive or negative, it should be always supported with facts and evidence. It's not enough to simply say you don't like the piece — you should also tell the readers why you think so.
Even the strongest arguments for or against a literary work are nothing without solid evidence. You need to use enough credible sources in your paper to give the readers the right impression.
Do's and don'ts from our writing team
Do: Search high and low for the most relevant supporting materials.
Don't: Simply offer your opinion as a fact.
Do: Give the readers a clear idea of what the author's work is about.
Don't: Retell the piece in the smallest detail.
Do: Use help from our essay writing service USA if can't finish the assignment on time or have too much on your plate already!
Featured articles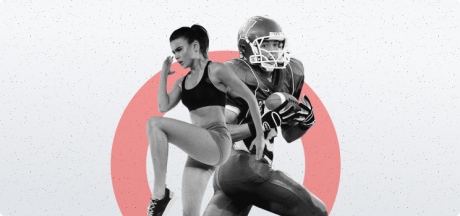 Best Sports Essay Topics 2023: Your Ultimate List
Writing an essay about sport is fun, even for those who are not avid athletes. It allows you to show your love for your favorite sport, team, or player. But students must understand why everyone should play a sport to be able to choose the best sport essay topics. This post shares insights to help […]
Author: Marina Kean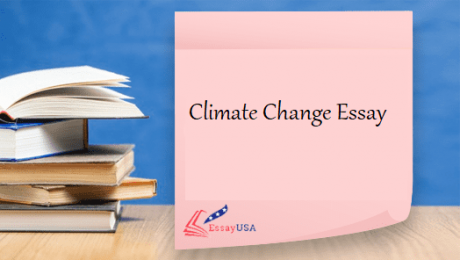 Climate Change Essay
Climate change is a rather serious problem in the modern world. In connection with these changes, the planet Earth has many problems. Atmospheric conditions and human life, in general, are changing on the planet. Climate change is a very popular research paper topic written by students. Before moving on to writing your papers, you need […]
Words with Friends Cheat
Wordle Solver
Word Unscrambler
Scrabble Dictionary
Anagram Solver
Wordscapes Answers
Make Our Dictionary Yours
Sign up for our weekly newsletters and get:
Grammar and writing tips
Fun language articles
#WordOfTheDay and quizzes
By signing in, you agree to our Terms and Conditions and Privacy Policy .
We'll see you in your inbox soon.
What Is a Critical Analysis Essay? Simple Guide With Examples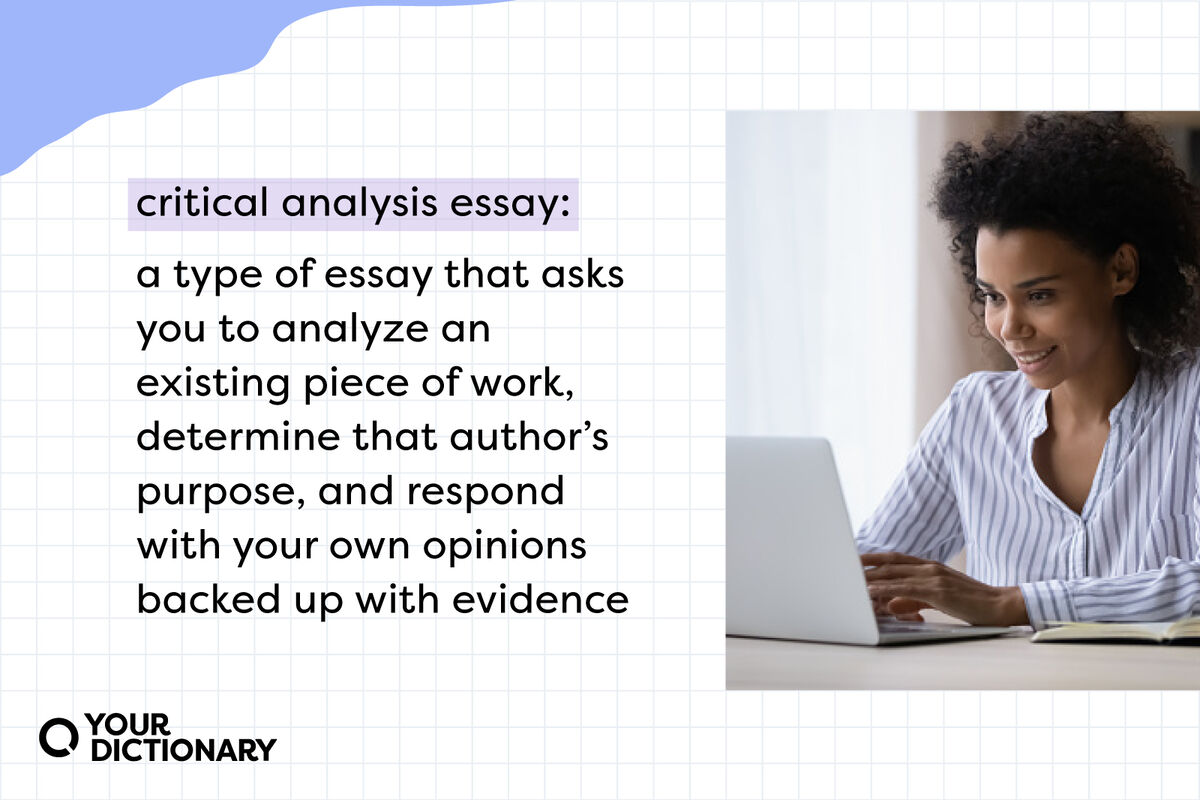 DESCRIPTION Woman writing on laptop with critical analysis essay definition
SOURCE fizkes / iStock / Getty Images Plus / via Getty created by YourDictionary
PERMISSION Used under Getty Images license
You've already written a basic essay of some kind, so you've already performed a bit of analysis. Really, you already have all the tools and know-how to tackle a critical analysis essay. Unlike other essays, critical analysis essays ask that you go a little deeper into other people's ideas to build your own responses to art, media, and the world at large. Simple, right?
What Is a Critical Analysis Essay?
Okay, there's admittedly maybe a little more to it than just that. A critical analysis essay is a form of writing that asks you to:
Analyze a subject, which may include a historical document, a scientific theory, or a piece of art or media (books, poems, movies, even other essays)
Determine what the author of that piece is trying to say
Respond with ideas of your own, backed up with evidence from other texts or media
Critical analysis branches out into things like literary criticism , genre studies, and editorial journalism. If you want to think about it on a smaller scale: Have you read a tweet thread or blog post and thought, "Hey, I have a differing opinion!" or "I agree with this"? Have you then responded to that post or thread with your own opinion? Congrats! You did a little critical analysis!
General Structure and Format of a Critical Analysis Essay
You'll find some variations in form and structure with the critical analysis essay. As you get more comfortable with it, you can absolutely change things around and get creative. Otherwise, don't overthink the format too much.
Your typical critical analysis essay is made up of:
An introduction paragraph, including your opinion about the piece you're analyzing
A paragraph (potentially more) summarizing the thing that you're analyzing
the actual analysis of the piece, which will usually include your opinion about that piece
an evaluation of the author's success in achieving their intended goal
a larger idea or argument within the text that you can elaborate on
A concluding paragraph  that sums up your analysis and relates it to your audience
Sometimes, the summary paragraph is shortened and folded into the introduction.
Critical Analysis Essay Example
Seeing is believing (and understanding). We can't help you with your actual critical analyzing, but we can at least give you an example of a critical analysis essay to show you how it might look. Note that we're not in the business of giving away free essays, and that this is purely to help you see a (fairly incomplete) critical analysis essay in the works.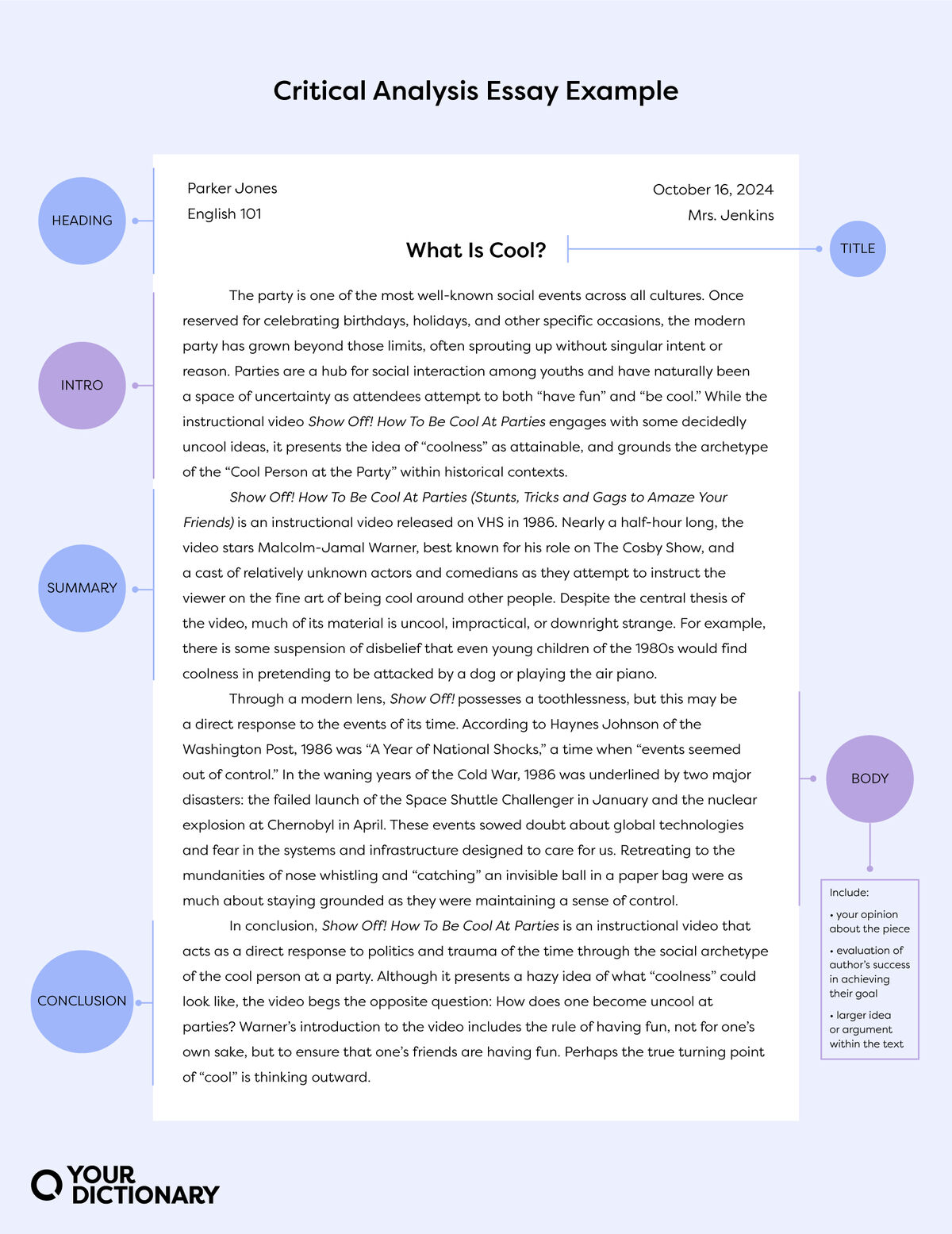 DESCRIPTION critical analysis example essay with comments
SOURCE Created by Karina Goto for YourDictionary
PERMISSION Owned by YourDictionary, Copyright YourDictionary
The Introduction Paragraph
With your introduction , you want to hook readers, broadly introduce the ideas that you'll talk about, and give readers a reason to read the essay in its entirety. The most important part of the intro is the thesis , which states your central argument. In its most general sense, that includes what you think about the piece and the larger idea you think it might present.
The party is one of the most well-known social events across all cultures. Once reserved for celebrating birthdays, holidays, and other specific occasions, the modern party has grown beyond those limits, often sprouting up without singular intent or reason. Parties are a hub for social interaction among youths and have naturally been a space of uncertainty as attendees attempt to both "have fun" and "be cool." While the instructional video Show Off! How To Be Cool At Parties engages with some decidedly uncool ideas, it presents the idea of "coolness" as attainable, and grounds the archetype of the "Cool Person at the Party" within historical contexts.
The Summary Paragraph(s)
Following the introduction, you have your summary of the piece or object that you are critically analyzing. Depending on the work and the requirements of the assignment, this might expand to more than one paragraph. Some classes may also do without it completely (your professor, who has read The Great Gatsby , probably doesn't need you and the 15 other students in the class to summarize it.)
The summary generally shouldn't be an in-depth, beat-by-beat retelling of the thing that you're analyzing. You want to give enough details that your reader knows what you're talking about without having to necessarily read or watch what you're analyzing.
Show Off! How To Be Cool At Parties (Stunts, Tricks and Gags to Amaze Your Friends) is an instructional video released on VHS in 1986. Nearly a half-hour long, the video stars Malcolm-Jamal Warner, best known for his role on The Cosby Show, and a cast of relatively unknown actors and comedians as they attempt to instruct the viewer on the fine art of being cool around other people. Despite the central thesis of the video, much of its material is uncool, impractical, or downright strange. For example, there is some suspension of disbelief that even young children of the 1980s would find coolness in pretending to be attacked by a dog or playing the air piano.
The Analysis Paragraphs
This is where you'll really get into your critical analysis. Along with presenting your own opinions and engaging with the chosen text, you should draw evidence from other authoritative sources, which can support your argument and present new ideas that you can build off of.
Through a modern lens, Show Off! possesses a toothlessness, but this may be a direct response to the events of its time. According to Haynes Johnson of the Washington Post, 1986 was "A Year of National Shocks," a time when "events seemed out of control." In the waning years of the Cold War, 1986 was underlined by two major disasters: the failed launch of the Space Shuttle Challenger in January and the nuclear explosion at Chernobyl in April. These events sowed doubt about global technologies and fear in the systems and infrastructure designed to care for us. Retreating to the mundanities of nose whistling and "catching" an invisible ball in a paper bag were as much about staying grounded as they were maintaining a sense of control. Much of Show Off! is built on the archetype of the "Cool Person at the Party." This archetype is largely left to the imagination of the viewer as funny, dexterous, readily armed with props and parlor tricks, and attainable by anyone. In the essay "Myth and Archetype in Science Fiction," author Ursula K. Le Guin states that "nobody can invent an archetype by taking thought, any more than he can invent a new organ in his body." She goes on to say that myth and archetypes are a means of communication and that "alienation isn't the final human condition, since there is a vast human ground on which we can meet, not only rationally, but aesthetically, intuitively, emotionally." Given global uncertainties, the process of becoming a cool person at a party is equivalent to reaching for connection, familiarity, and communication.
The Concluding Paragraph
Your conclusion should restate the thesis, act as a general wrap-up for your essay, and consider questions or ideas beyond what you discussed in the body paragraphs. A critical analysis essay can also end with a call to action about engaging with the analyzed piece, but this isn't a requirement.
In conclusion, Show Off! How To Be Cool At Parties is an instructional video that acts as a direct response to politics and trauma of the time through the social archetype of the cool person at a party. Although it presents a hazy idea of what "coolness" could look like, the video begs the opposite question: How does one become uncool at parties? Warner's introduction to the video includes the rule of having fun, not for one's own sake, but to ensure that one's friends are having fun. Perhaps the true turning point of "cool" is thinking outward.
Let's Get Critical!
Critical analysis essays can be difficult for people of all education levels. Learning to think (and write) critically comes with practice, so don't be afraid to play around with your language. Discover new ways to engage with what you read, watch, experience, or listen to using our helpful tips for writing a critical analysis essay.

How To Write A Critical Analysis Essay
Evaluate work academically with a properly formatted critical analysis essay.
Emotional impact is not sufficient. Support your position with facts and evidence.
Master this skill to win the support of your peers and lecturers which will surely have positive results on your grades.
Read on to see how to master the art of critical analysis.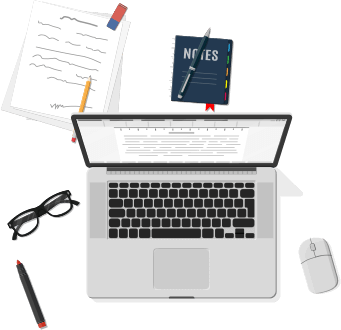 Writing a critical analysis essay is integral to studying processes at higher learning institutions. And although students often may consider it challenging and tedious, by incorporating the right approach, they can get high from the process and reach impeccable outcomes.
Since the primary goal of such an essay type is to evaluate and explore objective points, a scholar should use key critical analysis components like essential reading, thinking, and writing. Still, how to write a critical analysis essay of a roaring success, and what academic practices are best to apply? This step-by-step tutorial will cover everything in detail, from general critical analysis essay guidelines to practical writing tips. So let's get started!
What Is a Critical Analysis Essay?
Sometimes students get confused about 'what is a critical analysis essay', which may make the overall paperwork unsuitable. That way, before starting to craft an essay, the core task is a profound understanding of this work type.
Critical analysis means in-depth exploration and assessment of another person's works or ideas. So creating a like-kind essay implies the essential unity of critical thinking, reading, and writing while entirely focusing on an author's thesis statement. Throughout the work, you must add proofs or logical arguments that may agree or disagree with the analyzed work.
Topics to analyze may differ and result from your preferences, provided no specific writing restrictions. For example, you can choose any book, movie, study, business process, TV program, and even blog.
What is the main purpose of writing a critical analysis essay? It highlights a particular known or unknown subject to readers by clearly describing a fundamental cross-cutting thesis and objective along with your thoughts on the topic. Since critical essays are serious academic papers, they call for a deep writing approach. That is to say, a well-defined structure, credible references, and other author works you link to should be included here.
Another crucial moment to keep in mind is that a critical analysis essay exposes only your point of view on the topic, but not the topic itself. So try to provide a brief description of what you are going to write about. The balanced way of informing positive and negative qualities with sufficient supporting evidence is also no less essential.
How to Start Writing a Critical Analysis Essay?
As with any other work, the most complicated is to begin the process. Therefore, whether your critical analysis paper will be prosperous depends on the way you set it out. So, how to start a critical analysis essay properly? Cane to the following guidelines:
Be sure to showcase and reveal knowledge on a subject/topic by giving relevant and supporting arguments to prove your point of view.
Craft an analysis according to overall established requirements, structure, and format so that people tangential to critical analysis can effortlessly read it.
The first point directly equals the writing preparation. To be more precise, students or scholars must handle much information, namely research, bibliographies, and media formats, to further critical thinking performance. You won't be able to come up with valuable ideas and generate reasonable arguments by skipping this pre-step.
One more crucial moment is the critical essay outline is pretty demanding. So if you want it to bear fruits, collect all the requisite information on the topic, and highlight your thoughts with supporting proof.
The critical analysis essay structure impacts how readers perceive it. So, the more well-thought-out and properly organized it comes, the higher readable and understandable it is for consuming. The skill here lies in conveying considerable academic-complex information in the most straightforward and accessible as possible. It involves the right structuring of thoughts from a thesis statement, a brief introduction, and following body paragraphs to a conclusion. In this way, readers might trouble-freely comprehend the text due to its structural clarity and plainness.
NEED TO WRITE A CRITICAL ANALYSIS ESSAY?
Writing a critical analysis essay is a captivating process if you know the right structure and use the experience of the qualified experts who know all the intricacies of essay creation.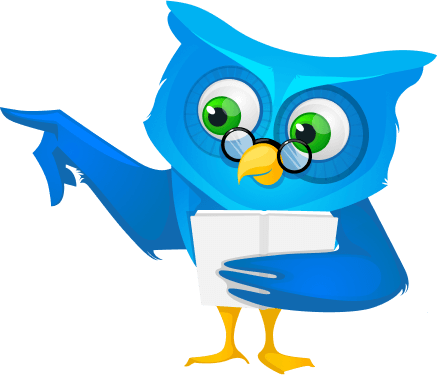 Steps to Writing an Excellent Critical Analysis Essay
Before creating your paper, it is worth evaluating and analyzing the work you target writing with all its strong and weak points. Make sure your thesis statement embodies the core opinion of your essay for the upcoming support by correct evidence from a current source or secondary resources.
1. Choosing A Thesis Statement
In essence, thesis statements in critical analysis essays represent the writer's reaction to the analyzed work. Plus, opinions must be subjective to make a debatable claim possible. Therefore, scholars should keep to the guidelines below while developing a thesis statement for a critical analysis paper.
It must be proven by implementing various tools like logical and emotional reasoning. Simply put, the thesis should stand as the root of where the analysis deploys.
The primary claim has to show topical to the discussed subject.
Rely on only adequate research and trustworthy evidence via digging for sufficient information basics. It is important because a clear thesis to guide a body section results from this.
Organized thoughts and a narrow focus are the keys to success. Instead, developing ideas that cover a broad topic scope may negatively affect the entire essay's value.
2. Writing An Introductory Paragraph
An introductory paragraph should introduce your readers to the analyzed work and your insights about it. This section should consist of the original author's aim and main ideas, ending in your thesis statement. The perfect length for an introduction forms three or four sentences, but in the case of a complex critical analysis essay, it may even be multiple paragraphs.
Concentrate on crafting your introductory section captivating to grab the audience's attention and engage them to continue consuming your essay. The first sentences are decisive here. Hence, try to create them as much appealing and exciting as possible. One of the best practices is starting with a hook, like a rhetorical question or a bold statement.
3. Organizing The Body
Write the body section referring to the primary points stated in the introduction. Typically, there are two to four paragraphs across the essay, but you can put more or less depending on the received work's guidelines.
Each paragraph must address a single idea. Begin by stating the opinion in the first sentence, and then provide examples from the analyzed work to support it. It would be ideal to incorporate quotes to prove your claims, but remember to apply the proper citation format to any used quote.
Besides, you should talk about different things within separate body paragraphs. Be sure to give supporting evidence with contrasting points of view. The well-crafted paper structure is critical here to present facts and the overall research. So take time to outline the rough paragraphs amount and the order of information to expose.
4. Concluding the Analysis
Last but not least is a conclusion. This ultimate part has to restate your perspective built on the statements in the body paragraphs to drive your critical exploration to a natural stop. It will involve similar content to the introduction, but the way of expression must differ. Two to four sentences are mainly enough, but a more complex critical analysis requires a few paragraphs to conclude.
How To Format A Critical Analysis Essay?
No doubt, the critical analysis essay format is no less significant than the content. So, how correctly you adjust the format to the subject and research decides the final outcome.
Basically, before going to the point, try to give your readers background information for a clear vision of what your paper will discover. Omitting to mention such things as title, author, publication data, and the essay purpose is unacceptable. Then the thesis statement comes, where you must reveal why you selected the given topic and what you would like to prove or refute.
After that, create a summary to illustrate that you are deeply aware of the topic and the work under analysis. For those who still don't understand how to write a critical analysis, it has to be the author's own interpretation and assessment of the explored source. Precisely, it puts the part of presenting critical analysis resulting from the prior essential reading. How to perform analysis directly hangs on the information component highlighted in the body. Here belong such elements as illustrating how all sources function, considering the style of said source, how efficient it was, and how it drew the target audience's attention.
The final step you can't do without is an appropriate conclusion. To sum up, restate the thesis while adding final thoughts and considerations. That is to say, all valuable ideas and viewpoints, along with small extra details, should be summarized. This last part is the perfect place to reveal all positives and negatives, the chosen topic's present-day significance, and why it was picked to investigate.
Such a distinct outline will highly facilitate writing a critical analysis essay process. That way, detailing and proofreading will flow swiftly and smoothly, and you will eventually reach an impeccably crafted academic paper.
Critical Essay Structure
Every scholar faces the issue of how to write critical analysis essay structurally flawless. Bear in mind that this paper type has a strict framework to follow, consisting of an introduction, a body section with arguments included, and a conclusion. Let's look thoroughly at these items for getting an academic writing masterpiece.
1. Introduction
Most of the success equals the way you set out the essay. If your initial sentence evokes the interest to read on, you are moving in the right direction. The opening paragraph should briefly describe a source under analysis. Plus, it is vital to expose the primary argument or thesis statement in the last sentences. In turn, writers must avoid using questions across theses and include debatable claims without fail there.
This section is responsible for highlighting the main concepts. That way, scholars should structurally divide a critical analysis essay into separate paragraphs, each representing an individual idea. At the same time, provide different facts and evidence within all segments, but keep the overall connection between them and the general topic. That's why gathering information via essential reading from varied resources, and related media watching is critical. Another tactic to attract the audience might be revealing any gaps or contradictions between the same author and topic. But scholars should try to present and uncover their viewpoints as clearly and proficiently as possible to convince readers.
As for the body content, innovative and unique approaches with verbal diversity and well-structured sentences are a must. Incorporating quotes and citations will also display your topic expertise and deep exploration background. Besides, they appear as the perfect tools to agree or disagree with the chosen statements.
3. Arguments
If you strive to get a top-notch paper, the body should have major arguments provided. So to make it with flying colors, break down the thesis statement into single subsections and exhaustively discuss each sub-thesis. After that, writers must concentrate on the key essay concepts while ensuring corresponding supporting details. In practice, good critical analysis essays must implicate topic-related real-life examples and adequate explanations.
4. Conclusion
A relevant closing paragraph should summarize the paper's central idea and crucial insights to remember. Pint out the importance of the illustrated topic as well as the thesis statement, but including new evidence in this section is unacceptable. Conclusions have to be crafted in a brief and concise manner to complete the work academically good-looking. In other words, students have to bring the paper to an exceptional closure by restating the thesis.
The golden rule while writing a critical analysis essay is to give yourself time to create. It results from that the paper requires multiple stages of content polishing and attaching new information before publishing the ultimate piece. So getting flawless academic writing takes making drafts on each part to later revising and proofreading.
Writing A Critical Essay: Manner, Sources, Proofreading
After figuring out what is critical analysis essay and how to write it properly, let us overview some core writing practices boosting your paper:
Your work should be sufficiently convincing to make the audience change their opinion if it differs from yours. That's why mastering language and wording forms the basis. Plus, conveying from the third person will help readers understand the text more accessible, simultaneously keeping it professional.
Formal language is the only acceptable option for such an essay type. Still, your writing must be rich in grammar and contain a wide vocabulary range. Thus, the paper will stand out from the crowd and be incredibly memorable.
A profound topic understanding and solid investigation background are requisite for a critical writing author to explain their thoughts correctly and provide supporting details.
Essay writers are allowed to expose strong opinions on the topic, either positive or negative, to convince the audience of their rightness. Actually, a personal attitude towards the analyzed work is encouraged subject to support with proven facts and credible evidence. Thus, it's not enough to state that you dislike the piece – you must justify your point of view, citing reliable authors.
Scientific and academic works are the best sources to familiarize yourself with the subject under analysis because certified experts researched and tested the topic you are writing about. Besides, remember that all the incorporated sources across the essay must be in the correct format, mainly APA and MLA, alphabetically ordered.
Take your time to perfect your paper before submission. It's impossible to craft the perfect work the first time. So proofreading is no less important than the content crafting process since many modifications are needed to achieve an outstanding final piece. Try to generate small paragraphs, keeping the text concise and understandable. When you need to uncover extensive information, take care of eliminating repeats.
Both scholars and students should know how to write a critical analysis essay. Although some apply for academic writing services to make it timely and of roaring success, such a skill can come in handy further. By creating a critical analysis essay, people not only advance their writing mastery, but also acquire other valuable expertise like critical reading, thinking, and analyzing. Therefore, the mind will likely go beyond tradition and rearrange, focusing on the evaluation component. This thinking upgrade can greatly facilitate students in upcoming writing assignments, as well as favor them in their future careers. So, it's better not to skip practicing critical analysis.
Was this article helpful?
Thanks for your feedback.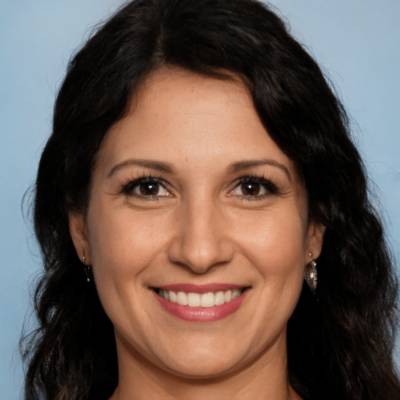 Dr. Karlyna PhD
I am a proficient writer from the United States with over five years of experience in academic writing. I comfortably complete given assignments within stipulated deadlines and at the same time deliver high-quality work, which follows the guidelines provided.
Readers also enjoyed
Précis writing: how to summarize complex ideas in simple terms.
Essay Writing Guides 80 likes
165 Opinion Essay Topics to Write About
Essay Writing Guides 12 likes
How to Write an Academic Essay - Full Guidance
Essay Writing Guides 14 likes
WHY WAIT? PLACE AN ORDER RIGHT NOW!
Simply fill out the form, click the button, and have no worries!
BibGuru Blog
Be more productive in school
How to write a critical analysis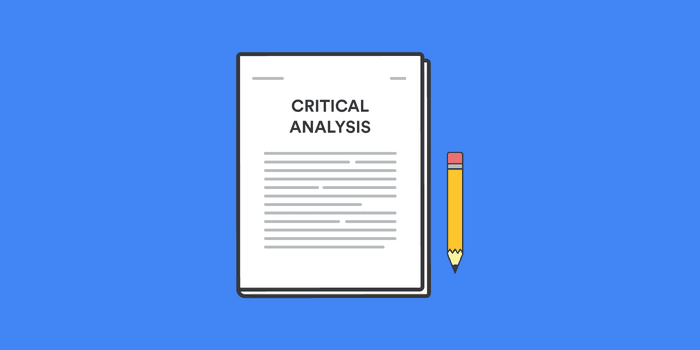 Unlike the name implies a critical analysis does not necessarily mean that you are only exploring what is wrong with a piece of work. Instead, the purpose of this type of essay is to interact with and understand a text. Here's what you need to know to create a well-written critical analysis essay.
What is a critical analysis?
A critical analysis examines and evaluates someone else's work, such as a book, an essay, or an article. It requires two steps: a careful reading of the work and thoughtful analysis of the information presented in the work.
Although this may sound complicated, all you are doing in a critical essay is closely reading an author's work and providing your opinion on how well the author accomplished their purpose.
Critical analyses are most frequently done in academic settings (such as a class assignment). Writing a critical analysis demonstrates that you are able to read a text and think deeply about it. However, critical thinking skills are vital outside of an educational context as well. You just don't always have to demonstrate them in essay form.
How to outline and write a critical analysis essay
Writing a critical analysis essay involves two main chunks of work: reading the text you are going to write about and writing an analysis of that text. Both are equally important when writing a critical analysis essay.
Step one: Reading critically
The first step in writing a critical analysis is to carefully study the source you plan to analyze.
If you are writing for a class assignment, your professor may have already given you the topic to analyze in an article, short story, book, or other work. If so, you can focus your note-taking on that topic while reading.
Other times, you may have to develop your own topic to analyze within a piece of work. In this case, you should focus on a few key areas as you read:
What is the author's intended purpose for the work?
What techniques and language does the author use to achieve this purpose?
How does the author support the thesis?
Who is the author writing for?
Is the author effective at achieving the intended purpose?
Once you have carefully examined the source material, then you are ready to begin planning your critical analysis essay.
Step two: Writing the critical analysis essay
Taking time to organize your ideas before you begin writing can shorten the amount of time that you spend working on your critical analysis essay. As an added bonus, the quality of your essay will likely be higher if you have a plan before writing.
Here's a rough outline of what should be in your essay. Of course, if your instructor gives you a sample essay or outline, refer to the sample first.
Critical Analysis
Here is some additional information on what needs to go into each section:
Background information
In the first paragraph of your essay, include background information on the material that you are critiquing. Include context that helps the reader understand the piece you are analyzing. Be sure to include the title of the piece, the author's name, and information about when and where it was published.
"Success is counted sweetest" is a poem by Emily Dickinson published in 1864. Dickinson was not widely known as a poet during her lifetime, and this poem is one of the first published while she was alive.
After you have provided background information, state your thesis. The thesis should be your reaction to the work. It also lets your reader know what to expect from the rest of your essay. The points you make in the critical analysis should support the thesis.
Dickinson's use of metaphor in the poem is unexpected but works well to convey the paradoxical theme that success is most valued by those who never experience success.
The next section should include a summary of the work that you are analyzing. Do not assume that the reader is familiar with the source material. Your summary should show that you understood the text, but it should not include the arguments that you will discuss later in the essay.
Dickinson introduces the theme of success in the first line of the poem. She begins by comparing success to nectar. Then, she uses the extended metaphor of a battle in order to demonstrate that the winner has less understanding of success than the loser.
The next paragraphs will contain your critical analysis. Use as many paragraphs as necessary to support your thesis.
Discuss the areas that you took notes on as you were reading. While a critical analysis should include your opinion, it needs to have evidence from the source material in order to be credible to readers. Be sure to use textual evidence to support your claims, and remember to explain your reasoning.
Dickinson's comparison of success to nectar seems strange at first. However the first line "success is counted sweetest" brings to mind that this nectar could be bees searching for nectar to make honey. In this first stanza, Dickinson seems to imply that success requires work because bees are usually considered to be hard-working and industrious.
In the next two stanzas, Dickinson expands on the meaning of success. This time she uses the image of a victorious army and a dying man on the vanquished side. Now the idea of success is more than something you value because you have worked hard for it. Dickinson states that the dying man values success even more than the victors because he has given everything and still has not achieved success.
This last section is where you remind the readers of your thesis and make closing remarks to wrap up your essay. Avoid summarizing the main points of your critical analysis unless your essay is so long that readers might have forgotten parts of it.
In "Success is counted sweetest" Dickinson cleverly upends the reader's usual thoughts about success through her unexpected use of metaphors. The poem may be short, but Dickinson conveys a serious theme in just a few carefully chosen words.
What type of language should be used in a critical analysis essay?
Because critical analysis papers are written in an academic setting, you should use formal language, which means:
No contractions
Avoid first-person pronouns (I, we, me)
Do not include phrases such as "in my opinion" or "I think". In a critical analysis, the reader already assumes that the claims are your opinions.
Your instructor may have specific guidelines for the writing style to use. If the instructor assigns a style guide for the class, be sure to use the guidelines in the style manual in your writing.
Additional t ips for writing a critical analysis essay
To conclude this article, here are some additional tips for writing a critical analysis essay:
Give yourself plenty of time to read the source material. If you have time, read through the text once to get the gist and a second time to take notes.
Outlining your essay can help you save time. You don't have to stick exactly to the outline though. You can change it as needed once you start writing.
Spend the bulk of your writing time working on your thesis and critical analysis. The introduction and conclusion are important, but these sections cannot make up for a weak thesis or critical analysis.
Give yourself time between your first draft and your second draft. A day or two away from your essay can make it easier to see what you need to improve.
Frequently Asked Questions about critical analyses
In the introduction of a critical analysis essay, you should give background information on the source that you are analyzing. Be sure to include the author's name and the title of the work. Your thesis normally goes in the introduction as well.
A critical analysis has four main parts.
The focus of a critical analysis should be on the work being analyzed rather than on you. This means that you should avoid using first person unless your instructor tells you to do otherwise. Most formal academic writing is written in third person.
How many paragraphs your critical analysis should have depends on the assignment and will most likely be determined by your instructor. However, in general, your critical analysis paper should have three to six paragraphs, unless otherwise stated.
Your critical analysis ends with your conclusion. You should restate the thesis and make closing remarks, but avoid summarizing the main points of your critical analysis unless your essay is so long that readers might have forgotten parts of it.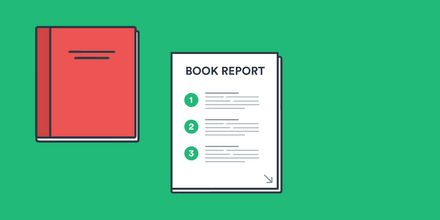 Make your life easier with our productivity and writing resources.
For students and teachers.