Extended Essay: EE - Some Basics
EE - Some Basics
1 - What is Required?
2 - Choose a Subject
Defining Your Topic
Examples of how to Narrow Down Your Ideas
How to write the BEST question
Does your question work? - Feasibility Check-list
Source Types - Primary or Secondary?
Subject-specific source lists
Developing Your Search Strategy
Finding Journal and Magazine Articles
Useful Databases and Websites
6 - Read, Evaluate and then Read more!
7 - Keep your Research Organised
Manage your time WISELY
Should You Use Wikipedia?!?
WSEE - Getting Started
World studies global themes
Defining interdisciplinary study
Disciplinary lenses
Sample prompts for the RRS
Making meaningful connections
Multiple forms of integration
Problems encountered by WSEE students during their research
Nurturing global consciousness
Sample Extended Essays
Initial Reflection Session
Interim Reflection Session
Final Reflection Session - the Viva Voce
Presentation - IB Requirements
What should be on the Title Page
ACADEMIC HONESTY
Tips from an Expert
"There is a secret that could help all you first year IB students out there. It is the key to making next year a whole lot easier. It will reduce stress, make the workload easier to handle, and give you time. What is the secret? It's that you're better off starting the Extended Essay as soon as possible.
I know, it's not what you wanted to hear. But I promise you that putting time and effort into your Extended Essay now will save you about five times that effort later. Because balancing the Extended Essay alongside Internal Assessments, Theory of Knowledge and IB revision is not fun."
("Extended Essay Step-by-Step Guide")
"The Extended Essay Step-by-Step Guide: Your Topic." Lanterna Education , 23 Jan. 2017, www.lanternaeducation.com/ib-blog/extended-essay-step-by-step-guide-topic .
The extended essay at a glance
The extended essay is an in-depth study of a focused topic chosen from the list of available Diploma Programme subjects for the session in question. This is normally one of the student's six chosen subjects for those taking the IB diploma, or a subject that a course student has a background in. It is intended to promote academic research and writing skills, providing students with an opportunity to engage in personal research in a topic of their own choice, under the guidance of a supervisor (an appropriately qualified member of staff within the school). This leads to a major piece of formally presented, structured writing, in which ideas and findings are communicated in a reasoned and coherent manner, appropriate to the subject chosen. It is mandatory that all students undertake three reflection sessions with their supervisor, which includes a short, concluding interview, or viva voce , with their supervisor following the completion of the extended essay.
The extended essay is assessed against common criteria, interpreted in ways appropriate to each subject.
For further general information click on the link below:
https://ibpublishing.ibo.org/extendedessay/apps/dpapp/tsm.html?doc=d_0_eeyyy_gui_1602_1_e&part=2&chapter=1
Key features of the extended essay
The extended essay is compulsory for all students taking the Diploma Programme and is an option for course students.
A student must achieve a D grade or higher to be awarded the Diploma.
The extended essay is externally assessed and, in combination with the grade for theory of knowledge, contributes up to three points to the total score for the IB Diploma.
The extended essay process helps prepare students for success at university and in other pathways beyond the Diploma Programme.
When choosing a subject for the extended essay, students must consult the list of available Diploma Programme subjects offered within the school.
The extended essay is a piece of independent research on a topic chosen by the student in consultation with a supervisor in the school.
It is presented as a formal piece of sustained academic writing containing no more than 4,000 words accompanied by a reflection form of no more than 500 words.
It is the result of approximately 40 hours of work by the student.
Students are supported by a supervision process recommended to be 3–5 hours , which includes three mandatory reflection sessions.
The third and final mandatory reflection session is the viva voce , which is a concluding interview with the supervising teacher.
Teacher Librarian
Work Cited:
"Overview of the Extended Essay." IB Diploma Programme Extended Essay , 2016, ibpublishing.ibo.org/extendedessay/apps/dpapp/guide.html?doc=d_0_eeyyy_gui_1602_1_e&part=2&chapter=1.
Next: 1 - What is Required? >>
Last Updated: Aug 12, 2022 2:38 PM
URL: https://uwcchina.libguides.com/c.php?g=896491
Extended Essay Guide: EE Home
EE Workshops
Criteria, Format, Sample EEs
Annotated Bibliographies
DP Research Process
Databases & Academic Journals
Evaluate Sources
Academic Integrity
MLA Citation Format
CSE Citation Format (Science & Math)
Video Tutorials
Welcome to the Concordian International School Library Website
"Librarians are subversive. You think they're just sitting there at the desk, all quiet and everything. They're like plotting the revolution, man. I wouldn't mess with them." ― Michael Moore
All Guides - A-Z Databases - Quick Reference Resources - Secondary Library Home - Primary Library
Extended Essay Timeline & Checklist
Official IB Extended Essay Guide & Resources
Official extended essay guide 2018 ibo.
Important for students:
Assessment criteria
Unpacking the criteria
Language & Literature
Language Acquisition
Individuals & Societies
The Sciences
Mathematics
Interdisciplinary Essays
A cademic Honesty
This LibGuide (adapted with thanks from Zurich International School's Kevin Browning and The American School of Madrid) was created by Kathy Fester and Roxy Yuen
Concordian International School, Bangkok
The content is shared under a Creative Commons Attribuition-Noncommerical license.
Feel free to reuse any information found on this guide.
Next: EE Workshops >>
Last Updated: Feb 20, 2023 7:33 AM
URL: https://concordian-thailand.libguides.com/ee
Extended Essay: Presentation Requirements
Extended Essay- The Basics
Step 1. Choose a Subject
Step 2. Educate yourself!
Using Brainstorming and Mind Maps
Identify Keywords
Do Background Reading
Define Your Topic
Conduct Research in a Specific Discipline
Step 5. Draft a Research Question
Step 6. Create a Timeline
Find Articles
Find Primary Sources
Get Help from Experts
Search Engines, Repositories, & Directories
Databases and Websites by Subject Area
Create an Annotated Bibliography
Advice (and Warnings) from the IB
Chicago Citation Syle
MLA Works Cited & In-Text Citations
Step 9. Set Deadlines for Yourself
Step 10. Plan a structure for your essay
Evaluate & Select: the CRAAP Test
Conducting Secondary Research
Conducting Primary Research
Formal vs. Informal Writing
Presentation Requirements
Evaluating Your Work
How to Format the Extended Essay
Font and spacing
Use a readable 12-point font and double spacing. You will be helping your examiners read and assess your essay on-screen.
Referencing and citations
The IB does not specify what referencing/citation format you should use. Whichever system you choose, make sure that you follow it consistently. Check, too, that it meets the minimum requirements for acknowledging both written and electronic sources expected by the IB. See the IB publication:
What Should Be on the Title Page?
The title page should include only the following information:
the title of the essay (optional)
the research question (required)
the word count (required)
if it is a language essay it should also state which category it falls into
if it is a world studies essay it should also state the theme and the two subjects utilized
​ Distinguishing Between the Title and the Research Question
Your extended essay can have a title and a research question. The research question is required on the cover page, while the title is optional.
The title is a clear, focused summative statement of the research which gives the reader an indication of the research topic. It should not be phrased as a research question.
The research question indicates the specific topic of research and must be phrased as a question.
What should NOT be on the first page/title page of your EE?
The title page should NOT include only the following information:
the school's name
your IB candidate number
any identifying pieces of information (on the title page, or any other section of the essay, such as headers or footers)
When work is uploaded, the IB tags each document with the student's digital profiles so personal details like your name, your school, and your candidate number are not required. Very important: to make sure that IB assessment is unbiased and fair, IB does not give your name to examiners, so there should be nothing that could identify you in the essay itself.
Which Would Be Better to Send to IB?
Compare and contrast: which would be better to send to IB?
Submitting a paper in the recommended format will set a serious tone. Take a look at the example text below formatted in two drastically different fonts. Notice the difference in tone and mood—which format would be easier for the examiner to read, assess and comment on?
Example A (12 point, Arial, double-spaced)
Example B (9 point, Comic Sans, single-spaced)
Presentation Requirements of the EE
Required Elements of the Extended Essay
<< Previous: Formal vs. Informal Writing
Next: Reflection >>
Last Updated: Feb 7, 2023 7:05 PM
URL: https://libguides.westsoundacademy.org/ee
Sign in | Recent Site Activity | Report Abuse | Print Page | Powered By Google Sites
Extended Essay Support Site
Topic, subject, question and title.
All Extended Essays must have four things: a topic, a subject, a research question (RQ) and a title. It is recommended to think about them in that order (though may people reverse topic and subject). The IB site has many examples of these per subject. Here is an example from physics.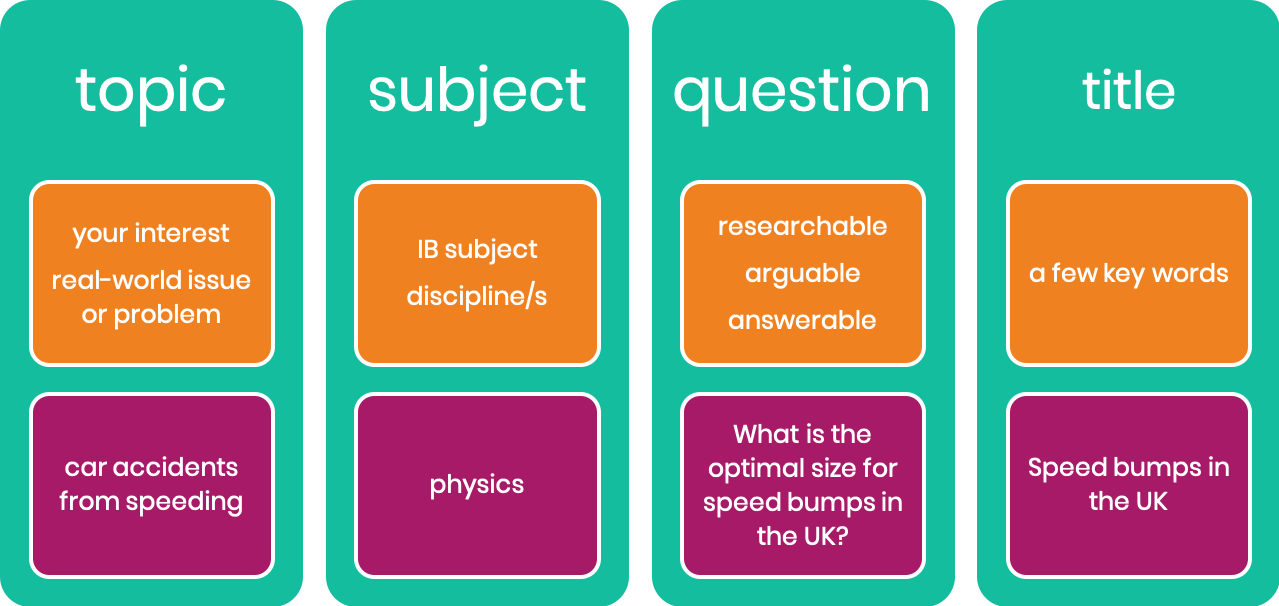 When thinking about your Extended Essay, start with a topic that interests you. After all, you're going to spend months on the topic. Topics should be inspired from real-world problems or interesting primary sources, such as works of art or literature. You may be following an interesting topic in the news. You may have covered a topic in class that captured your interest. Your topic may or may not fit neatly into an IBDP subject. It may fall under two subjects! If it does not fit into an IBDP subject at all, you may have to find a new topic.
Extended Essays are registered by subject, as they are marked by a subject-specific examiner. Your subject must be taken from the list of Diploma Programme subjects on offer (see list below). Your essay does not have to be in one of the six subjects you are studying for the diploma at school. However, you may penalise yourself if your essay is not in a subject you are studying, because you lack background knowledge in this subject area. If you are not taking Psychology, it is not recommended that you write your essay in this subject. Language and Literature students, however, may easily submit an essay in Literature and Performance, if they are exploring a play. It is best to work with a supervisor who teaches the subject. He or she can also help you 'fit' your topic into the subject. Be sure to write your subject on the cover page of your essay. If you are writing an essay in Groups 1 or 2 (Studies in Language and Literature and Language Acquisition), be sure to include the category on the cover page as well.
List of Diploma Programme subjects
Studies in Languge and Literature (Group 1)*: Afrikaans, Albanian, Amharic, Arabic, Belarusian, Bengali, Bosnian, Bulgarian, Catalan, Chinese, Croatian, Czech, Danish, Dutch, English Estonian, Filipino, Finnish, French, German, Hebrew, Hindi, Hungarian, Icelandic, Indonesian, Italian, Japanese, Korean, Latvian, Lithuanian, Macedonian, Malay, Modern Greek, Nepali, Norwegian, Persian, Polish, Portuguese, Romanian, Russian, Serbian, Sesotho, Sinhalese, Slovak, Slovene, Spanish, Swahili, SiSwati, Swedish, Thai,Turkish Ukrainian, Urdu, Vietnamese, Welsh
Language Acquisition (Group 2)*: Arabic, Chinese – Cantonese or Mandarin, Classical Greek, Danish, Dutch, English, Finnish, French, German, Hebrew, Hindi, Indonesian, Italian, Japanese, Korean, Latin, Malay, Norwegian, Portuguese, Russian, Spanish, Swahili, Swedish, Tamil
Business management
Computer science
Design technology
Environmental systems and societies**
Global politics
Information technology in a global society
Literature and performance**
Mathematics
Social and cultural anthropology
Sports, exercise and health science
Visual arts
World religions
World studies**
* For Groups 1 and 2, candidates must select a 'category'. There are 3 categories to choose from. See the page on Goups 1-2 Cat 1-3 **There are 3 kinds of interdisciplinary essays : ESS, Literature and Performance and World Studies. World Studies is not an IBDP subject, but a kind of Extended Essay. See the World Studies page for more information
Research question
Writing a good research question (RQ) is an art form, which is why this Support Site dedicates several pages to the art of writing a good RQ. In brief, the RQ is your line of inquiry or your thin red line which runs through everything you research and argue. What's more, it offers 'scope'. Most students start with a research question that is too broad, such as 'How has advertising evolved?' and narrow it down to something more focused, such as 'How do the Heinz Ketchup ads from the 1960s in the US reflect a backlash to cultural conservatism from the 1950s?' The process of narrowing the RQ takes time. You may change your RQ several times while researching and even writing your EE. That's OK. Make your learning curve visible on your RPPF . Include your research question on the cover page of your essay.
Every Extended Essay, regardless of the subject, must have a title. Your title does not have to be elaborate or overly sophisticated. It should include many of the same words from the research question and topic. Be sure to include your title on your cover page.
Under which Area of Knowledge (AOK) does your essay's subject fall? Consider the 'knowledge framework' from this AOK. How is knowledge traditionally acquired in this subject? What is the history of this subject? Talk to your TOK teacher about your EE as well!
Are you thinking of making a stratigic subject choice for your EE? You're not the first. Google 'IB Statistical Bulletin' to find the latest report. You will see which subjects tend to award higher and lower marks. Are you going to choose your subject based on your interests? Good! You're more likely to maintain focus on this project.
Learner profile
An IB learner is knowledgeable, and 'knowledge' is part of Criterion B. But do not be fooled. The EE is not about how much you know. It's about what you do with what you know. When writing your EE focus more on 'thinker', 'inquirer and 'communicator'.
Extended essay
Sep 28, 2017
Tips for Writing Perfect extended essay title page
As one of the requirements of the International Baccalaureate program, extended essays should be carefully done and must abide with the necessary requirements and guidelines. One way to make it interesting and worth-reading is to make a perfect extended essay title page .
It is very essential that you follow the guidelines provided by the IB program when creating an extended essay. This article aims to provide you the detailed information needed to make an excellent extended essay cover page. Read this article and gain new knowledge to make your essay title page a better one.
Tips in Making a Perfect Extended Essay Title Page
The truth is, your title page is a standalone piece of document. It does not tackle any part of your extended essay and does not have any valuable information in it. However, it should be presented using the standard form indicated by the program.
It is only imperative that you do your title page well since it is straightforward and does not have any unnecessary requirements to make it good. Simple observation of the rules is enough to make it good and will earn you points from your paper evaluators.
Check the following discussion and learn from our pool of experts.
Title Should be in the Center
It is important that your title is written in the center of the page and should be about one third down the page. This is for a clearer and better format of your paper. Your readers will be able to focus clearly in your title if it is presented in such way.
You have to remember that you are writing an academic and formal paper. Thus, there should not be any fancy font, color or picture in your title page. You have to remember that the title should not be underlined or written in italics. Consistency with the format, font and size is also important here.
Use Quotation Marks for Phrases and Words that are already Published
There are instances when our title includes a title of a book, movie or any published article. The best thing to do when you will be using these published words is to use quotation marks.
This is for your readers to know that you are acknowledging the fact that these words are not yours and that someone already owns them. This is to ensure that you will not be made to answer for plagiarism and to prevent any rights issues.
If you will be using a long title and it requires more than one line, make sure that it is presented in a balanced way. Ensure that the lines for your title have similar or close number of words in it.
This is for presentation purposes. It does not really have any deep reasons or rules governing it. It is based on how easy your title would be in the eyes of the readers.
Use capital letters appropriately
Regardless if your title is presented in a declarative or interrogative way, it should still be written in lowercase. Keep in mind that only the proper nouns or any relevant nouns need to be in capital letters. Everything should be in small letters when you are writing the title page, only capitalized when necessary.
· Include your name
Once you have typed in the title, leave three spaces and then type in your full name. Ensure that the name you will be putting in is the name that appears in all your IB documents.
· Add the name of your school and your IB Candidate number
From your full name, leave another two spaces and type in the name of your school and your individual IB candidate number.
Starting from the previous item, leave another two spaces and type in capital letters the words, TOTAL WORD COUNT and the figures needed in this item.
This is the straightforward discussion on how you will be able to improve your title page. It may be very simple but the things presented here are often the most overlooked details in an extended essay. We hope that you have learned something from this article.
Writing the title page of your extended essay does not really require a specific skills and expertise. You only have to be good in following the specific rules intended for extended essays. This is something that we often forget thinking that what is important and what will be checked is the essay itself and not the unnecessary parts.
However, physical presentation and the clarity of ideas of your extended essay will make a difference. So, we hope that you take the time to understand the entire process and specific rules which will add color to your paper.
Parting Thoughts
In an extended essay, we often focus too much on the essay itself. Thus, we leave other details without realizing that they also play a vital part in the presentation of the entire essay. An extended essay title page is the very first thing that your readers will see. So, it is important that you already created a professional impression to your evaluators and readers through your title page.
You have to remember that the title page is the very first thing your readers will see, once you have already proven yourself that you know how to follow rules and specific guidelines, your readers will be confident that also did the same thing in the rules and guidelines in your discussion as well. If you have disappointed them in the first pages of your paper, there is a possibility that it will be the same throughout the whole article.
So, make the best impression in this part and let the entire essay do the rest for you.
Extended essay title page should be given importance just like the entire essay itself. It may not have any information in it but it will certainly be checked by your readers and evaluators.
More from Jill Knox
About Help Terms Privacy
Get the Medium app
Text to speech