Why is the American Dream unattainable?
Table of Contents
1931, James Truslow introduced the idea of the American dream in his book ' The Epic of America.' He termed it as the ability of every person to get better and richer regardless of birth or position (WJC, 2016). During this period, most people believed in the American dream, but currently, the American dream remains farfetched for most. Smith (2017) states that the American dream is open-ended, and 17% of Americans consider it unattainable. This statement can be attributed to factors such as the political and economic structure and the operational knowledge of specifics in American society.
Political and Economic Structure
The goal of the American dream is for one to end up with more than what they began with, and it was never intended to be a zero-sum solution. However, nowadays, the government benefits more at the expense of the American citizens due to higher tax rates resulting in a high cost of living. High living costs and salary stagnation make people resort to getting loans and using mortgages to purchase houses. According to research by RS (2022), up to 42% of Americans have bought their homes through mortgages and still have debt, while overall, 77% of American households have a loan, which could be car loans or credit card loans, among others. With this, it is impossible to attain the American dream, especially if salary stagnation continues. Besides, if people live within the living wage and cannot save for their retirement plans or emergencies, then the chances of their economic growth will be minimal. The political structure also plays a vital role in making the American dream unattainable. When only a specific group represents the political system, for instance, whites, the issues faced by the rest of the population are not addressed in public policy debates. Hence, the underrepresented group keeps suffering with no solutions, making the American dream unreachable.
Operating Knowledge of Specifics
Today, very few people are exposed to suitable job opportunities. Most of them are hidden behind corruption, whereby the wealthy are likely to get the chance. Opportunities are also offered to the people who have learned and have the knowledge for the particular job. The main issue is that school programs have become very expensive, resulting in a minimal number of students from middle and low-income families. In addition to a lack of education, the poor are subjected to a digital divide that limits their access to internet services and information, following the American dream created by Jeff Bezos and Mark Zuckerberg regarding technology. Those who manage to go to schools and access internet services from less wealthy families engross themselves in student loans that could take a long time to repay. This issue creates a cycle of family poverty and social inequality, making the American dream unachievable.
The American dream applies to everyone, but for blacks, the chances of attaining the American dream are almost impossible. It happens because they are considered the minority group, and the mentality that they are meant to be enslaved limits them to low-paying jobs to earn a living. Their classic American Dream version for the immigrants becomes what they wish for their children instead of themselves. Blacks are also subjected to criminal law in America due to minor mistakes. For instance, the number of blacks incarcerated due to the war on drugs keeps increasing. According to UNODC (2015), blacks are the largest population incarcerated due to the war on drugs. The blacks are also subjected to killings from the federal government, for instance, the murder of George Floyd. This event results in constant fear of making a move, making the American dream unattainable.
The American dream remains unobtainable in today's world because of the lifestyle change being experienced. The economic and political impact is one factor contributing to the unattainability of America's dream. The government benefits at the expense of the citizens leading to a high cost of living and salary stagnation. Blacks are also a vulnerable population that is not provided equal opportunities, which is why most of them find the American dream unrealistic.
(2022).  Average American Debt . https://www.ramseysolutions.com/debt/average-american-debt#:~:text=Forty%2Dtwo%20percent%20of%20households,51.5%20million%20total%20American%20households)
Smith, S. (2017, October 30).  Most think the 'American dream' is within reach for them . Pew Research Center. https://www.pewresearch.org/fact-tank/2017/10/31/most-think-the-american-dream-is-within-reach-for-them/
UNODC. (2015).  The Drug War, Mass Incarceration and Race . United Nations Office on Drugs and Crime. https://www.unodc.org/documents/ungass2016/Contributions/Civil/DrugPolicyAlliance/DPA_Fact_Sheet_Drug_War_Mass_Incarceration_and_Race_June2015.pdf
WJC. (2016).  How the American Dream Has Changed Over Time . https://wjccschools.org/wp-content/uploads/sites/2/2016/05/How-the-American-Dream-Has-Changed-Over-Time.pdf
Civil Rights Movement
Enlightenment
Ethnography
Harlem Renaissance
Japanese Culture
For business
Entertainment
International
In 2020, do people see the American Dream as attainable?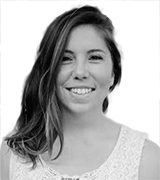 The American Dream can be broadly defined as the belief that anyone, regardless of where they were born or what class they were born into, can attain their own version of success in a society where upward mobility is possible for everyone. It's generally thought to be achieved through sacrifice, risk-taking, and hard work, rather than by chance. 
In 2020, do US adults see the American Dream as attainable?     A poll of more than 14,000 people finds that just over half (54%) of US adults think the American Dream is attainable for them. About three in 10 (28%) believe it's unattainable for them personally, while 9 percent reject the idea of the American Dream entirely.  
There are some generational divides when it comes to perceptions about who can access the American Dream.  
Millennials (46%) are less likely than both older and younger generations to say that they think the American Dream is within reach for them personally. Roughly half of Gen Z (52%) and Gen X (53%) thinks they can attain the American Dream. Baby Boomers (60%) are especially likely to view the American Dream as attainable.  
Almost two in five (37%) people in the United States believe that the American Dream is less attainable today than it was for previous generations. Fewer (29%) believe it's more attainable today than it was for prior generations, while 16 percent say it's no more or less attainable now.  
With regards to race, some groups are more likely to believe the American Dream is within their grasp.  
Most Native Americans (57%), white Americans (56%), and Hispanic Americans (53%) see the American Dream as attainable. Half (50%) of Asian Americans say the same, while fewer (45%) Black Americans agree. Roughly one in six (17%) Black Americans say that there is no such thing as the American Dream. 
Roughly half (51%) of US adults overall say that the American Dream is attainable for most people living in America. White Americans (56%) are 13 percentage points more likely than Black Americans (43%) to believe this to be true.  
Subscribe to the  YouGov Daily  newsletter. 
Related:  How America feels about the death penalty today  
Methodology:  Total sample size for question "How attainable is the American Dream for you personally?" was 14,078 US adults 18 and older, including 390 members of Generation Z (Born in 2000 or later), 4,019 Millennials (Born 1982-1999), 3,552 members of Generation X (Born 1965-1981), 5,240 Baby Boomers (Born 1946-1964), 10,217 White Americans, 1,271 Black Americans, 1,463 Hispanic Americans, 420 Asian Americans, and 154 Native Americans. Total sample size for the question "How attainable is the American Dream for most people living in the US?" was 14,234 US adults 18 and older. Total sample size for the question "Is the American Dream more or less attainable today than for prior generations?" was 14,028 US adults 18 and older. Respondents were provided a definition of the American Dream within the question text, which read, "The American Dream is the belief that anyone, regardless of where they were born or what class they were born into, can attain their own version of success in a society where upward mobility is possible for everyone. The American Dream is generally thought to be achieved through sacrifice, risk-taking, and hard work, rather than by chance." Results are weighted to be representative. For questions or crosstabs, please email  [email protected] . 
Image: Getty
Explore more data & articles

United States of America
Americans' favorite and least favorite months of the year

What foreign ways of doing things would Americans embrace?

The best places to visit in the United States, according to Americans who have visited them

How would you rank chocolate produced in the U.S. among all chocolate from around the world?
Would you support or oppose requiring all construction materials used in federal infrastructure projects to be made in the u.s., recently, the u.s. shot down a high-altitude surveillance balloon flying over the u.s. that belonged to china. china claims that the u.s. has also flown high-altitude surveillance balloons over its country, a claim that the u.s. denies. how likely do you think it is that the u.s. has flown high-altitude surveillance balloons in china's airspace, friend or enemy — iran, friend or enemy — japan, friend or enemy — russia.
Why the American dream is unattainable

Table of Contents
Most people living in the United States have, at one point in their lives, wanted to live the American dream. However, the dream has always seemed vague and has been deemed as an elusive realization, a fantasy that has remained so to many American Citizens. The American dream is a national belief deeply rooted in the Declaration of Independence. It asserts that all men are equal and specifies the ideal factors such as rights and equality, democracy and freedom that accords every individual equal opportunity and achieve their life goals (Popp, 2021). The American dream is just that, a dream, a mirage for diverse job seekers and lies far out of reach for many people, not due to any individual shortcomings but due to the diverse and unique mix of cultural, social, and economic forces which not only condition and affect but also determine life outcomes.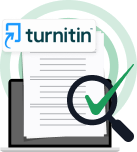 Wealth Inequality throughout America
In  America, wealth distribution is not equitable, and this has grown such that the system is weighted against those wanting to pull themselves from poverty. The inequality makes it hard for the whites to achieve the dream and certainly makes it impossible for the people of colour to live above the existing living standards, let alone achieve the American dream. For instance, too much poverty in the country, as well as systemic racism, which includes job discrimination and redlining, keeps people of colour from the dream (Nunez, 2016). Most Americans believe that there is structural unfairness in the system. A major cause of income inequality is the increasing gaps in academic achievement and educational attainments. While college gets more expensive by the day, wages remain low. This then leads to a scenario where the poor continue to sink into poverty while the rich get richer as they can afford to take their children to world-class colleges and consequently attain better jobs. It is implausible for a poor person to work out of poverty as the system is designed to keep people in their places.
Low-relative social mobility
Contrary to the common perception that the United States is the " land of opportunity", there is relatively low social mobility in America. This refers to the likelihood of a child born to a low-income family climbing to the top of the income ladder as an adult. This is low in the United States compared to most European countries (Weele, 2019). Moreover, there is a distinctive welfare state in the United States with less social insurance and low labour union penetration than most developed countries. The United States relies on consumer credit to met the needs of its citizens  that other developed countries cover through social insurance programs.
Changing global economy of the world
One of the significant issues affecting the achievement of the American dream is the wide generational gap between the time the philosophy was conceived and now. While it was perfectly viable for high school students to pay for part of their college education by taking hourly jobs, that is not possible today. Problems such as inflation and increased cost of living have increased at an alarming rate, yet the national minimum wage has not increased proportionally to the cost of living (Rubin, 2014). It is no longer possible for a college education from summer jobs like a few years ago. It is impossible to live the previous generation's lives during the birth of "the American Dream."
The American dream has, therefore, never been real to most Americans and has served as an unachievable standard for generations for people with different backgrounds. The concept, mainly used by the older generation as a reflection of their success in achieving the impossible, promotes consumerism and capitalism as social norms. The sad concept has created a low-level sense of inadequacy and anxiety in American life, where anything short of greatness is deemed as a failure.
Nunez, C. (2016, April 25). The American Dream Is Almost Unattainable For Immigrants . The Odyssey Online. https://www.theodysseyonline.com/the-transformation-of-the-american-dream
Popp, M. (2021, March 15). Why the American Dream is Unachievable for All . The Panther Eye. https://panthereye.news/blog/2021/03/15/why-the…
Rubin, B. A. (2014). Employment Insecurity and the Frayed American Dream. Sociology Compass , 8 (9), 1083–1099. https://doi.org/10.1111/soc4.12200
Weele, C. V. (2019, March 20). The "American Dream" is unattainable . The Daily Aztec. https://thedailyaztec.com/93858/opinion/the-american-dream-is-unattainable
More From Forbes
Is the american dream attainable yes, but you might want to follow this advice.
Share to Facebook
Share to Twitter
Share to Linkedin
American flags waving on Fifth Avenue . Autumn at Midtown Manhattan. New York. USA
Financial security and home ownership have long coincided with the notion of the American Dream. However, a recent study conducted by life insurance company MassMutual sheds light on the fact that one in three families believe that the American Dream is unattainable.
More than four in five survey respondents believe that the American Dream means financial security for themselves and their family, yet more than half of these respondents admit this is not within their reach. Three-quarters of respondents define this concept as owning a home, and for 71% of respondents, it means achieving financial dependence. Regardless of various definitions, 33% of respondents believe the American Dream is disappearing.
The survey of more than 3,200 adults nationwide of various age, gender, race, ethnicity and education reveals that although short-term financial decisions like budgeting and paying bills are generally attainable, long-term financial decisions weigh on many Americans' shoulders.
"The results show that people are taking steps to secure their financial future and dreams, but they're probably not doing enough," says Tara Reynolds, a corporate vice president with MassMutual.
"Financial security is a huge component of what the American Dream stands for, but it's alarming that so many people believe that is beyond their reach," Reynolds adds. She believes financial security is much easier than many assume and shares some simple tips to help them gain confidence in their financial outlook and decision-making.
Start saving early. "Starting early is a big part of the solution," Reynolds says. This is tricky considering the enormous debt that many Americans are saddled with, particularly from student debt. "Seventy percent of Americans are prioritizing paying down their debt, but as a result, most Americans are not financially prepared for a one-time event or have enough of an emergency fund ," she explains.
Some 27% of respondents said they have more than six months of monthly expenses saved up. But that's the exception, not the rule. Among other respondents, 21% said they have three to six months of expenses saved, 26% have one to three months of expenses saved and 18% have less than one month of expenses saved. Some 8% of respondents said they have nothing set aside to cover expenses and are essentially living paycheck to paycheck.
Begin with the end in mind. Reynolds advises setting a goal to save six months of expenses and taking calculated steps toward that goal based on factors such as income, debt and monthly expenses. The key is starting as early as possible—beginning with that first job or even sooner. "No one ever regretted saving money too early," she says.
Pay bills on time. "Paying down debt and practicing good financial habits by paying bills on time early in adulthood can set you up for success," Reynolds says. She also encourages young adults to keep in mind that things like loan payments are monitored by credit bureaus. "We're finding that many young adults are not aware of this," she says. "Of course, whenever possible, also pay a little extra to reduce the amount of interest owed on your loans," she adds.
Speak with a financial advisor. "No matter who you are, you will stand to benefit from speaking to a financial advisor," Reynolds says. She encourages individuals to seek professional advice to help balance short-term and long-term financial goals, while weighing the importance of an emergency savings account, a college savings plan, life insurance, disability insurance and more.
When focusing on the short-term, individuals can work on developing a budget to account for income and everyday expenses, as well as setting goals to reduce household expenses. When it comes to long-term planning, it could be helpful to develop a plan to pay down debt within 20 years, excluding your mortgage, as well as working towards college savings and retirement plans.
Set it and forget it. Automatic deposits into savings and retirement accounts can pay off in the long run. By setting up automatic payments early on, you'll be more likely to live within your means while simultaneously saving for the future.
"Americans should feel confident about their financial futures and know that there are things they can do to affect the outcome," Reynolds says.
Editorial Standards
Reprints & Permissions
Plagiarism scanner DO THE CHECK
Writing help ASK FOR HELP
Read my essay GO TO READ
Sample details
F.Scott Fitzgerald
American Dream,
Great Gatsby
Words: 1356
Related Topics
Multiculturalism
Indian Culture
Cultural Assimilation
Deaf culture
Western Culture
Cultural Identity
Mexican Culture
Pop Culture
Culture shock
Entertainment
American Culture
Daisy Buchanan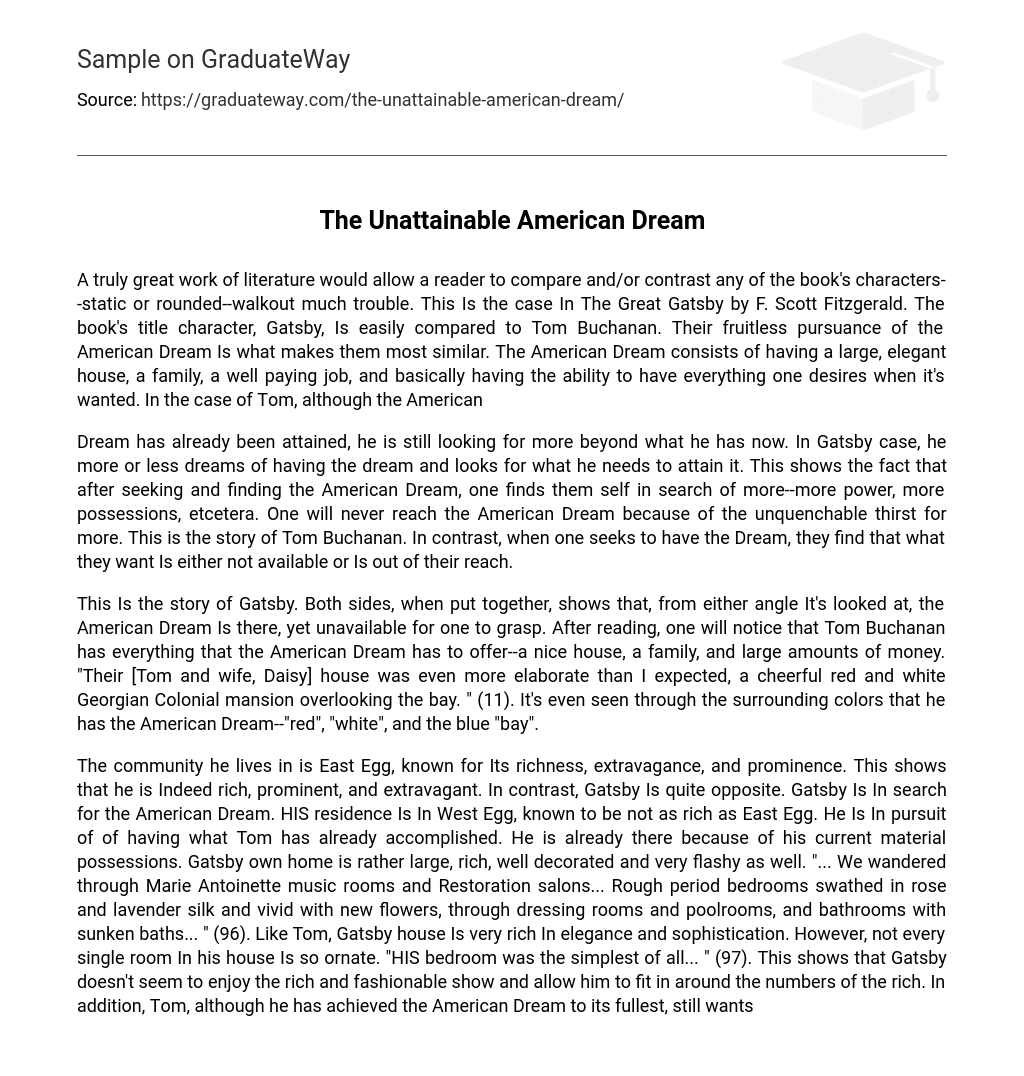 The Unattainable American Dream
A truly great work of literature would allow a reader to compare and/or contrast any of the book's characters–static or rounded–walkout much trouble. This Is the case In The Great Gatsby by F. Scott Fitzgerald. The book's title character, Gatsby, Is easily compared to Tom Buchanan. Their fruitless pursuance of the American Dream Is what makes them most similar. The American Dream consists of having a large, elegant house, a family, a well paying job, and basically having the ability to have everything one desires when it's wanted. In the case of Tom, although the American
Dream has already been attained, he is still looking for more beyond what he has now. In Gatsby case, he more or less dreams of having the dream and looks for what he needs to attain it. This shows the fact that after seeking and finding the American Dream, one finds them self in search of more–more power, more possessions, etcetera. One will never reach the American Dream because of the unquenchable thirst for more. This is the story of Tom Buchanan. In contrast, when one seeks to have the Dream, they find that what they want Is either not available or Is out of their reach.
124 experts online
This Is the story of Gatsby. Both sides, when put together, shows that, from either angle It's looked at, the American Dream Is there, yet unavailable for one to grasp. After reading, one will notice that Tom Buchanan has everything that the American Dream has to offer–a nice house, a family, and large amounts of money. "Their [Tom and wife, Daisy] house was even more elaborate than I expected, a cheerful red and white Georgian Colonial mansion overlooking the bay. " (11). It's even seen through the surrounding colors that he has the American Dream–"red", "white", and the blue "bay".
The community he lives in is East Egg, known for Its richness, extravagance, and prominence. This shows that he is Indeed rich, prominent, and extravagant. In contrast, Gatsby Is quite opposite. Gatsby Is In search for the American Dream. HIS residence Is In West Egg, known to be not as rich as East Egg. He Is In pursuit of of having what Tom has already accomplished. He is already there because of his current material possessions. Gatsby own home is rather large, rich, well decorated and very flashy as well. "… We wandered through Marie Antoinette music rooms and Restoration salons… Rough period bedrooms swathed in rose and lavender silk and vivid with new flowers, through dressing rooms and poolrooms, and bathrooms with sunken baths… " (96). Like Tom, Gatsby house Is very rich In elegance and sophistication. However, not every single room In his house Is so ornate. "HIS bedroom was the simplest of all… " (97). This shows that Gatsby doesn't seem to enjoy the rich and fashionable show and allow him to fit in around the numbers of the rich. In addition, Tom, although he has achieved the American Dream to its fullest, still wants more than what he already has.
What he wants is to have more women, aside room his own loving wife, Daisy. As Jordan remarks, "Tom's got some woman in New York. " (19). Tom, in cheating on his wife with a mistress, exceeds the expectations of the American Dream and goes over the top. However, Gatsby is again the opposite. Although he has part of the American Dream, he doesn't have all of it. He is missing the family part of the Dream. It is interesting to find that the woman he is pursuing is Tom's wife, Daisy. In Gatsby hopeful and realistic dream, we see, "His heart beat faster and faster as Daisy's white face came up to his own. He knew that when he kissed this girl… s mind would never romp again like the mind of God. " (117). His total infatuation with this girl, and the lack of communication between the two, causes Gatsby to dream up the perfect story between him and his first and only love. Gatsby lives in a dream world. Most dreams are attainable if it is available. However, in his desire for something unattainable, he will never have the American Dream. In a sense, a similarity between the two men is their associations with Daisy in which they both have her in their hearts. Moreover, both men, as they try to achieve elevated superiority in their class, they fail cause of their own inabilities.
Tom intends to and tries to be or act intelligent. "The idea is if we don't look out the white race will be–will be utterly submerged. It's all scientific stuff; it's been proved. " (17). Not only his racism, but his inability to comprehend the facts that he is stating shows his arrogance and even his incompetence. On the bright side, because of his "old money" associations, he is on the popular side with all the other "old money" families of East Egg. Yet similarly, Gatsby has his own failures. Although he may possess intelligence, he believes he needs the popularity that Tom has.
During his parties, he remained away and aloof from his guests, most of whom weren't invited. "He doesn't want any trouble with anybody. " (48). His anti-social attitudes can't get him the popularity he wants. He throws the parties to be popular, but hardly attending or appearing causes that popularity to diminish. At his funeral, we see his unpopularity, "About five o'clock our procession of three cars reached the cemetery… Mr.. Gate and the minister and I in the limousine, and, a little later, four or five servants and the postman from West Egg in Gatsby station wagon… " (182).
No one but the father, the minister, Nick, servants, and a postman go to pay their respects. Later on, "Owl Eyes" states, "l couldn't get to the house… They [party-going people] used to go their by the hundreds. " (183). Now, not even one person from the party came to acknowledge the man that hosted it. No matter how hard someone tries, it's not possible to have everything you want because of our own faults. In the end, the American Dream was created for a perfect world. However, men do not live on a perfect world. Tom's and Gatsby differences, more than their similarities, show that the American Dream is unattainable.
Tom, for instance, had Dream by wanting more, in this case, women. This, in a way, corrupts the American Dream as well because he is cheating on his wife. This can parallel with the fact that we don't live in a perfect world. The American Dream is not possible for Tom because whenever he reaches his goal, he sets a bar higher and isn't happy with everything that he has. Gatsby, on the other hand, shows the unattainable Dream at the angle of one seeking to achieve it. Gatsby lives in a dream. This dream is rendered impossible by the fact that the object he wants is currently out of reach and not available.
The American Dream, for Gatsby, is unattainable because of his yearning for something that he can't have. One person can not simply have all the qualities of both. If one could place the two together, it would be possible for the dream to exist. However, due to human nature, one can not mix contradicting persons–stupidity doesn't go with intelligence, arrogance doesn't go with modesty, etcetera. Therefore, one can only be one of the two–therefore proving that the American Dream is nothing but a dream. In conclusion, through F. Scott Fitzgerald The Great Gatsby, two characters, Tom and
Gatsby, show, through their differences, that the American Dream is unattainable. Because of faults and this not being a perfect society, the American Dream can not be totally achieved. One either over does it or sets a dream to impossible to come true. With the inability to combine contrasting qualities, there can never be a person with the persona that will be able to reach the Dream and be happy with it. So, in all actuality, the pursuance of the American Dream can prove both fruitless and hopeless, contrary to the beliefs of those who believe that they can really accomplish the impossible.
This essay was written by a fellow student. You may use it as a guide or sample for writing your own paper, but remember to cite it correctly . Don't submit it as your own as it will be considered plagiarism.
Choose skilled expert on your subject and get original paper with free plagiarism report
The Unattainable American Dream. (2018, Feb 01). Retrieved from https://graduateway.com/the-unattainable-american-dream/
You may also find these documents helpful
What if the American Dream Is Nothing More Than Simply That- A Dream?
Theme of Dream and Magic in a Midsummer Night's Dream
Willy Loman's Life Is Symbolic of the Failure of the American Dream
Roaring Twenties And American Dream Research
American Dream of the Soldiers of the Vietnam War
The Political Culture and the American Dream
Essays about the american dream
Essay About The American Dream is Built on Family Bonds
Great Gatsby: American Dream

Hi, my name is Amy 👋
In case you can't find a relevant example, our professional writers are ready to help you write a unique paper. Just talk to our smart assistant Amy and she'll connect you with the best match.
The American Dream Is Unattainable
Show More The American Dream In 1931, James Truslow Adams' The Epic of America coined the term "The American Dream" and described "America is a country of limitless freedom and boundless plenty" (The Epic of America, pg. 404). For Adams, his time America was growing, and healing. The First World War had ended a few years prior, and America was a couple years into the Great Depression. Americans needed hope during this terrible time so striving for the "The American Dream" meant something. A popular interpretation of the American Dream is "Life, liberty, and the pursuit of happiness" as written in the Declaration of Independence. The question that remains regarding the American dream, is it still possible for the average citizen? I for one do not think the American Dream is still possible for most Americans. I believe the American dream is unattainable as described by James Truslow Adams for …show more content… Ben Casselman, chief economics writer at fivethirtyeight.com and former Wall Street journalist, wrote that "The middle class in America has not seen a wage raise in 15 years" (Fivethirtyeight.com). Also, while the median household income has fallen since the economy crash in 2008, while the income of the top 1% has increased. With the high cost of living in America, the average American (2 parents and 3 kids), needs $58,627 a year just to get by (cost-of-living start class). I know most people, i.e. the middle class, who do not make $58,000 plus a year. That is why I feel the American middle class is the new poor. With the government making it harder and harder for the average person to succeed in America, higher taxes and new regulations on the amount of money one has in the bank, one has to be dirt poor to draw government benefits. Such as, if one starts a college fund for their child when they are born, they are not informed that the savings would count against them when the time comes to apply for financial aid for school. (We are living
Related Documents
Essay on rising cost of tuition.
Nearly half of the students who begin college in this country do not finish within six years. The continuance of rising tuition has put college out of reach for many families that need it most to join the middle class. One generation ago, America led the world in college completion of young adults; now, we rank 13th. In part of the rising costs of college, too many students are unable to enroll or complete high-quality degrees. Higher education is more important but also less affordable than ever…
Student Debt Causes
With making around $51,000 a year right out of college, little of it can be spared for paying off their debt. By focusing on things such as taxes, housing, and general day to day spending, putting money aside for paying the debt off can take a long time. purchasing a home is often high on the graduates list of things to do. Although many try, few are able to succeed due to the fear of increasing their debt. According to research by the Federal Reserve Bank in New York, few 30 year olds have purchased homes now since the recession in 2008 (Payne 2).…
High School Dropout In The United States
About half of the Americans who are in need of government services to live do not have a high school diploma. Dropouts are hurting the economy and the population as a…
An Analysis Of The Middle Class In Barbara Ehrenreich's This Is Their Land
In Barbara Ehrenreich's This is Their Land, she suggests that the middle class is being limited by the unreasonable amount of accumulated debt on when entering the workforce, the irrational cost of living, and the restricted opportunity for higher wages. In recent times, America's economy has progressively struggled and diminished to the point where other countries no longer consider America the number one economy. In 2008, America's economy was in a large financial crisis, which resulted in the unemployment rate being higher than it was in the late 1990's under Bill Clinton's presidency. Despite the fact that America has been in a state of recovery since 2008, eight years later the effects are still present today. Everyday, employers across…
Analysis Of The American Dream: Dead And Gone
Although it did officially end, many are still under the impression that the United States economy has yet to return to its pre-recession state. According to the article "Why half of U.S. adults no longer believe in the American dream" by Simone Pathe, almost half of American born citizens who at one point believed that the American Dream was "if you work hard you'll get ahead" now think that's not the case. The post-Recession still has an effect on Americans; economic insecurity has led 72% of Americans to think that the economy is still in a recession. Consumer confidence has been greatly affected and, in turn, impacted the overall GDP of America. A GDP is defined as Gross domestic product and is the market value of all officially recognized final goods and services produced within a country in a year, or other given period of time.…
The Pros And Cons Of Freedom In America
The American dream that so many people strive for always seems just out of reach. America in general is not as strong as it once was. If America continues on its same path, it will no longer be the great, thriving country it is. Simply stated, democracy is a government system in which people vote for who they want to work in their government. Democracy could also be loosely described as freedom.…
The Pros And Cons Of American Exceptionalism
People from all over the globe have yearned for the freedoms of the United States and have wanted to be like to land of opportunity, the shining city on the hill. People seem to think, however, that America does not deserve this. It does. This brings us to another question, "Does our future look any…
The Benefits Of Free College Tuition
The level of college debt is not sustainable,"(Senate Democrats Push For Tuition Free College). Not only does this show that millions of students get loans, but it also shows how much money the government gives out to students. After the economy went down in 2008, college tuition costs began to increase. Many families didn't expect this to occur which caused them to fail in preparation in saving for college tuition costs. "The cost of a post secondary education has risen steadily and has significantly outpaced the ability of most American families to save or prepare for the expenses involved in the support of their children's educations," (Senate Democrats Push For Tuition Free College).…
Essay On Middle Class In America
In America not all being earn the equal amount as even the hardest worker acquires less salary. Over time the top 1%'s income increased and yet, the middle to lower percent earned less. In regards to this, how does an economy with the middle class struggling keep surviving? This is probably due to the fact that the middle class spends utmost of the money in America. Families possess up to no money in the bank account weekly and working around 70 hrs.…
The Effects Of Raising Minimum Wage
"After July 2009 increase, reported economist William Dunkelberg, 'nearly 600,000 teen jobs disappeared, even with nearly four percent growth in the economy'" (Bandow). These teenagers will be the ones who will be hurting not only financially, but also in the long run. They won't be able to get that work field experience. They won't be able to earn money and therefore they won't learn how to manage their money. They won't be able to learn long-term life skills.…
Related Topics
Household income in the United States
United States
Ready To Get Started?
Create Flashcards
Mobile apps
Accessibility
Facebook
Twitter
Cookie Settings
Plagiarism checker
Writing help, paraphrasing tool, how the american dream is unattainable.
American Dream , Happiness , Money , The Great Gatsby
How it works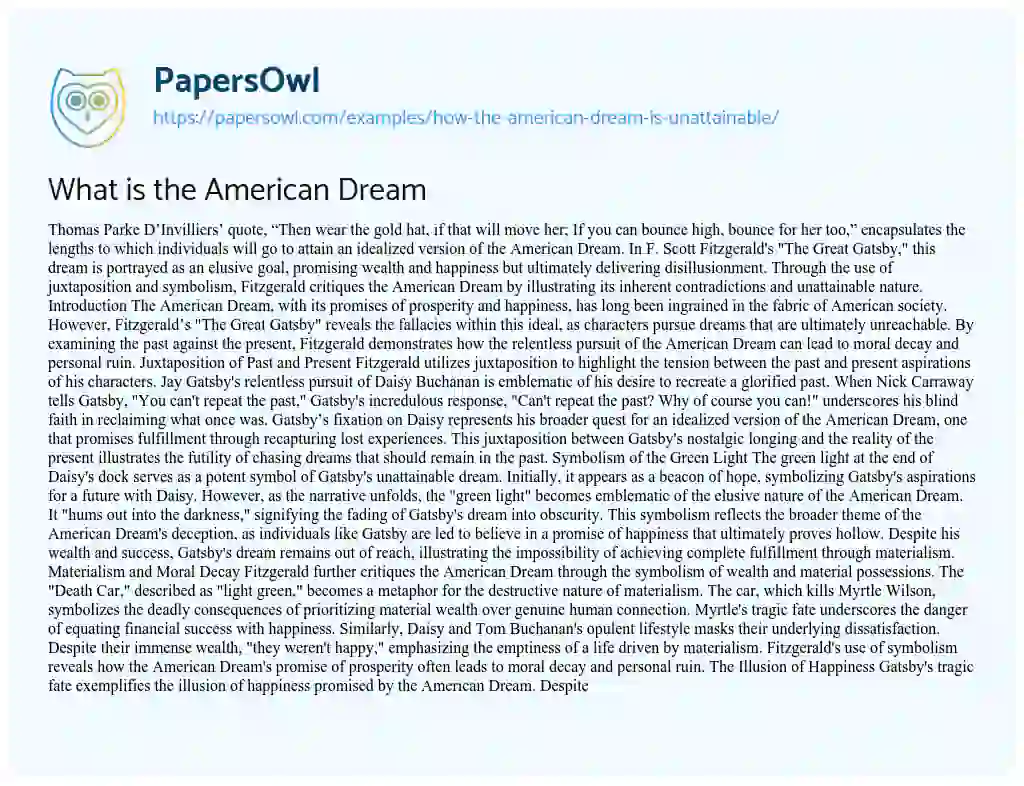 "Then wear the gold hat, if that will move her; If you can bounce high, bounce for her too," spoken by Thomas Parke D'Invilliers accentuates the extreme heights people will "Bounce for" something (In this case the American dream) that is unattainable. Scott Fitzgerald utilizes juxtaposition and symbolism to highlight how the American Dream dupes people into following the false and impossible dream that often promotes utter wealth and tranquility that is not able to be achieved because of societal issues. Fitzgerald utilizes Juxtaposition and symbolism to create a parallel for the past and the present, demonstrating how Gatsby chases the past, which is Daisy, and in present time he's determined to obtain his dream of being with Daisy but he does not realize the low chances of his dream coming to life, as Nick says the past cannot always repeat itself, in which Gatsby responds by incredulously says "Can't repeat the past?" This clearly shows his blond chasing of the past and because of this he chases the dream that is not obtainable because it should've been stuck in the past.
The symbolism of the green light is further stretched, as the color green usually is portrayed by money. The American Dream is mainly about money that will eventually lead to a grand amount of happiness. The "Death Car" that killed Mrs. Wilson was "Light Green" and the color of the car demonstrates the materialistic mindset of many people usually results in their demise, as Mrs. Wilson wanted to move for financial opportunity but when she gets into an argument with her husband she runs outside furious because she wants more money, resulting in the Dream and idea of money killing her off. To further corroborate, people like Gatsby had a dream to love and achieve complete happiness and Nick also moved for more opportunity, but because they were chasing Dreams that were false they ended up finding the opposite of happiness, as people would end up dying and losing either the dream or people they were fond of. Fitzgerald utilizes jey duction to demonstrate how complete happiness is false in the American Dream, as Daisy has so much money and so does Tom, but together "They weren't happy,"  further extending the fallacy of the Dream so many people are fixed on.
All the materialistic achievements that Daisy and Tom have acquired and yet together they are never truly happy, thus accentuating the false sense of closure that is emulated by the success of being rich. Symbolism is a key factor for Fitzgerald, as he uses it again to further extend the false reality of the American Dream. The Symbolism of Gatsby's memory of the "Old World" being "Warm" shows the connection that he tries to form to the present, but is unable to fully connect with Daisy. He is ultimately chasing the past in a miserable way trying to obtain happiness and tranquility but is unsuccessful because he continues to chase something that is proven to be unattainable time and time again. The diction of the "Old World" being "Warm" demonstrates his Nostalgia and his longing for his dream to rekindle and ignite, but in the end his is left with his cold body because of the reality of a cold world he is in.
After the death of Gatsby, on page 179, even with all the luxurious items he has in his house and the materialistic achievements he has obtained, his "house was still empty when I left" and with the "I" being Nick, he realizes the luxury does not define happiness and because of this chasing such luxury will not make you full.  Gatsby lived a rich life but still couldn't maintain his mentality and thus broke down, making him sad because he wanted more than just money. He dreamed blindly and because of this he was not able to see the true effect of what the dream can do to not only the poor, but also the rich, as he continued to chase the past rather than progress forward and create, he decided to try and rebuild which the dream focuses on the rebuilding on one's financial success rather than creating.
The false American Dream improsines one's mind into following the dream with the history of American chains and leads people to the false hope of money that will later stem into the happiness of one. As a whole, people should be wary of such lies created and should follow what most aligns with them instead of being trapped in a cycle of everyone chasing the same dream that has gotten so many people to reach an abyss that they are unable to climb free out of. In continuation to the gold hat, gold is a heavy material that can hold people down from the dreams they try to "bounce for" meaning that you cannot reach such high dreams because you are still holding on desperately to the gold hat. In conclusion, the American Dream is a system to keep citizens in check, that same system deceives the people because the citizens do not realize how fake it truly is.
Works Cited
Fitzgerald, F. (1950). The great Gatsby. Harmondsworth: Penguin Books, pp.110.
Fitzgerald, F. (1950). The great Gatsby. Harmondsworth: Penguin Books, pp.137.
Fitzgerald, F. (1950). The great Gatsby. Harmondsworth: Penguin Books, pp. 145.
Fitzgerald, F. (1950). The great Gatsby. Harmondsworth: Penguin Books, pp.179.
Fitzgerald, F. (1950). The great Gatsby. Harmondsworth: Penguin Books, pp. 161.
The deadline is too short to read someone else's essay
Cite this page.
How The American Dream Is Unattainable. (2022, Mar 31). Retrieved from https://papersowl.com/examples/how-the-american-dream-is-unattainable/
"How The American Dream Is Unattainable." PapersOwl.com , 31 Mar 2022, https://papersowl.com/examples/how-the-american-dream-is-unattainable/
PapersOwl.com. (2022). How The American Dream Is Unattainable . [Online]. Available at: https://papersowl.com/examples/how-the-american-dream-is-unattainable/ [Accessed: 4 Mar. 2023]
"How The American Dream Is Unattainable." PapersOwl.com, Mar 31, 2022. Accessed March 4, 2023. https://papersowl.com/examples/how-the-american-dream-is-unattainable/
"How The American Dream Is Unattainable," PapersOwl.com , 31-Mar-2022. [Online]. Available: https://papersowl.com/examples/how-the-american-dream-is-unattainable/. [Accessed: 4-Mar-2023]
PapersOwl.com. (2022). How The American Dream Is Unattainable . [Online]. Available at: https://papersowl.com/examples/how-the-american-dream-is-unattainable/ [Accessed: 4-Mar-2023]
Don't let plagiarism ruin your grade
Make sure your essay is plagiarism-free or hire a writer to get a unique paper crafted to your needs.
Plagiarized Text
Leave your email and we will send a sample to you., not finding what you need, search for essay samples now.
Having doubts about how to write your paper correctly?
Our writers will help you fix any mistakes and get an A+!
Please check your inbox.
Don't use plagiarized sources
Where do you want us to send this sample, attention this is just a sample..
You can order an original essay written according to your instructions.
Trusted by over 1 million students worldwide
1. Tell Us Your Requirements
2. Pick your perfect writer
3. Get Your Paper and Pay
Hi! I'm Amy, your personal assistant!
Don't know where to start? Give me your paper requirements and I connect you to an academic expert.
short deadlines
100% Plagiarism-Free
Certified writers

The Daily Aztec
The 'American Dream' is unattainable
by Catherine Van Weele , Staff Writer March 20, 2019
The American Dream was once attainable.  
Back in the middle of the 20th century, more than 90 percent of 30-year-olds were receiving higher salaries than their parents had at that age.
Today, that number is down to just 50 percent as social mobility continues to dwindle in the U.S.
Younger generations are faced with tougher financial hardships and growing economic inequality which makes it harder to climb up the social ladder.
One of the most pressing challenges facing the younger generations is the growing $1.5 trillion owed in student loans nationwide.
About 70 percent of college graduates will have student loans to pay off.
According to the Department of Education, the average graduate has about $30,500 in debt, and for some, it takes years to pay back their loans.  
The majority of borrowers will not pay back their loans until their 40s.
Some are now parents who are still paying off their own loans while pulling out more for their children who are entering college.
The high cost of higher education is causing many people to delay big life milestones that are part of the traditional American Dream, including buying a home.
Given the rising cost of houses and the overall cost of living, buying a home would only build more debt for college graduates.
While having a bachelor's degree significantly increases annual salary compared to people with a high school diploma, it is not enough to pay off loans and start saving away an adequate amount for retirement .
A NerdWallet study concluded that college graduates of 2015 would not be able to retire until the age of 75 due to student loans.  
College loans are not the only form of debt that weighs down on Americans.  
As a nation, there is $1 trillion of credit card debt, $1.1 trillion in car loans and $8 trillion in mortgages.  
These heavy financial burdens make it difficult for many people to save up for retirement and emergency savings.
A survey conducted by the Federal Reserve found that 40 percent of Americans did not have enough to cover $400 in emergency expenses.  
The inability to save and invest in the future is largely due to the stagnation of wages most American workers are experiencing.
While wages have increased in dollar amount, this increase still lags behind inflation which causes purchasing power to decrease.  Americans are unable to consume and purchase at the same capacity as they were a few decades ago.
This means key components of the American Dream like college and home owning are significantly unaffordable to more people.
When accounting for inflation, the cost of attending college today has more than doubled since the 1970s.
Major reforms must be made in order to make the American Dream possible for most people again.
 T here needs to be a redistribution of wealth and people need to be paid at least a living wage.
Employers should take the initiative to address wage stagnation by paying their workers a living wage.  
To encourage this, local governments should institute a minimum wage that ensures workers will be able to afford to live nearby their work.
This would also require addressing the housing crisis by reducing the cost of housing.
The government should fund construction for more housing options to increase the supply and therefore reduce the market prices.
 Cheaper housing options would help to reduce the number of mortgage payments Americans are indebted.
Taxes can be used to fund public education, specifically higher learning, would make college more affordable.  
Colleges and universities require more funding to reduce the costs of tuition, housing and other fees.
It would also allow universities to provide a higher quantity and quality of services and resources to their students.
Even for people who already went to college or chose not to go, using tax revenues to fund education would benefit them by building a stronger workforce in the U.S.  
Reducing the national debt of student loans would improve the overall economy by stimulating consumer spending.
Additionally, without the financial burden of loans, college graduates would be able to afford to buy a house, start up their own businesses, and invest in the stock market.
There needs to be a collective effort to provide people with the opportunities to work towards the American Dream.  
This will leave everyone better off by strengthening the workforce and the economy and enriching American life.
Catherine Van Weele is a freshman studying political science.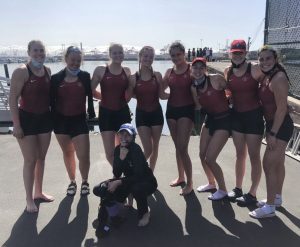 What happened to the SDSU rowing team? Former athlete Maddie Scherr opens up about life after the cut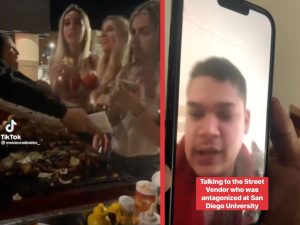 Viral video captures four women harassing street vendor near Viejas arena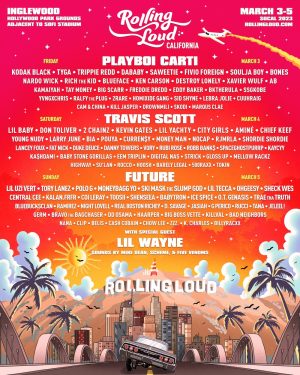 SDSU students are looking forward to Rolling Loud 2023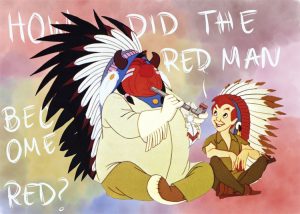 Beloved classic Disney movies are flooded with racist content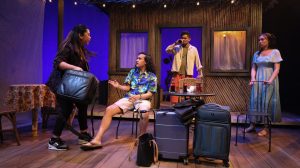 'Bloodletting' play brings the mysterious world of Filipino folklore to the SDSU Mainstage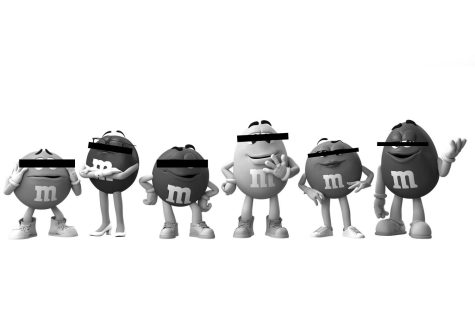 M&M's chocolate-coated pandering provokes ludicrous reaction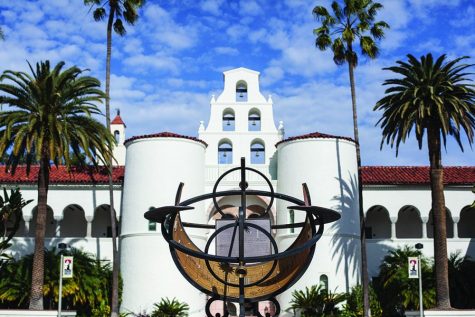 Editorial: This is why rape victims do not speak out
Resurrect representation of queer women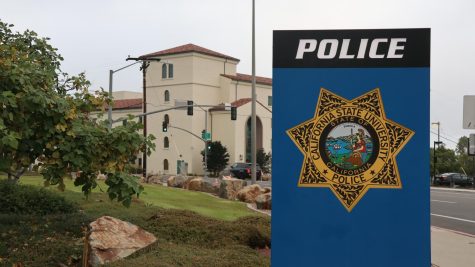 San Diego State is ill-prepared for an on-campus shooting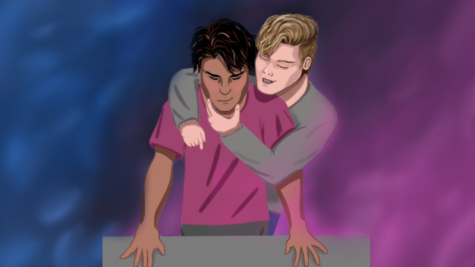 We need to talk about gay racism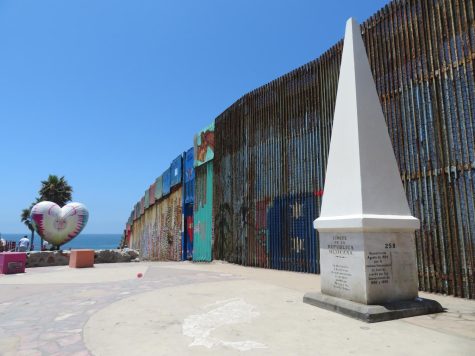 Friendship Park: A cultural haven
Letters to the Editor
A letter to the editor: Admins of ChangeSDSU amplify more than 100 student complaints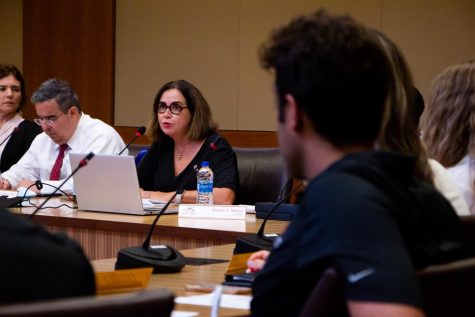 Dear Dr. Adela de la Torre,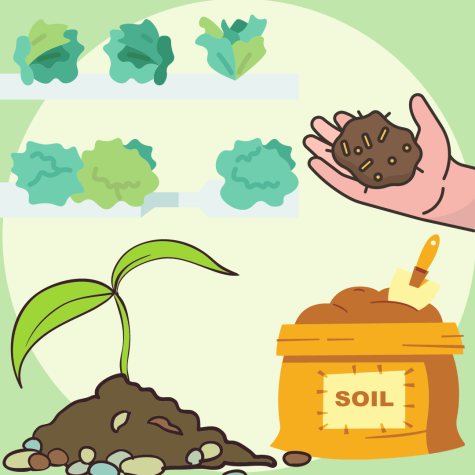 Our soil is depleting, consider sustainable alternatives to create change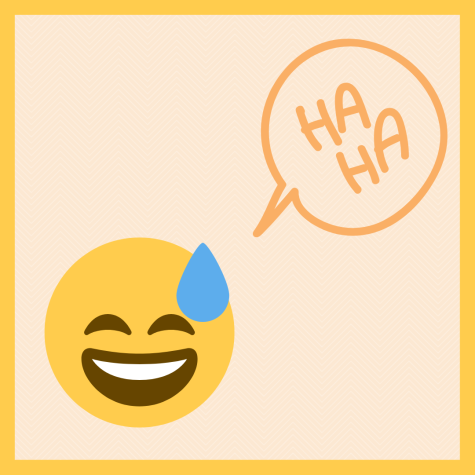 Aztec Voice: End of year embarrassing stories
Make a Donation
Classifieds
Arts & Culture
Mundo Azteca
A.S. Elections