Personal Essay Examples About Yourself
There are times where you want to prove yourself and write an essay about yourself. Well, we've got you covered! Check out the already written essays below and use them as a guide to writing your own!
Essay About Myself Helps You To Establish Your Personality And Connect With An Audience
Describing yourself could be a challenging task, but when it comes to an assignment, you can't skip it. So, are currently dealing with an essay that requires you to describe yourself? Are you finding it challenging to do so? If so, we are here to help. We understand how normal it is to go blank when asked about describing oneself. And, if you're a student, the pressure to do so could be immense. It is because you know the reader would be marking your write-up rather than reading it for fun. The pressure to write better and follow the right structure can be overwhelming. It can end up making you freeze or feel you're not good enough. However, the reality is otherwise. Here are a few things you can do to avoid being in that situation:
Brainstorm key information and personality traits or personal experiences that you would want to share.
Outline your essay before you start writing the draft.
Make sure your draft is divided into logical paragraphs that are well-connected.
Make sure your introduction is engaging enough to hook the reader.
Make sure you conclude your essay that wraps up everything you wrote in the body.
Make sure you have a unique voice in your writing by using the relevant vocabulary and letting the reader feel your feelings.
Following these simple steps will ensure you create an essay that leaves an impression.
Besides, if you're confused about what to include in your personal essay, here are a few suggestions:
You can talk about your personality.
You can talk about your student life or personal life.
You can include specific experiences or incidents to back up your claims about your personality.
Short Essay Sample About Yourself
Still confused? Here is a short sample essay to help you grab the idea if you've been asked to describe yourself in an essay:
Describing myself is one of the toughest tasks to do, but it's fascinating too, to put it to words. I believe our traits – be they positive or negative – make us the person we are to the world. When it comes to my personality, people can have different opinions because they see what they want to see in me, and that's okay. So, I would describe myself from the paradigm I see myself from in different aspects.
Related: Where Can I Buy University Essays From
As a person, I believe life is an art, and I am the artist of my life. I try to keep it full of colors and as cheerful as possible no matter what life throws at me. I am an enthusiast and a person full of curiosity. Curious to know what life is all about and what it holds in the future.
I like to keep a smile on my face no matter what I am going through, and that smile keeps me going. Besides, I was brought up in a multicultural community. Therefore, I am an extrovert, and I like to meet people, I love to experience their lives, cultures, and traditions, which makes me happy and cheerful.
Moreover, I am reliable but very short-tempered. I lose my calm if not understood properly. I get very irritated internally, but that doesn't show in my behavior. However, I would like to change this character trait a little because my friends and dear ones often do not notice that I have some troubles. Thus, they do not offer help when I need it.
Good or bad, This is me, trying to contemplate the world as it is, revealing its true colors. I believe life is a gift, and it should be treated like one, with love, care, and respect.
Long Essay Example on "Describe Yourself "
Below is one more example to help you understand the idea of personal essays better.
Related: What Is The Best Website To Buy Essays
"Tell something about yourself?" It could be one of the toughest questions when asked impulsively. However, people who like sharing their achievements and personal life with others may find it another opportunity to reveal their unique traits. But with me, the case is quite the opposite. Talking about myself has never been my thing. Yet, I would still try to describe myself in the best way I can. I would like to start with my background and then move to how I am as a student and then how I am inside and how the world sees me.
The first thing that I would like to write to introduce myself is that I am nothing but just a unique kind of 'substance' made up of hydrogen, carbon, nitrogen, and oxygen, trying to leave a positive mark in the world. In the effort to do so, I have been continuously changing qualitatively. Being an only child raised by a single mother, I have had quite a rough childhood. Giving up on my aspirations and wishes was a normal part of my life. Living with limited luxuries and growing up without a father and siblings has a massive role in my personality today. I know how it is like not to have someone to hear you out when you come back home after a terrible day at school. Hence, I always try to be an ear to my friends and make them feel better.
However, I never let my financial constraints and not-so-easy family life get in the way of my academic goals. On the contrary, I have always been keen to learn new things and achieve good grades. As a result, I successfully managed to land in my dream college, that too on scholarship. Getting into college on scholarship was one of my biggest dreams as well as a major goal. Besides, it gave me a chance to make my mother proud of me. Making her a proud mother has always been my dream, and I can't be happier to achieve some aspect of that dream.
Lastly, I would like to tell you that I may seem like a bright student who is confident and arrogant. But, in actuality, it is the opposite. I am a person that has to deal with social anxiety every day, which means I have to struggle a lot to make new friends, attend social events, and give presentations. I never tend to initiate a conversation or say enough to keep the conversation going with many people I don't know. This may give them the impression that I am an arrogant teen. But, from the inside, I am as humble as a dove. I can never say no to anyone, and I can never ignore someone who needs help. I am as fragile as glass. My confidence level can go to zero on one uncomfortable remark.
All in all, this is precisely who I am as a person. And, I believe my experiences and relationships with others have a great role in making me what I am today. After all, humans are social animals. So, no matter how introverted or timid I am, I still need real connections that help me experience life at its best.
Words with Friends Cheat
Wordle Solver
Word Unscrambler
Scrabble Dictionary
Anagram Solver
Wordscapes Answers
Make Our Dictionary Yours
Sign up for our weekly newsletters and get:
Grammar and writing tips
Fun language articles
#WordOfTheDay and quizzes
By signing in, you agree to our Terms and Conditions and Privacy Policy .
We'll see you in your inbox soon.
How To Write an Essay About Yourself (and Cement Your Writing Style)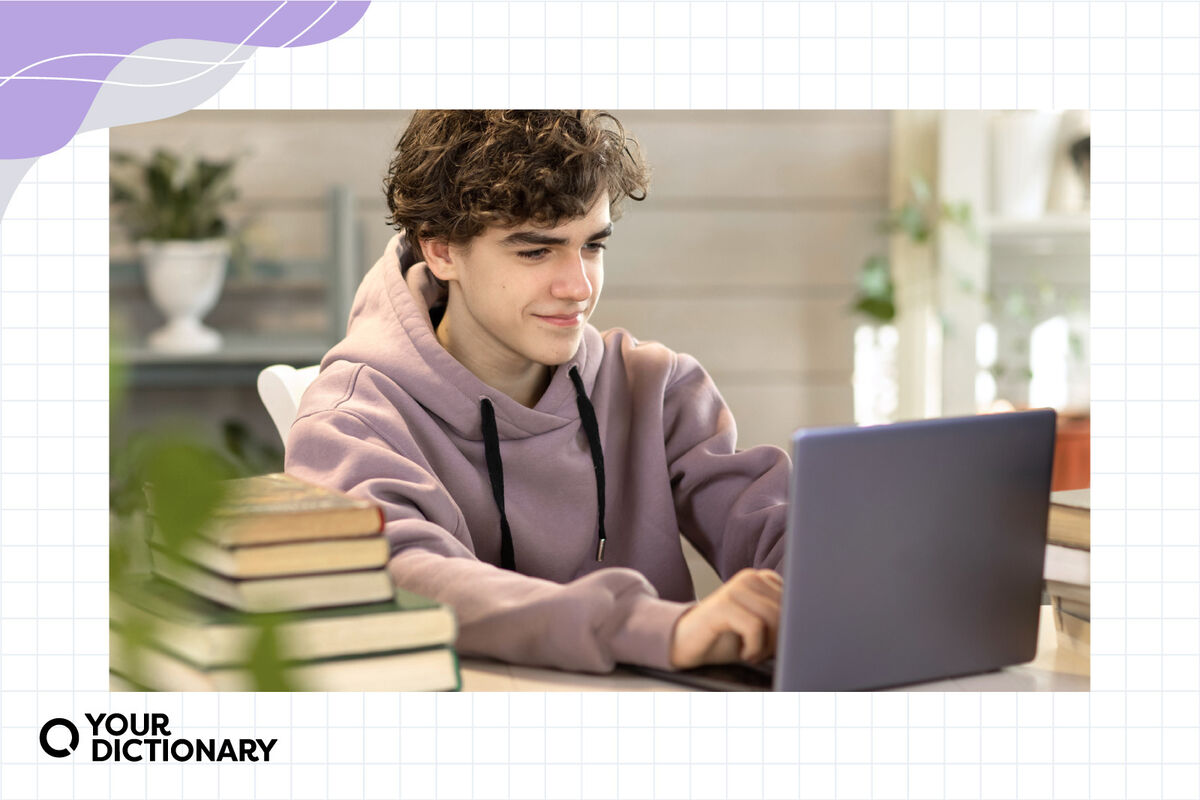 DESCRIPTION Student Writing an About Me Essay
SOURCE Ekaterina Naumenko / iStock / Getty Images Plus
PERMISSION Used under Getty Images license
The "about me" essay is a classic assignment. Part of that comes from its practicality; it's a good way to introduce yourself to new people. The "about me" essay also helps your teacher get an idea of your writing voice and style, and it involves a lot of elements that you'll find in other writing, from research papers to fiction. Looking at some creative "about me" essay examples can help you figure out where to get started.
Brainstorming an Essay About Yourself
Before you even open your document, you should take some time to brainstorm ideas for your essay. Aside from your teacher's instructions, the sky's the limit here. A lot of "about me" essays discuss:
A personal accomplishment of some kind (winning a writing contest, running a marathon, getting a black belt)
A special moment with a family member
A challenging moment in your life
A talent or skill that you developed and the journey you took to gain it
How To Start an Essay About Yourself
Getting started is the hardest part of anything, and essays are no different. The "about me" introduction is ostensibly the most important part of an essay. The intro is the first thing the reader sees, and it gives a reason for the reader to keep reading.
Start With a Hook
The hook is the opening sentence of the introduction. It's the actual first thing that the reader sees, so it should be engaging and immediately hook the reader in while setting the tone for the rest of the essay.
That can be hard to accomplish, but there are a few different strategies to go with:
Ask a question ( Have you ever wondered what the difference is between a piece of cheese and the human body? )
Find a statistic ( Scientists estimate that there are about one quadrillion ants on Earth, equating to about 1.5 million ants for every one person. )
Use a metaphor ( I once dated a rat. )
Starting with something surprising or unexpected is the best way to go, but try not to overthink it. Even going with a basic statement ( My name is Edna, and I love apples. ) is enough to entice a reader (Why does she love apples? Why is she writing a whole essay about her love of apples?).
Introduce Details
Once you've got your hook down, get into what you actually want to talk about in your personal essay. Most "about me" essays highlight a special event or episode from your life that illustrates some larger insight about you. Use sensory details and try to keep things concrete.
The hard part is introducing the event without going too deep into the details (that's what the rest of the essay is for).
Conclude Your Intro
If this was a research paper or traditional five-paragraph essay , the conclusion of your intro would technically be your thesis sentence . This sentence outlines the whole point of the essay. What are the contents of this essay saying about you? What insights are you revealing about your personality through the whole essay?
It's okay to work your way backwards here. Start with a pretty basic thesis, write out the body of the essay, and then go back and modify the thesis as you see fit.
What To Include in an Essay About Yourself
Approach a creative essay about yourself the way you'd approach telling your best friend a story. You want to put in enough details that the story makes sense without ending up on weird tangents, all while incorporating a bit of your personality.
Easy, right?
Use Paragraphs
Seems obvious, but make use of paragraphs to break up your story. Exact length will vary based on what your teacher says, but shorter essays should have one to two body paragraphs, while longer essays should have at least three paragraphs.
Unless your teacher says otherwise, stick with at least five sentences per paragraph . Regardless, make sure that each paragraph presents a full thought and leads into the next.
Show, Don't Tell
This is the type of advice that writers will repeat forever, but it's even more annoying because it's true. 
Essentially, try to stick with illustrative details that draw from the senses. How did things smell, taste, or physically feel? Specificity and groundedness are more engaging than abstractions. For example:
I'm a really great guitarist.
That's not super interesting, descriptive, or engaging, and it mostly just sounds like you're bragging. Compare that to:
When I was five, my dad brought his old guitar out of the dusty attic one spring morning. He held his fingers against the wood of the fretboard and showed me how to strum the strings. I didn't know then that I'd fall in love with making music. I only knew the safety of sitting in my dad's lap, my mom holding a cup of coffee and smiling at us plucking away at some strings.
That has images and emotion. It feels concrete while still staying personal, and it urges the reader to want to learn more.
Include Metaphors, Similes, and All That Good Stuff
Use metaphors , similes , and all the other figures of speech available to you to add some creativity to your essay.
How To End an Essay About Yourself
Okay, you've got a solid intro, and you've finished the body paragraphs. It's time for your conclusion . The easy part of your conclusion: reiterating your thesis and briefly reviewing your story.
The hard part: thinking beyond the essay. A conclusion addresses the "so what?" of an essay and understands that there is a world outside of the few paragraphs that you just wrote. How do the events of the essay affect who you are now? What did you learn, and how do you plan to apply that to your future endeavors?
Give it some thought, and don't be afraid to be a little cheesy. As long as you keep it sincere and genuine, a little cheesiness can be effective.
Short "Describe Yourself" Essay Sample
For shorter essays, you generally want to keep things fairly tight and focused, while adding in some creative details and imagery to make it fun to read.
In preschool, the other kids called me "Polka Dot" because of the birthmark on my cheek. I remember coming home crying. My dad told me all the usual sayings about "sticks and stones" and judging a book by its cover, but it was something else he said that really helped me. He said that the people who understand others the best are the ones who haven't always been able to fit in. I still have a birthmark on my cheek, but I've long since become comfortable with it. I think I learned early to accept myself physically, and that's been hugely helpful as I've gone through the teenage years. When everyone else was worrying about whether they had the right shoes or bag or brand of jeans, I've spent my energy on learning about people. My bedroom at home offers a great symbol of who I am and what is important to me. The walls are simply painted and decorated with photographs of my family. My bookcases are filled with psychology texts and sociology journals, and my desk is covered in research papers. I know this isn't the bedroom of a typical teenage girl, but I'm so excited to learn more about psychology and how other people think. I plan to spend my life trying to understand people, and I hope someday to help them in a clinical practice of my own. - Kate Miller-Wilson
Longer Essay About Yourself Example
A longer essay gives you a bit more room to breathe with your details and provides more space for creativity. If you're not sure how to start, write a shorter essay, then go back and add embellishments where you feel it fits.
Start with a strong introduction , such as an anecdote or specific example of your personality. Follow this with details that help the reader really understand who you are. In a longer essay, you have time to show your skills at descriptive writing .
I remember right where I was sitting the first time I wrote a poem: on the floor of my messy bedroom surrounded by dolls I hadn't played with in months. I couldn't understand why I simply didn't want to play with them anymore. I was getting older, and it scared me. I put my fears on paper, not even really intending to write a poem. I just let the words flow out of my pen, about how I couldn't even remember what my doll's voices sounded like anymore. I tentatively showed the poem to my teacher the next day at school, and I was surprised when she loved it. I hadn't really thought it was anything amazing. My teacher's encouragement gave me the support I needed to keep writing. I began to read books of poetry, and I wrote every single day. I learned that in order to improve, I had to write whether I felt inspired or not. By the end of eighth grade, I had written 200 poems. They weren't all great. In fact, a lot of them were really bad. A few stood out, though, and my teacher helped me enter one in a local contest. When it won, I knew I just had to keep writing. I kept at it all through high school, receiving plenty of rejections. Some of those rejections were devastating, and there were times I felt like quitting. By now, though, I thought of myself as a writer. What would I be if I stopped writing? So, I dug in and wrote. I wrote about teenage things, about heartbreak and existential crisis. I wrote about my world, about my school, and the beauty of our natural surroundings. Often, I just wrote about my perspective and tried to convey that in a way that moved other people. Now, as graduation approaches, I have been published 24 times. I'm certain I want to pursue a degree in creative writing. There's so much to learn about words and the beautiful ways we can use them, and I want to learn all of it. I hope to get a BA in creative writing, and after that, I want an MFA. Some day, I'd like to support others who write too, just as my encouraging teachers helped me. My journey as a writer has taught me a lot of things about myself, but the most important thing I've learned is that I don't give up. It takes more than natural talent to become good at something; you simply have to do it. The old adage is true: Writers write. I write when I know I'm making something I love, but I also write when I'm discouraged and think I have little to say. I write to be read, but I also write knowing sometimes, no one will read my work. My persistence is the secret of my success so far, and I know it will serve me well in college and beyond. - Kate Miller-Wilson
Beyond the "About Me" Essay Assignment
A lot of the things that you learn and use in an "about me" essay are applicable even beyond your class. Your personal statement when applying to college is essentially an extension of the "about me" essay, and "about me" pages on professional websites and social media use elements of the "about me" essay. Even if you don't foresee writing in your future, it never hurts to think more critically about yourself and your life experiences.
Writing an essay about yourself can be intimidating, but hey, no one's better equipped to write about you than you! 
Use Messenger
Send us an email
Sample Essay about Me
It's my life.
My name is Ann Smith. I am a senior in high school . Everyone can agree that I am a good student and that I like to study . My favorite subjects are chemistry and biology. I am going to enter the university because my goal is to study these subjects in future and to become a respected professional in one of the fields.
I can say that I am a responsible and a hard-working student . Moreover, being a sociable person , I have many friends since I like to communicate with people and get to know new interesting individuals. I enjoy my time at school : it is really nice to study, the students are very friendly and ready to help. The atmosphere cannot but make me want to go there every time. I like to receive and deal with challenging tasks . I am a very enthusiastic student and I think this is a strong point of mine.
My friends say that I am a very funny and an interesting girl with a good sense of humor. As soon as I meet new people who are happy to meet me, I feel extremely comfortable with them. I believe that friendship is one of the most important values in human life . We exchange new ideas, find many interesting things about each other and experience new things. I appreciate friendship and people who surround me.
Meeting new people who support all my efforts to grow and develop my skills not only in the subjects but also in my hobbies gives me a lot of energy. Many of those friends who surround me now I met on the street while doing my hobby. I'm in love with photography, so the thing I love doing so much became even more enjoyable. I decided to take beautiful pictures of accidental people and share these photos with them by emails or in social media. I feel happiness inside seeing how happy they are looking at the pictures where they are walking or sitting somewhere in the park. In this way, Liza became my best friend and we both believe that we meant to meet because she studies the same classes and we have similar life goals.  
The goal I'm currently striving for is to make this world a better place to live in by starting the changes with myself. Sure, I've had bad experiences in my life too, but this is exactly what made me the way I am now: grateful, full of love, with a desire to study well because it will help me become a successful person in future and have a high quality of life. I believe that it is manifesting day by day and I feel even more responsibility for what I do and where I go. With all I already have, I know that I'm on the right path and I will do my best to inspire others to live the way they feel like living as well.  
Some Essential Tips On How To Write An Essay About Yourself
No matter what's the purpose of your essay, there is a preset number of points that you will be expected to address.
The main line should be that you are not a robot, and that it is your feelings and emotions that define you as a personality. Do not get stuck with material possessions and what you have achieved in life. That has to do only with a small portion of who you are.
Avoid overly simplified ideas. You are a human being after all, and your life is not as simple as it may seem after years of school. You wouldn't want to seem or sound too simple. The more substance you create out of your daily activities, the better. Longer sentences will be good.
Include a few dream-like paragraphs to stress the point that you are not a robot. Sometimes it can get hard explaining your feelings and emotions, you may say.
The best way to get to know people is to see how they react to stimuli. Use your essay to pick a few incidents or just more or less regular events to attempt and define what your character is at its core.
Find amusing in ordinary and showcase that. Your job is to present the ordinary stuff that happens to you in a way that will make the reader want to know you better. It's all a matter of the right perspective. You have to take multiple stands on what you are as a person, and include that all in an ordered form.
How do you fit with your friends, family and just immediate surrounding? Where is your place in the world?
What is the purpose of your life? If a question like that is too global for your work, you can just include the things that you enjoy. Don't forget to say why or explain any symbolism connected with the things you love.
Avoid Unclear Definitions
It is really easy to get lost when you are writing something as vague and as perspective-oriented as an essay about yourself. People tend to choose a number of themes of who they are and try to describe them all.
That would be very confusing for the reader. Not to mention that it would be hard to write and navigate in between those themes. After all, very few people know you well enough, and it is almost certain that your essay is going to be read mostly by strangers or just people who know you marginally.
What you do instead is pick one theme: which light do you want to be seen in? Once you have answered that question, you are ready to go. Stay true to the theme, and you will get a coherent piece that will get you a good grade.
If you are going to write your own essay from scratch, our manual on « How to write an essay » will be useful for you.
Need something similar?
Calculate Price
Narrative Essay on My Favorite College Teacher
My Favorite College Teacher There are many different teachers in college and high school that arouse the most controversial emotions. Students have different criteria when choosing their favorites; some of them prefer those who don't give hard homework assignments, or don't ask difficult questions. Some students like it when teachers don't bother them at all…
Always On the Move
Unlike most of my friends, who enjoyed the stability of living in respectable suburbs, I spent my teenage years on the move. My parents traveled a lot on business, being a choreographer and a doctor with a famous theatrical ballet company, and I had to face the choice of either traveling with them, or living…
Essay about my wrongdoings and mistakes
Have you ever been involved in some serious wrongdoing? What lesson did you learn from the experience? Highway to Death Making mistakes is a natural part of life, since learning from them helps us to progress. My love for speed started while I was a young girl. I enjoyed watching car races and was fond…
Our Services
Academic ghostwriting
Admission essay help
Article writing
Assignment writing
College paper writing
Coursework writing
Dissertation writing
Homework writing
Online classes
Personal statement writing
Report writing
Research paper writing
Speech writing
Term paper writing
Writing tips
Write my paper
Home — Essay Samples — Life — Myself — About Myself

Essay Examples About Myself
Who am i: creative writing, a few words about myself, my plans for a successful future, letter about myself from the 3rd person, how it feels to be an introvert, who am i: discussion of my personality and life, what is your true self: the importance of self-awareness, how my future self is my hero, a life-story about me, myself and i, me, myself and i: ordinary person, real-life experience, the void in my life, admission to the university of adelaide: describe your background, answer on the large-scale question 'who am i', the way my curiosity defines myself and my desires, what makes me me: essay on my personality, that's how my personality defines myself, who am i: a glimpse of my personality development, one day i'll be someone's first choice, analysis of my top-5 personal strengths, self-awareness: my experience on path to better me, analysis of a teenager's personality profile, a look at the benefit of personal encouragement, who am i: answering the question through the body theory, memory theory, and illusion theory, the analysis of my personality tests, a reflection on myself as a writer, my addiction to volleyball, personal writing: why i love winter, personal narrative: myself as a writer, the analysis of my relationships with the roommate, feeling stressed about your essay.
Get professional help in 5 minutes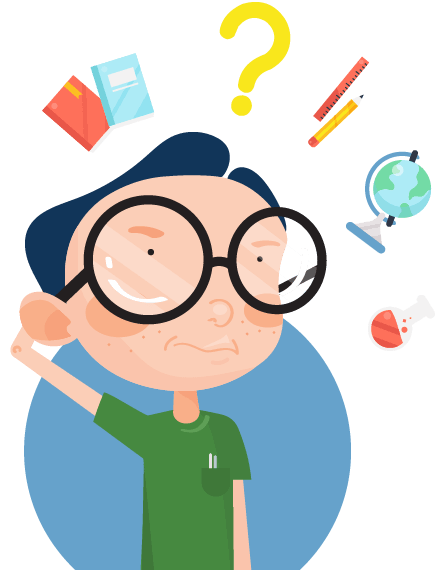 Top 10 Similar Topics
Personal Strengths
Self Assessment
Self Reflection
Self Reliance
Personal Goals
Professionalism
Childhood Memories
We use cookies to personalyze your web-site experience. By continuing we'll assume you board with our cookie policy .
We can help you get a better grade and deliver your task on time!
Instructions Followed To The Letter
Deadlines Met At Every Stage
Unique And Plagiarism Free
Tell me about yourself essay
Introducing yourself to someone new can be both exciting and nerve-wracking. After all, first impressions are important, and you want to make sure you put your best foot forward.
When it comes to writing a self-introduction essay , there are a few things you should always include.
For starters, be sure to mention your name and what people usually call you.
Racial profiling essay
Sociology essay, social issues essay, agreement essay, customer service essay, procrastination essay.
Next, give a brief overview of your background, including where you grew up, any siblings or pets you have, and any hobbies or interests you pursue in your free time.
Finally, it's always helpful to mention what brought you to the event or conversation – whether you're seeking a new job opportunity, looking to make new friends, or simply wanting to learn more about a particular topic.
Read : Who am I essay
Tell me about yourself essay sample
My name is Mary, and I am currently a senior in high school. I am passionate about learning and expanding my knowledge, which is why I am planning to study psychology in college. I have always been interested in the way people think and interact with the world, and I believe that psychology is the perfect field for me to continue exploring these interests. In addition to my academic achievements, I am also active in my community. I volunteer at a local soup kitchen, and I have recently joined a peer mentoring program at my school. I enjoy giving back and helping others, and I believe that this experience has made me a more compassionate person. Overall, I am proud of the person I have become, and I am excited to see what the future holds.
Read : how to write an essay about myself
Tell me about yourself: Example
I am a driven individual who is always looking for new challenges. I have a strong work ethic and I am very motivated. I enjoy working with others and I am always willing to lend a helping hand. I am a quick learner and I am always eager to learn new things. I have a positive attitude and I am always looking for the good in every situation. I am a good communicator and I have excellent interpersonal skills. I am also a very creative person. These are just some of the things that make me who I am.
I am a third-year student at XYZ University studying psychology and sociology. I am passionate about working with children and have volunteered at a local elementary school for the past two years. I am also interested in research and have conducted several studies on child development under the supervision of my professors. In my spare time, I enjoy reading, playing sports, and spending time with my family and friends. I am excited to graduate and begin my career as a psychologist.
Short tell me about yourself essay template
Hello! My name is _______, and I am ______ years old. I live in ___________, and I am a ___________. In my free time, I enjoy ______________. I am also interested in ____________. I decided to pursue ___________ because I am passionate about ___________. In addition, ___________ is a rapidly growing field, and I believe that there are many opportunities for career growth. I am confident that I have the skills and commitment to succeed in this field, and I am excited to see what the future holds. Thank you for taking the time to get to know me!
My Dream Essay
Globalization essay, community service essay, how to write a discussion in a lab report + examples, what is an author's claim, related guides, nature vs nurture essay, essay about family, stereotype essay, personal personality essay, courage essay.
Need Academic Writing Help?
Hire a Writer Now
Example Of Myself Essay Examples
Show More My name means light and I was named after my great grandmother. I come from an Albanian family, and I know how to speak Albanian and some french. I have three younger sisters and a little maltipoo puppy named Sandy. I currently live with my uncle and grandparents in their condo. I would describe myself as being very introverted and quiet. I'm also very independent. I really don't like working with partners, unless they're my friends or I feel comfortable around them. But I generally like to do things on my own. I don't really know if I've accomplished all that much in life. I feel like graduating high school would be one of my accomplishment, and moving out of my parents' home. Some of my interests are reading novels-more specifically Stephen …show more content… I also like to relax and I have a weak spot for babies and animals. I dislike a lot of things, to be quite honest. I generally dislike anything that has to do with zombies, terrible movies,talking to people, my dad's singing, traffic, gym class, and being bored. I think some of my strengths would be my independence, calmness, and kindness. I like being independent, and I hate depending on others for things. I'm pretty calm in most situations, I try to not let things stress me out too much and I tend to be very laid back. And I'm a very polite, nice person to anyone I greet and I try to be nice to everyone, even if they're rude to me. Some weaknesses I have is I'm not so strong physically, I'm very quiet, I'm a procrastinator, and I'm an overthinker. I wish I was more physically stronger, so I can defend myself in case I ever get attacked out of nowhere one day. I tend to be very quiet when talking to people, and it's either they can't hear me most of the time, or I have a hard time speaking to them. I'm trying to overcome it, but it's a very difficult process for me. I was huge procrastinator ever since I started Kindergarten. My motto was "Have fun and do work later." I'm slowly overcoming …show more content… It's really hard for me not to overthink. I'm trying to control my thoughts more, and not let it get to me so much. I want to be a more confident, successful person. I really would like to be an author. I have a million stories in my mind, and I would love if my books became really popular and have their own little movie franchise. I guess I want to be an author because I think books can change people's lives and they can really make a difference. I also want to overcome my anxiety when talking to people and developed a more positive outlook than a negative one on things. I want to be this because I just want to improve myself. I want to be more assertive and stand up for myself more. How I see myself in 10 years is I will be happily married, have a good career, a few kids, and a family dog. For my goals: Besides being an author;I really would like to become a criminal psychologist or a Kindergarten teacher;becoming more confident and assertive; balancing my time better; make new friends; and to stop procrastinating. I haven't taken much activity to these goals, but it's slowly getting there. I plan on taking some more psychology and child development classes to figure out which career path I really want to
Related Documents
Personal narrative: my attributes of myself.
While there are many attributes I admire about myself, I also have some aspects of myself which I deeply dislike. I am an introverted person and prefer to be alone rather than around a group of people. I do well around people and I do have good social skills, however I find it easier to pay attention, work, and generally be more energized when alone. Tying with being a hard worker, I take my time to carefully…
The Importance Of Conflict In Interpersonal Communication
I stand up for myself and others when they are unrightfully attacked; however, I never go looking for confrontation. I know how to present myself in a confident manner. I never want to look entirely spineless. I know how to be non-assertive and occasionally choose it over being assertive when I feel it is more socially pleasing. I try to be easy going in most situations, especially if others have strong opinions on a subject and I do not.…
What Does Depression Mean To You Essay
(1) Currently, I am not too happy with what is going on with my life right now. I am not too happy because I feel somewhat isolated and alone sometimes. I live on campus and I am in a coed fraternity, but I feel that I am not living a "college student's life" so to speak. I don't like to "party" and I can be pretty quiet at times, and I feel like that makes me somewhat of an "outcast" from the world. I don't want to change myself of course, but I sometimes wish people could accept me more for who I am and respect the fact that I don't like to do super crazy things.…
My Life Without Regrets
I remember getting complement about how much I would smile. But then something happened and I became this person who doesn't genuinely laugh much anymore. I find it hard to joke and I've turned into this "buzz kill" kind of person. Where before I would have been honest but with a side of humor so that people never were hurt by what I said and it wouldn't bother anyone. But, now I'm just brutally honest and it tends to hurt people's feelings, or the way I say things may get misinterpreted.…
Personal Reflection: Keirsey Temperament Sorter Assessment
I always put things in order. I am firm for the most part in conversation. I am not rude, when people ask me my opinion or a question I give them a real answer, and people tend to appreciate that. I notice that for thinkers it is said that we do not do well with showing emotion or are uncomfortable with others emotions (Sharf, 2013). I do not like showing other people my emotions because it makes me feel weak.…
Health Course Reflection
I am actually happier being unsocial, unspiritual, and sometimes unfit (as weird as that last one sounds). I have extreme social anxiety and get terrible anxiety when I think about life and my relationships. I also do not enjoy working out. Even though I am constantly indecisive about my body, working out has never made me happier about myself. I understand that it is critical for my health, which is why I do it anyway, but it in no way contributes to my happiness.…
My Personality Assessments
First, my emotional stability or my "tough-mindedness" tends to not be so high. I often wear my heart on my sleeve and let smaller things bother me. I understand that this will improve with maturity and experience but right now I need to work on not always letting my emotions control the situation. I need to learn to take a minute and process all information before reacting. Another weakness is the fact that I tend to get bored easily.…
The Importance Of Timid Traps
When I was young, I thought I was the only one who was right for everything. I would not accept people's advice because I always thought I should just do whatever I want to. This perspective has made me not friendly at all. Even though I still had many friends, they did think playing with me was fun, and we sometimes got into fights and broke up. The change of my perspective was not sudden but had a slow progress.…
What Makes Mediocre Movies
Now sometimes these movies can be great, but often times the film is mediocre or even terrible. Classifying movies into three distinct categories, fantastic, mediocre, and terrible, can help people everywhere determine what movies they need to watch. Motion pictures are a great way to entertain company. Fantastic movies need a great storyline, realistic visual effects, and suitable actors. I believe that in order to have a successful movie, it needs an easy to follow yet mind blowing storyline.…
Reflective Essay: The Writing Of Myself As A Writer
I write because my life wouldn 't be the same if I didn't. I write because my mind would explode if I didn't. I write because I want to prove myself to everyone. I write because it helps me grow as a person. I write because my life depends on it.…
Related Topics
Procrastination
Time management
Ready To Get Started?
Create Flashcards
Mobile apps
Accessibility
Facebook
Twitter
Cookie Settings
Advertising
Applications
Assessments
Certificates
Announcement
Invitations
Newsletters
Questionnaires
Food & Beverages
Recruitment
Marketing Examples
Transportation
15+ Self-Introduction Essay Examples & Samples in PDF | DOC
Self introduction essay  example.
Self Introduction For College Students  Example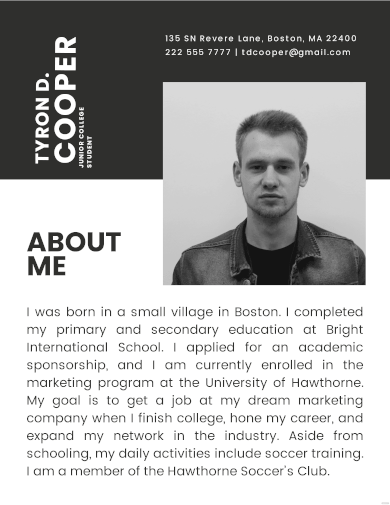 Simple Self Introduction For Job  Example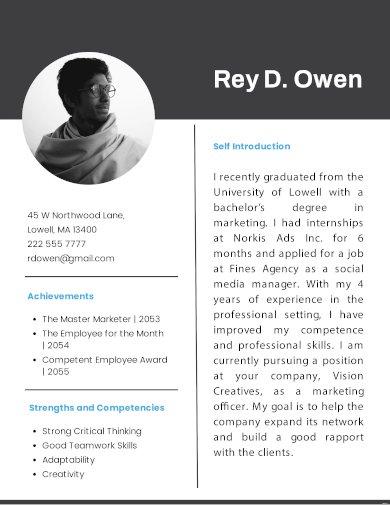 Free Self Introduction For Kids  Example
Simple Self Introduction  Example
Self Introduction For Freshers  Example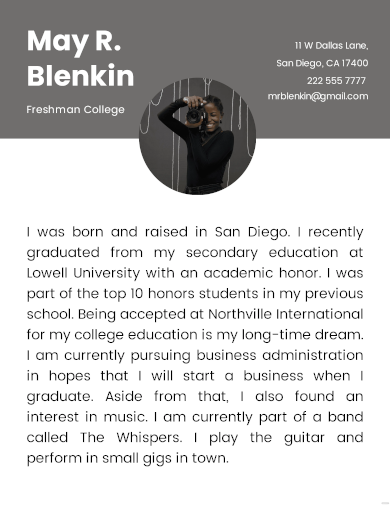 Free Self Introduction For Interview  Example
Company Self Introduction Example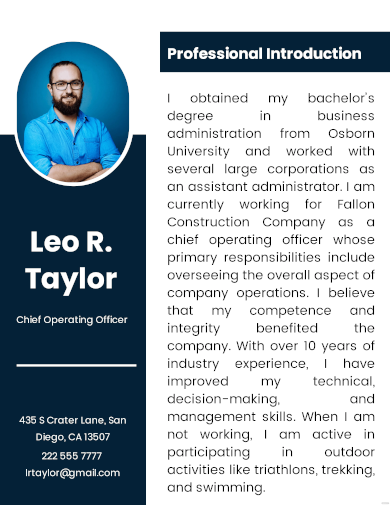 Self Introduction For First Day At Work Sample
Sample Self Introduction for Scholarship  Example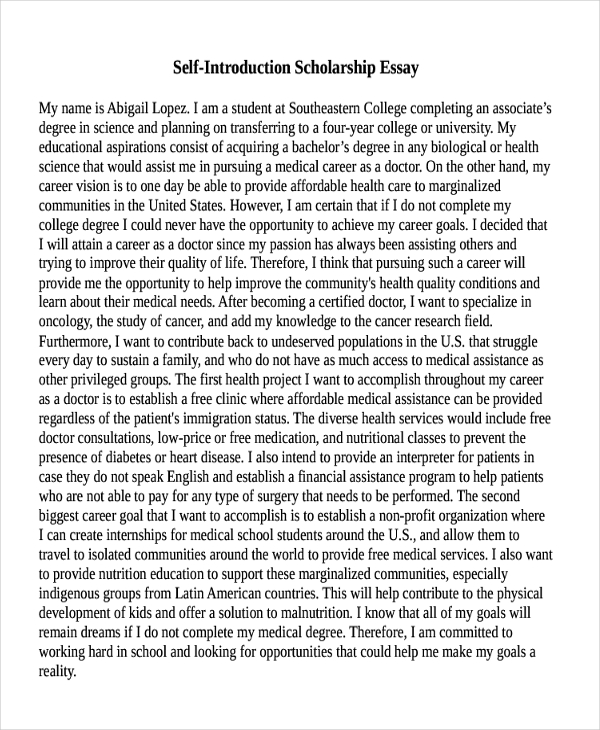 Free Self Introduction Sample  Example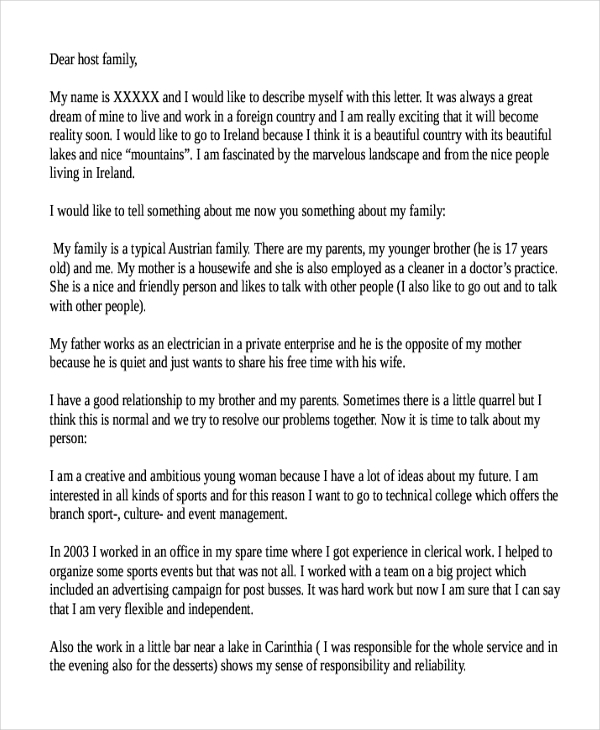 Creative Essay for Internship Example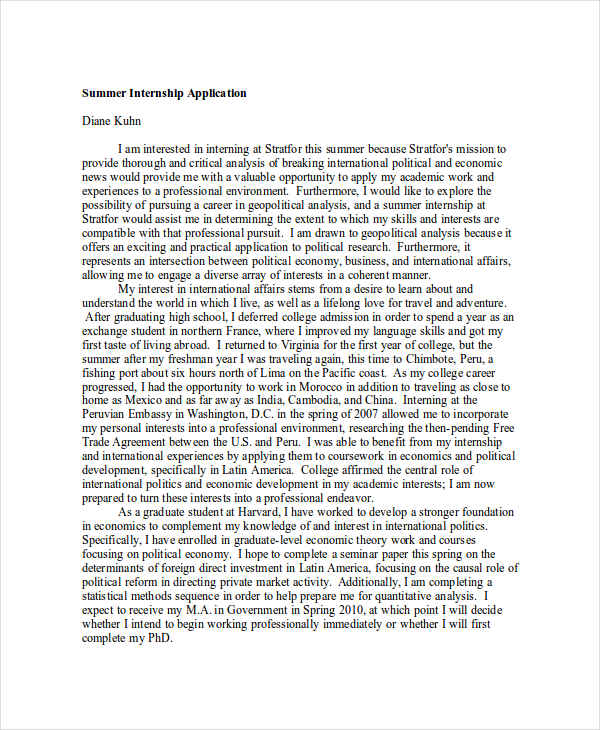 What to Write in a Self-Introduction Essay
How to write a self-introduction essay, free essay outline worksheet example.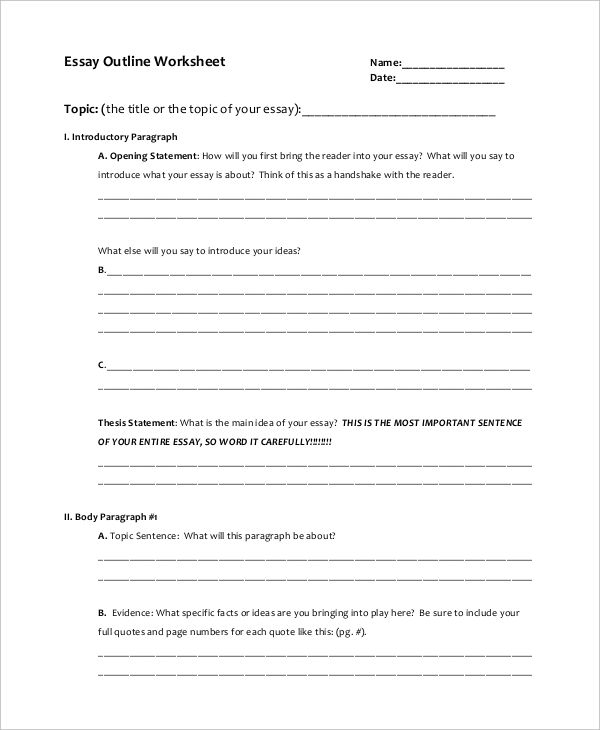 Free Interesting Self Introduction for Student  Example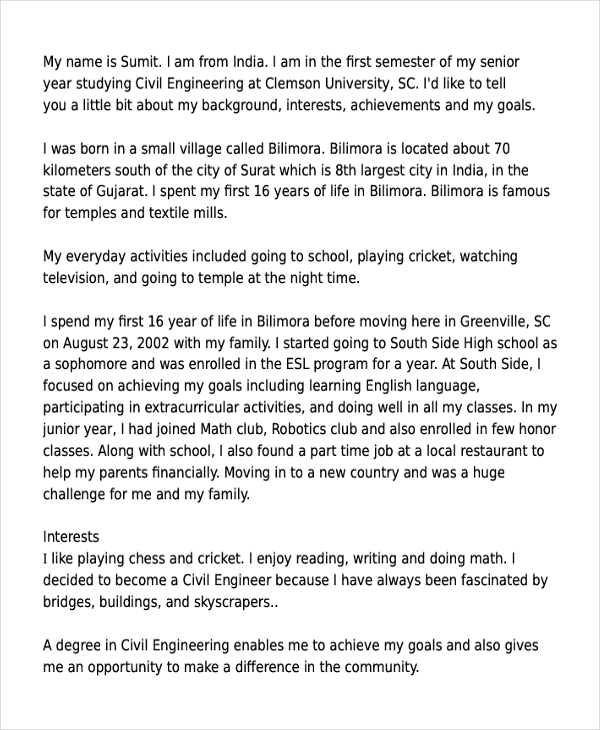 Free Attractive Introduction Essay for Interview  Example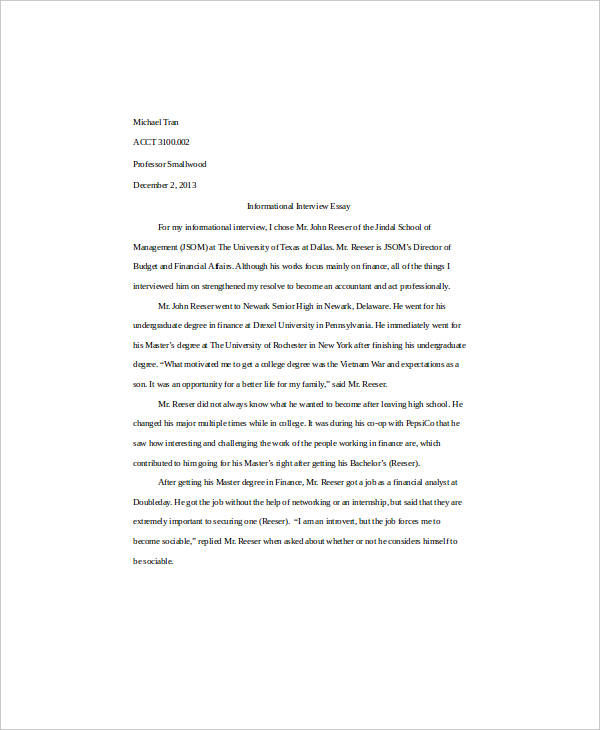 Formal Self Introduction Expository  Example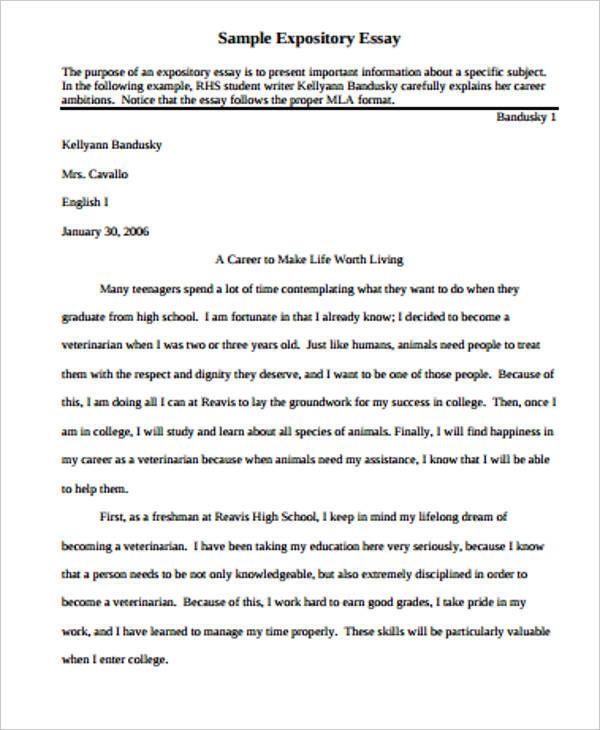 Tips for Writing a Self-Introduction Essay
1. think of a catchy title, 2. introduce yourself, 3. find a focus, 4. avoid writing plainly, 5. simplify your work, 6. end it with a punch, 7. edit your work, more design, 7+ short essay examples, 6+ descriptive writing examples, 5+ persuasive essay examples, 3+ effective ways and examples to start your essay, 2+ argumentative essay examples, tips for writing an effective essay, essay: purposes, types and examples, 29+ examples of college essays, 9+ academic essay examples & samples in pdf, 5+ college admission examples, steps for writing contest-winning essays, related articles.
26+ Examples of Essay Outlines
22+ Free Essay Examples
Enter your email to download PDF and receive updates from OSMO
Scan to get started.
The Assessment App is available only on the Apple App Store . Please scan the QR code below with your iPhone device to download the app.
Who Am I Essay
Introduction on who am i essay.
Who am I? This is a question that keeps bothering you at times. Isn't it? You want to know what I am and what are qualities that make you unique from others. Before someone asks about you, there has to be a proper understanding of who you are and the things that you do are different. The reason is that when such questions are prompted, you must be in a position to speak fearlessly about yourself without hesitation. Most of the time, you just speak in short sentences about yourself, which includes, name, class, or place that you belong to. But there are people who might be interested in knowing more about you than the brief introduction. It can include your likes, dislikes, passions, goals, dreams, etc. Therefore, you need to analyze yourself and come up with things that you are good at. In this particular who am I essay, you have to speak about yourselves and the things that you like to do. Here is an example for you.
Who Am I Essay Example
I am in grade 5 and live in California. We are a family of four members. My father is an architect and my mother is a teacher. I have two siblings who are older than me. I am someone who is an extremely shy and quiet person. This often makes people misunderstand that I cannot speak confidently. But, it is not true as I have immense knowledge on different things. However, I like to assess the place and situation before speaking. When someone approaches me, I would like to be humble and kind enough to answer their questions.
Most importantly, I'm comfortable with people whom I know, so that the information being conveyed will be interpreted easily. While studying or participating in any activities, I try to focus so that my concentration is towards the things that I'm doing. My hobbies are basically reading, drawing, singing, playing sports, and many more things that fascinate me. I try to give my best in all the activities that I participate in. Moreover, I believe that all the activities require complete focus and dedication in order to gain knowledge and develop essential skills. I dislike or have fear of certain things like slimy creatures, cockroaches, and heights. But, my focus is also towards overcoming these fears.
I have a lot of belief in dreaming big and setting goals for myself. There are many things that I would like to achieve and do systematically in life. It includes taking care of my parents, siblings, and people around me. The most important thing is to dedicate myself to the service of others. There is nothing more satisfying than helping others. Therefore, I have to educate myself really well on things that I want to do. Apart from this, I am keen on learning new things each and every day. While learning, I pay attention to developing important skills such as critical thinking, problem-solving, decision making, analytical and communication skills. Moreover, I'm very punctual and like to do things on time.
I am extremely friendly to all the people around me which makes me a happy person. There is a sense of happiness in spending time with friends. This also gives an opportunity to be part of their lives. We all hang out together and eat delicious food prepared at home or sometimes visit restaurants. Occasionally, we go for a picnic or tour with friends and family members. I am fortunate enough to see beautiful places and learn new things from there. Besides this, I like to do crafts activities at home. This will enhance my creativity and imagination to do something better.
Hence, the who am I essay is extremely beneficial in extracting the areas that you are interested in. Sometimes, we might not express all this information when you try to communicate with others. This also gives an opportunity to explore your likes and dislikes.
Also explore: Personality essay and friendship essay .
We hope you found this who am I essay helpful. For more essays, check Osmo's essays for kids .
Frequently Asked Questions on Who Am I Essay
How can you write a who am i essay in less than 100 words.
Here is an example of a who am I essay in less than 100 words: I'm the youngest member of my family, but I have several other roles to play. I'm a good and responsible daughter to my parents, a good sister to my siblings and a supportive and understanding friend. I set goals for myself and work hard to achieve them. I love to play basketball and I am learning to play the piano too. My hobbies include reading, baking and listening to music. Like everyone I too have bad habits, but I constantly work towards making myself better person.
How to write a good essay on yourself?
Some of the steps to write a good essay about yourself are 1. Describe yourself in detail with honesty. 2. Write about your hobbies and interests. 3. Include your achievements but avoid boasting about yourself. 4. Use personal experiences and examples. 5. Add some personality and creativity to make the essay more interesting.
Essays About Myself: Top 5 Essay Examples Plus Prompts
We are all unique individuals, each with traits, skills, and qualities we should be proud of. Here are examples and prompts on essays about myself .
It is good to reflect on ourselves from time to time. When applying for university or a new job, you may be asked to write about yourself to give the institution a better picture of yourself. Self-understanding and reflection are essential if you want to make a compelling argument for yourself.
Reflect on your life: look back on the people you've met, the places you've been, and the experiences you've had, and think about how they have shaped you into the person you have become today. Think of the bigger picture and be sure to consider who you are based on what others think and say about you, not just who you think you are.
If you are tasked with the prompt, "essays about myself," keep reading to see some essay examples.
1. It's My Life by Ann Smith
"Sure, I've had bad experiences in my life too, but this is exactly what made me the way I am now: grateful, full of love, with a desire to study well because it will help me become a successful person in future and have a high quality of life. I believe that it is manifesting day by day and I feel even more responsibility for what I do and where I go. With all I already have, I know that I'm on the right path and I will do my best to inspire others to live the way they feel like living as well."
In her essay, Smith describes her interests, habits, and qualities. She writes that she is sociable, enthusiastic about studying, and friendly. She also touches on others' opinions of her- that she is funny. One of Smith's hobbies is photography, which allowed her to meet her best friend. She aims to study hard so she can be successful on whatever path she may follow, and inspire others to live their best life.
2. How I See Myself? by Leticia Woods
"It is this drive that will carry me through my degree program and allow me to absorb the education that I receive and develop solid practical applications from this knowledge. I feel that I will eventually become highly successful in my chosen field because my past has clearly shown my commitment to excellence in every endeavor that I have chosen. Because I remain incredibly focused and committed for future success, I know that my future will be as rewarding as my past."
Woods discusses how her identity helps her achieve her career goals. First, her commitment to her education is a great asset. Second, prior education and her service in the US Air Force allowed her to learn much about life, the world, and herself, and she was able to learn about different cultures. She believes that experience, devotion, and knowledge will allow her to achieve her dreams.
3. The Truth About Myself by Madeline Dyer
"I'm getting better as I recover from the brain inflammation which caused my OCD, but I want to have a day like that. A day where I can relax and enjoy life fully again. A day where I haven't a care in the world. And for that, I need to be kind to myself. I need to relax and remove any pressure I place on myself."
Dyer reflects on an important part of herself- her Obsessive Compulsive Disorder. Brain inflammation has made her a perfectionist, and she cannot relax. She is constantly compelled by an inner voice to do things she "should" be doing. She wants to be happy, and will try to shut off this voice by practicing self-affirmation.
4. What We See in Others is a Reflection of Ourselves by Sandra Brossman
"Believe it or not, forgiving YOURSELF is the most effective way to disengage from negative interactions with people. We can only love and accept others to the degree that we love and accept ourselves. When you make it a habit to learn from your relationships, eventually you will discover that you can observe negative traits within others without judgment and without getting hooked into someone else's drama."
In her essay, Brossman writes how we see what we desire for ourselves in others. Our relationships help us understand ourselves better; we see people's bad qualities and criticize them, professing that we will not be like them. On the other hand, we see qualities we like and try to imitate them. To become a better version of yourself, you should learn from your relationships and emulate desirable qualities.
5. A Letter To Myself by Gladys Mclaughlin
"I never tell anyone that I am tired of work or study. Success will come to those who get up and go far. This is my life motto which always reminds me of how vital it is to be hard-working and resilient towards failures. I learn that no matter what others say (even mother and father) if their
thoughts contradict my goals, I don't have to listen to them. Nobody will live your life, and nobody should tell you who you are and what you are."
Mclaughlin writes a letter to her future self, explaining what she envisions for herself in the coming years. She writes about who she is now and describes her vision for how much better she will be in the future. She believes that she will have great encounters that will teach her about life, a loving, kind family, and an independent spirit that will triumph over all her struggles
Writing Prompts For Essays About Myself
1. introducing yourself.
Write a basic description of yourself; describe where you live, your school or job, and your family and friends. You should also give readers a glimpse of your personality- are you outgoing, shy, or sporty? If you want to write more, you can also briefly explain your hobbies, interests, and skills.
2. Describing Your Strengths and Weaknesses
Each of us has our own strengths and weaknesses. Reflect on what you are good at and what you can improve on and select 1-2 from each to write about. Discuss what you can do to work on your weaknesses and improve yourself.
3. What Sets You Apart from Others
An essential part of yourself is your uniqueness; for a strong essay about "myself," think about beliefs, qualities, or values that set you apart from others. Write about one or more, but be sure to explain your choices clearly. You can write about what separates you in the context of your family, friend group, culture, or even society as a whole.
4. Your Beliefs and Values
Your beliefs and values are at the core of your being, as they guide the decisions you make every day. Discuss some of your basic beliefs and values and explain why they are important to you. For a stronger essay, be sure to explain how you use these in day-to-day life; give concrete examples of situations in which these beliefs and values are used.
5. An Experience That Has Defined You as a Person
We are all shaped by our past experiences. Reflect on an experience, whether that be an achievement, setback, or just a fun memory, and explain its significance to you. Retell the story in detail and describe how it has impacted you and helped make you the person you are today.
6. What Family Means to You
More often than not, family plays a big role in forming us. To give readers a better idea of your identity, describe your idea of family. Discuss its significance, impact, and role in your life. You may also choose to write about how your family has helped shape you into who you are. This should be based on personal experience; refrain from using external sources to inspire you.
7. Your Favorite Pasttime
Our likes and dislikes are an important part of who we are as well; in your essay, discuss a hobby of yours, preferably one you have been interested in for a long period of time, and explain why you enjoy it so much. You should also write about how it has helped you become yourself and made you a better person.
Grammarly is one of our top grammar checkers. Find out why in this Grammarly review . If you're stuck picking your next essay topic, check out our round-up of essay topics about education .
Join over 15,000 writers today
Get a FREE book of writing prompts and learn how to make more money from your writing.
Success! Now check your email to claim your prompts.
There was an error submitting your subscription. Please try again.
Martin is an avid writer specializing in editing and proofreading. He also enjoys literary analysis and writing about food and travel.
View all posts
[email protected]
+971 56 794 3086.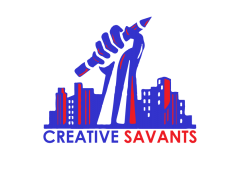 Myself Essay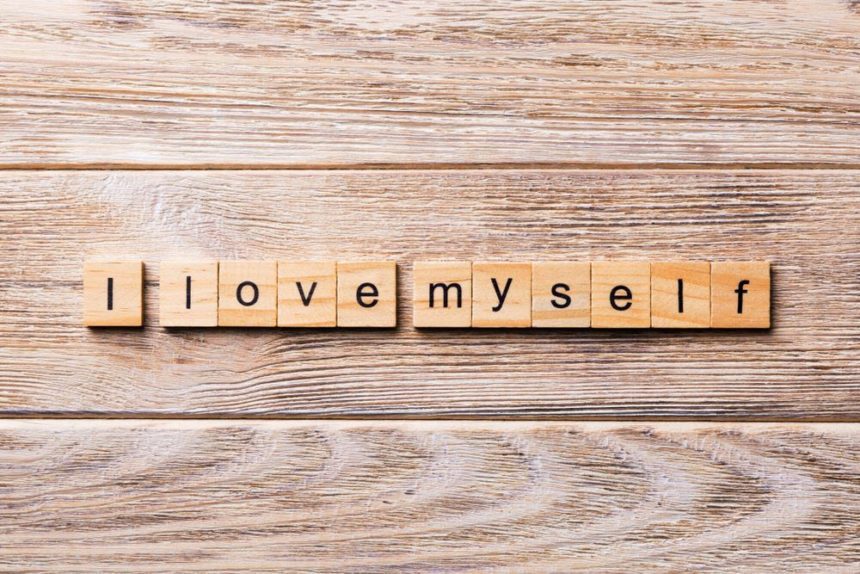 by Creative Savants
June 2, 2020, in study help, no comments.
Writing an essay about "Myself" is no easy task as you have to reflect on who you really are and what others say about you, and not just who you think you are. Most universities, colleges and other institutions ask students to write "myself" essays so as to have a better understanding of their diverse personalities. This can come in different forms including "Essay about my life" , "Composition about myself", "Self-description with  essayservices " "Speech about myself" , "What I like about myself", "Describing myself essay", and other "essays about me".
Want to get full "My self Essay" in PDF File ? Download the PDF From Here
Table of Contents
Introduction On Myself Essay(100 words):
During an interview you may be asked to describe yourself or introduce yourself, you may also need to write autobiographies about yourself, cover letters, or other forms of personal essays which may be difficult if you don't know the "How-to" of writing essays. So, in order to help the students seeking out numerous "Myself essays" online standout, Creative Savants provides diverse essays to suit individual needs. We also provide examples, tips, and basic guidelines on "how to write an essay about myself". We have also written some other great essays on different topics you can check  " Essays ".
Do Checkout " My Room Essay "
Essay No 1 on "Composition about myself" (100 words):
My name is (insert your first name and surname here). I grew up as an only child. I am thirteen years old. My parents died while I was quite little, so I live with my grandparents.
Looking For The Reliable Solutions?
Get Your Quote Now
Click Here To Get Customized Services
Accustomed to living with older adults, I always act more mature than my age. I am in (mention your class and the name of your school). I have had a lot of people invest in me academically, so I have excelled in most of my classes. My hobbies include music, reading and traveling. Although I don't get to travel much, I relish every moment I get to. I am generally pleased with my life.
Check out Other Essays " My Hobby Essay "
Essay No 2 on "All about me essays" (100 words):
I am (insert your first name followed by your last name here) by name. I am a girl and I am light in complexion. I come from a family of five and I occupy the third position. My father is a banker, while my mother is a teacher. We are very close in my family and I can tell my parents just about anything.
I twelve years old and I am in class four. I love going to school because the atmosphere is conducive for learning and I have really nice friends. My hobbies include, reading, watching movies and taking music lessons. I don't like sports and I don't go out of my way to exercise. I am an easy going person and I love my life.
Check out Other Essays " Essay On Dancing "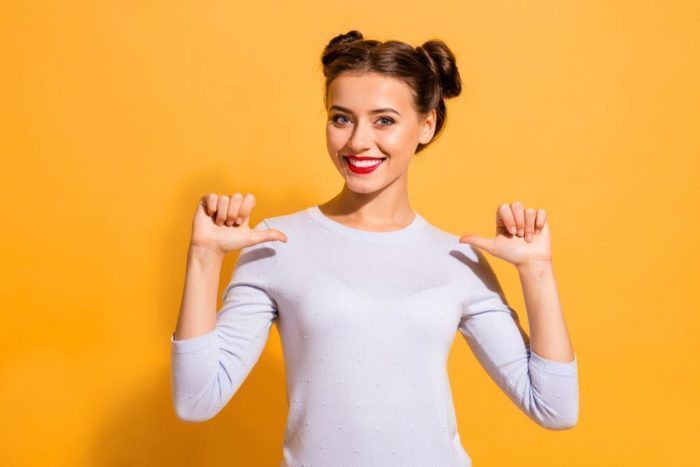 Essay No 3 on "Describing Myself" (200 words):
My name is (insert your first name followed by your last name here). I am a junior in my high school. I am also the youngest child in my family. I have two older brothers and two older sisters. My mum is a full time housewife and my dad is a doctor.
It is a common knowledge that I am a good student and I love to study a lot. My favorite subjects are mathematics, chemistry and biology. I'm what a lot of people call a geek. I have every intention of applying to a reputable university and obtaining a degree in one of these fields. I am responsible and hardworking, so I study hard to obtain good grades.
Get Coursehero unlock: How To Unblur OR Get CourseHero Free Unlock?
I have always been treated like a baby, by my parents, siblings, teachers and basically everyone who is not in my age group. Sometimes even my friends talk to me like I am a child, which is why I basically love school and reading books. Books don't talk back at you and they make me feel important in this gigantic universe.
This is not to say that I don't love all the care and attention. I do, it's just that sometimes it can get stifling. However, I am quite content with my life.
Also see:  My School Essay
Essay No 4 on "What I Like About Myself" (200 words):
Who am I? Answering a question like this has often been difficult even for those with high intelligence quotient. I may not know who I fully am, but I know who I am not. I am not a vindictive person, I am not irresponsible, I am not slack with my studies, I am not dishonest and I will never deliberately set out to hurt anyone. I am not petty and I am not a bully.
My name is (insert your name here). I am fourteen years old and I am a boy. I was born into the family of Mr and Mrs (mention your last name here). I am an only child. I live a sheltered life. I live with my parents and my grandparents. Ours is an extended family setting. Even my mother's relatives often come to crash at our house during the weekends.
My parents are outgoing people and they are quite down to earth. I get lots of attention from both of my parents, my grandparents, their friends and basically everyone around me. This probably explains why I crave attention wherever I go and I only associate with people who show me care and attention.
I love meeting people and I love making friends with people who are social. I am who I am, and I make no excuses for how I have turned out.
Also see:  My Favourite Game Essay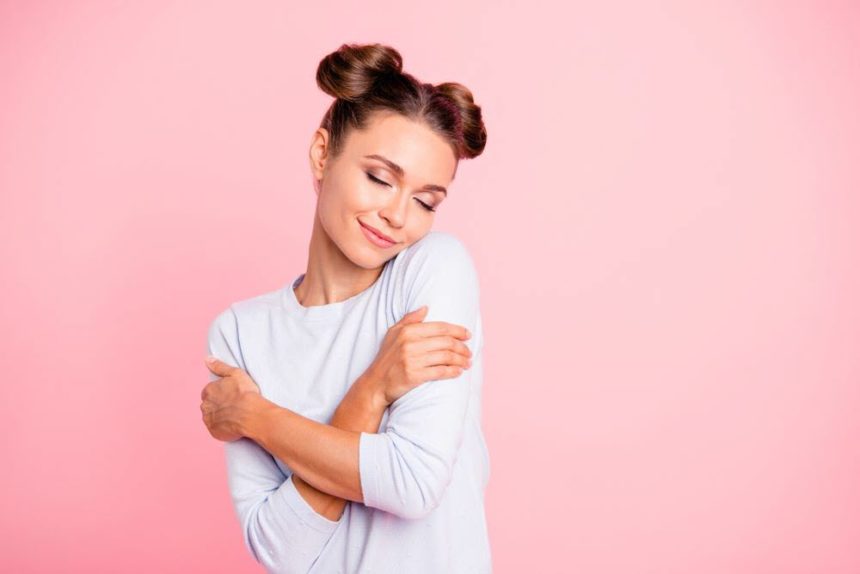 Essay No 5 on "Myself Essay" (300 words):
Humans are the most superior creatures amid all the creatures in the entire universe. Being a part of this universe makes me feel small and minuscule in a world where there millions of humans like myself. Although everyone is quite unique in their own way. I try my best to be humble, kind and respectful of everybody I meet regardless of their age, gender, family background, nationality or race. It is not an easy task to write about one's self because one may tend to either over exaggerate or fail to give succinct descriptions and commendations where necessary.  It is with this background that I introduce myself.
I am (insert your first name followed by your last name here). I am a (insert your country here). I live in (insert your city here). I am fourteen years old. I am the second of three children. Ours is a close knit family. I have an older brother and a younger brother as well. I am the only girl in the family, which makes rather like the sheltered daughter. I love my siblings and my parents dearly and they love too. Although, my brothers monitor my every move which can be quite annoying sometimes. However, I know they have my back whenever I am in trouble.
I am currently in class 8. I am a focus driven and hardworking which reflects in my grades. My professional aspiration is to obtain a bachelor's degree in any health related course at the university, which would promote my career goal of being a medical doctor. The reason why I want to pursue a degree in the medical line is to someday be able to provide a subsidized medical facility to a magnitude of people in (mention your country). Hence, I study hard because without a degree I cannot attain these goals.
Aside my love for everything medical related, I love to travel and meet new people. I am an outgoing person and I love to have fun. My live centers on improving humanity and I love where I am at right now.
Also see:  My Hobby Essay Drawing
In search of essay writing help online? Feel free to contact WriteMyPaperHub and pay someone to do your essay for you.
Essay No 6 on " Essay about my life" (400 words):
Life is full of ups and downs. I know this is a cliché, but this phrase summarizes my whole existence. Sometimes my life is fun, happy and almost enviable and at other times my life is boring, sad, uninspiring and sometimes downright disgusting. I know I am not perfect, I have never tried to be, but one thing is true – I AM WHO I AM.
Looking back at my childhood, I remember the fun times, the laughter we all shared the lavish parties my parents threw, my wonderful friends and my fancy dresses. I was the envy of my friends and I erroneously thought my life would follow this pattern forever. Was I ever wrong!
I was a good child. I never acted out like I do now. I was always obedient and I had good grades, even if they were not excellent grades. I had a positive outlook towards life. I made a promise to myself never to smoke, do drugs or land myself in the prison for any illegal act. I cared an awful lot about people and I thought nothing would ever change this attitude that I had.
I was brought up by the crème de la crème, my parents were rich and influential in my town. I couldn't imagine my life without the affluence and the excesses. My parents weren't always around but at least they were together. I thought they were happy together and we were financially stable to withstand anything. Until my brother was involved in an accident that claimed his life and made my mother cripple.
Ever since joseph died, life had never been the same at the (insert your last name) mansion. Mum became bitter (who could blame her), she and joseph were quite close. I was the daddy's pet. Eventually, they both got a divorce and I have been conveying myself from my mum's house to my dad's.
My grades have suffered quite a hit. I have never been a straight 'A' student, I barely even have an 'A' on my report sheet, but now my grades are quite laughable. We don't have money like we used to. I don't know the details but dad got jilted and there is hardly anything left to spend. I have to work on my grades now because if I don't secure a scholarship, I am basically on my own.
Dad has gotten married to another woman and now they have a child. I am not eighteen so I can't refuse to visit them. I know my little step-brother has committed no offence, but each time I look at how happy my father has become with his existence I get very jealous. Now you understand why I opened my introduction with the phrase I used. One thing I know is that change is the only constant and nothing lasts forever. My life is not perfect, but then again whose is?
Do checkout " How To Write A Process Analysis Essay? "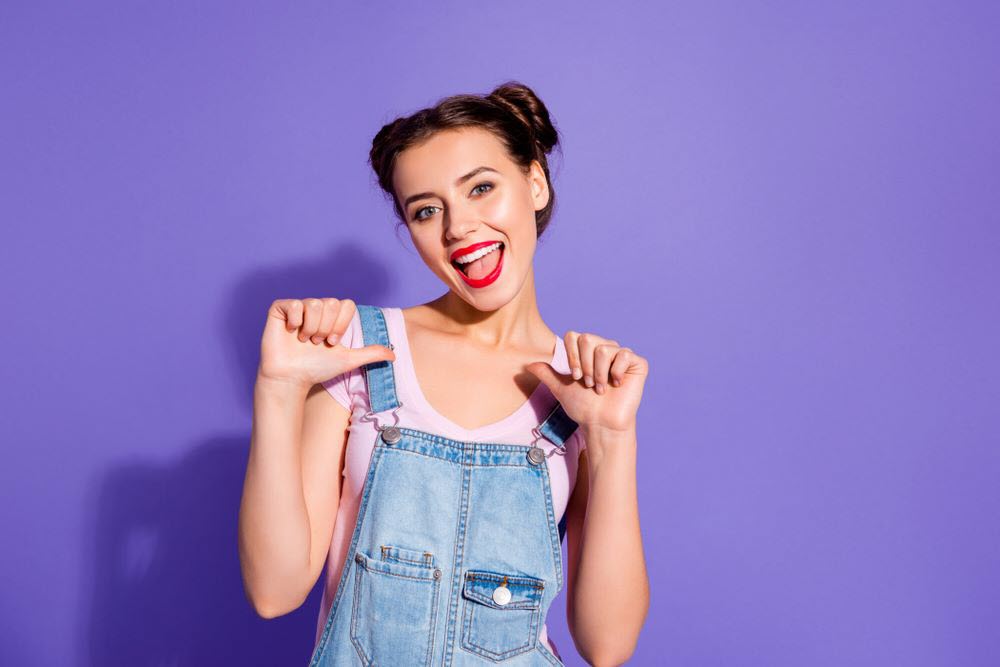 Essay No 7 on "Speech About Myself" (500 words):
Millions of people have walked the earth and many will still do. However, no two people have the same characteristics even among identical twins. Personalities, regardless of how dissimilar, make the world full of varieties. This is why I know I am uniquely me and the best version of myself there is. Perfection is a mirage, however the best individuals are those give it their all in order to attain perfection while knowing that it is impossible to be perfect. I believe people should strive to improve their life and be the best they can ever be regardless of how impossible the task may be.
My name is (insert your first name and last name). I live in (insert your city here). I am a (insert your country here). I am the first born of my parent. We are four in number and I have always felt responsible for my family. I love my parents and siblings dearly and the feeling is mutual.
My father is basically a business man and my mother is a fashion designer. I have a stable family and we are quite grounded in our beliefs and notions. My parents are not wealthy but we get by. My parents are attentive to my needs and my siblings. They can be strict when they have to be, but they have never raised their hands to strike us. They may not be financially rich, but they have big hearts.
I am in class 8 at (mention the name of your school). I have a stable grade and although I cannot rank high among the brilliant people in my class, I get by quite well. My favorite subjects are art, literature and music. I love to draw, paint and read books. This is how I often clear my head or distress myself. I desire to go to the university and obtain a degree in any art related course. This will help me to become a successful person and also impact the lives of others while I am at it.
I cannot claim that I love school and I don't hate school either, I guess I'm just indifferent. Although, I love my art classes and literature lessons too. People are nice to me in school, I don't get bullied and I rarely ever get punished by my teachers nor have I been asked to report to the principal's office.
I am an outgoing person with a good sense of humor and I make friends easily. My friends say that I am funny and fun to be with. I sometimes go out of my way to be nice to people and help them out. I guess this is rooted in my sense of responsibility which was honed into me by my parents considering that I am the first born of my family. Friendship and family mean a lot to me. I can go all out for my friends and my family and they know it. I think this is why I have had the same set of friends for years. We have transitioned from friends to family.
I'm always looking for ways to develop my skills and learn new things not just in school but outside the school environment. I share ideas with my friends, we learn interesting things about one another, and most of the people I associate with I met with while on the lookout for ways to advance my skills.
I have every intention to make the world a better place. I know I'm no superman and I have no concrete plans right now, but I am on a road to discovery. I feel happy and enthusiastic when people commend my art works and the poems I love to doodle every now and them. I pride myself as a motivational person, so I write poems for people to inspire them when they are down or don't know what else to do. I know I'm on the right track and soon enough I'll be close to where I want to be.
Also see:  5 Tips to Avoid Plagiarism
Essay No 8 on " Myself Essay" (500 words):
I cannot say exactly how I have survived school even till now, but I did and I have come out somewhat stronger. Bullying has been an awful experience that characterized the most part of my school life. I have endured bullying for so long that it has shaped who I have turned out to be. I know for a certain that we can reduce bullying (I doubt it can be totally stopped), by paying attention to people who have been bullied, the bullies themselves, analyzing how it happened, what led to it, the impact it has on both parties, and how best it can be dealt with.
My name is (insert your first name followed by your last name here), and I have been a victim of constant victimization. I am sixteen years old and I am a senior in my school. I attend (insert the name of your school here). Each time I have been asked who I was, this has always been the only explanation I give. When I act in a mean way to others, it is not a personal decision I made, it is often a reflex action born out of years of constant bullying.
Initially, I was a very quiet and calm girl. I never spoke back to my elders and I was very kind and accommodating of others. Now I can't stand tardiness and I am always on the defensive. So I react before thinking of the consequences.
I am the last of seven children and I have endured bullying at home. Although, I wouldn't exactly compare what I go through at home with what I endure in school. My six siblings are all boys and it is their nature to make my life miserable. I sometimes find it endearing because that is the only way they relate with me. I'm not athletic in any way, I am lanky and awfully small for my age. I get teased by my brothers for this, so when others bully me in school for being a size too small for my class, I take it all in stride.
I have never told my brothers or my parents about the bullying I constantly endure at school. Why should I? Mum works extra hard to support my dad and my dad already works two jobs as it is. I have a scholarship that covers my tuition fee, which was why I didn't attend the same school as my brothers in the neighborhood. I was constantly reminded by the rich students why I don't belong to their world and if not for the scholarship I wouldn't even be breathing the same air they breathe.
This is true though, and as much as I wanted to flunk school, I couldn't because attending a prestigious school was going to help my college application. So also would maintaining an outstanding college grade. I used to find trash in my bags, lockers and basically everything I brought to school.
Like all things that had a beginning this came to an end. I don't know how it did but it did and I'm forever grateful that it did. I know I should analyze the root cause for the abrupt end, but I'm only human. Life is not a bed of rose, this I learned while still a student at (mention the name of the school).
Also see:  My Aim In Life Essay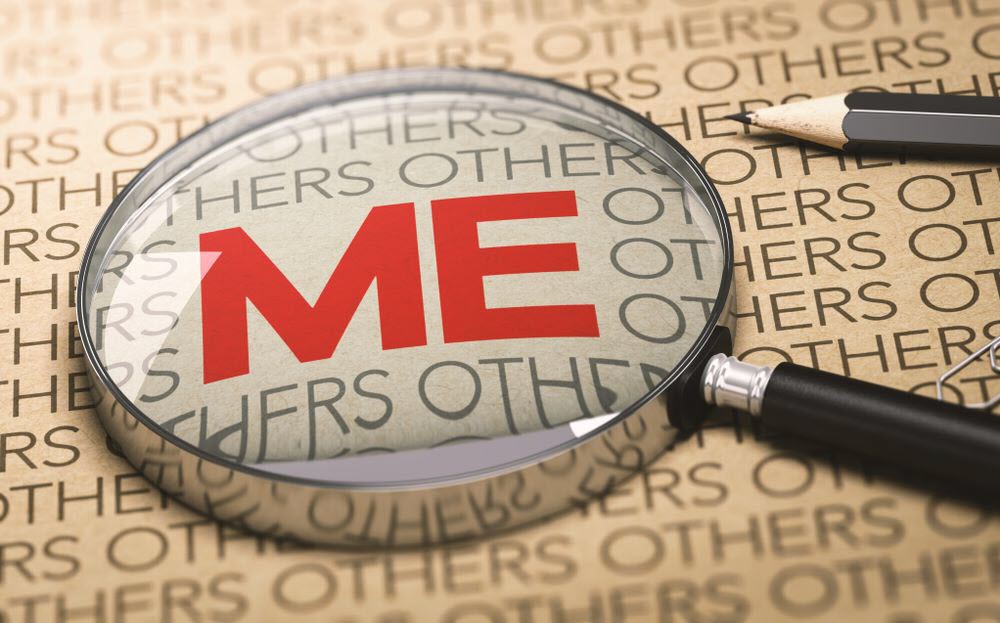 Essay No 9 on "Essay about Myself" (600 words):
Three major things characterize my whole existence; my intellect, my spiritual doctrines, and my social life. The intellectual aspect of my life consist of my creativity, my studies and basically my life pursuits that involve my intellectual capabilities. My social life is quite vibrant. I am an outgoing person and I make it a habit to meet people. My spiritual doctrines and my faith inform the decisions I make and consequently guide who I have become today.
My name is (insert your first name and your last name her). I am a (mention your nationality). I am seventeen years old. I am in (mention your class) and I attend (mention the name of your school here). I live with my parents and my siblings. I am the second child in my family. We are all five in number and we are not a close family. My parents are busy people, they have always been. My dad is a doctor and he owns his own hospital. My mother is a career woman and she travels all the time. So both my parents have never been present all through my life.
My parents have missed most of the big events in my life. They've missed most of my graduations in school, they've missed most of my birthdays and every important even that marked my existence. I don't hate my parents. I don't know them.
My siblings have never been around either. My birth was considered a mistake. I don't know all the details but I know mum was not supposed to get pregnant when she did. The bottom line is I was an inconvenience and I have always been made painfully aware of just how inconvenient my birth is. Most of my siblings are married, some are away at college and the ones who aren't think I am a child so they hardly relate with me.
I am not perfect and I have never claimed to be. However, I know what I want out of life and I pursue it doggedly. I am a focused person and it has often been said of me that I am quite focused-driven and that I have a one-track mind. I don't know if I should consider that as a compliment or not.
My career aspiration is to go to the university and study law. I spend most of my time at the libraries or at my best friend's house (mention the name of your close friend(s)). I am an intelligent person and I always top my class. I guess my need to always top my class stem from my need to get the attention of my parents or from the need an escapist sentiments.
I am not a blusterous person, neither do I seek to impress anyone. I figured if cant so much as compel my parents to care enough to be there for me when I need them, then there is no way I can ever impress others. I do not have lots of friend but my small circle of friends I cherish a lot. I am an observer. I try to learn a lot about the people I associate with, so I study their characters before I react. By studying others, I have learnt an awful lot which I have incorporated into my belief systems and general behaviour.
I mentioned earlier that I am quite religious. I was brought up into a Christian family. I have always gone to church every Sunday. My parents may never be around, but they always ensure that we all go to church on Sunday. I am generally good and I try to always do the right things to everyone. I live by the word and never on the edge. In fact, my life is quite plain and I never ever rebel. Not once in my whole life. I always take things in stride.
Also see:  7 Common Mistakes To Avoid In Essays
Bonus: Tutorial: How to write essay about myself
Regardless of the purpose of the essay, there basic rules you must obey in order for your essay to be accepted. Try as much as possible to express yourself in detail. No one can tell your story better than yourself. However, there are essential steps that will guide you on this part.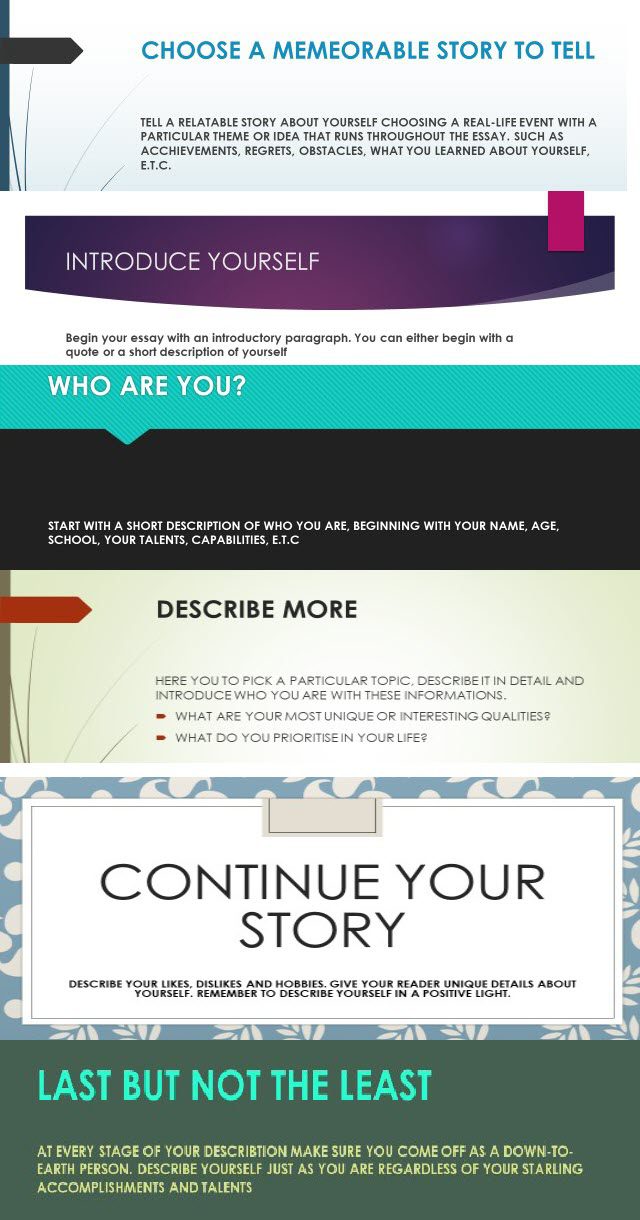 Want our Help to Fix Your Essay " Click Here "
Creative Savants
Recommended posts.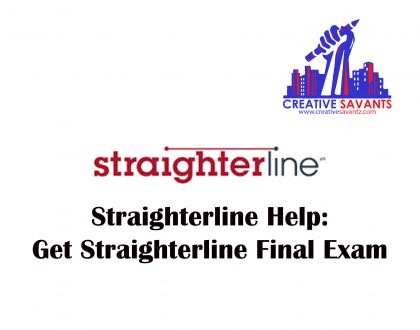 Straighterline Help: Get Straighterline Final Exam Answers- March 2023
March 4, 2023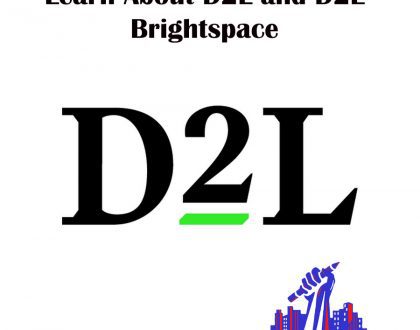 Learn About D2L and D2l Brightspace: Secure 100 reliable Assistance for D2L – March 2023
March 2, 2023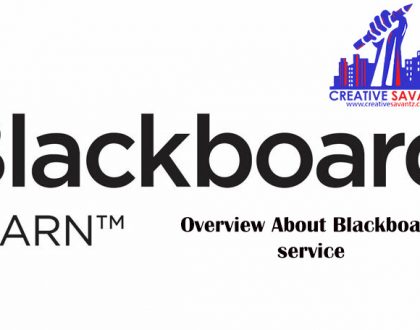 An Overview About Blackboard service: Get Blackboard Help- February 2023
February 28, 2023
Leave a Reply Cancel reply
Your email address will not be published. Required fields are marked *
Save my name, email, and website in this browser for the next time I comment.
Privacy Overview