This issue: Summer 2020
COVID-19 Photo Essay
Photos by Chris Low
A new reality: As news of the spread of COVID-19 became more prevalent, students began practicing social distancing and other safety precautions in the classroom. In late March, campus was closed to comply with Oregon's "Stay Home, Save Lives" mandate.
Sign of the times: A traffic sign on highway 99W reminds drivers coming into Newberg to avoid large group gatherings.
Strength in community: While campus was closed, the Bruin Community Pantry food bank remained open, with enhanced safety protocols, to ensure that no George Fox student went hungry.
Social distancing: A student sits alone in the university's outdoor amphitheater. As students moved home to begin remote learning, sights like this around campus became much more common.
Meeting of the minds: The university leadership team, including President Robin Baker, connects via Zoom to discuss how best to care for students in a remote learning environment.
Deep cleaning: A Jani-King employee disinfects one of the residence hall bathrooms.
Home/work: English professor Jessica Ann Hughes leads class from a makeshift home office.
Virtual classroom: Biblical studies professor Brian Doak finds a creative way to engage with students.
Signs of hope: George Fox alumna Jessica (Lavarias) Brittell ('06), co-owner of MOB Signs, created this display outside the Providence Newberg Medical Center to show appreciation for doctors and nurses on the front lines of the COVID-19 pandemic.
The university that prays together… Jake Thiessen and Moses Hooper from the marketing communications department pray before a virtual meeting.
Featured Stories
The Class of COVID-19
COVID-19 Through the Eyes of Students
Engineering a Solution
Essential Personnel
Friendship House
Taking Aim at the Opioid Epidemic
What's Next
52 Years and Counting
A Century of Mentorship
Going for Gold
PNW Adventures
Serving with Passion
Bruin Notes
More than $139,000 Raised for Students Affected by Coronavirus
COVID-19 Pandemic Leads to Spring Semester Unlike Any Other
Faculty Members Honored as Top Teachers, Researchers for 2019-20
George Fox Digital to Deliver Be Known Promise in Online Format
Development of Patient-Centered Care Model Puts DPT Program in National Spotlight
Physician Assistant Program Set to Launch in 2021
Rankings Roundup: George Fox Earns Top Spot Among Christian Colleges in Oregon
Recent Recognition
Scott Selected as New Provost
Alumni Connections
Art and Entrepreneurship
Art with an Impact
Babies and Marriages
News, by Graduating Year
Not a Spectator
Working in Small Infinities
Send Us Your News
12 Photo Essays Highlight the Heroes and Heartaches of the Pandemic
Pictures piece together a year into the COVID-19 pandemic.
Photos: One Year of Pandemic
A boy swims along the Yangtze river on June 30, 2020 in Wuhan, China. (Getty Images)
A year has passed since the World Health Organization declared COVID-19 a pandemic on March, 11, 2020. A virus not visible to the human eye has left its mark in every corner of the world. No single image can define the loss and heartache of millions of global citizens, but photojournalists were there to document the times as best they could. From the exhaustion on the faces of frontline medical workers to vacant streets once bustling with life, here is a look back at photo essays published by U.S. News photo editors from the past year. When seen collectively, these galleries stitch together a year unlike any other.
In January of 2020, empty streets, protective masks and makeshift hospital beds became the new normal in Wuhan, a metropolis usually bustling with more people than New York City. Chinese authorities suspended flights, trains and public transportation, preventing locals from leaving the area, and placing a city of 11 million people under lockdown. The mass quarantine invokes surreal scenes and a grim forecast.
Photos: The Epicenter of Coronavirus
Photojournalist Krisanne Johnson documented New Yorkers in early March of 2020, during moments of isolation as a climate of uncertainty and tension hung over the city that never sleeps.
Coronavirus in NYC Causes Uncertainty
For millions of Italians, and millions more around the globe, the confines of home became the new reality in fighting the spread of the coronavirus. Italian photojournalist Camila Ferrari offered a visual diary of intimacy within isolation.
Photos: Confined to Home in Milan
Around the world, we saw doctors, nurses and medical staff on the front lines in the battle against the COVID-19 pandemic.
Photos: Hospitals Fighting Coronavirus
As the pandemic raged, global citizens found new ways of socializing and supporting each other. From dance classes to church services, the screen took center stage.
Photos: Staying Connected in Quarantine
In April of 2020, photographer John Moore captured behind the scene moments of medical workers providing emergency services to patients with COVID-19 symptoms in New York City and surrounding areas.
Photos: Paramedics on the Front Lines
The COVID-19 pandemic has disproportionately impacted undocumented communities that often lack unemployment protections, health insurance and at times, fear deportation.
Photos: Migrants and the Coronavirus
Aerial views showed startlingly desolate landscapes and revealed the scale of the pandemic.
Photos: COVID-19 From Above
With devastating death tolls, COVID-19 altered the rituals of mourning loved ones.
Photos: Final Farewells
In recognition of May Day in 2020, these portraits celebrated essential workers around the globe.
Photos: Essential Workers of the World
In May 2020, of the 10 counties with the highest death rates per capita in America, half were in rural southwest Georgia, where there are no packed apartment buildings or subways. And where you could see ambulances rushing along country roads, just fields and farms in either direction, carrying COVID-19 patients to the nearest hospital, which for some is an hour away.
Photos: In Rural Georgia, Devastation
In January of 2021, as new variants of the virus emerged, Pfizer-BioNTech, Moderna and other vaccines led a historic global immunization rollout, offering hope.
Photos: COVID-19 Vaccinations
Join the Conversation
Tags: Coronavirus , public health , Photo Galleries , New York City , pandemic
Recommended Articles
Coronavirus Bulletin
Stay informed daily on the latest news and advice on COVID-19 from the editors at U.S. News & World Report.
Sign in to manage your newsletters »
Sign up to receive the latest updates from U.S News & World Report and our trusted partners and sponsors. By clicking submit, you are agreeing to our Terms and Conditions & Privacy Policy .
You May Also Like
The 10 worst presidents.
Not all U.S. presidents are missed once they leave the White House.
U.S. News Staff July 6, 2021
Cartoons on President Donald Trump
Feb. 1, 2017, at 1:24 p.m.
Photos: Obama Behind the Scenes
A collection of moments during and after Barack Obama's presidency.
April 8, 2022
Photos: Who Supports Joe Biden?
The former vice president has become the Democratic front-runner with primary victories across the country.
March 11, 2020
Markets Digest Plan to Save the Banks
The markets and economy were thrown into question after federal banking regulators took emergency measures to safeguard the financial system.
Tim Smart March 13, 2023
Search the United Nations
Policy and Funding
Recover Better
Disability Inclusion
Secretary-General
Financing for Development
ACT-Accelerator
Member States
Health and Wellbeing
Policy and Guidance
Vaccination
COVID-19 Medevac
i-Seek (requires login)
Awake at Night podcast
COVID-19 photo essay: We're all in this together
About the author, department of global communications.
The United Nations Department of Global Communications (DGC) promotes global awareness and understanding of the work of the United Nations.
23 June 2020 – The COVID-19 pandemic has demonstrated the interconnected nature of our world – and that no one is safe until everyone is safe. Only by acting in solidarity can communities save lives and overcome the devastating socio-economic impacts of the virus. In partnership with the United Nations, people around the world are showing acts of humanity, inspiring hope for a better future.
Everyone can do something
Rauf Salem, a volunteer, instructs children on the right way to wash their hands, in Sana'a, Yemen. Simple measures, such as maintaining physical distance, washing hands frequently and wearing a mask are imperative if the fight against COVID-19 is to be won. Photo: UNICEF/UNI341697
Creating hope
Venezuelan refugee Juan Batista Ramos, 69, plays guitar in front of a mural he painted at the Tancredo Neves temporary shelter in Boa Vista, Brazil to help lift COVID-19 quarantine blues. "Now, everywhere you look you will see a landscape to remind us that there is beauty in the world," he says. Ramos is among the many artists around the world using the power of culture to inspire hope and solidarity during the pandemic. Photo: UNHCR/Allana Ferreira
Inclusive solutions
Wendy Schellemans, an education assistant at the Royal Woluwe Institute in Brussels, models a transparent face mask designed to help the hard of hearing. The United Nations and partners are working to ensure that responses to COVID-19 leave no one behind. Photo courtesy of Royal Woluwe Institute
Humanity at its best
Maryna, a community worker at the Arts Centre for Children and Youth in Chasiv Yar village, Ukraine, makes face masks on a sewing machine donated by the Office of the United Nations High Commissioner for Refugees (UNHCR) and civil society partner, Proliska. She is among the many people around the world who are voluntarily addressing the shortage of masks on the market. Photo: UNHCR/Artem Hetman
Keep future leaders learning
A mother helps her daughter Ange, 8, take classes on television at home in Man, Côte d'Ivoire. Since the COVID-19 pandemic began, caregivers and educators have responded in stride and have been instrumental in finding ways to keep children learning. In Côte d'Ivoire, the United Nations Children's Fund (UNICEF) partnered with the Ministry of Education on a 'school at home' initiative, which includes taping lessons to be aired on national TV and radio. Ange says: "I like to study at home. My mum is a teacher and helps me a lot. Of course, I miss my friends, but I can sleep a bit longer in the morning. Later I want to become a lawyer or judge." Photo: UNICEF/UNI320749
Global solidarity
People in Nigeria's Lagos State simulate sneezing into their elbows during a coronavirus prevention campaign. Many African countries do not have strong health care systems. "Global solidarity with Africa is an imperative – now and for recovering better," said United Nations Secretary-General António Guterres. "Ending the pandemic in Africa is essential for ending it across the world." Photo: UNICEF Nigeria/2020/Ojo
A new way of working
Henri Abued Manzano, a tour guide at the United Nations Information Service (UNIS) in Vienna, speaks from his apartment. COVID-19 upended the way people work, but they can be creative while in quarantine. "We quickly decided that if visitors can't come to us, we will have to come to them," says Johanna Kleinert, Chief of the UNIS Visitors Service in Vienna. Photo courtesy of Kevin Kühn
Life goes on
Hundreds of millions of babies are expected to be born during the COVID-19 pandemic. Fionn, son of Chloe O'Doherty and her husband Patrick, is among them. The couple says: "It's all over. We did it. Brought life into the world at a time when everything is so uncertain. The relief and love are palpable. Nothing else matters." Photo: UNICEF/UNI321984/Bopape
Putting meals on the table
Sudanese refugee Halima, in Tripoli, Libya, says food assistance is making her life better. COVID-19 is exacerbating the existing hunger crisis. Globally, 6 million more people could be pushed into extreme poverty unless the international community acts now. United Nations aid agencies are appealing for more funding to reach vulnerable populations. Photo: UNHCR
Supporting the frontlines
The United Nations Air Service, run by the World Food Programme (WFP), distributes protective gear donated by the Jack Ma Foundation and Alibaba Group, in Somalia. The United Nations is using its supply chain capacity to rapidly move badly needed personal protective equipment, such as medical masks, gloves, gowns and face-shields to the frontline of the battle against COVID-19. Photo: WFP/Jama Hassan
Brazilian ballet pirouettes during pandemic
Ballet Manguinhos, named for its favela in Rio de Janeiro, returns to the stage after a long absence during the COVID-19 pandemic. It counts 250 children and teenagers from the favela as its performers. The ballet group provides social support in a community where poverty, hunger and teen pregnancy are constant issues.
Radio journalist gives the facts on COVID-19 in Uzbekistan
The pandemic has put many people to the test, and journalists are no exception. Coronavirus has waged war not only against people's lives and well-being but has also spawned countless hoaxes and scientific falsehoods.
Access to information is the cure of disinformation
The pandemic has exposed how important it is for the right to access to information to be respected and for accurate reliable information to be freely available for decision-making by both governments and citizens: A win-win situation.
History, Facts & Figures
YSM Dean & Deputy Deans
YSM Administration
Department Chairs
YSM Executive Group
YSM Board of Permanent Officers
FAC Documents
Appointments & Promotions Committees
Ad Hoc Committees and Working Groups
Chair Searches
Leadership Searches
Organization Charts
Faculty Demographic Data
Professionalism Reporting Data
2022 Diversity Engagement Survey
State of the School Archive
Beyond Sterling Hall
COVID-19 Series Workshops
Previous Workshops
Mission Statement & Process
Departments & Sections
Find People
Data Science
Health Equity
Inflammation
Neuroscience
Global Health
Diabetes and Metabolism
Policies & Procedures
A to Z YSM Lab Websites
A-Z Faculty List
A-Z Staff List
A to Z Abbreviations
Dept. Diversity Vice Chairs & Champions
Dean's Advisory Council on Lesbian, Gay, Bisexual, Transgender, Queer and Intersex Affairs Website
Minority Organization for Retention and Expansion Website
Office for Women in Medicine and Science
Committee on the Status of Women in Medicine Website
Director of Scientist Diversity and Inclusion
Diversity Supplements
Frequently Asked Questions
Diversity, Inclusion, Community Engagement, and Equity Website
Medical Student Council Website

[email protected]

Website
Resident Fellow Senate Website
SACNAS Chapter at Yale Facebook Page
Women in Science at Yale
Yale BBS Diversity & Inclusion Collective
Yale Ciencia Initiative
Recruitment
By Department & Program
News & Events
Executive Committee
Aperture: Women in Medicine
Self-Reflection
Portraits of Strength
Event Photo Galleries
Anti-Racism Resources
MD/PhD Program
PA Online Program
PhD, Master's, & Joint MD Programs
Visiting Student Programs
Public Health Programs
Residency & Fellowship Programs
Educator Opportunities
Organizational Chart
Academic & Professional Development
First Fridays
Yale International Physician-Scientist Resident and Fellow Research Award
Fund for Physician-Scientist Mentorship
Grant Library
Grant Writing Course
Mock Study Section
Research Paper Writing
Funding Opportunities
Voluntary Faculty Teaching Opportunities
Faculty Engagement Opportunities
Teaching & Learning Center
Continuing Medical Education
Master of Health Science
Research by Keyword
Research by Department
Research by Global Location
Translational Research
Research Cores & Services
Program for the Promotion of Interdisciplinary Team Science (POINTS)
Physician-Scientist & Scientist Development
CEnR Steering Committee
Experiential Learning Subcommittee
Goals & Objectives
Embryonic Stem Cell Research Oversight
COVID-19 Vaccinations in CT
COVID-19 in Connecticut Schools
Connecticut Towns COVID-19 Impact Dashboard
Connecticut Town 14-Day Cases Time Lapse
CT Correctional Facilities with COVID Cases Dashboard
Connecticut COVID Presence Map
CT Nursing Homes with COVID-19 Cases
U.S. COVID Presence Map
COVID-19 Case Density by US County
Global Cases Dashboard
Time-Lapse of Global Spread
US Racial and Ethnic Disparities in COVID-19 Mortality
Childcare Survey and Data Display
Risk of Complications Conditional on COVID-19 Infection
Travel Time to COVID Testing Sites in Connecticut
Travel Time to COVID Testing Sites in the US
Project Team
Peer-Reviewed Publications by Yale Authors
Issues List
Print Magazine PDFs
Print Newsletter PDFs
YSM Events Newsletter
Social Media
Patient Care
INFORMATION FOR
Residents & Fellows
Researchers
Photo essay: Faces of the Pandemic
Features Photo essay: Metamorphosis A place of pride for pathology labs Lessons from COVID-19 No shortcut to success Keeping air free of COVID Not an academic question A year-long homework assignment Accelerating Communication between Scientists Photo essay: Faces of the Pandemic Shedding new light on an underacknowledged epidemic Catching a dream
A pandemic photo essay
Anusha sundararajan, cesar vazquez, sandra johnson, hiam naiditch, merceditas villanueva, felipe lopez, alice lu-culligan, leah tenenbaum.
Faces of the Pandemic is an ongoing portrait photography project documenting the experiences of essential health care workers throughout the pandemic—an unprecedented time for Yale's medical community, the nation, and the world. It is meant to show appreciation for these individuals and provide a platform for them to share their stories.
Representing a variety of roles at Yale School of Medicine and Yale New Haven Hospital, each participant is photographed wearing their typical work attire, including PPE. Formal portraits display respect for the subjects while candids capture their range of emotions. The photos have been minimally edited to maintain a documentary feel.
Each participant answered five questions to catalogue their experience of the pandemic. For Yale Medicine Magazine we've chosen to highlight a common thread: The pandemic has…
Allaire Bartel Creative Direction; Anthony DeCarlo Photography.
Quick Links
Pandemic Pastimes: A Photo-Essay of Student Life, Fall Semester 2020
Eastern Mennonite University's campus was bustling this fall, even as students adapted to serious public health precautions. Masks, social distancing, and even limits on indoor gatherings couldn't break the stride of the creative staff and students who make up the Campus Activities Council and Recreational Sports teams, and the myriad clubs that appeal to unique student interests. Plus, our beautiful campus and the mild Virginia weather provides a lot of space for safe activities.
Here, EMU News has collected some of our favorite photos to share some of the games, community building, and talent sharing that took place this fall.
Campus Activities Council leaders Amanda Gilbert and Seth Andreas call out numbers in a game of "Screaming Bingo." Students spread out across Yoder Arena to play, or joined by Zoom. (Photo by Rachel Holderman)
Thomas Guadalupe-Johnson takes advantage of a warm fall day to paint on Thomas Plaza. (Photo by Rachel Holderman)
Merry Yirga and Jakiran Richardson , officers in the Black Student Alliance, speak during the dedication of a community art project "Black Lives Matter" in front of University Commons. (Photo by Rebekah Budnikas)
Anisa Leonard, a barista in the Common Grounds coffee shop, serves a chilled confection to General Manager Lauren Hartzler under the plexiglass barrier installed as a health precaution this fall. (Photo by Rachel Holderman)
Lindsey White serves produce to market customers who pick out sweet potatoes, winter squash, peppers, swiss chard, and herbs grown by the Sustainable Food Initiative in their on-campus gardens. The student-run club offers produce, eggs, and locally-produced milk to students for free. (Photo by Rachel Holderman)
Nathan Longenecker, Seth Andreas, and Aaron Moyer present a plate of the cafeteria delicacy that inspired their tongue-in-cheek hip-hop track "Meatball Mac." (Photo by Rachel Holderman)
Professor Bob Curry, left, leads the Jazz Band in an outdoor, socially distanced rehearsal. (Photo by Rachel Holderman)
Even our new Herm enjoyed some responsible outdoor socialization this semester. (Photo by Jared Oyer)
Aaron Horst belays while Sophie Kirkton scales the climbing wall during a Rec Sports event this semester. (Photo by Jared Oyer)
Nathan Oostland was a contender in a log toss held at the lumberjack-themed "Choptober Fest." Other festivities that day included ax-throwing, jousting, "Flapjack Batter Pictionary," and a costume contest. (Photo by Rachel Holderman)
Lucy Unzicker traverses an obstacle course planned by the CAC and recreational sports via scooter board. (Photo by Jared Oyer)
Aficionados and vocalists share space at the open-air Thomas Plaza during a Chamber Singers recital in November. The Chamber Singers were preparing for EMU's annual gala . (Photos by Rachel Holderman)
Maya Dula tie-dyes a t-shirt at an event co-sponsored by the Psychology Club and Art Club the week before Thanksgiving. (Photo by Rachel Holderman)
Discussion on " Pandemic Pastimes: A Photo-Essay of Student Life, Fall Semester 2020 "
It is wonderful to see these responsible gatherings. It truly shows a caring for each other that is much needed right now.
Very Creative activities! Looks like fun stuff! Thanks for sharing
I strongly second Marie Johnston and Russ Leinbach.
Comments are closed.
Related Articles
Latest News
Complementary Medicine and Alternative Therapies
Education and Professional Development
Facilities Management and Design
Health Care Policy
Infection Control
Technology and Innovation
Patient and Staff Safety
Patient Care
Public Health
Addictions and Drugs
Anesthesia and Analgesia
Emergency Medicine
Gastroenterology
Geriatrics and Aging
Mental Health
Palliative Care
Pulmonary and Respirology
Editor's Note
Evidence Matters
From the CEO's Desk
Legal Update
Nursing Pulse
Long Term Care
Senior Care
Caregiver Support
Research LTC
Digital Editions
Video Library
Hospital News Podcast Library
About Hospital News
Advisory Board
Advertise with us
Media Kit & Rates
Testimonials
Contact Sales
2023 Editorial Calendar
Submit an Article
Subscribe to Hospital News
Healthcare Societies & Associations
Hospice and Palliative Links
Inside Sunnybrook's Pandemic Response: A photo essay
**All photos were taken by Kevin van Paassen
When Canada's first case of the novel coronavirus, COVID-19, was confirmed in a patient at Sunnybrook on January 25, 2020, the hospital was preparing for a potential pandemic.
In the past year, Sunnybrook's teams have worked tirelessly through stress, fear, uncertainty and a fundamental shift in the way health care is delivered.
To recognize the strength and resiliency of our staff, physicians, researchers, students, volunteers, and patients and their loved ones, these photos offer just a brief glimpse into the hospital since January 2020. View the full gallery here .
Two dedicated COVID-19 units opened in anticipation of a potential influx of patientsrequiring intensive care and respiratory support. Shown right is Julie Nardi, clinical and professional leader for respiratory therapy.
Environmental services team member Angela Corsaro sterilizes a patient room in the critical care unit in March 2020.
Jenny Jones, a registered nurse in one of our dedicated COVID-19 units, takes a moment to rest as patient volumes increased in April 2020.
The medical team on one of the COVID units prepares to reposition a patient with COVID-19 onto their stomach. The technique, known as proning, helps critically ill patients breathe by allowing more oxygen to enter the blood.
Physiotherapist Karen Montgomery is shown holding a patient's hand in the critical care unit.
On January 9, 2021, the Shared Hospital Lab (SHL), located at Sunnybrook's Bayview Campus, processed its one millionth COVID-19 test. SHL is a partnership between Sunnybrook, North York General Hospital, Scarborough Health Network, and Michael Garron Hospital.
Antimicrobial resistance: A year in review
Increasing access to provincial data on sars-cov-2 vaccination in canada, monkeypox virus: five things to know, how do parents decide if they should vaccinate their kids against sars-cov-2, the role of health data in supporting better patient outcomes, energy efficiency vital to health care and achieving climate action goals, new standard for safer long-term care homes, canada's health workers are sounding the alarm – we must act, now.
Charges laid after patient killed another patient in Prince Rupert, B.C. hospital : police - MSN Source: Hospital News Canada Published on 2023-03-12
Almonte General Hospital ER closed Saturday night - iHeartRadio Canada Source: Hospital News Canada Published on 2023-03-12
Toronto police investigating two separate homicides in one day - Durham Radio News Source: Hospital News Canada Published on 2023-03-11
Peel police officer, 2 others injured in Brampton crash; SIU investigating | CityNews Toronto Source: Hospital News Canada Published on 2023-03-11
Toronto police investigating fatal stabbing at Etobicoke banquet hall | CP24.com Source: Hospital News Canada Published on 2023-03-11
Your Message Subject*
FREE DIGITAL SUBSCRIPTION OF HOSPITAL NEWS!
Hospital News is Canada's health care newspaper since 1987. Hospital News covers developments and issues that affect all health care professionals, administrators, patients, visitors and students. Hospital News is published monthly and is made available in distribution racks placed in high traffic areas in hospitals and related institutions across the country. It is also available by subscription. © 2022 Vertical Media. All rights reserved. All other trademarks are the property of their respective owners.
Photo Essay: New York Empties Amid COVID-19
In New York City, photographer Kit Castagne captures the empty streets as COVID-19 takes it's toll on the city.
A woman sits in the ridges of the usually bustling Oculus, a shopping mall located across from the temporarily closed World Trade Center memorial site.
As seen from inside The Oculus, the same woman rests against her bags and blankets.
A cyclist crosses an empty 10th Avenue in Manhattan's Chelsea neighborhood. Devoid of traffic, those few cyclists and pedestrians still outside often spill into the empty roadways, no longer confined to sidewalks and bike lanes.
A homeless woman sits outside the closed down Nike store on 5th Avenue. With the usual crowds of shoppers, commuters and tourists gone, Manhattan's homeless population has grown more visible than ever in the wake of COVID-19.
Across the city, parks and public spaces are an escape for those confined to small apartments, but many remain closed due public health concerns.
Only a select few of The Oculus shopping mall's stores remain open. The usual throngs of shoppers have been reduced to a sparse few PATH train passengers and passers-by.
Usually bumper to bumper with taxis, Grand Central Terminal's Park Avenue bridge sits empty.
In stark contrast to Grand Central's routinely ceaseless crowds of tourists and commuters, the station is all but empty, while its shops, stalls, and restaurants all stand shuttered.
With no tourists around to drive trade, a souvenir shop near Times Square closes down and boards up.
A woman walks across the Oculus' empty atrium.
Chairs stacked in the window of Panchito's, a Mexican restaurant in the West Village which had to close its doors in response to the city's order banning dining in restaurants.
The owner of Cafe Reggio, an Italian cafe in the West Village, describes his business' struggles in transitioning to take-out only. He remarked that he had only served "seven ninety's" worth of food that day. He then clarified that he meant $7.90, not $790.
A worker at a Midtown florist disinfects the company's delivery van.
The day before restaurants switched to take-out and delivery only, a couple sits down to eat at Little Italy Pizza in Midtown.
Unable to seat customers, a worker in Manhattan's Extra Virgin makes repairs to the upholstery of the restaurant's seating.
Joan, a West Village resident sits outside her building waiting for her neighbor to help take her shopping. She said anywhere would be better than Manhattan during a pandemic, but that she is here now, and doesn't know where else she would go. She has relatives upstate, but the journey to them seems too arduous. She said she's been in New York a long time, and that New York is where she will stay.
The owner of H&H Kim corporation stands outside her SoHo grocery store. Across manhattan, shopkeepers spend a great deal of time waiting in empty stores. Upon the eventual arrival of customers some show relief, glad to have the business. Others are clearly nervous about the risk of infection. Most show an anxious mix of the two.
At a farmer's market in Union Square, crowds still gather despite social distancing directives. Shoppers and workers alike do their best to carry on as normal, but with a tangible sense of fear and heightened nerves.
A father teaches his children to ride their bikes at an unusually empty athletic court in the West Village.
The standard life of a cyclist on the Brooklyn Bridge is crawling at a snail's pace, dodging and weaving between tourists stood shoulder to shoulder. With foot traffic all but gone, cyclists travel the length of the bridge like a bicycle freeway.
In a city of tiny apartments, the closing of gyms brings has left public spaces the only viable places for many to exercise.
With no cars on the streets of SoHo, a father plays frisbee with his daughters in the middle of the cobblestone road.
A woman sits in a sparsely populated Washington Square Park.
A security worker sits behind protective glass at the D.E.A building in the now empty Meatpacking District.
At the Trader Joe's in Brooklyn's Cobble Hill, the line for entry stretches around the block with shoppers spaced at six foot intervals.
Across from St. Vincent's Hospital, delivery workers sort through the packages destined for the surrounding buildings.
A delivery cyclist with his e-bike takes a break in the West Village.
Prior to New York State's moratorium on non-essential construction, a worker monitors a building site just south of Central Park.
A homeless man rests on a bench in Times Square.
Kit Castagne is a freelance photojournalist and documentary photographer based in Brooklyn. Before relocating to New York, he called Boston home for seven years, where he documented the lives of independent musicians in the city's underground music scene. When the early stages of the Coronavirus outbreak forced the cancellation of concerts and tours across the country, Kit shifted his attention to documenting the effects of the virus as it took hold in New York City. Kit's work has been published in a number of outlets including Vogue and The New York Times.
All photos are courtesy Kit Castagne. www.kitcastagne.com @kit_castagne
What are you looking for?
Your California, explained.
Receive a free briefing on your state every day.
By clicking subscribe, you agree to the Terms .
Your must-read California digest
Subscribe to CalMatters' free daily newsletter to get news and commentary that holds your elected leaders accountable.
California Legislator Tracker
Inside the Capitol
California Divide
Immigration
California's Pension Crisis
College Beat
Disaster Days
K-12 Education
Higher Education
Children and Youth
California Wildfires
Climate Change
Rising Seas
Coronavirus
Breakdown: Mental Health
Dan Walters
Reader Reactions
Data Points
Force of Law
Gimme Shelter
Interactives
Newsletter: WhatMatters
News and Awards
How We're Funded
Jobs and internships
Sponsorship
CalMatters for Learning
California, explained
Photo Essay: College, Interrupted
Share this:
Lea este artículo en  español .
Last March, when state and local officials issued stay-at-home orders to contain the coronavirus pandemic, California's college campuses became ghost towns. Life for many students assumed a new cadence, in which the need for safety eclipsed the pleasures of the college experience.
A year later, feelings of distance ⁠— from friends, family and real-life instruction ⁠— haven't abated. 
Some students have used technology to combat isolation. With laptops and phones at the ready, childhood bedrooms have transformed into live action theater sets while student groups and clubs found new homes on Discord servers.
But remote instruction, now a matter of routine, still stings for many students. With few places to go, students look to break the monotony of days spent entirely at the kitchen table or in their bedroom by escaping to the outdoors. But college schedules, and the nature of distance learning, often force them to stay put.
The pandemic unequivocally changed all campuses, sparing no university, or student, their sense of stability. If students returned to work or resumed their commitments on campus, they did so through a litany of safety guidelines and sanitizing protocols. Once-normal fixtures of life, like volunteering for a food bank or training for a sport, now feel like a break from the cycle of pandemic living.
For those living near campus ⁠— but not on it ⁠— fewer rules applied. And public health guidelines, in some instances, fell on deaf ears. While most college students observed the social contract of not spreading the virus, others chose to pretend it didn't exist.
That kind of neglectful behavior, however, proved to be costly. As cases rose among communities in which students partied, so too did the risks for those areas' most vulnerable residents. Universities, along with local governments and law enforcement, stepped in with educational outreach, increased testing, citations and academic punishment.
As faculty and student employees finally start to receive vaccinations and universities plan for in-person instruction this fall, the desire for normalcy prevails. Students want to go back to school, and many are exhausted from sacrificing their time, money, safety and wellbeing to this pandemic. But if a return to learning side-by-side is near, one thing is certain: it will take effort on everyone's part to get there.
This project was produced by the CalMatters College Journalism Network , a collaboration between CalMatters and student journalists from across California. It was written by Max Abrams, with photos by Max Abrams, Logan Bik, Shae Hammond, Ashley Hayes-Stone, Rahul Lal and Pablo Unzueta. This story and other higher education coverage are supported by the College Futures Foundation.
We want to hear from you
Want to submit a guest commentary or reaction to an article we wrote? You can find our submission guidelines here . Please contact CalMatters with any commentary questions: [email protected]
Shae Hammond
Shae Hammond is finishing her degree in journalism at California State University Northridge with a focus on photojournalism. Her interest in journalism began in community college when she was on the Roundup... More by Shae Hammond
Pablo Unzueta
My name is Pablo Unzueta, I'm a full-time journalism student at Long Beach State and documentary photographer. I'm a first generation Chilean-American currently based in Long Beach, and was born and raised... More by Pablo Unzueta
Scenes from a Pandemic
Fighting a virus and scared for our lives, photos by john rae.
On March 1, the first case of COVID-19 was officially reported in New York City. Within a few days, scores of critically sick began flooding into the city's 11 public hospitals, suffering from a virus that would grip our patients, staff and eventually our entire city. Teams of doctors, nurses and respiratory therapists provided care for thousands of COVID-19 patients. There were moments of devastation and immeasurable loss. But, as patients recovered, signs of hope emerged. Staff created rituals to celebrate recovery and keep fighting. Because that's what heroes do.
Teams of doctors, nurses and respiratory therapists provided care for thousands of patients with COVID-19.
When COVID-19 testing began in April, hundreds lined up outside health clinics including Gotham Health, Morrisania in the South Bronx.
COVID-19 testing at NYC Health + Hospitals/Elmhurst
NYC Health + Hospitals/Elmhurst set up an outdoor testing tent.
To provide fast results, NYC Health + Hospitals labs are performing about 6,000 tests per day.
Pulmonologists at NYC Health + Hospitals/Elmhurst attend to patient.
Patient care at NYC Health + Hospitals/North Central Bronx
Monitoring a patient at NYC Health + Hospitals/Coney Island.
Dr. Noella Boma of NYC Health + Hospitals/Metropolitan in an emotional moment.
Paramedics assist a patient at NYC Health + Hospitals/Metropolitan.
Dr. Regina Hammock of NYC Health + Hospitals/Woodhull.
Dr. Moira McCarthy of NYC Health + Hospitals/Lincoln.
Attending to a patient at NYC Health + Hospitals/Elmhurst.
Nearly 9,000 nurses came to New York City's public hospitals to help during the surge. Here, two nurses confer at NYC Health + Hospitals/Coney Island in Brooklyn.
Respiratory Therapists played a crucial role during the surge.
COVID-19 test sample at NYC Health + Hospitals/Jacobi Lab.
At NYC Health + Hospitals/Jacobi, a doctor shares a quiet moment with a patient.
Health care workers quickly adapted to PPE measures and sanitization.
Monitoring a patient at NYC Health + Hospitals/Lincoln in the Bronx.
Dedicated Community Care nurse Man-Hong Wan continued home visits during the surge.
Due to visitation restrictions at nursing homes, many residents experienced depression. At NYC Health + Hospitals/McKinney, Nurse Kerline Jean-Claude braids a resident's hair to lift her spirits.
Temperature checks for staff were put in place to prevent spread of the virus.
A Wall of Gratitude rose at NYC Health Hospitals/Metropolitan to recognize our health care workers.
Dr. Diaz reminded mothers to continue wellness visits for young children.
Staff at NYC Health + Hospitals/Sea View used Facetime to help nursing home residents connect to loved ones.
Head nurse, Carmintina Silvestre-Tan at NYC Health + Hospitals/Coler reviews COVID-19 procedures with nurse.
At NYC Health + Hospitals/Carter in Harlem, staff arranged daily virtual visits at bedside that brought smiles to both residents and staff.
Nurse Bianca Disomma at NYC Health + Hospitals/Metropolitan.
Dr. Mark Watson of NYC Health + Hospitals/Woodhull.
NYC Health + Hospitals/Elmhurst, a patient in distress is consoled by health care worker.
Due to visitation restrictions, patients could not see loved ones and sought comfort from doctors and nurses.
At NYC Health +Hospitals/Bellevue in Manhattan, teams of doctors, nurses and respiratory therapists treated critically-ill COVID-19 patients.
Caring for positive patients at NYC Health + Hospitals/Kings County.
Dr. Amit Uppal of NYC Health + Hospitals/Bellevue.
At left, Dr. Matthew Langston, Director of Pulmonary Critical Care at NYC Health + Hospitals/Jacobi.
The U.S. Dept. of Defense deployed 700 volunteers to the city's public hospitals including nurses, internists and support staff. World Central Kitchen provided meals for staff.
Staff created new rituals to celebrate recovery, like playing joyful music when a patient improved or was discharged. Employees rejoiced with singing and dancing to mark these victories.
Photo Essay Captures How COVID-19 Has Transformed BU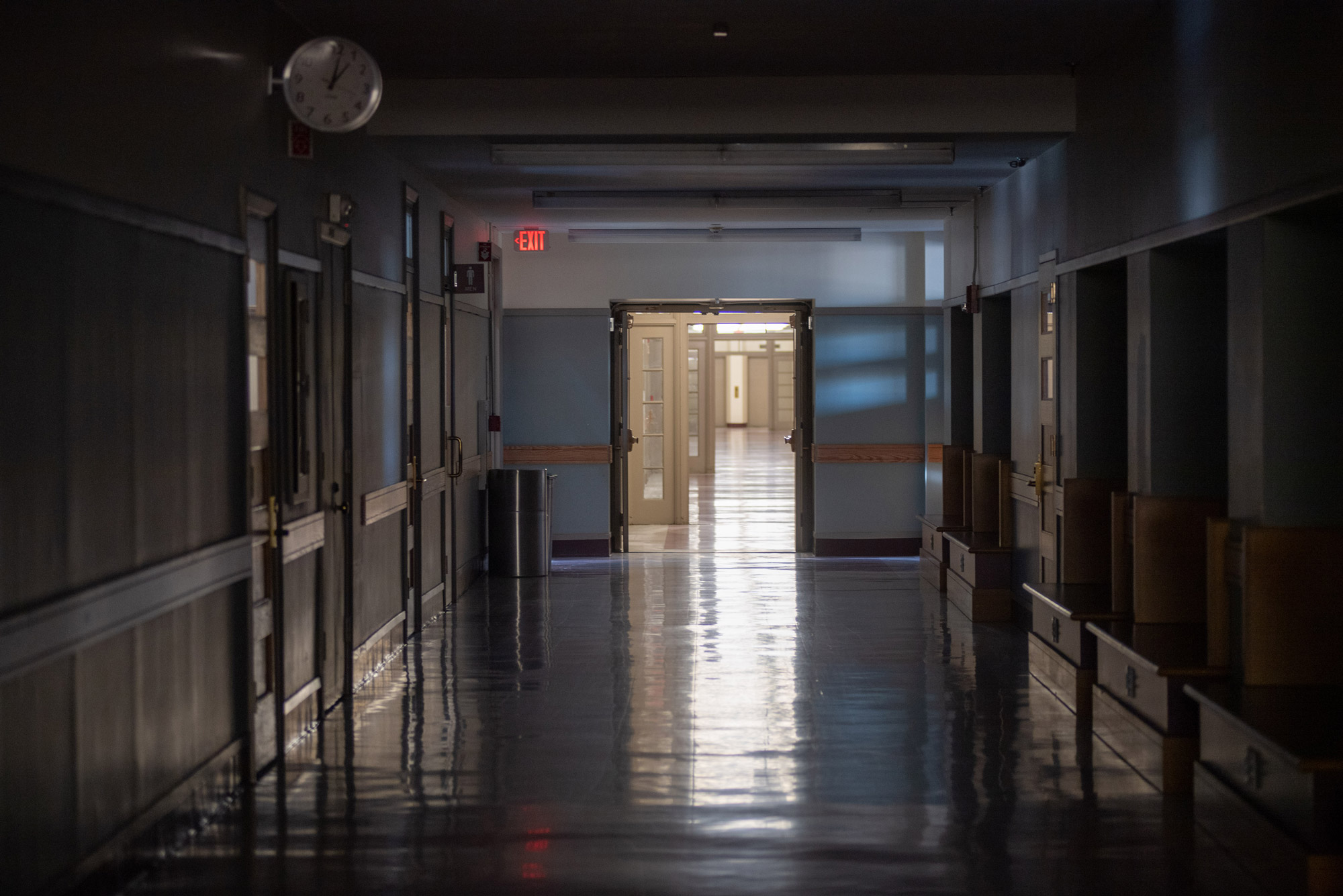 A darkened hallway in the College of Arts & Sciences, March 18. BU buildings have been largely vacant since the University moved all teaching and learning remotely on March 16 in response to the coronavirus pandemic. Photo by Cydney Scott
Images document the subtle—and not so subtle—ways the pandemic has altered campus
Bu today staff.
From the moment the University announced that starting March 16 it was moving to remote teaching and learning for the rest of the spring semester, then shuttered residences for most students as of March 22, BU campuses took on a startlingly different look, transformed overnight from bustling metropolises to a series of largely empty interior and exterior landscapes.
Staff photojournalists Cydney Scott and Jackie Ricciardi have continued to photograph the campuses since the pandemic caused the city of Boston to limit the normal operations of businesses, even as most students have returned home and most faculty and staff are working remotely.
"As a photographer for BU Today, the biggest danger I usually face at work is whether or not I'll squeeze into a spot on the BU shuttle on my way to an assignment on a rainy day," Scott says. "Photographing Comm Ave during the midst of a pandemic brings risks of a different, more frightening order." The two maintain a safe social distance when shooting their subjects—which brings new challenges. "Where I would typically move around during a shoot, being a 'fly on the wall,' my movement now is largely limited," she says.
"Photographing during the pandemic has been a struggle for me," says Ricciardi. "As a photojournalist, my goal is to capture human connection, and I wonder how I can do that successfully when the streets are empty and we're told we must stay away from people…yet one of the most significant events in history is happening in my lifetime and it's my responsibility to try and capture that."
Their images will serve to chronicle this moment in history for years to come.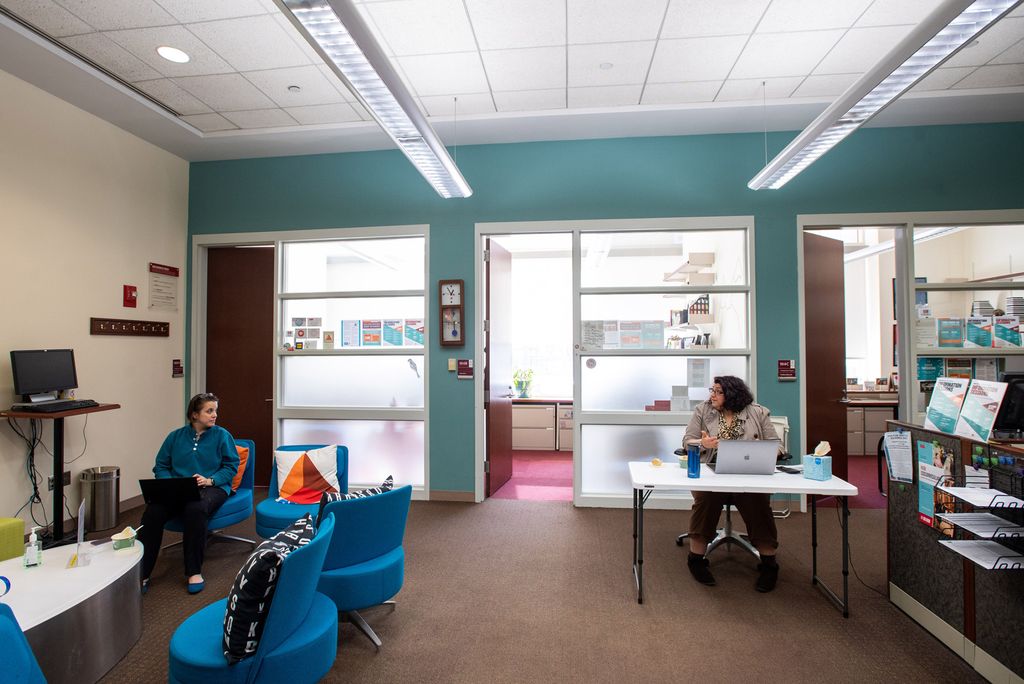 Meredith Siegel (left) and Rachel Reiser, both Questrom assistant deans, practice social distancing while prepping for a "dean's huddle" meeting via Zoom on March 16. Photo by Cydney Scott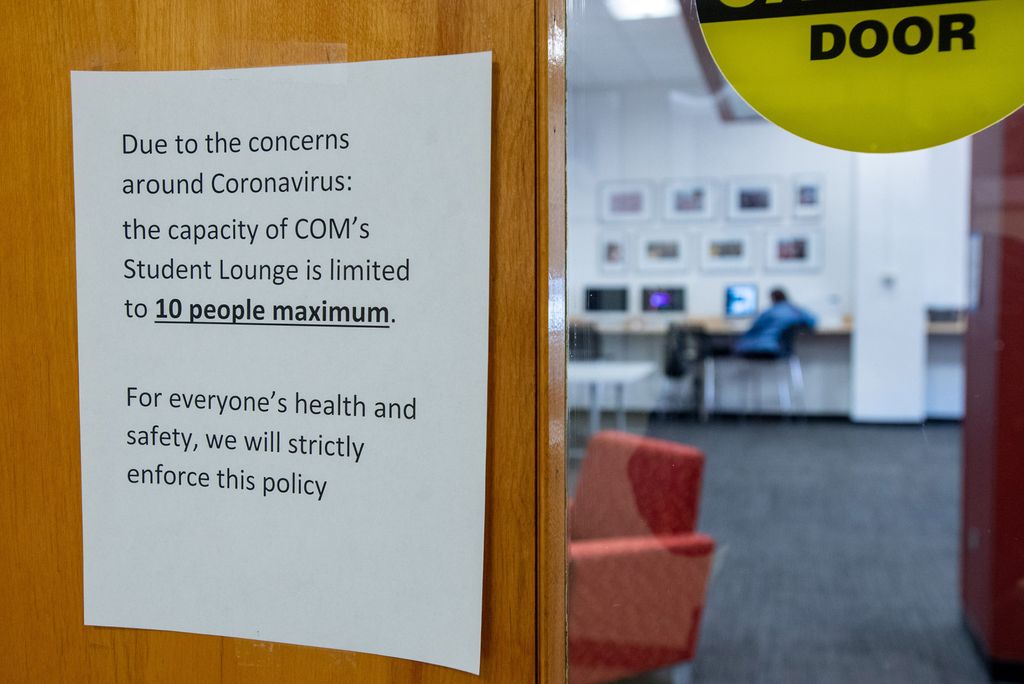 A sign posted outside the College of Communication student lounge March 16. Photo by Cydney Scott
Bruno Rubio, a College of Arts & Sciences master lecturer in chemistry, holding remote office hours in a Metcalf Science Center lecture hall March 17. "I was old-school with my teaching," says Rubio, "My clinging to traditional methods of learning and teaching? I'm paying for it now!" In fact, he mastered Zoom quickly and was able to assist the eight students who needed help that day. Photo by Cydney Scott
An eerily empty FitRec basketball court on March 17. FitRec closed that day. Photo by Cydney Scott
Paradise Rock Club assistant production manager Will Powell posting an encouraging message on the club's marquee March 17. The Paradise is closed indefinitely because of the coronavirus pandemic, like all the commonwealth's bars, restaurants, and entertainment spots. Photo by Cydney Scott
COM staff members on video screens in the school's Zimmerman Social Media Activation Center during a Zoom meeting March 17. Photo by Cydney Scott
BU custodian Grace Araujo at work at StuVi I on March 17. BU's custodial staff continues to clean and maintain BU's 300 buildings during the pandemic. Photo by Jackie Ricciardi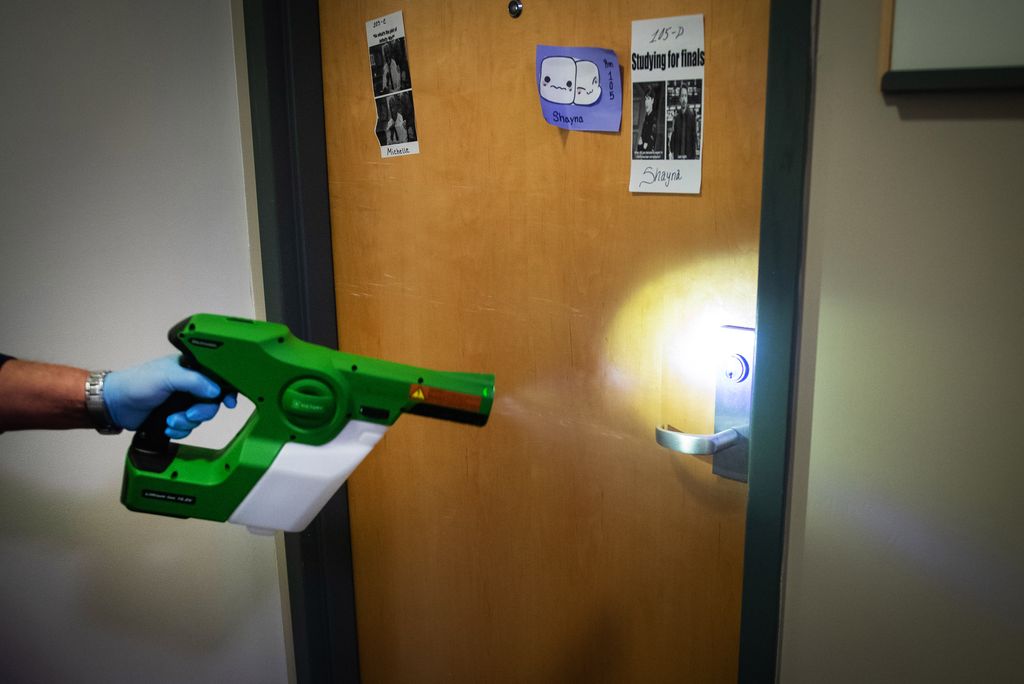 Victory Innovations battery-operated electrostatic spray guns are prized by custodial workers for their deep cleaning ability. BU invested in about 20 of the spray guns, which are in such high demand now that they are almost impossible to get. Photo by Jackie Ricciardi
The first day of remote learning: a lone student studying at Mugar Memorial Library on March 16. The library is now closed to students, but staff continue to provide support and services remotely. Photo by Jackie Ricciardi
Entering the George Sherman Union on March 16 (left) and finding it almost empty on March 18 (right) must have been surreal experiences. Fewer than 450 students remain in BU housing at present. Photos by Jackie Ricciardi (left) and Cydney Scott (right)
Rev. Dr. Robert Allan Hill, dean of Marsh Chapel, on his way to the chapel's first virtual Sunday service on March 22. The eight choral scholars on the altar are six feet apart during the service. Photos by Cydney Scott
A triage tent for intake of potential coronavirus patients set up outside Boston Medical Center March 20. BMC nurses Marisa McIntyre (left) and Maureen Shanahan-Frappie are among staff there who assess patients' symptoms and determine whether they should be sent to BMC's influenza-like illness clinic (ILI) for moderate symptoms or to the Emergency Department for more serious conditions. COVID-19 testing is done at both. Photo by Cydney Scott
Except for exceptional cases, most students living on campus had to be out of their rooms by March 22. Xing Hu (CAS'22) (left) waits with Abin George (ENG'23) outside Claflin Hall to be picked up March 20. Photo by Cydney Scott
Goodbyes: Northeastern freshman Nadhur Prashant (left) with his girlfriend, Anindita Lal (CAS'23), on West Campus March 20. Lal was returning home to Acton, Mass., and Prashant was leaving Boston to go home to India. Photo by Cydney Scott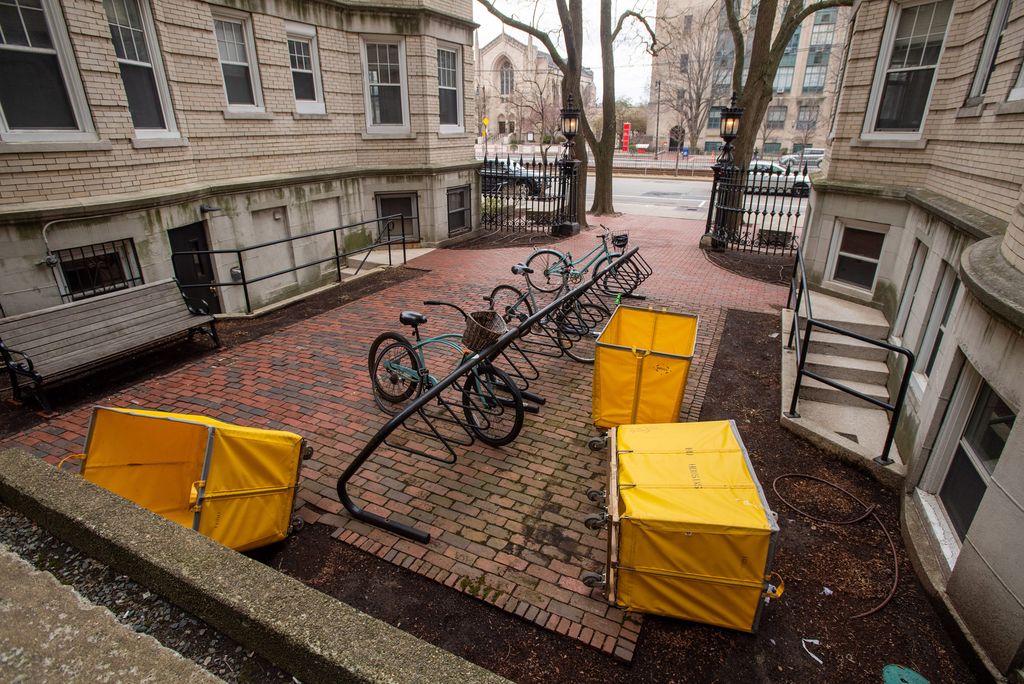 Bicycles and strewn moving carts in the courtyard between 722 and 726 Comm Ave on March 25, after dorms were shuttered. Photo by Cydney Scott
Millyan Phillips of Piece by Piece Moving Company empties a room on the Fenway Campus' Riverway House March 27. Students who had left belongings behind when they went on spring break were able to use an app to specify items they wanted stored, saved, or thrown out. Photo by Cydney Scott
An abandoned Fenway Campus Center, bereft of its usual throngs of students, on April 15. The 150 Riverway building houses the campus dining hall and common student spaces as well as student residences. Photo by Jackie Ricciardi
A flyer reminding residents to maintain social distance guidelines, left on a Fenway Campus Center table. Photo by Jackie Ricciardi
Left photo: Quarantine kits lined up in the GSU Ballroom on April 15. The kits, containing two weeks' worth of cleaning supplies, paper goods, pillows, linens, and nonperishable snacks and meals, were available to students quarantined on campus because of exposure to COVID-19. Right photo: Jennifer Skikas (left), GSU catering sales manager, and Joann Flores, catering manager for Questrom, load up some of the items to be delivered to empty quarantine rooms across campus on April 21. Photos by Cydney Scott
Lead custodian Carlos Carreiro (left) and custodian Andres Lopez deliver paper goods to empty quarantine rooms at 580 Comm Ave April 21. The University reserved approximately 50 rooms across campus for students who needed to be quarantined during the pandemic. Photo by Cydney Scott
Explore Related Topics:
Charles River Campus
Coronavirus
Photography
Share this story
7 Comments Add
BU Today staff Profile
Comments & Discussion
Boston University moderates comments to facilitate an informed, substantive, civil conversation. Abusive, profane, self-promotional, misleading, incoherent or off-topic comments will be rejected. Moderators are staffed during regular business hours (EST) and can only accept comments written in English. Statistics or facts must include a citation or a link to the citation.
There are 7 comments on Photo Essay Captures How COVID-19 Has Transformed BU
Jackie and Cydney, wonderful yet weird campus shots. Thank you for being on site capturing this for us.
Thank you, Cydney and Jackie, for these images that capture so many elements of BU during this difficult time of grieving for the world, and caring for each other. You make us proud, even prouder, of BU people!
Thanks for Cydney and Jackie's excellenct and memorable work with these capturing photos! my son is still in BU for his master degree study and will finish his study by May. Our family apprecaites all the work and effort by BU during this special and difficult period. We are proud my son is a student of BU!
Wow! Great images. Your photos tell a very moving story. You also managed to capture an image of my son studying in the library. He is the lone student at the Mugar Memorial Library. Can you please let me know how I can buy a copy of that image? Thank you.
Great work. Is there a way that I can get a copy Of one of the images. My son is in that photo.
Shoot me an email Dina and I'll see what we can do. Cydney [email protected]
Fantastic photography & story, thank you for sharing! Our son never had the chance to return to BU after spring break, so to see what BU looks like now is very moving. Our family is grateful to all the BU staff, faculty & students and look forward to the day we can visit Boston again!
Post a comment. Cancel reply
Your email address will not be published. Required fields are marked *
Related Stories
What a Year! Photo Essay Captures an Extraordinary 2021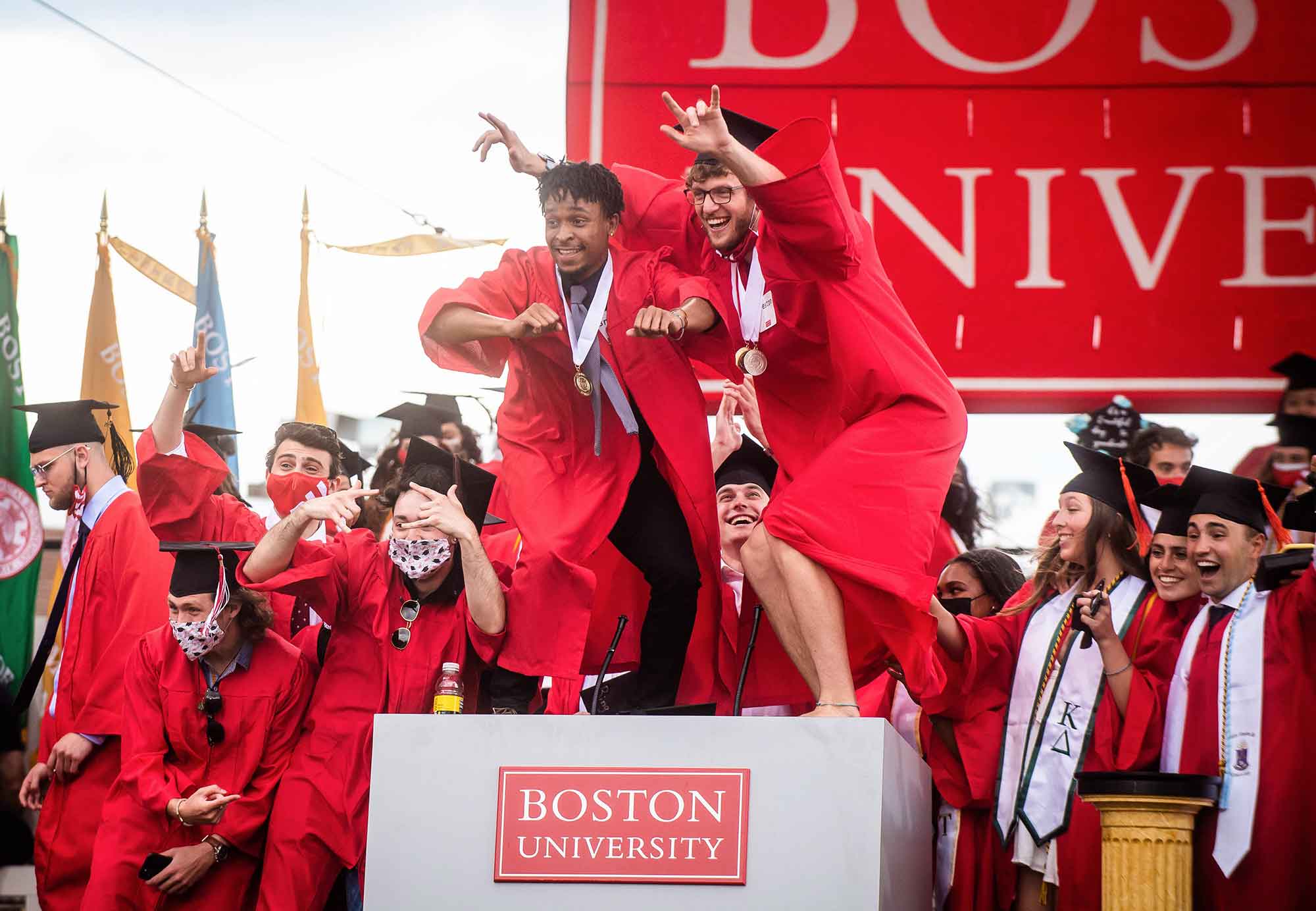 Photo Gallery Captures BU's One-of-a-Kind 148th Commencement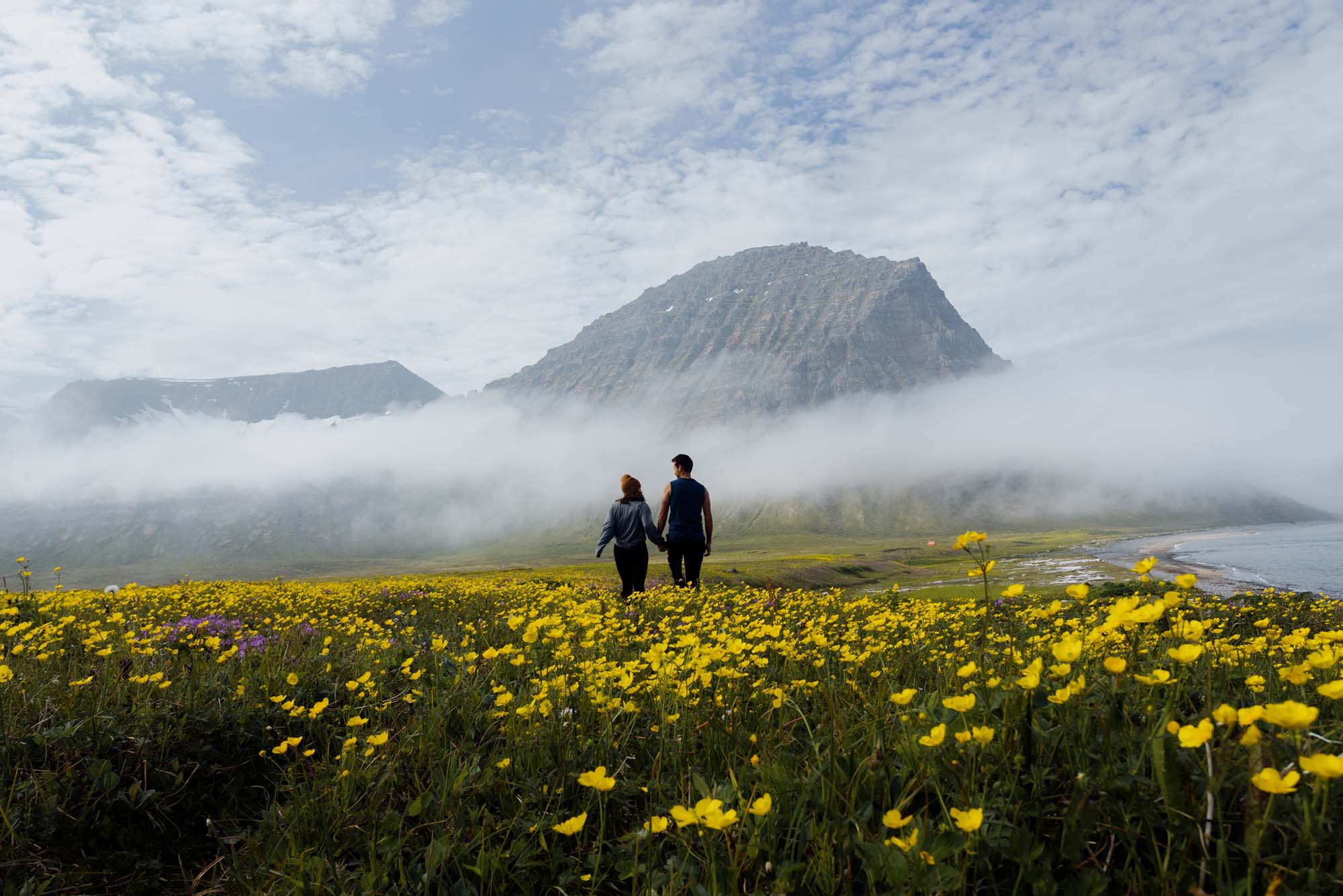 Global Programs Annual Photo Contest Captures Moments of Joy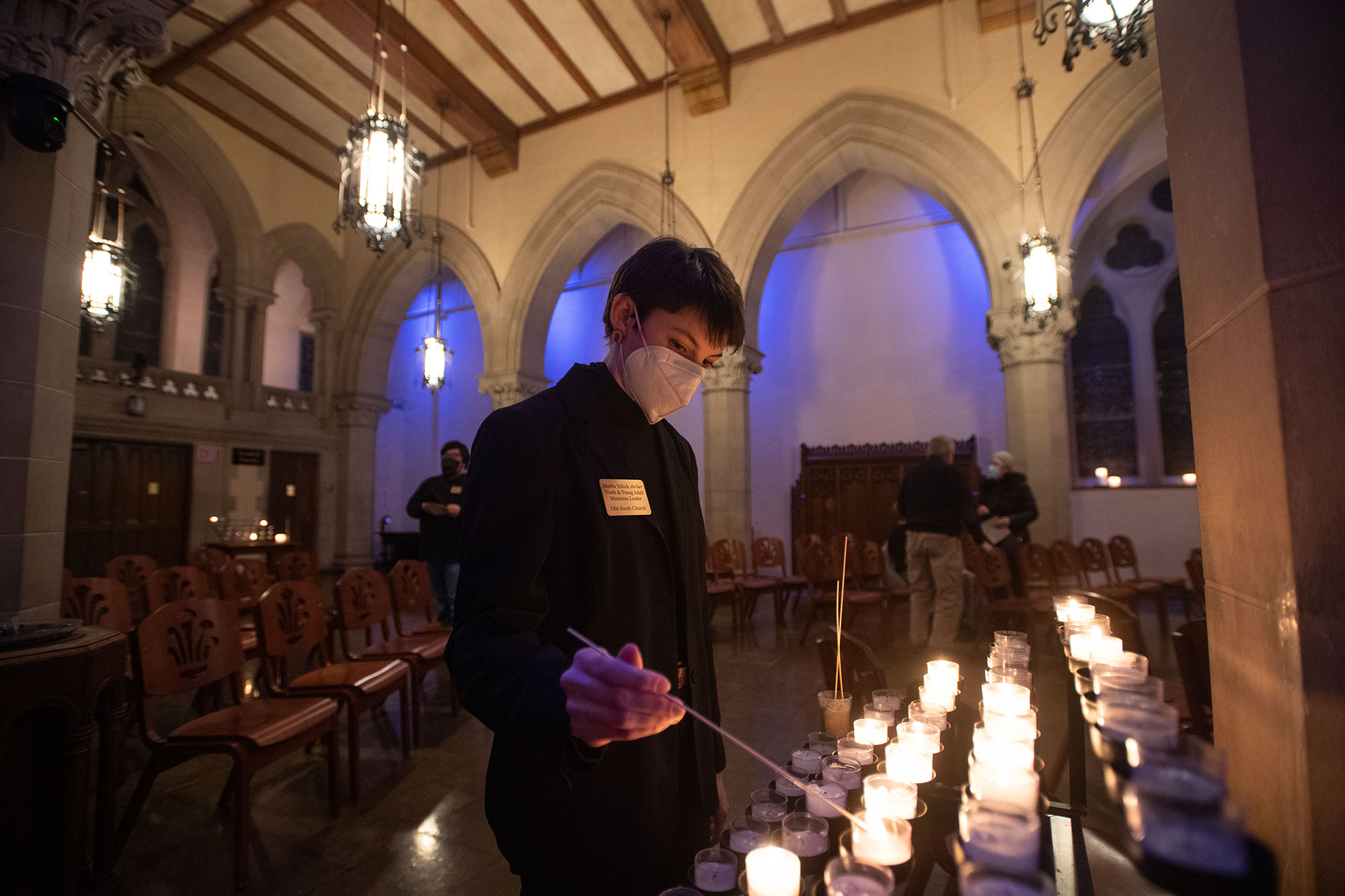 Photo Essay: What My Faith Means to Me
Latest from bu today, women's basketball's comeback falls short in patriot league final, exploring the world: boston university students reflect on their study abroad adventures, the week ahead: march 13 to 19, pov: revising roald dahl's classic children's books is a "dangerous portent of future censorship", video: what's it like to transfer to bu these veterans offer some advice, new fellowship program aims to bring antiracism into bu curricula, who is the lucky scream superfan, medieval meets contemporary in new english 101 class, the 2023 academy awards are sunday night: here's what to watch for, bu women's basketball beats loyola maryland, advances to patriot league semifinal round, pov: yes, filling out the race box on forms is tiresome, but here's why it matters, pov: massachusetts can finally measure the health of primary care, award-winning author tracy kidder's rough sleepers focuses on bu's jim o'connell, astronomy class ponders life beyond earth, 2023 academic advising awards go to christopher schmitt and matt bae, men's lacrosse looks to defend patriot league title, alternative service break trips return to normal after three years, getting to know your neighborhood: jamaica plain, lgbtqia+ bu student task force report makes recommendations for achieving a more inclusive bu, staying in boston for spring break there's plenty to do.