How to Write Perfect Persuasive Essays in 5 Simple Steps
WHAT IS A PERSUASIVE ESSAY?
A persuasive text presents a point of view around a topic or theme that is backed by evidence to support it.
The purpose of a persuasive text can be varied. Maybe you intend to influence someone's opinion on a specific topic, or you might aim to sell a product or service through an advertisement.
The challenge in writing a good persuasive text is to use a mix of emotive language and, in some cases, images that are supported by hard evidence or other people's opinions.
In a persuasive essay or argument essay, the student strives to convince the reader of the merits of their opinion or stance on a particular issue. The student must utilise several persuasive techniques to form a coherent and logical argument to convince the reader of a point of view or to take a specific action.
PERSUADING PEOPLE REQUIRES A CONSISTENT APPROACH…
Persuasive texts are simple in structure. You must clearly state your opinion around a specific topic and then repeatedly reinforce your opinions with external facts or evidence. A robust concluding summary should leave little doubt in the reader's mind. ( Please view our planning tool below for a detailed explanation. )
TYPES OF PERSUASIVE TEXT
We cover the broad topic of writing a general persuasive essay in this guide, there are several sub-genres of persuasive texts students will encounter as they progress through school. We have complete guides on these text types, so be sure to click the links and read these in detail if required.
Argumentative Essays – These are your structured "Dogs are better pets than Cats" opinion-type essays where your role is to upsell the positive elements of your opinions to your audience whilst also highlighting the negative aspects of any opposing views using a range of persuasive language and techniques.
Advertising – Uses persuasive techniques to sell a good or service to potential customers with a call to action.
Debating Speeches – A debate is a structured discussion between two teams on a specific topic that a moderator judges and scores. Your role is to state your case, sell your opinions to the audience, and counteract your opposition's opinions.
Opinion Articles, Newspaper Editorials. – Editorials often use more subtle persuasive techniques that blur the lines of factual news reporting and opinions that tell a story with bias. Sometimes they may even have a call to action at the end.
Reviews – Reviews exist to inform others about almost any service or product, such as a film, restaurant, or product. Depending on your experiences, you may have firm opinions or not even care that much about recommending it to others. Either way, you will employ various persuasive techniques to communicate your recommendations to your audience.
Please note a DISCUSSION essay is not a traditional persuasive text, as even though you are comparing and contrasting elements, the role of the author is to present an unbiased account of both sides so that the reader can make a decision that works best for them. Discussions are often confused as a form of persuasive writing.
A COMPLETE TEACHING UNIT ON PERSUASIVE WRITING SKILLS
Teach your students to produce writing that PERSUADES and INFLUENCES thinking with this HUGE writing guide bundle covering: ⭐ Persuasive Texts / Essays ⭐ Expository Essays⭐ Argumentative Essays⭐ Discussions.
A complete 140 PAGE unit of work on persuasive texts for teachers and students. No preparation is required.
THE STRUCTURE OF A PERSUASIVE ESSAY
1. Introduction
In the introduction, the student will naturally introduce the topic. Controversial issues make for great topics in this writing genre. It's a cliche in polite society to discourage discussions involving politics, sex, or religion because they can often be very divisive. While these subjects may not be the best topics of conversation for the dinner table at Thanksgiving, they can be perfect when deciding on a topic for persuasive writing. Obviously, the student's age and abilities should be considered, as well as cultural taboos, when selecting a topic for the essay. But the point holds, the more controversial, the better.
Let's take a look at some of the critical elements of the introduction when writing a persuasive essay:
Title: Tell your audience what they are reading.
This will often be posed as a question; for example, if the essay is on the merits of a vegetarian lifestyle, it may be called something like: To Eat Meat or Not?
Hook : Provide your audience with a reason to continue reading.
As with any genre of writing, capturing the reader's interest from the outset is crucial. There are several methods of doing this, known as hooks. Students may open their essays with anecdotes, jokes, quotations, or relevant statistics related to the topic under discussion.
Background: Provide some context to your audience.
In this introductory section, students will provide the reader with some background on the topic. This will place the issue in context and briefly weigh some opinions on the subject.
Thesis statement: Let the audience know your stance.
After surveying the topic in the first part of the introduction, it is now time for the student writer to express their opinion and briefly preview the points they will make later in the essay.
2. Body Paragraphs
The number of paragraphs forming this essay section will depend on the number of points the writer chooses to make to support their opinion. Usually three main points will be sufficient for beginning writers to coordinate. More advanced students can increase the number of paragraphs based on the complexity of their arguments, but the overall structure will largely remain intact.
Be sure to check out our complete guide to writing perfect paragraphs here .
The TEEL acronym is valuable for students to remember how to structure their paragraphs. Read below for a deeper understanding.
Topic Sentence:
The topic sentence states the central point of the paragraph. This will be one of the reasons supporting the thesis statement made in the introduction.
These sentences will build on the topic sentence by illustrating the point further, often by making it more specific.
These sentences' purpose is to support the paragraph's central point by providing supporting evidence and examples. This evidence may be statistics, quotations, or anecdotal evidence.
The final part of the paragraph links back to the initial statement of the topic sentence while also forming a bridge to the next point to be made. This part of the paragraph provides some personal analysis and interpretation of how the student arrived at their conclusions and connects the essay as a cohesive whole.
3. Conclusion
The conclusion weaves together the main points of the persuasive essay. It does not usually introduce new arguments or evidence but instead reviews the arguments made already and restates them by summing them up uniquely. It is important at this stage to tie everything back to the initial thesis statement. This is the writer's last opportunity to drive home their point, to achieve the essay's goal, to begin with – persuade the reader of their point of view.
Ending an essay well can be challenging, but it is essential to end strongly, especially for persuasive essays. As with the hooks of the essay's opening, there are many tried and tested methods of leaving the reader with a strong impression. Encourage students to experiment with different endings, for example, concluding the essay with a quotation that amplifies the thesis statement.
Another method is to have the student rework their ending in simple monosyllabic words, as simple language often has the effect of being more decisive in impact. The effect they are striving for in the final sentence is the closing of the circle.
Several persuasive writing techniques can be used in the conclusion and throughout the essay to amp up the persuasive power of the writing. Let's take a look at a few.
TIPS FOR WRITING A GREAT PERSUASIVE ESSAY
PERSUASIVE TECHNIQUES
In this article, we have outlined a basic structure that will be helpful to students in approaching the organization of their persuasive writing. It will also be helpful for the students to be introduced to a few literary techniques that will help your students to present their ideas convincingly. Here are a few of the more common ones:
Repetition: There is a reason why advertisements and commercials are so repetitive – repetition works! Students can use this knowledge to their advantage in their persuasive writing. It is challenging to get the reader to fully agree with the writer's opinion if they don't fully understand it. Saying the same thing in various ways ensures the reader gets many bites at the 'understanding' cherry.
Repetition Example: "The use of plastic bags is not only bad for the environment, but it is also bad for our economy. Plastic bags are not biodegradable, meaning they will not decompose and will continue to take up space in landfills. Plastic bags are also not recyclable, meaning they will not be reused and will instead end up in landfills. Plastic bags are not only bad for the environment, but they are also bad for our economy as they are costly to dispose of and take up valuable space in landfills."
In this example, the phrase "not only bad for the environment but also bad for our economy" is repeated multiple times to reinforce the idea that plastic bags are not just a problem for the environment but also the economy. The repetition of the phrase emphasizes the point and makes it more persuasive.
It is also important to note that repetition could be used differently, such as repeating a word or phrase to create rhythm or emphasis.
Storytelling: Humans tend to understand things better through stories. Think of how we teach kids important values through time-tested fables like Peter and the Wolf . Whether through personal anecdotes or references to third-person experiences, stories help climb down the ladder of abstraction and reach the reader on a human level.
Storytelling Example: "Imagine you are walking down the street, and you come across a stray dog clearly in need of food and water. The dog looks up at you with big, sad eyes, and you cannot help but feel a twinge of compassion. Now, imagine that same scenario, but instead of a stray dog, it's a homeless person sitting on the sidewalk. The person is clearly in need of food and shelter, and their eyes also look up at her with a sense of hopelessness.
The point of this story is to show that just as we feel compelled to help a stray animal in need, we should also feel compelled to help a homeless person. We should not turn a blind eye to the suffering of our fellow human beings, and we should take action to address homelessness in our community. It is important to remember that everyone deserves a roof over their head and a warm meal to eat. The story is designed to elicit an emotional response in the reader and make the argument more relatable and impactful.
By using storytelling, this passage creates an image in the reader's mind and creates an emotional connection that can be more persuasive than just stating facts and figures.
Dissent: We live in a cynical age, so leaving out the opposing opinion will smack of avoidance to the reader. Encourage your students to turn to that opposing viewpoint and deal with those arguments in their essays .
Dissent Example: "Many people argue that students should not have to wear uniforms in school. They argue that uniforms stifle creativity and individuality and that students should be able to express themselves through their clothing choices. While these are valid concerns, I strongly disagree.
In fact, uniforms can actually promote individuality by levelling the playing field and removing the pressure to dress in a certain way. Furthermore, uniforms can promote a sense of community and belonging within a school. They can also provide a sense of discipline and structure, which can help to create a more focused and productive learning environment. Additionally, uniforms can save families money and eliminate the stress of deciding what to wear daily .
While some may argue that uniforms stifle creativity and individuality, the benefits of uniforms far outweigh the potential drawbacks. It is important to consider the impact of uniforms on the school as a whole, rather than focusing solely on individual expression."
In this example, the writer presents the opposing viewpoint (uniforms stifle creativity and individuality) and then provides counterarguments to refute it. By doing so, the writer can strengthen their own argument and present a more convincing case for why uniforms should be worn in school.
A Call to Action: A staple of advertising, a call to action can also be used in persuasive writing. When employed, it usually forms part of the conclusion section of the essay and asks the reader to do something, such as recycle, donate to charity, sign a petition etc.
A quick look around reveals to us the power of persuasion, whether in product advertisements, newspaper editorials, or political electioneering; persuasion is an ever-present element in our daily lives. Logic and reason are essential in persuasion, but they are not the only techniques. The dark arts of persuasion can prey on emotion, greed, and bias. Learning to write persuasively can help our students recognize well-made arguments and help to inoculate them against the more sinister manifestations of persuasion.
Call to Action Example: "Climate change is a pressing issue that affects us all, and it's important that we take action now to reduce our carbon footprint and protect the planet for future generations. As a society, we have the power to make a difference and it starts with small changes that we can make in our own lives.
I urge you to take the following steps to reduce your carbon footprint:
Reduce your use of single-use plastics
Use public transportation, carpool, bike or walk instead of driving alone.
Support clean energy sources such as solar and wind power
Plant trees and support conservation efforts
It's easy to feel like one person can't make a difference, but the truth is that every little bit helps. Together, we can create a more sustainable future for ourselves and for the planet.
So, let's take action today and make a difference for a better future, it starts with minor changes, but it all adds up and can make a significant impact. We need to take responsibility for our actions and do our part to protect the planet."
In this example, the writer gives a clear and specific call to action and encourages the reader to take action to reduce their carbon footprint and protect the planet. By doing this, the writer empowers the reader to take action and enables them to change.
Now, go persuade your students of the importance of perfecting the art of persuasive writing!
A COMPLETE UNIT ON TEACHING FACT AND OPINION
This HUGE 120 PAGE resource combines four different fact and opinion activities you can undertake as a WHOLE GROUP or as INDEPENDENT READING GROUP TASKS in either DIGITAL or PRINTABLE TASKS.
20 POPULAR PERSUASIVE ESSAY TOPICS FOR STUDENTS
Writing an effective persuasive essay demonstrates a range of skills that will be of great use in nearly all aspects of life after school.
In essence, if you can influence a person to change their ideas or thoughts on a given topic through how you structure your words and thoughts, you possess a very powerful skill.
Be careful not to rant wildly. Use facts and other people's ideas who think similarly to you in your essay to strengthen your concepts.
Your biggest challenge in getting started may be choosing a suitable persuasive essay topic. These 20 topics for a persuasive essay should make this process a little easier.
WHY ARE WE FASCINATED WITH CELEBRITIES AND WEALTHY PEOPLE ON TELEVISION AND SOCIAL MEDIA?
IS IT RIGHT FOR SCHOOLS TO RAISE MONEY BY SELLING CANDY AND UNHEALTHY FOODS TO STUDENTS?
SHOULD GIRLS BE ALLOWED TO PLAY ON BOYS SPORTING TEAMS?
IS TEACHING HANDWRITING A WASTE OF TIME IN THIS DAY AND AGE?
SHOULD THERE BE FAR GREATER RESTRICTIONS AROUND WHAT CAN BE POSTED ON THE INTERNET?
SHOULD PROFESSIONAL ATHLETES HAVE TO TAKE DRUG TESTS?
ARE TEENAGE PREGNANCY SHOWS A NEGATIVE OR POSITIVE INFLUENCE ON VIEWERS?
SHOULD GAMBLING BE PROMOTED IN ANY WAY IN SPORTS EVEN THOUGH IT BRINGS IN LARGE AMOUNTS OF REVENUE?
SHOULD SPORTING TEAMS THAT LOSE BE REWARDED BY RECEIVING INCENTIVES SUCH AS HIGH DRAFT PICKS AND / OR FINANCIAL BENEFITS?
SHOULD SHARKS THAT ATTACK PEOPLE BE DESTROYED? SHOULD WE GET INVOLVED IN FOREIGN CONFLICTS AND ISSUES THAT DON'T DIRECTLY AFFECT OUR COUNTRY?
SHOULD WE GET INVOLVED IN FOREIGN CONFLICTS AND ISSUES THAT DON'T DIRECTLY AFFECT OUR COUNTRY?
COULD VIDEO GAMES BE CONSIDERED AS A PROFESSIONAL SPORT?
IF YOU WERE THE LEADER OF YOUR COUNTRY AND HAD A LARGE SURPLUS TO SPEND, WHAT WOULD YOU DO WITH IT?
WHEN SHOULD A PERSON BE CONSIDERED AND TREATED AS AN ADULT?
SHOULD SMOKING BECOME AN ILLEGAL ACTIVITY?
SHOULD THE VOTING AGE BE LOWERED?
DOES PROTECTIVE PADDING IN SPORTS MAKE IT MORE DANGEROUS?
SHOULD CELL PHONES BE ALLOWED IN THE CLASSROOM?
IS TEACHING A FOREIGN LANGUAGE A WASTE OF TIME?
SHOULD WE TEACH ETIQUETTE IN SCHOOLS?
PERSUASIVE PROMPTS FOR RELUCTANT WRITERS
If your students need a little more direction and guidance, here are some journal prompts that include aspects to consider.
Convince us that students would be better off having a three-day weekend . There are many angles you could take with this, such as letting children maximize their childhood or trying to convince your audience that a four-day school week might actually be more productive.
Which is the best season? And why? You will really need to draw on the benefits of your preferred season and sell them to your audience. Where possible, highlight the negatives of the competing seasons. Use lots of figurative language and sensory and emotional connections for this topic.
Aliens do / or don't exist? We can see millions of stars surrounding us just by gazing into the night sky, suggesting alien life should exist, right? Many would argue that if there were aliens we would have seen tangible evidence of them by now. The only fact is that we just don't know the answer to this question. It is your task to try and convince your audience through some research and logic what your point of view is and why.
Should school uniforms be mandatory? Do your research on this popular and divisive topic and make your position clear on where you stand and why. Use plenty of real-world examples to support your thoughts and points of view.
Should Smartphones be banned in schools? Whilst this would be a complete nightmare for most students' social lives, maybe it might make schools more productive places for students to focus and learn. Pick a position, have at least three solid arguments to support your point of view, and sell them to your audience.
VISUAL JOURNAL PROMPTS FOR PERSUASIVE WRITING
Try these engaging, persuasive prompts with your students to ignite the writing process . Scroll through them.
Persuasive Essay Examples (Student Writing Samples)
Below are a collection of persuasive essay samples. Click on the image to enlarge and explore them in greater detail. Please take a moment to read the persuasive texts in detail and the teacher and student guides highlight some of the critical elements of writing a persuasion.
Please understand these student writing samples are not intended to be perfect examples for each age or grade level but a piece of writing for students and teachers to explore together to critically analyze to improve student writing skills and deepen their understanding of persuasive text writing.
We recommend reading the example either a year above or below, as well as the grade you are currently working with, to gain a broader appreciation of this text type.
VIDEO TUTORIALS FOR PERSUASIVE WRITING
OTHER GREAT ARTICLES RELATED TO PERSUASIVE ESSAY WRITING
Teaching Resources
Use our resources and tools to improve your student's writing skills through proven teaching strategies.
WHERE CAN I FIND A COMPLETE UNIT OF WORK ON HOW TO WRITE PERSUASIVE ESSAYS?
We pride ourselves on being the web's best resource for teaching students and teachers how to write a persuasive text. We value the fact you have taken the time to read our comprehensive guides to understand the fundamentals of writing skills.
We also understand some of you just don't have the luxury of time or the resources to create engaging resources exactly when you need them.
If you are time-poor and looking for an in-depth solution that encompasses all of the concepts outlined in this article, I strongly recommend looking at the " Writing to Persuade and Influence Unit. "
Working in partnership with Innovative Teaching Ideas , we confidently recommend this resource as an all-in-one solution to teach how to write persuasively.
This unit will find over 140 pages of engaging and innovative teaching ideas.
PERSUASIVE ESSAY WRITING CHECKLIST AND RUBRIC BUNDLE
The Ultimate Guide to Opinion Writing for Students and Teachers
Top 5 Persuasive Writing Techniques for Students
5 Top Persuasive Writing Lesson Plans for Students and Teachers
23 Persuasive writing Topics for High School students
How to write an advertisement: A Complete Guide for Students and Teachers
How to Start an Essay with Strong Hooks and Leads
The content for this page has been written by Shane Mac Donnchaidh.  A former principal of an international school and English university lecturer with 15 years of teaching and administration experience. Shane's latest Book, The Complete Guide to Nonfiction Writing , can be found here.  Editing and support for this article have been provided by the literacyideas team.
All the Ways to Sway: Exploring and Creating More Complex Persuasive Texts
3. The Structure and Features of Persuasive Texts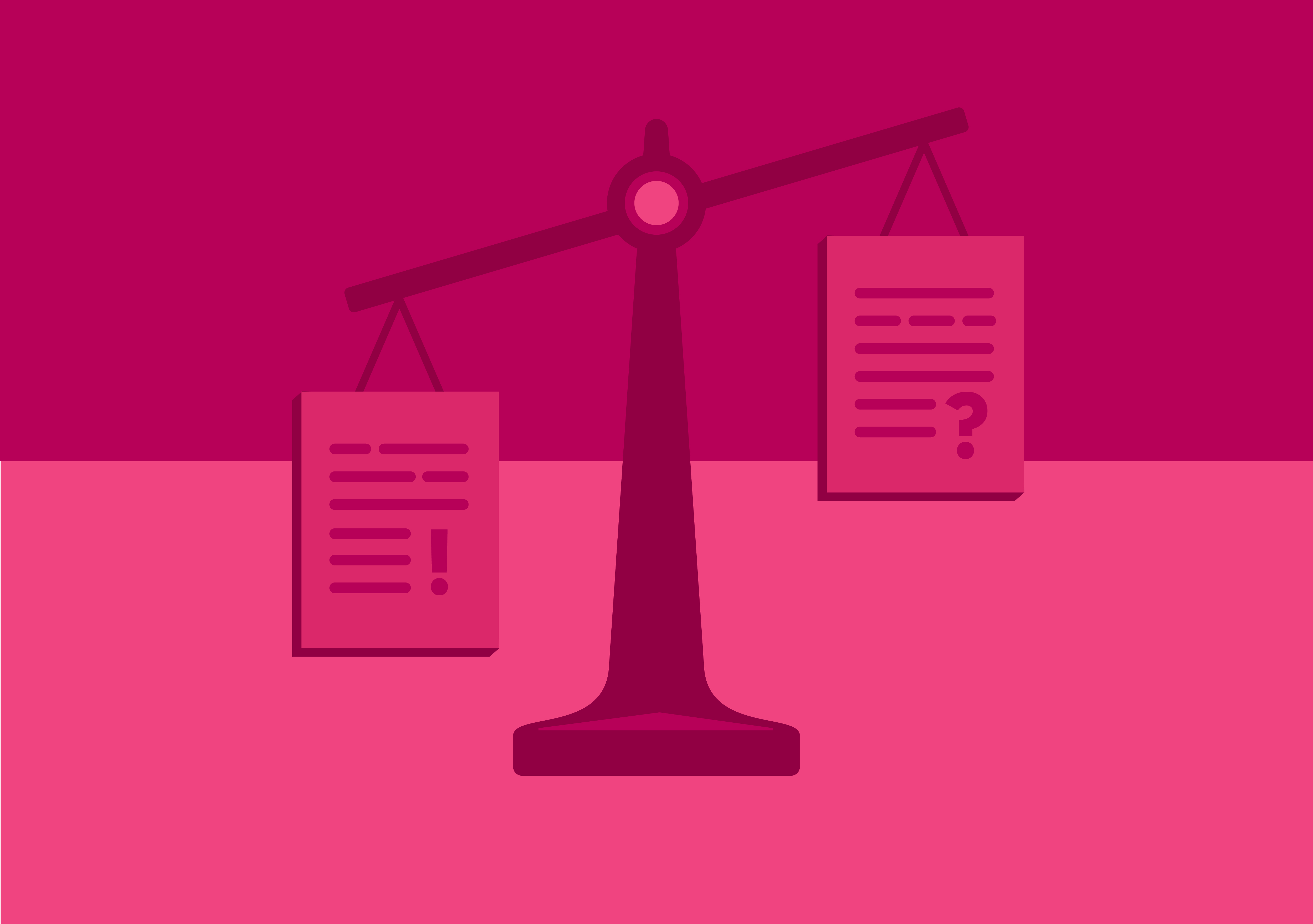 Suggested Learning Intentions
To understand how text structures and language features become more complex in persuasive texts
To understand that the coherence of more complex texts relies on devices that create structure
Sample Success Criteria
I understand how the sequencing of ideas can help to create a strong argument
I can write a topic sentence to introduce the main idea in a paragraph
Selection of formal persuasive texts (suggestions below) 
Persuasive text (picture or chapter book). E.g. 'Young Dark Emu: a truer history' by Bruce Pascoe
Graphic organisers (e.g. characterisation chart: pptx PDF )
Sample sequencing task  (access FUSE with your department credentials)
'Dark Emu' and/or 'Why our kids should learn Aboriginal history' (optional)
 In this stage of the sequence attention is paid to modelling or deconstructing texts to focus explicitly on their text structures and language features. Students will examine how text structures and language features become more complex in persuasive texts and explore underlying structures such as taxonomies, cause and effect and extended metaphors.
Invite students to read two sentences on a similar or related topic that have variations in sentence complexity and density of information.
For example:
Ask students to use a graphic organiser like a characteristics chart to record what they notice about the differences between the two excerpts. 
Invite students to share their thoughts, drawing attention to the differences in text structures and language features as you discuss responses.
complexity of sentence structure 
topic sentences
use of pronouns
use of abstract nouns (see entry for 'noun')
density of information
cause and effect (e.g. revisiting historical observations refutes misperceptions and inaccuracy)
text connectives that contribute to the cohesion of the text (e.g. however)
active and passive voice
coherence (e.g. text openers/opening sentences establishing a line of argument or theme)
Consider annotating each of the excerpts to highlight relevant language structures and features and invite students to add to their graphic organiser as the discussion advances.
Deconstructing persuasive texts
If you have used the 'Get started' section of this stage, provide students with an extended version of the extract that was used to illustrate text structures and features. Alternatively, provide students with an extended piece of formal persuasive writing on a theme of interest. In this instance a chapter from 'Dark Emu' or an article like 'Why our kids should learn Aboriginal history' (Westaway, 2014) would provide thematic continuity and useful content for further analysis. 
Use a combination of strategies such as sequencing and text marking to deconstruct and reconstruct the selected text with your students. 
Provide small groups of students with a printed copy of the text, cut into sections. 
Ask students to highlight key words that indicate sequencing and then to use those words to arrange the sections in an order that 'makes sense'. Invite group members to stand in a line holding the excerpts that indicate their sequencing decisions; compare and discuss the decisions of each group. 
Display a digital or hard copy of the text. Examine the original sequencing and draw attention to key words that imply the sequencing of ideas. For example , before, therefore, however, next, subsequently or then . Introduce the idea of taxonomies , which classify information in order to strengthen an argument.
Annotate the same extended text in collaboration with students to highlight the use of complex text structures and language features to communicate information. For example:
introductory paragraphs
concluding paragraphs
complexity of sentence structure (embedded and subordinate clauses)
taxonomy – hierarchical ordering of information
use of abstract nouns
cause and effect 
Enable students to participate in this task by allowing time for one-on-one or guided small-group analysis of a concentrated extract from the larger text. Explicitly teach new or unfamiliar vocabulary to students prior to the commencement of the stage. Review understanding of concepts such as topic sentences, taxonomy and abstract nouns.
Extend students by offering the opportunity to consider how the text structures and language features of persuasive texts vary in spoken or visual texts. Alternatively, invite students to consider how the use of examples, quotations or the use of evidence strengthens the cohesiveness of an argument.
Students plan and write a formal sentence in response to a prompt or visual stimulus. Ask students to use more than one clause and to include an abstract noun in their sentence. Provide an example before asking students to begin.
'The lack of historical accuracy about the agricultural practices of Aboriginal peoples in Australia /has caused /misperception about how the land was managed.'
Invite students to expand on and incorporate their sentence into a paragraph which includes: 
a plan outlining how ideas will be ordered 
a topic sentence
a range of sentence types
2-3 text connectives, for example: also, furthermore, next, because
Ensure that students are allocated adequate time for planning their sentence/paragraph and consider offering a graphic organiser to support the generation and sequencing of ideas.
Enable students to complete this task by providing sample sentences and/or a template to support sentence construction.
Coote, M., 2020. Azaria: A True History. Melbourne: Melbournestyle Books.
Englishstudyonline.org, 2018. Common Prepositions : List of 100 Most Popular Prepositions. [Online] Available at: https://englishstudyonline.org/common-prepositions/ [Accessed 15 March 2022].
Landbeck, N., 2013. Noun Groups. [Online] Available at: https://www.youtube.com/watch?feature=player_detailpage&v=F1QJRp_QF58&ab_channel=NickLandbeck [Accessed 15 March 2022].
NSW Department of Education, 2016. Connecting: Ideas for teaching and learning activities using graphic organisers and processes. [Online] Available at: http://www.englishtextualconcepts.nsw.edu.au/sites/default/files/graphic%20organiser%20-%20connecting.pdf [Accessed 15 March 2022].
NSW Department of Education, 2020. Identifying and using prepositions. [Online] Available at: https://education.nsw.gov.au/teaching-and-learning/student-assessment/smart-teaching-strategies/literacy/writing/stage-3/sentence-structure/Identifying-and-using-prepositions#Guided0 [Accessed 15 March 2022].
NSW Department of Education, n.d. Prepositional phrases. [Online] Available at: https://education.nsw.gov.au/teaching-and-learning/student-assessment/smart-teaching-strategies/literacy/writing/stage-3/sentence-structure/prepositional-phrases [Accessed 15 March 2022].
NSW Education Standards Authority, n.d. English Glossary. [Online] Available at: https://educationstandards.nsw.edu.au/wps/portal/nesa/11-12/stage-6-learning-areas/stage-6-english/english-standard-2017/glossary [Accessed 15 March 2022].
Pascoe, B., 2014. Dark Emu. Australia: Magabala Books.
Pascoe, B., 2019. Young Dark Emu: A Truer History. Australia: Magabala Books.
State Government of Victoria (Department of Education and Training), 2020. Literacy Teaching Toolkit: Paragraph and text level. [Online] Available at: https://www.education.vic.gov.au/school/teachers/teachingresources/discipline/english/literacy/Pages/paragraph_and_text_level.aspx#link77 [Accessed 15 March 2022].
State Government of Victoria (Department of Education and Training), 2020. Literacy Glossary. [Online] Available at: https://www.education.vic.gov.au/school/teachers/teachingresources/discipline/english/literacy/Pages/litglossary.aspx [Accessed 15 March 2022].
Westaway, M., 2014. The Conversation: Why our kids should learn Aboriginal history. [Online] Available at: https://theconversation.com/why-our-kids-should-learn-aboriginal-history-24196 [Accessed 15 March 2022].
Other stages
1. How and Why Do We Persuade?
To explore the purposes of persuasive texts
To understand how vocabulary is used to persuade in extended and academic texts
To understand the function of abstract nouns in persuasive texts
I can explain some of the purposes of persuasive texts
I can identify the types of vocabulary used in persuasive texts
I can explain the role of abstract nouns in persuasive texts
2. Creating Persuasive Sentences
To understand how punctuation is used to support meaning in complex sentences
To understand how subordinate clauses are used to communicate in-depth information
I can use punctuation to create a complex sentence
I can write a complex sentence to communicate more in-depth information or ideas
4. Modality and Meaning
To co-construct a persuasive text
To understand how modality is achieved using modal verbs, adverbs, adjectives and nouns
I can explain what 'modality' means
I can identify and use specific vocabulary to communicate different shades of meaning
Arts & Music
English Language Arts
World Language
Social Studies - History
Holidays / Seasonal
Independent Work Packet
Easel by TPT
Google Apps
Interactive resources you can assign in your digital classroom from TPT.
Easel Activities
Easel Assessments
Unlock access to 4 million resources — at no cost to you — with a school-funded subscription..
persuasive texts structures
All Formats
Resource types, all resource types, results for persuasive texts structures.
Price (Ascending)
Most Recent
Persuasive Writing Posters
Also included in:  Persuasive Writing Bundle
Persuasive Writing Presentation
Also included in:  Writing Presentation Bundle
Year 3 Persuasive Bump It Up Wall
Also included in:  Opinion Writing Bundle - Year 3
Writing Structure Mats * Distance Learning *
Persuasive Writing
Also included in:  Writing Bundle
Complete Print-and-Teach Persuasive Writing Unit
Argumentative Essay Organizer: Claim, Reasons, Evidence (Includes Fillable PDF)
American Dream Research and Persuasive Essay
Also included in:  The Great Gatsby Unit Bundle
Text Type Posters
Biography Essays: Opinion Persuasive Writing Unit
Also included in:  ELA Reading & Writing Mega BUNDLE
Persuasive Writing Comprehension - Too Much Technology
Persuasive Writing Cut and Paste Pack - Junior Years
Also included in:  Persuasive Writing Junior Years BUNDLE
Writing Burger BUNDLE Persuasive and Narrative
Five-Paragraph Persuasive Essay - Argumentative Writing Prompt with Examples
Also included in:  You Should Try It! Differentiated Persuasive Bundle - Argumentative Writing
Persuasive Text Examples - Ten Reading Samples with Comprehension
Also included in:  Persuasive Text - Reading and Writing Bundle
PERSUASIVE WRITING - TEXT STRUCTURE & LANGUAGE FEATURES: Support Materials
Also included in:  MEGA BUNDLE: PERSUASIVE WRITING
Peer Editing Checklist - Expository or Persuasive
Mentor Text - Persuasive Writing
Also included in:  Persuasive Writing Posters Bundle
Persuasive Essay
Animal Adaptations Activities for Structure and Function of Inherited Traits
Also included in:  Plants and Animals - Adaptations for Structure and Function 1st Grade Science
Fourth Grade Opinion Writing Prompts and Worksheets
Also included in:  Fourth Grade Writing Prompts Bundle - Opinion, Narrative, Informational, How To
Persuasive and Narrative Burger Display EDITABLE
Nonfiction Text Structures Reading Bundle
Persuasive Text Scaffold
TPT empowers educators to teach at their best.
We're Hiring
Help & FAQ
Terms of Service
Trademark & Copyright
Privacy Policy
Student Privacy Policy
Keep in Touch!
Are you getting the free resources, updates, and special offers we send out every week in our teacher newsletter?
We're sorry, this computer has been flagged for suspicious activity.
If you are a member, we ask that you confirm your identity by entering in your email.
You will then be sent a link via email to verify your account.
If you are not a member or are having any other problems, please contact customer support.
Thank you for your cooperation
How to Write a Persuasive Essay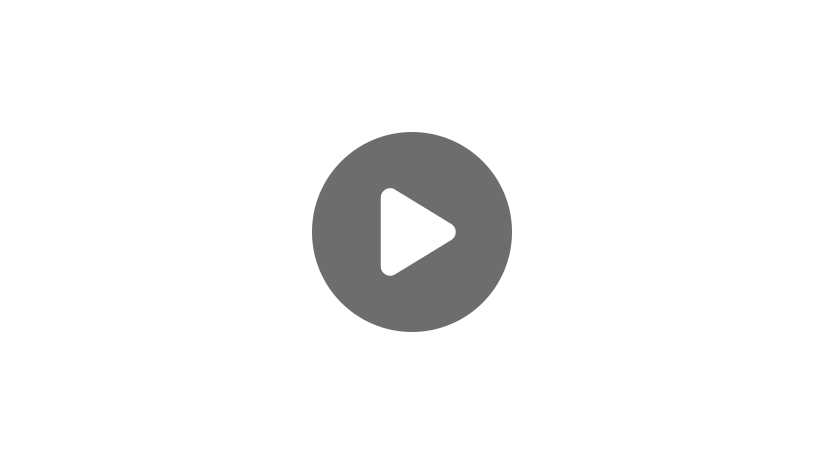 Everyone has disagreements – whether it's "who is the best performer of all time" or "what is the tastiest flavor of ice cream", someone is going to have an opinion that might differ from yours. That doesn't stop us from trying to convince each other of our perspective. This is where persuasive essays come into play. Persuasive writing is used to sway our readers to a certain viewpoint or opinion of the writer. How is that done? Today, well go over the purpose of persuasive writing and how to create an effective persuasive piece. Let's get started!
Persuasive essays, also known as argumentative essays, are texts that are meant to convince the reader of something. There are other things besides essays that can be persuasive, such as speeches and social media posts. From politics to music to arguing why purple is the best color ever – anything can be made into a persuasive text.
But, the focus of this video is persuasive essays. When writing a persuasive essay, there is a structure you can follow to help make your argument clear and effective.
The essay is typically made up of 3 main sections: the introduction , the body , and the conclusion. To write an effective persuasive essay, each section should contain specific points you want to discuss.
The introduction paragraph of your essay should always introduce the topic you will be discussing. A good introduction paragraph will also have a hook, which is a sentence that grabs your readers attention. Once you have your hook, you will state your thesis. A thesis is the main point or argument you want to prove in your essay. Every persuasive essay must have a thesis. Lastly, you should always end each section of your essay with a concluding sentence. This is a sentence that wraps up the end of a paragraph and helps transition into the next paragraph.
Let's look at an example of an introduction paragraph of a persuasive essay.
Long ago, ancient Egyptians worshiped cats. They believed they were godly creatures. Today, cats are still very beloved, but as household pets. Some cats aren't so lucky; there are many cats who have yet to find their forever home. Cats are amazing animals that you should consider adopting because they are very intelligent, have an urgent need to be placed in a home, and make great companions. These are just a few reasons I'll discuss as to why cats should be protected.
This introduction paragraph had a hook, it grabbed our attention by talking about ancient cats, and related it to cats today.
We see there is a thesis, the writer believes we need to adopt homeless cats, ideally from shelters, and gives three reasons why.
Lastly, they concluded the introduction paragraph by saying they would give more details about their reasons.
Next comes the body paragraphs. The body of a persuasive essay holds all the main points you as the writer want to argue. It's best to separate your points by paragraphs; so, if you have three main arguments, you should have at least three body paragraphs explaining them in detail. When you argue your points in the paragraph, you must make sure to explain why these reasons support your thesis. Let's look at an example.
Cats are very smart animals. Despite what many people think, cats do in fact know their names and will react when you call out to them. They are also great at solving problems. Cats can easily get bored, when that happens, they may act mischievous. That's why cats have puzzle toys to stimulate their curious minds. Such a smart animal should be able to have a safe home to live and play in peace.
Secondly, cats that end up in shelters don't always find good homes. Pet shops are popular places to get cats as pets. When you get a cat from a pet shop, it will live there until it finds a good home. In shelters however, they can become packed with cats who haven't found a home. Unfortunately, some shelters resort to euthanizing the animals when they run out space for new ones. For people who are interested in helping a cat find a home, why not consider getting one from a shelter instead?
Lastly, despite their bad reputation, cats are very friendly. Cats of all ages are able to cuddle with their owner and other pets. Some cats, just like people, need time to get used to you, but once they do, you'll find you have a great couch-surfing buddy that keeps you company. Cats are also low maintenance pets, and are cleaner than most roommates. Just another reason to consider bringing a cat to your home.
We can see here that the author addressed the 3 main reasons that support the thesis with 3 body paragraphs. Each paragraph began with a transition word or hook, then it went into detail to support the reason, and lastly, it ended the paragraph with a concluding sentence.
The conclusion of a persuasive essay is a summary of all the points mentioned earlier that wraps up the essay and often includes a catchy ending to drive the point home.
Whether you have been thinking of adopting for a long time or just considered it, cats everywhere are in need of a home. What better way to help an intelligent animal in need and make a new friend than to adopt a shelter cat!
As we can see, conclusion paragraphs don't need to be super long. As long as they summarize the overall thesis and arguments of the essay, it is an effective closing to a persuasive essay.
As you're writing the essay, there are a few tips and tricks to keep in mind to make sure your persuasion is more effective:
Repetition – Don't say the same thing so many times that you start to sound redundant, but find ways to bring back your main argument throughout the essay. Your readers and listeners will remember your argument better if you repeat and emphasize it throughout the piece.
Real-world examples – Whether you are using data, emotions, or credibility to drive your point home, you should try to always use real-world examples to further persuade your readers.
Call to action – A good thesis in a persuasive essay is a statement that asks the reader to do something. Think hard about what you want to convince people of and narrow that action into one clear sentence. The rest of your essay should revolve around that.
Okay, let's quickly review everything we talked about to wrap up.
The main purpose of a persuasive essay is to persuade the reader to a certain viewpoint or opinion of the writer. The essay will have an introduction paragraph that introduces the main argument, multiple body paragraphs that discuss sub-arguments that support the main argument, and a conclusion that wraps things up. And finally, if you want to make your persuasion more effective, remember to repeat your main argument throughout the paper, try to use real-world examples to support your points, and make your thesis a call to action.
That's all for this review! Thanks for watching, and happy studying!
Return to Writing Videos
by Mometrix Test Preparation | This Page Last Updated: February 17, 2023
Teach Starter Teach Starter
Search  everything  in all resources
Persuasive Text Structure Posters
Posters to help introduce the basic structure of persuasive writing.
Understanding the structure of persuasive writing can be difficult for young children to grasp. This simple and effective teaching resource includes 3 sets of posters:
5 x posters detailing the contents of each paragraph in persuasive writing (introduction, three arguments and conclusion) as well as some sentence starters.
Dogs Make the Best Pets.
Homework is Unnecessary.
Laminate and display these posters as a visual reminder to your students about what is needed in persuasive writing.
Create short imaginative, informative and persuasive texts using growing knowledge of text structures and language features for familiar and some less familiar audiences, selecting print and multimodal elements appropriate to the audience and purpose...
Plan, draft and publish imaginative, informative and persuasive texts demonstrating increasing control over text structures and language features and selecting print,and multimodal elements appropriate to the audience and purposeElaborationsusing pri...
Plan, draft and publish imaginative, informative and persuasive texts containing key information and supporting details for a widening range of audiences, demonstrating increasing control over text structures and language featuresElaborationsusing re...
Identifies how language use in their own writing differs according to their purpose, audience and subject matter
Plans, composes and reviews a range of texts that are more demanding in terms of topic, audience and language
Create short imaginative, informative and persuasive texts using growing knowledge of text structures and language features for familiar and some less familiar audiences, selecting print and multimodal elements appropriate to the audience and purpose
Plan, draft and publish imaginative, informative and persuasive texts demonstrating increasing control over text structures and language features and selecting print and multimodal elements appropriate to the audience and purpose
Plan, draft and publish imaginative, informative and persuasive texts containing key information and supporting details for a widening range of audiences, demonstrating increasing control over text structures and language features
Create and edit short imaginative, informative and persuasive written and/or multimodal texts for familiar audiences, using text structure appropriate to purpose, simple and compound sentences, noun groups and verb groups, topic- specific vocabulary, simple punctuation and common 2-syllable words
Plan, create, edit and publish imaginative, informative and persuasive written and multimodal texts, using visual features, appropriate form and layout, with ideas grouped in simple paragraphs, mostly correct tense, topic- specific vocabulary and correct spelling of most high-frequency and phonetic
Plan, create, edit and publish written and multimodal imaginative, informative and persuasive texts, using visual features, relevant linked ideas, complex sentences, appropriate tense, synonyms and antonyms, correct spelling of multisyllabic words and simple punctuation
Teach Starter Publishing
We create premium quality, downloadable teaching resources for primary/elementary school teachers that make classrooms buzz!
Find more resources like this
12 Comments
Write a review to help other teachers and parents like yourself. If you'd like to request a change to this resource, or report an error, select the corresponding tab above.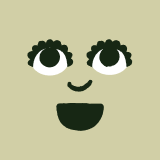 I am LOVING it. This will be so useful. Thank you.
You're most welcome, Zuriette!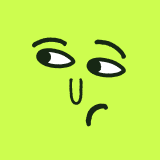 Are these available as a PowerPoint presentation?
Hi Marcus, thanks for your suggestion. Please feel free to request a resource here: https://www.teachstarter.com/request-a-resource/ Requests are voted on by the Teach Starter community. We create the top request each week. Please let me know if you have any further questions, I'm more than happy to help.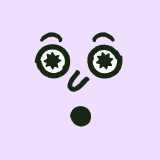 Is there one for Narrative writing too? Love this and have used it with my class this year so far .
Hello Brooke, While we don't have a narrative poster set in the same style as this resource, we do have a huge narrative writing collection here: https://www.teachstarter.com/au/teaching-resource-collection/narrative-writing/ I'm sure you will find something to help you out in this collection. If there is anything else I can assist you with, please don't hesitate to contact me.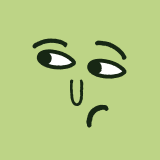 Works really well as an example and a reference on the wall. Kids look at them all the time!
Hi Emilie, Thank you for your lovely comment. I am so glad you are enjoying our resources.
I have displayed these posters on my WAGOLL writing wall. My students constantly refer to them to support the structure of their persuasive texts. I'm wondering if you have similar posters for narrative and other text types? They're excellent for continued reference by students.
Hi Lyn, thanks so much for your comment. I'm so glad you find this resource helpful. Feel free to request a resource for the other text types - https://www.teachstarter.com/request-a-resource/.
this is awesome... thanks!
Thanks for your lovely feedback Lauren! We are glad this resource will be helpful. Kind Regards, Holly
Suggest a Change
Would you like something changed or customised on this resource? While our team makes every effort to complete change suggestions, we can't guarantee that every change will be completed.
Report an Error
Did you spot an error on this resource? Please let us know and we will fix it shortly.
Are you having trouble downloading or viewing this resource? Please try the following steps:
Check that you are logged in to your account
For premium resources, check that you have a paid subscription
Check that you have installed Adobe Reader ( download here )
If you are still having difficulty, please visit the Teach Starter Help Desk or contact us .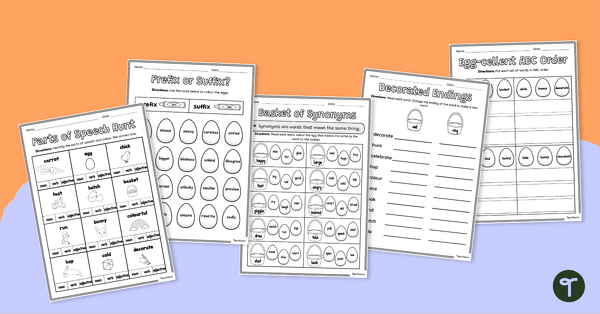 teaching resource
Easter worksheets - grammar practise.
Practise skills learnt in literacy with this Easter-themed grammar activity pack.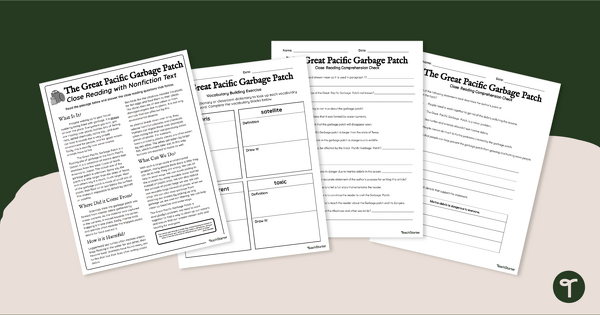 Comprehension Worksheets - The Great Pacific Garbage Patch
Read to learn about the Great Pacific Garbage patch with a printable reading comprehension worksheet pack.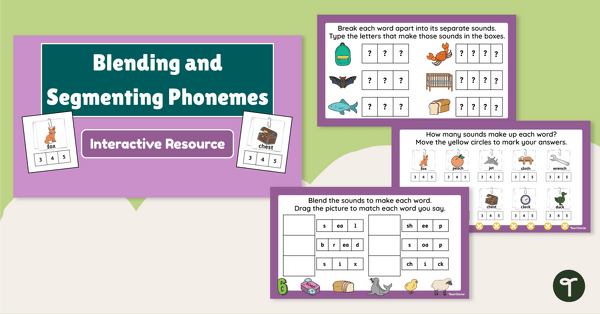 Blending and Segmenting Phonemes - Interactive Activity
Practise blending and segmenting phonemes in common words with this engaging interactive activity.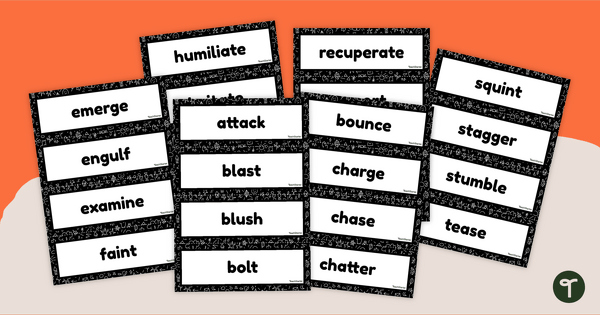 Strong Verbs Word Wall
Print a set of strong verbs word wall cards to help your students boost their writing skills!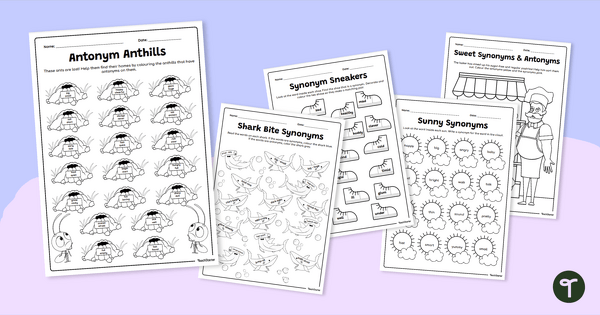 Synonyms and Antonyms - Worksheet Pack
Practice identifying and using synonyms and antonyms with five fun vocabulary worksheets.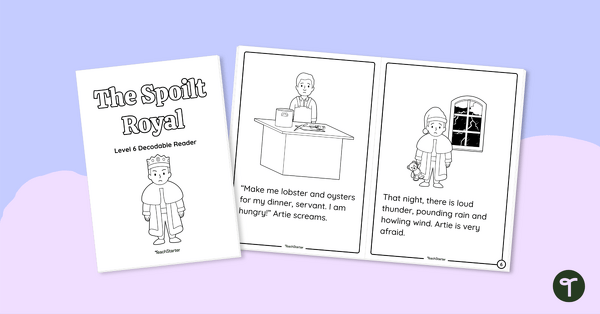 The Spoilt Royal - Decodable Reader (Level 6)
Develop confident, successful readers with this phonics-based, printable decodable book.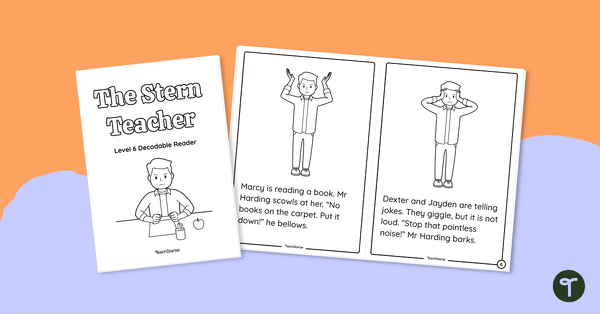 The Stern Teacher - Decodable Reader (Level 6)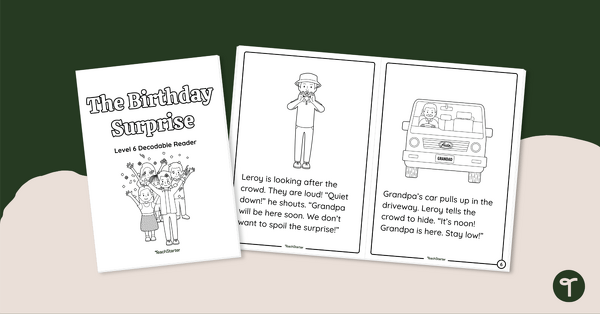 The Birthday Surprise - Decodable Reader (Level 6)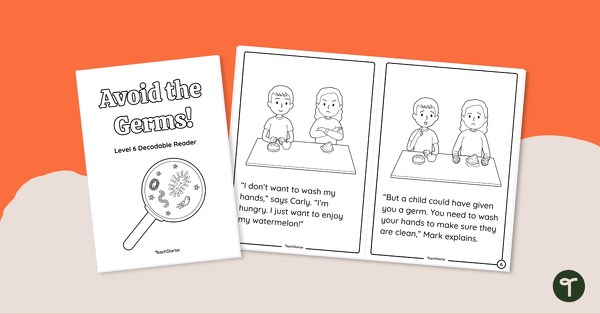 Avoid the Germs! - Decodable Reader (Level 6)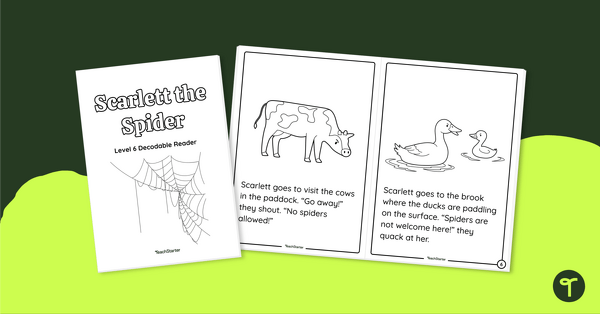 The Homeless Spider - Decodable Reader (Level 6)
Reading Rockets
Research, Guides and Resources
Our PBS Shows
Persuasive Writing
More writing strategies
Why teach persuasive writing?
As children mature as writers, it's important to give them the opportunity to write using a variety of formats. Persuasive writing helps students formulate specific reasons for their opinions, and provides an opportunity to research facts related to their opinions. As students develop an understanding of how writing can influence or change another's thoughts or actions, they can begin to understand the persuasive nature of the marketing they are exposed to through television, the Internet, and other media.
How to teach persuasive writing
Have students listen to or read examples of persuasive writing. Together, listen and look for words, phrases and techniques that helped the writer persuade the listener.
Brainstorm something that is important to an individual child or the group. Is it extra recess? Another chapter of the read aloud? The potential closing of a library? The more authentic the issue, the more passionately your students will write.
Once the important privilege is chosen, have the child (or class) start to list reasons why they should be allowed this privilege. "Just because," and "because I like it" should not be considered valid reasons. Students can work together to generate at least three good reasons to support an argument. This list of persuasive words and phrases from the site Teaching Ideas may help get students started.
Have students do some research to gather facts or examples that support their reasons.
Have students summarize their position.
Here's a persuasive letter written by an elementary school student from Crozet, VA:
Watch: Bubble Gum Letters
Create an authentic writing opportunity that motivates students to write persuasive letters to a target audience. See the lesson plan .
This video is published with permission from the Balanced Literacy Diet . See related how-to videos with lesson plans in the Text Structures and Genres section as well as the Writing Processes and Strategies section.
Collect resources
Language arts.
This persuasive writing lesson from ReadWriteThink uses the Beverly Cleary book Emily's Runaway Imagination as the springboard for kids to write letters to a librarian urging the addition of certain titles to the library. A Persuasion Map Planning Sheet guides students through steps similar to what is described above.
This resource shows the lifecycle of writing a persuasive letter to a child's parents about where to vacation for the summer. The PDF begins with the brainstorming, moves through drafting, editing, and publishing of the final letter.
Health/Science
From Writing Fix, here's a speech writing lesson that uses the mentor text Otto Runs for President in conjunction with the RAFT strategy. In this lesson, students assume to the role of a talking fruit or vegetable. Pretending that there's a "Fruit/Vegetable of the Year" election, the students will create a campaign speech that explains why their fruit/veggie is the best candidate for the job.
Differentiated instruction
For second language learners, students of varying reading skill, students with learning disabilities, and younger learners.
Have students work in small groups to generate their ideas and do the research.
Offer various suggestions for how students can share their argument: e.g., a debate format, a "soapbox" in the classroom, or letters to the editor of the newspaper.
See the research that supports this strategy
Wollman-Bonilla, J. (2000). Family message journals: Teaching writing through family involvement . Urbana, IL: National Council of Teachers of English.
Children's books to use with this strategy
Emily's Runaway Imagination
Emily Bartlett lives in an old farmhouse in Pitchfork, Oregon at a time when automobiles are brand-new inventions and libraries are a rare luxury. Can Emily use her lively mind to help bring a library to Pitchfork? ReadWriteThink offers a persuasive writing lesson plan featuring this book.
Otto Runs for President
When Otto runs for school presidency, he must defeat some underhanded techniques used by his opponents. What might convince the students that Otto is the best candidate for the job?
How Oliver Olsen Changed the World
Oliver Olsen learns how to change his own world as the engaging third grader works on a school science project. The telling (third person) is natural and the situations plausible. The story can be retold using transition words to emphasize or identify individuals' favorite (or most memorable) parts.
The Storyteller's Candle
This is the story of librarian Pura Belpré, told through the eyes of two young children who are introduced to the library and its treasures just before Christmas. Lulu Delacre's lovely illustrations evoke New York City at the time of the Great Depression, as well as the close-knit and vibrant Puerto Rican community that was thriving in El Barrio during this time. Bilingual Spanish-English text.
Click, Clack, Moo: Cows That Type
Farmer Brown has his hands full when the cows on his farm get a typewriter. Duck, however, negotiates successfully for all parties in this very funny farm story of very clever animals. Be prepared to talk about typewriters or take a trip to a museum to see one!
Martin's Big Words: The Life of Dr. Martin Luther King, Jr.
Martin Luther King Jr. grew up fascinated by big words. He would later go on to use these words to inspire a nation and call people to action. In this award-winning book, powerful portraits of King show how he used words, not weapons, to fight injustice.
I would also the Duck series (Duck for President) and the Pigeon Series (Don't Let the Pigeon Drive the Bus) as books to use!
Thanks for this, it really helped!
This is a good site and very helpful to my son.
I agree with all of these
very good website
Add comment
More information about text formats
No HTML tags allowed.
Web page addresses and e-mail addresses turn into links automatically.
Lines and paragraphs break automatically.
New and Popular
Our Literacy Blogs
Reading SOS
Tips from experts on how to help your children with reading and writing at home.
Target the Problem
Pinpoint the problem a struggling reader is having and discover ways to help.
FAQs About Reading
Real questions from parents and educators, answered by experts.
Literacy Apps
Find the best apps for building literacy skills.
Book Finder
Create your own lists of fiction and nonfiction children's books. We have more than 5,000 books in our library!