Writing Tools
Example Essays
Citation Generator
Flash Card Generator
Caste System
Contemporary India&nbspEssay
Excerpt from Essay :
Thus, the country is facing the challenge of sustainable development as the population growth is huge causing the deterioration of environment. There is a need to design policies that could encourage development without destruction of environment and natural resources. It is not an untold secret that the economic development process in any country can speed up or lessen with the presence or shortage of favorable natural resources. Presently, the overall world population is about 7 billion. India alone contributes more or less 1200 million people to this total. According to an estimate, the total population of the country by 2016 would be 1.26 billion which suggests that by 2050, China would be left behind by India and India will become the world's most populated country (Nagdeve, 2007). However, this population increase in extremely alarming as there is a lot of pressure on the country's natural resource . Water resources are becoming short, soil has started to exhaust and a number of areas have been afflicted by pollution ( land , air, water , noise) and deforestation . Thus, is the population growth in India continues at the same rate, there would be devastating consequences on the environment of the country. The absence or lack of resources simply means that there is no further development in the country if immediate steps are not taken (Nagdeve, 2007). The emergent population trends and resulting food, energy and accommodation requirements have greatly made distortions in land-use practices thereby causing severe damage to the forestry and environment in India. There is a huge pressure put by increasing population on the extensification of land by cutting down forests and grazing fields. As a consequence, the population is far higher than the food resources and food demands cannot be met (Nagdeve, 2007). There are a number of steps taken by the Indian government to put a control to population growth. India was the first country that adopted family planning as a major component of its development policy. In 1976, the Indian government successfully conducted a sterilization program but eventually the target of decreasing fertility rate could not be achieved. America has also supported India to control its population. On the other hand, people in India are not much inclined towards family planning. Various campaigns have been held for encouraging people to go for vasectomy or tubectomy. However, the disinterest of a majority of Indian population has never made such campaigns successful. Even though the Indian government also paid compensations to people who did family planning, there has been no drastic change in the population growth after the Independence. It is exceedingly necessary for the government of India to do something about controlling its population as China has done such as One-Child Policy. This is important because the consequences would be devastating for the country in the next few decades. There are a number of measures that can be implemented in order to control population growth in India. Many of them have been adopted by China and the results were successful. Such measures include late marriages, education and awareness regarding the demerits of population growth, self-restraint, encouragement of urbanization (people in urban areas prefer small families), family planning, reduction in infant mortality rate etc. (Jain & Ohri, 2006). India and Religious Diversity The Indian land is characterized because of its miscellaneous and assorted deep religious diversity . It is not an untold secret that this diversity has been managed by the Indian states instead of liquidating it. The contemporary Indian State has inherited this legacy as it had to go through the management of religious diversity after Independence in an era of patriotism and social equality under new circumstances. As a consequence, the Indian state developed a unique and distinct idea of political secularism so that it could deal with both inter- and intra- religious supremacy at the same time. Indian state has dealt with religious diversity by adopting a neutral policy. It does not exclude itself from religious matters/issues. At the same time, it does not separate itself from interfering in them. It can be said that as a secular state, India has developed a principled distance policy so that religious diversity can be managed successfully. This policy consists of neither showing active disregard/contempt towards any religion nor passive respect towards them (Berman, Bhargava & Laliberte, 2013). It has been able to maintain an unyielding approach of decisive reverence. It is also important to mention here that "India cannot be defined as an incremental secular state because the republic's founders staunchly resisted proclaiming an established religion" (Berman, Bhargava & Laliberte, 2013). The Indian government has always been committed to promote and encourage multiple values such as autonomy and equal opportunity . It is a striking feature of Indian secularism that it not only supports individuals but also supports religious communities to be independent and autonomous. Basic values that strengthen a society are encouraged so that all the different religious communities in the Indian society can live peacefully and with tolerance. India has always demonstrated an honest intention to allow the individuals to recognize and own up their religious beliefs as…
Sources Used in Documents:
References Berman, B.J., Bhargava, R., & Laliberte?, A. (2013). Secular States and Religious Diversity. Vancouver: UBC Press. Print. Chakrapani, C., & Kumar, S.V. (1994).Changing Status and Role of Women in Indian Society. New Delhi: MD Publications. Print. Chowdhuri, J.P. (2012). Caste System, Social Inequalities and Reservation Policy in India: Class, Caste, Social Policy and Governance Through Social Justice. Saarbru-cken, Germany: Lambert Academic Publishing. Print. Jain, T.R., & Ohri, V.K. (2006). Indian Economy: Issues in Economic Development and Planning in India and Sectoral Aspects of Indian Economy. New Delhi: V.K. Publications. Print. Singh, I. (2012). Social Norms and Occupational Choice: The Case of Caste System in India. Indian Journal of Economics and Business, 11(02), 431+. Retrieved December 11, 2013, from http://www.questia.com/read/1G1-305082899/social-norms-and-occupational-choice-the-case-of
Cite this Document:
"Contemporary India" (2013, December 11) Retrieved March 7, 2023, from https://www.paperdue.com/essay/contemporary-india-179547
"Contemporary India" 11 December 2013. Web.7 March. 2023. < https://www.paperdue.com/essay/contemporary-india-179547 &gt
"Contemporary India", 11 December 2013, Accessed.7 March. 2023, https://www.paperdue.com/essay/contemporary-india-179547
Related Documents
India Population and Life Expectancy
Population and Life ExpectancyAbstractIsabell Clerk writes about the anthropological study of India using a collection that is neither a primary review of various topics addressed over the years nor a survey of contemporary work. Instead, she uses a timely investigation of rapid changes within Indian society. She shows the various information collected on population, referred to as caste, and is a prerequisite composition of factors affecting Indiaís demographic growth. This
India's Emerging Power Foreign Economic
During the 1980s, to help spotlight international concern regarding the unprecedented nuclear arms race, India joined the Six-Nation Five-Continent joint. Amidst India's resolve to maintain its commitment to nuclear disarmament, it consistently opposed discriminatory treaties like the Nuclear non-Proliferation Treaty (NPT) and Comprehensive Nuclear Test Ban Treaty (CTBT); holding its nuclear options while other countries hold their nuclear weapons/options (India's Foreign Policy… 2010). Another contemporary concern involves the fact that different departments report different
Modern and Contemporary Literature and Culture
Culture English writing has taken a new evolutionary path in its development since Independence. India was observed post-colonially by English writers of Indian origin. While new ideas were being developed, emphasis was placed on religious, socio-economic, filial, and political problems as talking points; these issues captured the national movement sensation and attracted the attention of creative writers. Events like the partition and the resulting communal riots following it, coupled with the
The Antecedents of Anti Pentecostalism in North East India
The Challenges and Opportunities Facing Pentecostal Groups in North-East India With an enormous population already exceeding 1.28 billion and growing every day, India is the second-most populous country in the world today, and may outpace China's 1.38 billion people in the foreseeable future. Although nearly 80% of India's population, or about 1.2 billion people, are practicing Hindus, there are several other major religions with significant representation in the country as well,
Anti Christian Violence in India Pentecostal Victims
1) What are the main arguments of the author? The main arguments of the author are that Pentecostal Christians are the victims of violent attacks in India at a rate that is inordinately high. Yet the subject receives little attention either in the mainstream press or in the Indian media. It appears that there is a cultural hostility directed towards Christians in general in India and towards Pentecostalism in particular. The
Analyzing India's Business Potential
1. Part I: Study objectives Although the objective for this study is singular, it encompasses multiple dimensions. Comprehensively, it seeks to examine the role of business management within contemporary India. Therefore, the notion of management is couched within the modern business climate in India. India has always had a bevy of unique characteristics that substantially affect its workplace environment. This study seeks to stratify many of those characteristics and analyze them within
Essays on Contemporary India
Bipan chandra.
323 pages, Hardcover
About the author
Ratings & Reviews
What do you think? Rate this book Write a Review
Friends & Following
Community reviews, join the discussion, can't find what you're looking for.
Difficult Dialogues: A compendium of contemporary essays on gender inequality in India
Content from the Brookings Institution India Center is now archived. After seven years of an impactful partnership, as of September 11, 2020, Brookings India is now the Centre for Social and Economic Progress , an independent public policy institution based in India.
This collection of essays emerged out of ideas and presentations at the Difficult Dialogues conference on Gender Equality in February 2018, where Brookings India was a knowledge partner. Aashima Dogra, Anita S McMillan, Charu Anand, Manisha Priyam, Mrinal Shah, Nandita Jayaraj, Nilisha Vashisth, Prakash Gus, Prerna Sharma, Sanjay Kumar, Shamika Ravi, Shreyasi Jha & Surina Narula have contributed to this volume.
Existing literature has documented a significant gender gap in various sectors including health, labour market opportunities, education and political representation in India. The objective of this compendium is to move the gender policy focus towards the underlying trends and causes of these gender gaps. In particular, we highlight three areas of interaction of gender inequality with modern Indian society. The first three essays in this book explore the relationship between gender and electoral politics including women as voters, as candidates and as agents of change. The second part of the compendium includes essays on gender inequality in opportunities through labour market and education. Within the education space, we particularly analyse the area of science and higher education within India. The final chapter in the compendium focuses on street children, particularly girls, as a very vulnerable section with multiple risk factors at play. Each essay makes specific policy recommendations to alleviate gender inequality within a specific area.
The objective of this compendium is to move the gender policy focus towards the underlying trends and causes of these gender gaps. In particular, we highlight three areas of interaction of gender inequality with modern Indian society.
There is a growing literature within development economics with focus on gender inequality in India. Duflo (2012) provides an excellent overview of the literature by reviewing the relationship between gender inequality and economic development. In contrast to existing literature which finds stark persistence in gender inequality over time in various outcomes, in this compendium, we also report some positive phenomenon. One such remarkable trend is the sharply declining gender bias in political participation measured by voter turnout across states of India, consistent over several decades. We document the growing political empowerment of women voters in India. The reason why this is an important development is, as we discover in our research, because it is not an outcome of any specific top down policy intervention targeting female voters. Our research shows that this is largely by the voluntary act of self-empowerment of women across India.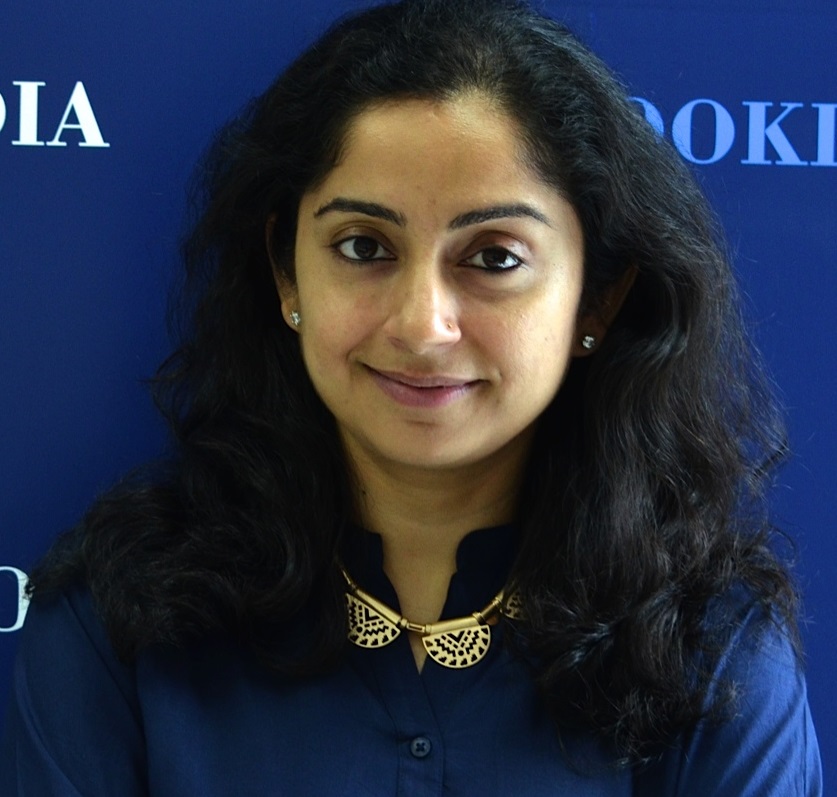 Shamika Ravi
Nonresident senior fellow - governance studies.
There is a vast literature in politics which establishes the necessity of universal suffrage for representative democracy. And yet, while advocating universal suffrage, James Mill had argued that in order to keep expense of representative system down, women need not have separate voting rights because their interests were included within those of their husbands and fathers (Ryan 2012). This was later criticized by T B Macaulay who said, 'ÄúWithout taking the trouble to perplex the issue with a single sophism, he calmly dogmatises away the interests of half the human race.'ÄĚ We study the data on Indian elections over the last 50 years and explore the increasing significance of women voters in a democracy. Our study contributes to the existing literature on female empowerment by analysing the role of women as voters. It is a critical area of research as women voters comprise a significant share in any election within India'Äôs representative democracy. And a vote is a formal expression of an individual'Äôs choice for a particular candidate or political party within a democratic system. We find that systematically the gender bias in voting is being reduced, over time and across all states of India. Voluntarily, more and more women electors are actually casting their votes. We interpret these results as a testimony to self-empowerment of women voters in Indian democracy.
Our study contributes to the existing literature on female empowerment by analysing the role of women as voters. It is a critical area of research as women voters comprise a significant share in any election within India's representative democracy.
But does increased women voter participation have any impact on the electoral outcomes in Indian elections? This is where, we provide empirical evidence of women voters in India as 'Äėagents of change'Äô. Our analysis shows that women voters have distinct voting behaviour from their fathers and husbands. Using a natural experiment setting, we provide evidence which shows that in the same election, while women overwhelmingly voted for change, the men voted for status quo in the constituencies. The compendium also explores the role of women as political candidates in elections. We have very counterintuitive results which show that women are more likely to contest elections in relatively backwards places with lower sex ratios, rather than progressive places with higher sex ratios in the population. We provide careful reasoning using data from all assembly constituencies across India over 50 years. Finally, we also discuss whether reserving quotas for seats in parliament (and assemblies) will improve the representation of women in India democracy. We show that given the framework of electoral politics, reservations for women is unlikely to have any immediate impact. However, we also make a case for why women'Äôs reservations could be considered a necessary legislative 'Äúexternal shock'ÄĚ which can take Indian democracy towards a more equitable representation of women in the long term.
While it is a positive trend in itself, this increased turnout of women voters in India has not yet converted into greater representation of women at the central or state level. The lack of representation at the Parliament and the State Assemblies comes in the way of highlighting and addressing the grievances of women as a social group. India continues to perform poorly on the United Nations' Gender Inequality Index, ranked lower than several of her neighbouring countries. These countries have begun to perform better due to several reasons, but also by ensuring reservation of seats for women, recognising them as a historically subjugated class of citizens.
While India gave all its citizens the right to suffrage simultaneously, due to the orthodox and patriarchal set up of the Indian society, women did not emerge as a strong voter constituency. Much of the progress came from the imperatives of designing policy in line with the Fundamental Rights and the non-justiciable Directive Principles of State Policy, for example, equal pay for equal work, safe working environment and maternity leave. The last decade, however, has had a different story unfolding where the 17% gender gap recorded in the Parliamentary election of 1957 has been reduced to little over 1% in 2014. This trend has been complimented with an associated increase in women standing up for elections. This explains the recent surge in states considering or passing bills that target women voters are a witness to this finding, for example, liquor bans, widow pensions and policies targeting girl education in various states.
While the gender gap in voting is closing fast, there remains a significant gender gap in the proportion of voters who voted independently. About two-thirds of women report consulting family, friends or colleagues when considering how to exercise their vote as against just one-third of men. However, the extent of political socialisation is greater among men with many reaching out to people outside of their immediate family. This could possibly explain why women as a group'ÄĒand by extension their issues'ÄĒ still don'Äôt constitute a vote bank for politicians. The argument is that, since women'Äôs voices and concerns don'Äôt find space in the political discourse, their presence in the political sphere remains marginal even today. The question about what tectonic shifts in the Indian democratic landscape caused a pink revolution of sorts in terms of women turnout continues to be a labyrinth'ÄĒ with a number of factors interplaying with each other. However, it is certain that this silent revolution is no longer going unnoticed by the political parties in India.
While the gender gap in voting is closing fast, there remains a significant gender gap in the proportion of voters who voted independently.
The historic 73rd and 74th constitutional amendments not only embarked India on a route of decentralised governance'ÄĒ a recognition of the fact that governance should be responsive to the local contexts'ÄĒbut also a momentous time for the women in public life. While the 73rd amendment dealt with rural areas and established the three tier Panchayati Raj Institution (PRI'Äôs) , the 74th amendment ensured local governance in urban areas by establishing urban local bodies (ULB'Äôs). The constitutional amendment mandated that at least a third of all members and chairpersons at all the levels of PRI be women. This quota for women further intersected with reservation for people from the historically disadvantaged sections, such as, the scheduled castes (SC'Äôs) and the scheduled tribes (ST'Äôs) resulting in a double-edged emancipation of sorts.
In India's context, state with greater percentage of rural landscape often also have poor socio-economic indicators, especially, among women. In this compendium, we have a chapter focused on how the magnitude of increase in female voter's turnout was distributed across states of India. We find that the greatest increase was among the traditionally backward North Indian states. The impact of PRI's on the various dimensions of political participation of women cannot be discounted. Seeing the positive impact of PRI's on a number of indicators of female empowerment and the likely impact on the self-perception of leadership skills among women, most Indian states passed state level bill mandating 50% reservation of seats at all levels of PRI for women. Equipping women with leadership skills, however, is simply not enough. The chapter also finds that while there is an increase in agency for women on domestic issues, it does not always translate into greater economic independence. It is encouraging that states like Haryana and Rajasthan have gone so far as to experiment with the minimum qualification for elected women representatives of PRIs. Minimum eligibility norms such as a two-child policy, toilet construction at home, and minimum education up till class 10 for General Category women (class 8 for SC/ST women) will incentivise a progressive change in social norms within local communities. Recently, the Rajasthan government further allowed leprosy patients to contest PRI elections if they met other eligibility criteria. We cannot ignore the fact that as a result of such policies, households and the community at large will be encouraged to keep female children in school which may further result in progressive changes in demographic indicators such a child sex-ratio.
In this compendium, we have a chapter focused on how the magnitude of increase in female voter's turnout was distributed across states of India.
Moving on to gender inequalities in opportunities, this compendium has two chapters focused on wage gap in the labour market and inequalities in opportunities within the higher education sector of India. A wide gender pay gap is a pinching reality for women across the globe, it is not peculiar to India alone. The extent of discrimination varies across regions and ethnicity. Monster Salary Index finds that Indian women on average earn about a fifth less than men performing the same job. While this is naturally discouraging for a young and aspiring country like India where a large number of women are educated and trained to join the job market, this is also consistent with global trends. Such disparities not only discourage market entry but also strengthen regressive gender norms apart from encouraging gender based occupational sorting'Äďwomen systematically taking up jobs that are not considered, stereotypically, challenging or competitive; roles that are seen as cut out for women due to the lack of their masculine character, such as, teachers, receptionists, and nurses. Wage parity would encourage a greater number of women to enter the job market besides pulling a number of women out of poverty. Unlike, the private labour market, the government sector has better gender parity of wages. This is also true of the NREGA jobs, of which 30% are reserved for women. There is a growing literature which has studied the impact of this on long term household wellbeing in rural India.
India has a long history of differential gender socialisation leading to a lopsided access and agency over assets. Limiting women to the house for the sake of their safety is associated with perverse spill-overs such as developing lack of their way around the outside world, risk of backlash when stepping out and a general sense of dis-empowerment. The lack of access to opportunities outside the four walls of a house is antagonistic to Sen'Äôs capabilities theory. It is hostile to the idea that every individual should be allowed to develop their natural core competencies such that they become productive assets socially whilst pursuing their individual interests. The limitation of choices is the most punishing at the intersection of rural landscape-poverty and gender. A poor rural woman has to navigate not just the societal norms and the cultural contexts she finds herself in, but also her own conditioned biases vis-a-vis her capabilities. The intersection of these limitations with the imperative of attending to economic needs results in multiple burdens. Lack of training in terms of understanding how to access public services, being able to communicate needs, being able to demand that which is constitutionally and/or legislatively guaranteed'ÄĒknowing what is guaranteed, making providers of public services accountable to needs are some of the key hindrances such women have to traverse.
Limiting women to the house for the sake of their safety is associated with perverse spill-overs such as developing lack of their way around the outside world, risk of backlash when stepping out and a general sense of dis-empowerment.
Our constitutional forefathers (and mothers) provided for equal pay for equal work in the, non-justiciable but essential for efficient governance, section of the Directive Principles of State Policy (DPSP). The Equal Remuneration Act, 1976, provided legislative muscle to the normative Article 39 of the DPSP. However, equal pay for equal work continues to be elusive in Indian labour market as in most developing economies. Within the domain of unskilled work, the general belief that women aren't as strong as men and hence unable to do intensive labour work further exacerbates intra-occupational sorting and differential wage.
What are the various means with which we can empower rural poor women? A potential solution, as discussed in a previous chapter on elected women representatives in Panchayati Raj Institutions, may lie in introducing them to the working of local government, the manner in which they could effectively make their demands heard and needs met. Overall, interventions at the rural level to ensure wage parity through the means of leadership skilling seems like an effective policy tool in rural Indian context.
Extending the discussion on gender inequality in opportunities, is the chapter on women in STEM careers (Science, Technology, Engineering, and Mathematics). What happens when women break rigid barriers to enter traditionally 'Äúmasculine'ÄĚ STEM careers and disciplines? The answer is that their struggle continues, facing subtle and sometimes not as subtle hue of prejudice. The differential gender socialisation, springing from patriarchal social norms, results in not only male experts having little experience of interacting with female experts in the same field but also young girls having a dearth of positive role models in the discipline of their interest. While the industry reality makes it difficult for women to be taken seriously and to grow, its potential spillover is that young girls have trouble identifying themselves as a 'Äúscientist'ÄĚ. It seems that this negative feedback loop is key in sustaining the gender gap in STEM careers.
To encourage greater representation of women in science it is pertinent to understand what motivates them to take up research in the first place as well as what helps them stay in research. When trying to understand the common underlying factors that motivate women to take up science, parental support and guidance by mentors stand out. Spousal support emerges as a key factor in helping women stay in research. Further, to ensure institutional growth there is a need to address the 'Äúleaky'ÄĚ pipeline effect. It would be germane to not only conduct gender sensitisation of the male-dominated hiring committees but also design policies that encourage healthy representation of women in the power structures of higher education to introduce a balance in such hiring committees. Further, the general lack of willingness to report to female administrators needs to be addressed.
To encourage greater representation of women in science it is pertinent to understand what motivates them to take up research in the first place as well as what helps them stay in research.
If we try to analyse the potential sources of gender gap in STEM disciplines, then one of the key emergent factor that keeps women from growing, in line with their merit, is their role in child bearing. Critical years of professional growth coincide with many personal milestones such as marriage and motherhood. A key realisation is that all dimensions of society'Äď politics, employers, and the families themselves 'Äď have to support women in re-entering their disciplines by forming new norm to partake in childcare. Further, discouraging the hiring of a married couple in the same department and the general lack of quality institutions in close geographic contours introduces strains on the marital relations. Since women scientists report that spousal support is key to staying in research, this is a factor that institutional policy should investigate and address. Giving maternity leave, while progressive, is also likely to make hiring women more 'Äúcostly'ÄĚ. This could have long term distortionary impact on women'Äôs job opportunities. So, we recommend that paternity leaves must be made mandatory along with maternity leaves. This equalises the costs to firms while hiring employees who bear and rear children. This must be treated as a social cost to cover the social benefit of having and raising children in society.
A key realisation is that all dimensions of society'Äď politics, employers, and the families themselves 'Äď have to support women in re-entering their disciplines by forming new norm to partake in childcare.
The theory of pipeline with regards to women in positions of power in higher education posits that once there is a large enough pool of women in higher education, they will organically move up to positions of authority and power. Intuitively, it would imply that the first step towards reducing the gender gap in the structures of authority and power in the realms of higher education would be to provide young girls equal access to quality higher education. This way the question is reduced to one of self-selection by talented and capable women that once they gain access to higher education, their merit will take them to the corridors of respect, reputation, and influence. In other words, they will get similar opportunity of growth as their male colleagues and will grow to secure tenured positions in universities, hence, securing themselves academic growth and financial stability.
Historical data shows that the representation of women has both grown in numbers and percentage in terms of access to higher education. Women now form approximately 50% of all enrolment in higher education in India. However, they continue to be poorly represented among instructors at institutes of higher education in India. This would imply that there is a gendered progression where women seem to be filtered out. Besides, there is a growing casualisation of the profession'ÄĒbeing appointed as ad-hoc and temporary teachers'ÄĒand it is here that women instructors seem to achieve parity with their male peers. Women hold about a quarter of full tenure positions in the United States and the story is little different in the central and state universities in India. However, the key difference is that the United States has gained near parity at the entry level, Associate Professor, positions whereas only 40% of Associate Professors in India are women.
Historical data shows that the representation of women has both grown in numbers and percentage in terms of access to higher education. Women now form approximately 50% of all enrolment in higher education in India.
The curious case of missing women in the corridors of power in the Indian central and state universities becomes all the more acute when we consider the radical impact of Women Studies centres that were set up during the time of 'Äúemergency in 1975'ÄĚ1. These centres, based in Indian central and state universities, have historically challenged many established academic traditions, including application of western theoretical models to Indian context without regard to socio-cultural differences. Further, they spearheaded the academic inclusion of the often ignored, but important in India'Äôs development agenda, sections of society that found themselves at the intersection of gender, caste, class, religion, and different geographic settings. However, there was little investigative work, leave alone rigorous analysis, in terms of the gendered power structures within universities where they were housed.
When it comes to leadership roles, women seem to be best represented as college principals of undergraduate colleges followed by directors of research institutes (17 percent, ~4000 in actuals). The trend holds in the United States as well wherein women seem to perform better at Community Colleges and Baccalaureate levels versus doctoral institutes of prestige. With women representing just nine percent of all Vice Chancellors (~500 in actuals) in India the question arises– What holds women back and what are the policies to lower the costs of entry for women leaders. Some of these questions have been addressed in the chapter on women in STEM careers.
The final chapter in the compendium addresses the case of Children in street situation (CSS) which refers to any minor associated to the street, such as, homeless children, children living in slums, and children begging on the roads. A child can land in a street situation in varying degrees and due to a multitude of reasons. These range from a child going missing, to a child being abandoned, from a child escaping a situation of domestic servitude to a child begging on streets, and from a child being orphaned to a child being born in a street community. Hence, the degree of engagement with the street itself varies from child-to-child depending upon the unique circumstances which lands a child in a street situation. Girls in street situations, albeit a minority amongst street children, are the extremely vulnerable section with multiple risk factors at play. International data reflects a higher probability of young boys landing up on the street as they are encouraged to be independent from a young age while the nature of socialisation of girls often limits them to the house. However, given the vulnerability involved, young girls tend to have far worse health and education outcomes compared to similarly situated boys. These girls are extremely vulnerable in that they are at a risk of not just physical violence, as most boys, but also an increased risk of sexual violence, servitude, and stereotypical stigmatisation. Hence, street connected girls have to cope with the double burden of their 'Äústreet'ÄĚ status and its interplay with their biological gender.
Girls in street situations, albeit a minority amongst street children, are the extremely vulnerable section with multiple risk factors at play.
The United Nations Convention on Child Rights is a step in the right direction. It emphasises the rights of children as citizens 'Äď to give children participatory rights, to be heard as individuals in their own right over and above their needs as a vulnerable section being highlighted. In the spirit of such discourse, it is pertinent that policy neither encourages compulsory family reunification nor child institutionalisation without taking into account the unique circumstances of each child. In furtherance of India'Äôs accession to the UN Convention on Child Rights, India enacted the Juvenile Justice Act, 2015. It'Äôs a child friendly law that provides for care and protection for children in need in India. It is important to initiate a gendered discourse on the adversities faced by street connected girls to highlight the hardships and vulnerabilities to document the extent of their social exclusion which then feed into their personal coping mechanisms. Additionally, street girls see teen-pregnancy, marriage out of wedlock, and marriage in general as a safe exit route from their association with the street. Decades of health policy targeting young mothers also ensure that such girls finally have access to institutionalised care.
This compendium has been curated with an objective to capture some contemporary gender issues within modern Indian economy. They range from political representation, women in leadership positions, labour market opportunities as well as identifying the extremely vulnerable women in our society. Each chapter is followed by policy recommendations by Brookings India on the identified topic within the chapter. Some recommendations lend to immediate implementation and impact, while others are more in the nature of long term policy nudges which can take India towards a more gender balanced future of shared growth and prosperity.
DOWNLOAD THE ENTIRE COMPENDIUM HERE
Related Topics
Get updates from the Brookings India Center
Try the new Google Books
Advanced Book Search
Barnes&Noble.com
Books-A-Million
Find in a library
All sellers »
Get Textbooks on Google Play
Rent and save from the world's largest eBookstore. Read, highlight, and take notes, across web, tablet, and phone.
Go to Google Play Now »
From inside the book
What people are saying - write a review, other editions - view all, common terms and phrases, references to this book, bibliographic information.
Login / Register
Cart Your shopping cart is empty!
NEW RELEASES
University Level Textbooks
Children Books
Treasure of Classics
Shakespeares For Young Readers
Treasure of Stories
Trip to Wonderland
Lets Discover India
Combo Packs
Home >> University Level Textbooks &gt> History and Politics
Essays on Contemporary India (English) (Paperback)
ISBN: 978-81-241-1365-3
Availability: In Stock
The volume concludes with a set of essays on socialism and the Left in Indian politics that are enlivened by a critical outlook that made the author into a dissenting voice within the Indian Left long before the collapse of socialism in Eastern Europe and the Soviet Union made dissent popular and turned it into a necessity.
About The Author
Bipan Chandra, born and brought up in Kangra, Himachal Pradesh, studied at Forman Christian College, Lahore, and Stanford University, USA. He retired as Professor of Modern Indian History at Jawaharlal Nehru University, New Delhi, and is now Professor Emeritus there. He has been UGC National Lecturer, President of the Indian History Congress and is at present National Research Professor.
Specifications
You may also like, reviews of essays on contemporary india (english).
Transforming Worlds: Change and Tradition in Contemporary India
Simultaneously moving ahead and standing still, India is a country of immense complexities, inherent contradictions and deep spiritual and philosophical mores. These are reflected in the material culture and daily lives of the billion people who live in the country. Across India, there are more than 19,500 dialects and 121 major languages 'Äď in several languages, the word for yesterday and tomorrow is the same. Kal , for example, denotes the day that was and the day that is yet to come. Tradition and change make for good humsafar (fellow travellers) in India, where centuries-old buildings stand next to modern skyscrapers and ancient practices meld with modern technology.
With vast cultural diversity across India, numerous artistic traditions have evolved over time in different parts of the country. These include classical painting traditions, as well as folk and tribal art styles that reflect the cultural values of a society or community. Paintings are created for varied reasons and occasions, such as weddings, to appease gods and goddesses, to accompany certain rituals and rites of passage, as well as to create beauty in the home.
Today, artists who are steeped in the traditional arts of India, are vanguards of a particularly interesting conceptual juxtaposition 'Äď the 'Äėcontemporary traditional art'Äô. An oxymoron, this terminology best describes the art that artists create as they straddle two worlds 'Äď the world of their ancestors, their inherited art traditions, and the modern, technological world they live in. Custodians of their heritage, and aware of their duty to keep traditions alive, these artists are also responding to life around them in the art they make.
Over the past two decades, the pace of change in India has accelerated, and unprecedented events, such as the COVID pandemic, have stimulated artistic expression like never before. With a strong connection to their cultural heritage and the visual vocabulary of their lineage, many artists are exploring new frontiers and creating works that deliver powerful messages in response to change. Transforming Worlds: Change and Tradition in Contemporary India provides a timely and incisive look at the sweeping changes across the country through the lens of art, and allows a comprehensive view of how tradition, change and continuity are interwoven in today's India.
The continuation of cultural traditions and the generational transferal of knowledge is a challenge anywhere in the world and more so in India, where the traditional arts are either private ritualistic art not for sale, or a hereditary profession 'Äď with knowledge about art-making processes typically tightly held within a family or community. In recent times, with greater access to education and technology, in many communities the next generation has often chosen not to follow an artistic career in their parents'Äô footsteps. The poor economic returns from painting sometimes prompt artists to guide their children to other professions. Ritualistic non-commercial art traditions, therefore, have either disappeared for lack of skills, time and effort to make them, urbanisation or have been transformed into art for sale. Thus, different scenarios exist within the spectrum of traditional arts in India: some traditions are flourishing, some are dying out, and for others, the children are taking forth their parents'Äô legacy, while in a few cases, the knowledge is being shared with strangers, in person and virtually through online classes. Transforming Worlds: Change and Tradition in Contemporary India presents artists who are striving hard to ensure cultural continuity by creating works they learnt from their elders.
While continuity of tradition is important for the artists, there has also been a great deal of innovation in the art created over the last decade. Drawing upon centuries of ancestral knowledge, traditional artists of the twenty-first century have been branching out into exciting new directions. New markets and audiences beyond the traditional community, including institutional and private collectors across the world, are fueling these innovations.
Madhubani artist Pushpa Kumari was initiated into the nuances of Madhubani art, which decorated the walls and floor of her home with auspicious murals by her grandmother, the esteemed artist Mahasundari Devi; Kumari was taught all the wall and floor drawings made in her tradition. However, it is in her feminist works, such as Coronavirus , 2020, and Female foeticide , 2017, a work that shows female foetuses huddling in a mother's womb, where Kumari has made her mark, addressing themes that are topical and often provocative.
For other artists from traditional backgrounds, environmental issues and their changing relationship to the land are everyday experiences. Due to India'Äôs rapidly growing population since the 1950s, which totals 1.39 billion today, increased urbanisation, deforestation, river dam projects and land use for agriculture has severely affected the country'Äôs once-pristine landscapes of forests, fields, rivers and villages. Most traditional arts emphasise deep respect for Mother Earth and the interconnectedness of all life forms. In Gond paintings, humans are just one part of the circle of life and not the superior beast at the top of the pyramid 'Äď tiny insects are just as valuable. In Warli paintings, trees soar over humans because they are more important and live longer.
Contemporary Madhubani artist Pradyumna Kumar's Global warming , 2017, in the Madhubani style, is a powerful warning about the state of the world, with global temperatures in 2021 reaching unprecedented high levels. Ahmedabad-based Prakash Jogi's Cityscape , 2017, reflects his reality of living under the shadow of a massive power plant in a cramped urban settlement with a high density of human population. Both works speak of the immense degradation of nature that humans have wrought and the price that all life on earth has to pay for the mistakes and greed of one species. West Bengal artist Jaba Chitrakar's scroll Tree Plantation patachitra , 2017, emphasises the importance of trees and the desertification that happens when trees are cut and not replanted.
Contemporary social and political issues are becoming a major theme for traditional artists as they move their art beyond the customary pictorial vocabulary. The information technology boom in India, one of the largest markets for mobile phones has made it impossible to live isolated, unaware lives.
Traditional artists nowadays translate real-time, real-life events into works not merely as an aesthetic response, but as conscious chroniclers of their lives and times. This is evident in pandemic-inspired works, such as Sonia Chitrakar's COVID scroll , 2020, and phad artist Kalyan Joshi's Migration in the Time of COVID , 2020 . The pandemic-inspired art is as much about creating awareness about the virus as it is about artists asserting themselves and not being mute witnesses to contemporary history. Joshi's phad painting is a poignant portrayal of one of the largest mass migrations in recent times, resulting from the imposition of a sudden lockdown in India. He depicts millions of urban poor migrant labour, with no source of income, who decided to return to their rural villages, literally walking thousands of miles home. Artist-led activism is also evident in Maduhbani artist Pradyumna Kumar's Bonded labour , 2017, in the Madhubani style of painting, where he questions the presence of such economic exploitation and enslavement in the twenty-first century, and raises issues of freedom and choice in society. Though bonded labour, also known as debt slavery, is illegal in India, there are many who fall into this trap due to a debt to their employer and have to work for no or minimal pay until the debt is paid off.
It is heartening to note that many women artists (and some men) are increasingly using their art to speak volumes about the violence, oppression and social hypocrisy women face in India. Some works are searing, such as Pushpa Kumari'Äôs Female foeticide , 2017, depicting the unborn foetuses of girl children refusing to leave the womb for fear of the violence that awaits them. Jaba Chitrakar'Äôs Dowry pata , 2017, presents both the heinous practice of young brides being tortured for not offering enough dowry in a marriage and the legal repercussions of asking for dowry, such as imprisonment and fines. Second-generation Jogi artist Soni Jogi'Äôs black-and-white drawing Empowered mother , 2020, and Archana Kumari'Äôs Women Empowerment, a sujuni embroidery of 2020, share a common motif 'Äď a woman on a motorcycle, signifying the mobility that women seek and strive so hard to achieve. Many of the women artists featured here have never had the opportunity to attend school, nor did they have a voice in their family and society. But their compelling artworks speak much louder than any words could. Their art has become their 'Äėlanguage'Äô, reinforced by the fact that in many traditional art genres, such as Madhubani, the act of art-making is considered likhai or writing.
Transforming Worlds: Change and Tradition in Contemporary India shines a light on how artists are ensuring the continued relevance of age-old artistic traditions. It is remarkable to think that these traditions, several centuries old, have not been rendered obsolete in the technologically wired twenty-first century. They continue to be of significance, not just for their aesthetic beauty and artistic merit but more importantly, for their narrative that is topical. These artists continue to adorn their days, not rejecting the ways of their ancestors but reinvigorating them by infusing contemporaneity and a larger consciousness of what being alive in this day and age means. Today, after all, is yesterday's tomorrow and time and art, metaphors and meaning, all move in mysterious ways.
Minhazz Majumdar is a curator, writer and designer who is deeply involved in preserving and promoting traditional Indian arts and crafts. Majumdar has worked on several significant exhibitions about India in the United Kingdom, the United States and Australia, and has built collections of Indian arts and crafts for museums and collectors across the world.
You might like